The global solar cell market is expected to reach a compound annual growth rate (CAGR) of 17.2% over the forecast period from 2023 to 2032. The solar cell market size was estimated at USD 108.8 billion in 2022 and it is projected to surpass around USD 508.18 billion by 2032.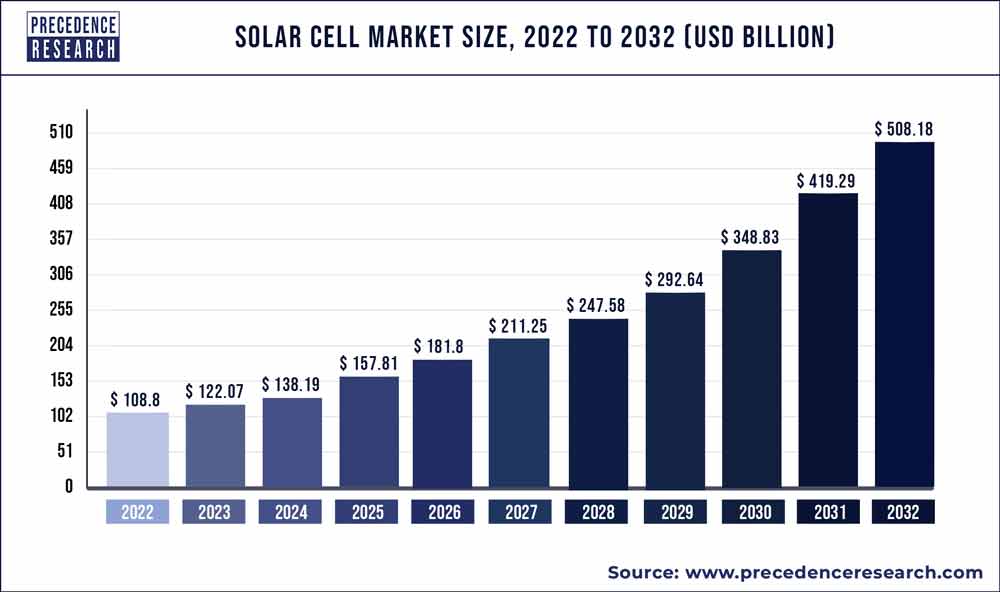 Due to the growing worries about rising carbon footprints worldwide and the efforts of policymakers to adopt cleaner fuels & technologies throughout the residential, industrial and commercial sectors, solar cells are predicted to experience significant growth over the forecast period.
Key Takeaways:
By material, the crystalline segment has captured 86% of the revenue share in 2022.
Asia Pacific Market has accounted revenue share of around 48% in 2022.
By installation type, the utility-scale segment has captured 65% revenue share in 2022.
Growth Factors
The growing use of renewable energy sources because of their advantages for the environment and rising power demand is predicted to drive market expansion. Demand is anticipated to increase as a result of technological developments aimed at lowering manufacturing costs and enhancing performance effectiveness. Over the next seven years, growth is anticipated to be fueled by increased demand for clean, dependable, and environmentally friendly energy sources that will help reduce reliance on fossil fuels.
Over the course of the projection period, the sector is anticipated to benefit from a number of policies and incentives provided by various governments to boost the usage of solar systems. The usage of renewable energy sources is anticipated to increase during the next seven years as a result of strict regulatory requirements to reduce the environmental effects. Several programs were launched by the different governments to promote industrial expansion, including tax breaks, subsidies, net metering, financial aid, reduced import duties, and feed-in tariffs. Due to the increased demand for PV systems for industrial, residential, and utility applications, the solar cell market is anticipated to have considerable development throughout the projected period. Integration across the value chain is a distinguishing feature of the sector, as demonstrated by firms like SunEdison, First Solar, and SolarWorld.
Future solar energy penetration will be aided by the growing need for distributed energy-generating systems in emerging countries. More than 1 billion people worldwide lack access to electricity or have it insufficiently. Solar PV systems linked with off-grid electrification initiatives will increase product demand in the short future. Technological progress and expanding production capacity will lead to a decrease in the overall cost of the product system, which might be advantageous to the sector. The expansion of the solar cell industry will be further supported by an increase in the number of household energy storage systems incorporating solar PV charging panels.
Government incentives that are expected to encourage investment in the solar sector include auctions, tariffs, and tax breaks.
Rapid technical advancements and rising public awareness will change the solar cell business from one that is expensive and risky to one that is affordable and highly effective, increasing demand in the years to come.
Due to the growing worries about rising carbon footprints globally and the efforts of policymakers to adopt cleaner fuels & technologies throughout the residential, commercial, and industrial sectors, solar cells are predicted to experience significant growth over the forecast period.
Growing investments in renewable energy sources from both emerging and established nations are boosting the demand for solar cells.
The increasing use of renewable energy sources for electricity generation has increased demand for solar panel modules, which in turn has increased demand for solar cells.
Report Scope of the Solar Cell Market
Report Coverage
Details
Market Size in 2023
USD 122.07 Billion
Market Size by 2032
USD 508.18 Billion
Growth Rate from 2023 to 2032
CAGR of 17.2%
Base Year
2022
Forecast Period
2023 to 2032
Segments Covered

By Material
By Product
By Technology
By Installation Type

Regions Covered

North America
Europe
Asia-Pacific
Latin America
Middle East & Africa

Key Market Drivers
The market for solar energy is increasing
Solar energy has been gaining popularity throughout the world, and from 2023 to 2032, the sector is predicted to rise by 20.5%. Solar energy has a number of advantages that encourage people to switch to renewable energy. Lower material and installation costs, savings possibilities, improved technology, and less environmental stress are a few of them. Solar energy has almost unlimited advantages. The surge in the utilization of solar energy is related to equipment prices, which are at an all-time low.
Solar is now competitive with other fuels because of its low costs. Since 2010, prices have decreased by as much as 70%, significantly contributing to the industry's explosive expansion. A household solar system installation cost $40,000 at the time, according to the Solar Energy Industries Association (SEIA). Today's prices, however, are only $18,000. The quality of solar technology has improved along with pricing.
The fact that energy production is unreliable when there are a lot of clouds is one of the reasons why people are hesitant to invest in solar. However, scientists have been advancing battery technology to increase performance, lifespan, and speeds of charging and discharging. Tesla's Powerwall, a rechargeable lithium-ion battery system combined with a residential solar panel system, is one of these potent batteries. When energy prices are low, this smart battery saves energy, and when they are high, it switches to stored energy.
Key Market Challenges
Complexity in manufacturing - Typically, solar panels can convert between 15 and 22 percent of the sun's energy into usable energy, depending on the location and the outside temperature. In the event of a blackout or overnight, a house may be run on 22% of the useful energy available. Thin-film, monocrystalline silicon, and polycrystalline silicon are the three primary kinds of PV panels. Monocrystalline silicon panels are the most effective form of panel among the three since they are built of the highest-grade silicon. Finding PV panels with greater efficiency while not wanting to spend more money is not a simple challenge. By figuring out how to raise the efficiency of the cells and decrease the cost of their production, engineers and scientists are attempting to make solar energy more economically viable. The price of solar panels depends on a number of factors, including the cost of components.
Key Market Opportunities
Crucial function in developing regions - In a number of places, including South Asia and Africa, solar power systems are crucial to increasing access to electricity. As these systems offer minimal administration and maintenance expenses for the installation of solar panels, which are anticipated to grow the solar cell industry, private investors have welcomed the standalone products as sustainable options for power access. The market will be driven by growing awareness of the usage of low-intensity technology to reduce greenhouse gas emissions. Additionally, the availability of government incentives and tax breaks in emerging nations encourages the usage of solar and has a favorable effect on the market's growth.
Segments Insight
Material Insights
The most popular solar cell material used worldwide is crystalline silicon. Due to their widespread availability and relatively low price, these are expected to rise significantly throughout the projected period. When tested under typical operating settings, crystalline silicon cells may achieve energy conversion efficiencies of 18-22%, which will advance the spread of the technology.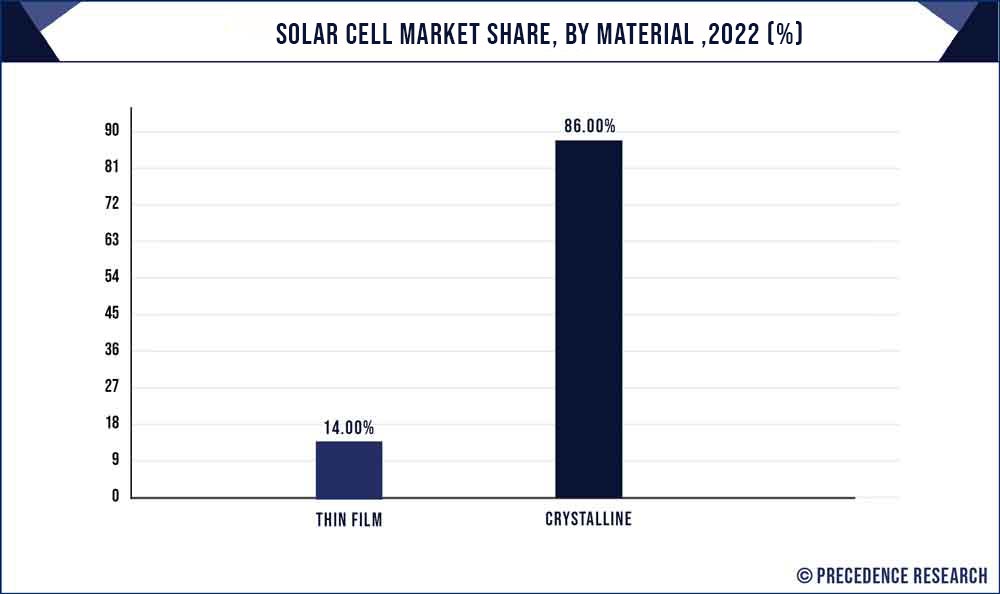 Additional benefits provided by N-type cells include reduced energy losses and resilience to boron-oxygen flaws, which will help the market for crystalline silicon material develop.
Technology Insights
Monocrystalline cells are produced utilizing a single crystal growing process, which lowers the entire unit cost and makes them significantly more economical than other options. They give a commercial efficiency of 20% to 24%. These units complement recent product deployment by offering high efficiency, durability, great embedded energy, and less operational costs. Additionally, advantageous programs and incentives are being introduced by regulators throughout the world to support solar technology, which is further positioned to boost industry growth globally during the prediction period. From 2023 to 2032, multi-crystalline silicon cells are anticipated to increase at the quickest rate, exceeding 25.0%. Market expansion is anticipated to be fueled by technological manufacturing process simplicity that results in reduced production costs compared to competitors. Additionally, rising demand for these cells is anticipated throughout the projection period due to reduced beginning costs and higher efficiency in both residential and commercial applications.
To decrease solar cell efficiency loss, industry participants are concentrating on micro features like crystallization and individual solar cell production procedures. Multi-crystalline solar cells developed by the German Research Centre Fraunhofer ISE are remarkably efficient, converting 22.3% of incoming solar energy into electricity.
Product Insights
The deployment of effective alternatives drove the BSF segment's USD 3.9 billion revenue in 2022. Major firms in the sector are willingly investing in Research and Development operations to create cutting-edge solar goods to obtain a competitive advantage, so enhancing the outlook for the company. These units are painted black to absorb sunlight, reflecting low light and providing more energy than painted cells that are often seen in buildings.
Solar Cell Market Share, By Region, 2022 (%)
| | |
| --- | --- |
| Regions | Revenue Share in 2022 (%) |
| North America | 17% |
| Asia Pacific | 48% |
| Europe | 28% |
| Latin America | 4% |
| MEA | 3% |

Regional Insights
In 2022, Asia Pacific demand for solar cells exceeded 48% of the installed capacity worldwide. Over the projected period, growth is anticipated to be boosted by the availability of favorable government regulations and incentives related to PV installations. The market is anticipated to be driven by rising demand for these cells in the commercial and utility sectors. Over the projection period, declining PV prices are anticipated to expand the market for crystalline silicon modules. Furthermore, the demand for thin film solar cells in residential and commercial applications is anticipated to rise as a result of technical developments aimed at enhancing operational efficiency.
In 2022, it was anticipated that North America's solar cell demand exceeded 20 GW. The industry is anticipated to gain from an increase in PV installations as a result of consumers' growing knowledge of the financial advantages of renewable energy systems in this area. However, a lack of federal incentives and subsidies after 2016 is anticipated to result in fewer installations from the residential and commercial sectors, which is anticipated to impede growth. Chinese PV companies are aggressively entering growing markets by acquiring international manufacturers and constructing factories abroad, favorably affecting the size of the solar cell industry. By 2023, the Indian government wanted to generate 40 GW of electricity using solar technology. The market share will increase with increased government programs and investment in sustainable energy.
Recent Developments
September 2022, Trina Solar unveiled its Vertex N solar panels for commercial, industrial and utility-scale projects, and the Vertex S+ modules for residential installations.
Jinko Solar Co., Ltd., and Aldo Solar have a new distribution deal for Latin America that was inked in May 2022. Aldo Solar will sell the latest N-Type ultra-efficiency photovoltaic Tiger Neo modules from JinkoSolar, which stands out as the leading distributor of solar energy solutions in the nation with a market share of around 30% in the Distributed Generation category.
Key Market Players
Panasonic Corporation
JINERGY
Hevel
ReneSola
United Renewable Energy, LLC
SunPower Corporation
Risen Solar
Trina Solar
Jinko Solar
Segments Covered in the Report
(Note*: We offer reports based on sub-segments as well. Kindly, let us know if you are interested)
By Material
By Product
BSF
PERC/PERL/PERT/TOPCON
HJT
IBC & MWT
Others
By Technology
Monocrystalline
Polycrystalline
Cadmium Telluride (CDTE)
Amorphous Silicon (A-Si)
Copper Indium Gallium Diselenide
By Installation Type
Residential
Commercial
Utility
By Geography
North America
Europe
Asia-Pacific
Latin America
Middle East & Africa (MEA)