The global solar AI market is surging, with an overall revenue growth expectation of hundreds of millions of dollars during the forecast period from 2023 to 2032.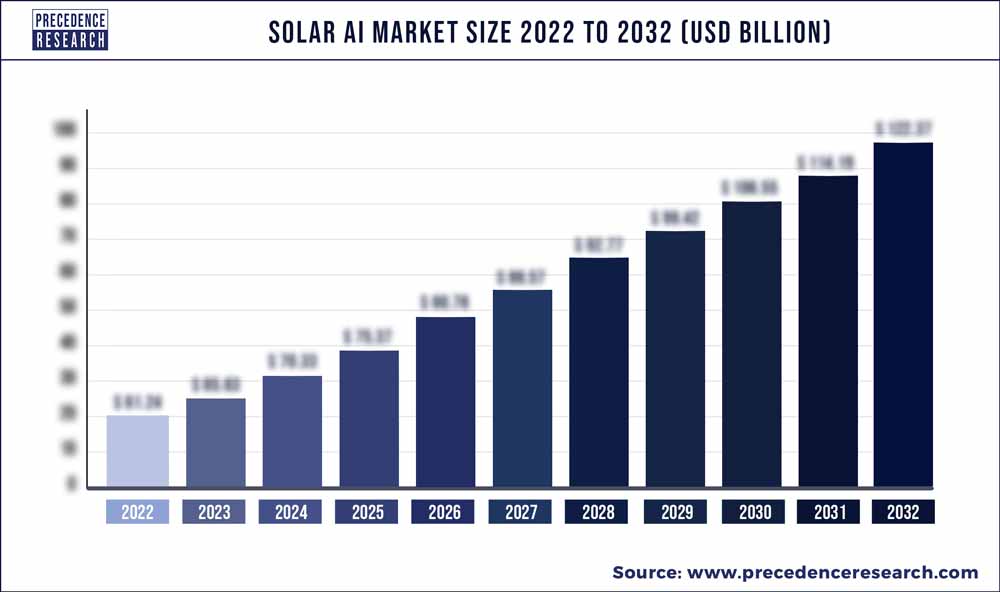 Access our Premium Real Time Data Intelligence Tool, Visit: Precedence Statistics
Key Takeaways
Asia Pacific led the global market in 2022.
By Technology, the machine learning segment held the largest segment in 2022.
By Technology, the computer vision segment is expected to grow at a notable CAGR during the forecast period.
By Application, the demand forecasting segment is expected to hold the dominating share of the market during the forecast period.
By Application, the smart grids segment is expected to grow at a notable rate.
Solar AI Market Overview
The global solar AI market offers solutions for the solar energy industry while utilizing the potential of artificial intelligence technology. The energy industry is evolving rapidly. With such rapid growth, industry continuously seeks innovative ways to revolutionize energy solutions. The adoption of artificial intelligence solutions for the energy industry, especially for the solar industry, has been a boon.
The deployment of artificial intelligence technologies such as machine learning, computer vision, cloud computing and natural language processing can significantly lower emissions by optimizing energy in an efficient and smarter way. The penetration or deployment of artificial intelligence and its powers in solar industry is observed to replace the analytical, physical and empirical models in forecasting, synthesis of data and power flow optimization.
Data and Statistics
Singapore-based startup company, Solar AI Technologies surpassed $2.22 million on signed contracts in 2022. The company has completed more than 100 solar roof top installations in the year.
In March 2023, Sarcos Technology and Robotics Corporation received $1.9 million from the United States Department of Energy to create a robotic system. The company aims to develop technology to streamline solar power plant construction with autonomous machines.
The US Department of Energy has precisely put $130 million on research and development of solar power technologies.
The Japanese government is aiming to double its renewable energy generation from 20% to approximately 38% by 2030. The nation requires a $147 billion investment to fulfill the aim by 2030.
Top 5 Solar Countries:
| | | | |
| --- | --- | --- | --- |
| Sr. No | Country | Solar capacity (installed) | Aims and targets |
| 1. | China | 430 GW (As of April 2023) | Targeted to develop 1200 GW solar and wind energy capacity by 2030 |
| 2. | United States | 3% of country's electricity is derived from solar presently | Aim to reach 40% of electricity demand from solar by 2025 |
| 3. | Japan | Deployed 6,545.2 MW of new solar capacity in 2022 | Targeted to install solar panels over 50% municipal buildings in the country |
| 4. | Germany | 2.6 GW (in first quarter-Q1 2023) and witnessed a year-on-year growth of 30% | Planned to install solar power capacity of 215 GW by 2030 |
| 5. | India | Witnessed 20.8% year-on-year growth on solar power installation capacity in 2023 | Aimed to create solar power capacity of 280 GW by 2030 |

Growth Factors
India-based solar startup, Renkube demonstrated that AI-powered solar panels can increase the energy yield of the panel by up to 20%. This also clarifies that the utilization of artificial intelligence in grid operators can help operators in better and precise decision-making by enhancing the generation of power. This factor is entitled to promote the market's growth in the upcoming years.
Heliogen has recently integrated an artificial intelligence-powered robotic system to lower the overall installation and maintenance cost of building a solar plant. The offering of predictive maintenance at an effective cost will promote the adoption of artificial intelligence solutions in the solar power industry by acting as a growth factor for the market.
Solar AI Market Scope
| | |
| --- | --- |
| Report Coverage | Details |
| Largest Market | Asia Pacific |
| Base Year | 2022 |
| Forecast Period | 2023 to 2032 |
| Segments Covered | By Technology and By Application |
| Regions Covered | North America, Europe, Asia-Pacific, Latin America, and Middle East & Africa |

Solar AI Market Dynamics
Driver
Rising demand of solar power systems in agricultural activities
In June 2023, an agriculture technology start-up, Aigen announced the launch of a scalable robotics platform with AI algorithms. The newly launched platform aims to offer real-time insights for farmers with reduced cost and increased time savings.
There is a significant demand for solar systems in the agriculture sector, solar systems in agriculture can offer a sustainable yet cost-effective source of energy. AI's capabilities are observed to analyze data from solar-powered sensors and cameras to monitor crop health, soil conditions and weather patterns. Predictive analysis is another major and crucial application of AI-based solar power systems in the agriculture sector. AI can utilize real-time data to predict energy production, crop yields and market trends. This real-time data is observed to empower farmers to plan agricultural activities effectively. Considering these factors, the deployment of AI in solar system is predicted to offer profitable farming practices, contributing to the growth of the market.
Restraint
Consumer skepticism
Concerns over the long-term reliability of solar system with the deployment of AI-systems can be a major obstacle for the expansion of the market. Consumers may not always fully understand how artificial intelligence integrates with solar power systems. A lack of education on the subject can contribute to the skepticism and reluctance to embrace AI in the solar market. In addition, concerns over data security can hinder the market's growth. Consumers may be worried about the collection of their energy consumption data. All these factors have the potential for creating skepticism among users.
Opportunity
Renewable energy targets
In September 2023, lawmakers in European countries passed a law to boost the pace of approval for renewable energy projects to curb climate change. On the other hand, the Indian Ministry of New and Renewable Energy stated that it is planning to release new bids to promote renewable energy projects in the country to attain its goals by 2030.
Such renewable energy targets mandate the expansion of clean energy sources, including solar power. This drives the adoption of solar energy systems, creating a larger market for AI solutions. To meet these targets, solar power systems need to be as efficient as possible. Solar AI can reduce downtime and enhance efficiency, helping to achieve these goals. Governments and businesses seek effective ways to reach renewable energy goals. AI deployed in solar power systems can reduce the cost of electricity by maximizing energy production and minimizing maintenance expenses.
Technology Insights
The machine learning segment dominated the solar AI market in 2022; the segment is observed to continue the trend throughout the forecast period. Machine learning algorithms excel at processing vast amounts of data generated by solar installations. Machine learning can analyze historical weather patterns and system performance to optimize solar energy production. Machine learning also contributes to cost reduction by optimizing maintenance requirements and reducing downtime.
In February 2023, a group of Dutch scientists at Delft University of Technology developed a PV forecasting method with machine learning models that can detect and analyze the amount of power yield in large solar PV systems, especially installed at residential areas.
Additionally, machine learning can also assess the environmental impact of solar installations by analyzing data and recommending eco-friendly practices. Machine learning algorithms can analyze consumption patterns to help customers make informed decisions about energy usage. The overall performance for enhancing efficiency of solar power systems offered by machine learning models makes the segment attractive in the global market.
On the other hand, the computer vision segment is expected to grow at a significant rate throughout the forecast period. Computer vision technology can enhance security at solar facilities by detecting intruders or anomalies in real-time, ensuring the protection of valuable assets. Computer vision's ability to analyze visual data and make real-time decisions is poised to revolutionize the solar AI market.
Application Insights
The demand forecasting segment is observed to hold the dominating share of the solar AI market during the forecast period. Artificial intelligence algorithms are capable of predicting how much solar energy is needed for a particular system, this increases energy efficiency by reducing waste. Grid balancing, energy storage and enhancement in consumer engagement are a few factors that lead to the segment's dominance in the market.
On the other hand, the smart grids segment is expected to generate a notable revenue share in the market. Smart grid in solar power systems is the most emerging application across the global industry. Smart grids allow for the remote monitoring and control of various components in the energy infrastructure. AI can automate decision-making processes in real-time to ensure optimal solar power utilization.
Regional Insights
Asia Pacific is expected to witness the quickest rate of growth in the solar AI market during the predicted timeframe; the region is also anticipated to lead the market in upcoming years. Countries in Southern Asia enjoy sunlight throughout the year. The area also heavily practices traditional agriculture activities. The emphasis on the deployment of solar power systems in the agricultural field is observed to boost the demand for advanced technologies, including artificial intelligence. Rising environmental awareness and the requirement to reduce greenhouse gas emissions are driving the adoption of renewable energy sources, including solar power.
According to the report published by Enerdata, the electricity consumption in India increased by 10% in 2022. Meanwhile, the residential power consumption in China rose by 13.8% in 2022. Whereas the total electricity consumption in Singapore increased by 2.6% in 2022. Similarly, multiple Asian countries are witnessing high energy demand.
Artificial intelligence is capable of optimizing the efficiency of solar energy systems, ensuring that power generation is maximized. This factor is observed to be particularly crucial for countries with high energy demands.
China is one of the major contributors to the expansion of solar AI market in Asia Pacific. The country actively promotes research and innovation in the solar power sector. National Key R&D program of China, Fundamental Research Funds for the Central Universities and National Natural Foundation of China are a few programs funded for boosting research and development of AI in energy and power sector.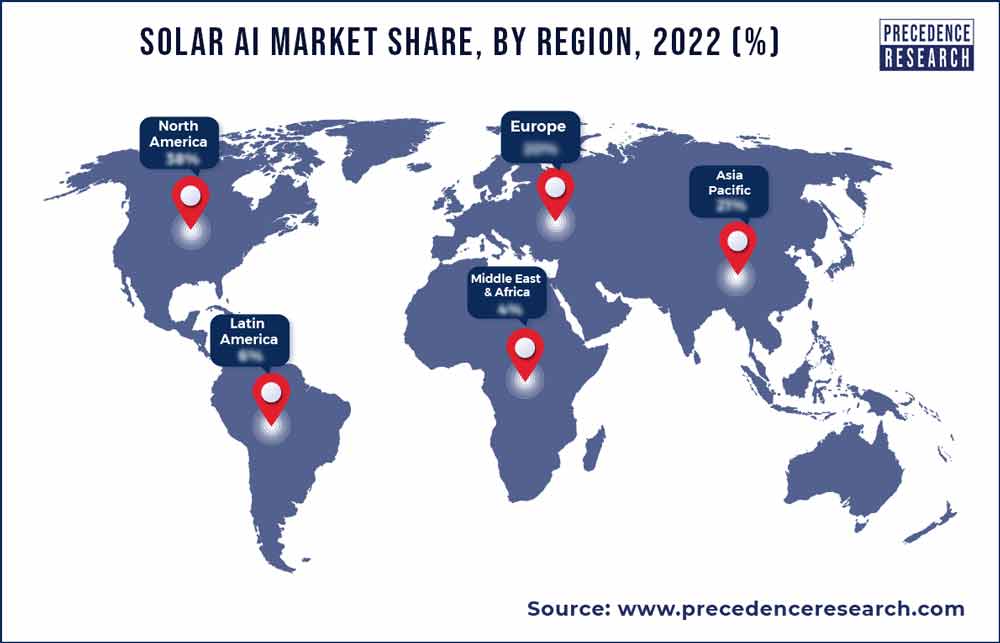 On the other hand, Norh America is observed to sustain as a significant marketplace throughout the forecast period. The region's high energy consumption, along with an increasing focus on clean energy, makes it a promising market for solar AI. Multiple governments in North America offer incentives, tax credits and regulatory support for renewable energy projects, including solar. These initiatives encourage investment in solar AI technology.
The initiatives taken by Solar Energy Technologies Office (SETO) in the United States support penetration and development of low-cost and high-efficiency power solutions that make solar power more accessible for both, commercial and residential usage. As of October 2023, SETO has planned to hold a tow-day workshop in Alexandria to offer a broader understanding of solar applications of artificial intelligence and machine learning.
Meanwhile, Europe is growing at a notable rate in the solar AI market owing to the government initiatives that supplement the growth of renewable energy sector in multiple European countries. The German government has established an aim to achieve 215 GW solar pawer capacity by 2030. Europe also carries a number of startups that are focused on research and innovation for the deployment of artificial intelligence in solar power systems. Scopito, Smart Helio, Tespack, Glint Solar and Absolar are a few startups from different European countries.
Recent Developments
In August 2023, researchers at Odisha University of Technology and Research announced the development of new model of direct current electric motors with photovoltaic arrays integrated with artificial intelligence that could be utilized in industries, home appliances and even in electric cars.
In September 2023, Stem introduced an application-based platform to help professionals in the energy industry to manage clean energy assets properly. AthenaPower Bidder Pro is an AI-driven application that offers real-time monitoring and control features.
In July 2023, researchers at Bar-Ilan University announced that they have produced a solar panel, designed with the most effective technology of artificial intelligence that promises additional operational efficiency to the solar panel. The newly designed solar panel consists of 676 various materials. The panels are developed from AI-based materials science.
In October 2023, Fuerza Ai. announced the launch of artificial intelligence-driven platform for solar industry. The AI-driven platform aims to offer a real-time monitoring system for agriculture practices.
In November 2022, JERA and JDSC collectively developed a highly accurate system that predicts solar power generation. In the newly formed prediction system, JDSC has applied its expertise of advanced machine learning.
Solar AI Market Players
While applying the power of artificial intelligence in the solar power sector, multiple key players have initiated experimenting with the potential of the advanced technology in recent years. A few of these prominent players are:
Smart Helio
Solavio
Tespack
Suncast
Scopito
Sunai
ENFOR
Infra Solar
Loggma
Solar Captus
Solar Inspectron AI
Glint Solar
Absolar
Climatik
Segments Covered in the Report
By Technology
Natural Language Processing
Machine Learning
Computer vision
Others
By Application
Energy management
Smart grids
Energy production
Smart meters
Demand forecasting
Others
By Geography
North America
Europe
Asia-Pacific
Latin America
Middle East and Africa