The global floating solar market size was valued at US$ 2.55 billion in 2021 and is expected to hit US$ 10.09 billion by 2030, poised to grow at a compound annual growth rate (CAGR) of 16.5% during the forecast period 2022 to 2030.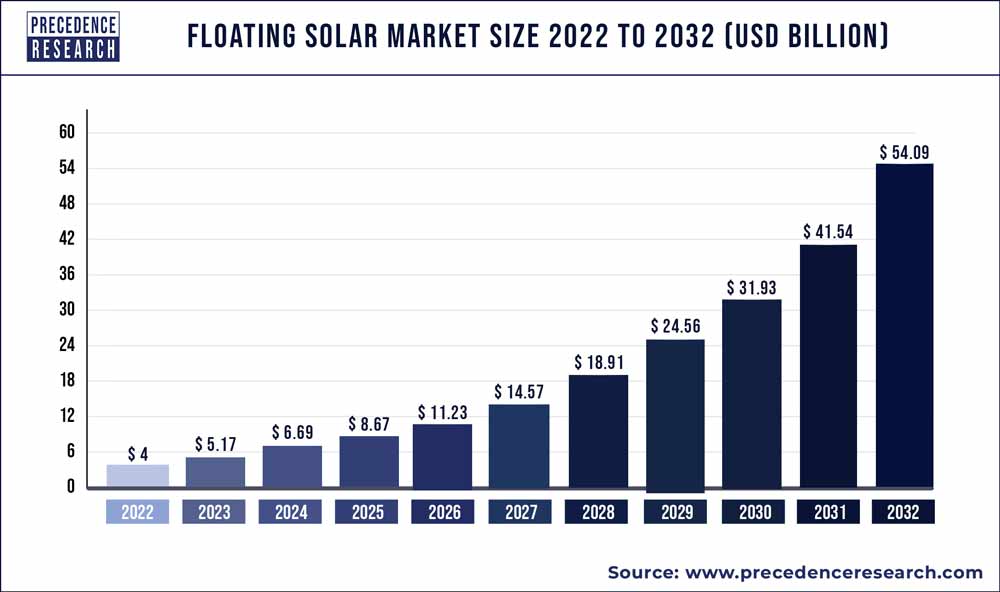 Growth Factors
The solar panels attached on a structure that floats on a body of water, usually a reservoir or lake, are known as floating solar or floating photovoltaics. The fundamental benefit of floating photovoltaic plants is that they do not require any land, with the exception of the small areas required for the electric cabinet and grid connections. Their cost is equivalent to that of land-based plants, but they offer a smart option to avoid using up the land.
The use of floating solar panels has been highlighted as a viable and cost-effective alternative to land-based photovoltaic systems. It's a novel way to generate solar energy by utilizing the available water surface on dams, reservoirs, and other bodies of water. Solar panels that float on water, such as irrigation ponds, reservoirs, lakes, canals, and the ocean, are known as floating solar panels. It's a novel way of generating solar energy by utilizing the available water surface on dams, reservoirs, and other bodies of water. These panels that are located near bodies of water serve to keep the temperature of the silicon panels consistent by increasing efficiency.
The companies in the floating solar industry are optimistic about the expansion of large-scale projects all around the world. They're putting more emphasis on utility-scale floating solar plants, which will help to reduce fossil fuel imports in various parts of the world while saving countries money in foreign currencies. However, when it comes to erecting floating solar plants, site selection is crucial. As a result, businesses should gain a full awareness of the geography of the waterbed and its suitability for anchoring floats. Anchoring reduces the chance of the solar island colliding with the banks or being blown away during storms by spreading the loads generated by wind and waves.
Report Scope of the Floating Solar Market
| | |
| --- | --- |
| Report Coverage | Details |
| Market Size by 2030 | USD 10.09 Billion |
| Growth Rate from 2022 to 2030 | CAGR of 16.5% |
| Largest Market | Asia Pacific |
| Fastest Growing Market | North America |
| Bae Year | 2021 |
| Forecast Period | 2022 to 2030 |
| Segments Covered | Capacity, Type, Geography |
| Companies Mentioned | KYOCERA Corporation, JA SOLAR Technology Co. Ltd, Yellow Tropus Pvt. Ltd, Ciel & Terre International, Trina Solar, Vikram Solar Limited, Sharp Corporation, Yingli Solar, Sulzer Ltd., Hanwha Group |
Due to their inherent benefits over on-land projects, which need large contiguous expanses of non-farming and non-forest land, floating solar generating projects are emerging as a key element. Furthermore, because to the cooling impact of the water they float on, floating solar decreases temperature-related losses. Floating solar power projects help to lower the rate of evaporation of water bodies while also being low-maintenance. Companies in the floating solar sector are seeing value-grab opportunities as people become more aware of the benefits of renewable energy. Companies are boosting their research and development efforts in order to plan and create economically viable floating solar generating projects.
Despite their numerous benefits, floating solar plants remain underappreciated, accounting for only a small portion of total solar photovoltaic implementations globally. Furthermore, due to anticipated water level fluctuations, the reservoir's bed type and depth grounding and securing them in place poses major obstacles during installation. As a result, the key market players in the floating solar market are conducting more research to better understand the structure of the waterbed and its suitability for embedding floats. The floating solar, on the other hand, has the capability to improve effectively with hydropower generation. The combination of the two aids in the generation of electricity while utilizing the similar network. The demand for floating solar panels in famine-prone nations is expected to increase significantly during the forecast period, as the placement of the solar photovoltaic cells on water bodies slows algae development and reduces evaporation, preserving water purity.
Several variables such as national government attempts to promote renewable energy practices and the rapid depletion of fossil fuels will drive the growth of the global floating solar market. As the floating solar industry is environment based, the high use of varying non-renewable energy resources acts as a stimulant, increasing its desirability.
During the projection period, the global floating solar market will also be driven by a growing focus on clean fuel energy generation sources combined with a lack of land. The regulators all across the world are setting a variety of targets for increasing clean energy capacity in order to reduce pollution levels. Some of the advantages that may have positive outlook on the floating solar market include ease of installation and dismantling, adaptability from low to high capacity, and a low demand of heavy equipment.
The floating solar photovoltaic plants provide developers new possibilities for increasing solar generation capacity, particularly in places where land is scarce. The higher energy generation, lower evaporation, and enhanced water quality are just a few of the benefits of floating solar versus land-based systems. Flexible hydropower production can be utilized to mitigate solar energy fluctuation while making greater use of existing transmission assets, which is especially useful in nations with poor grids.
Type Insights
The stationary floating solar panels segment dominated the floating solar market in 2021. Due to the use of low cost, high elastic in the construction of the panels, the cost of installing a stationary floating solar panel is cheaper than that of installing a tracking floating solar panel.
The tracking floating solar panels segment is fastest growing segment of the floating solar market in 2020. Due to its higher operational productivity, tracking solar technology is expected to gain traction in floating solar farms, which will have a beneficial impact on demand during the forecast period.
Region Insights
Asia-Pacific dominated the floating solar market in 2020. Due to a lack of available land and a fixed supply of fossil fuels, the Asia-Pacific region has a high level of penetration of floating solar panels. As a result, the government has approved many designs and structures for floating solar panels to accommodate rising electricity demand while causing less ecological damage.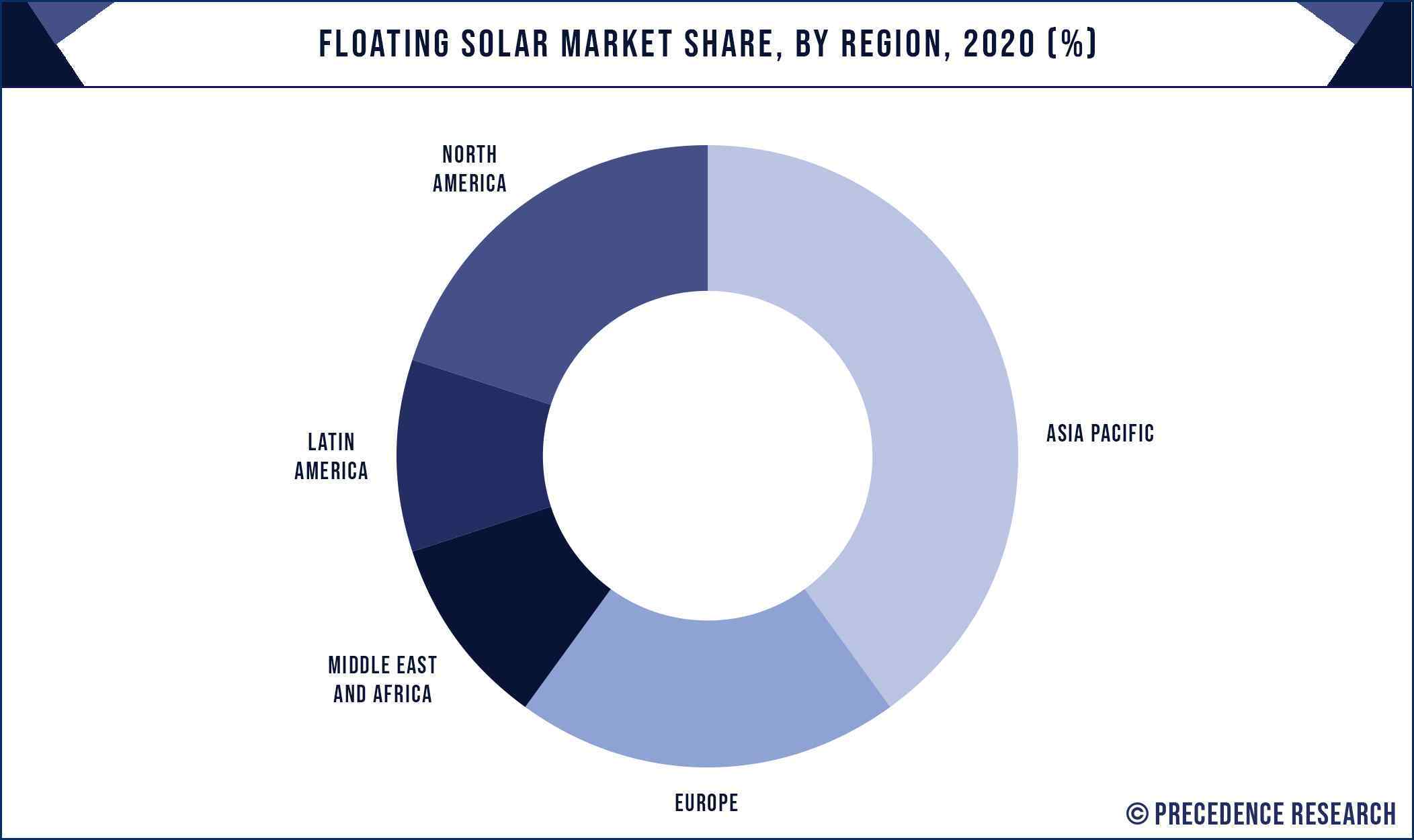 North America, on the other hand, is expected to develop at the fastest rate during the forecast period. The variables such as the ability to float solar technology to reduce evaporation and land availability are projected to raise the demand for the floating solar in the region over the projection period.
Key Developments
KYOCERA Corporation and AVX Corporation formed a new integrated brand called KYOCERA AVX in April 2021, which will be used for the KYOCERA Group's electronic components industry. The company's electrical components business is expected to grow as a result of the new structure.
GreenYellow Limited, a subsidiary of GreenYellow, established 2MW floating solar power plant a SPM Group's facilities in Thailand in February 2021.
Due to the existence of large industries across various regions, the global floating solar market is characterized by severe competition. The research and development projects, as well as product innovation are two main tactics by the major floating solar market players.
Some of the prominent players in the global floating solar market include:
KYOCERA Corporation
JA SOLAR Technology Co. Ltd
Yellow Tropus Pvt. Ltd
Ciel & Terre International
Trina Solar
Vikram Solar Limited
Sharp Corporation
Yingli Solar
Sulzer Ltd.
Hanwha Group
Segments Covered in the Report
By Capacity
Below 5MW
5MW – 50MW
Above 50MW
By Type
Stationary Floating Solar Panels
Tracking Floating Solar Panels
By Connectivity
By Geography
North America
Europe
Asia-Pacific

China
India
Japan
South Korea
Malaysia
Philippines

Latin America

Brazil
Rest of Latin America

Middle East & Africa (MEA)

GCC
North Africa
South Africa
Rest of the Middle East & Africa