The global floating wind power market size was estimated at USD 1.9 billion in 2022 and is expected to hit around USD 65.37 billion by 2032, poised to grow at an impressive CAGR of 42.5% from 2023 and 2032.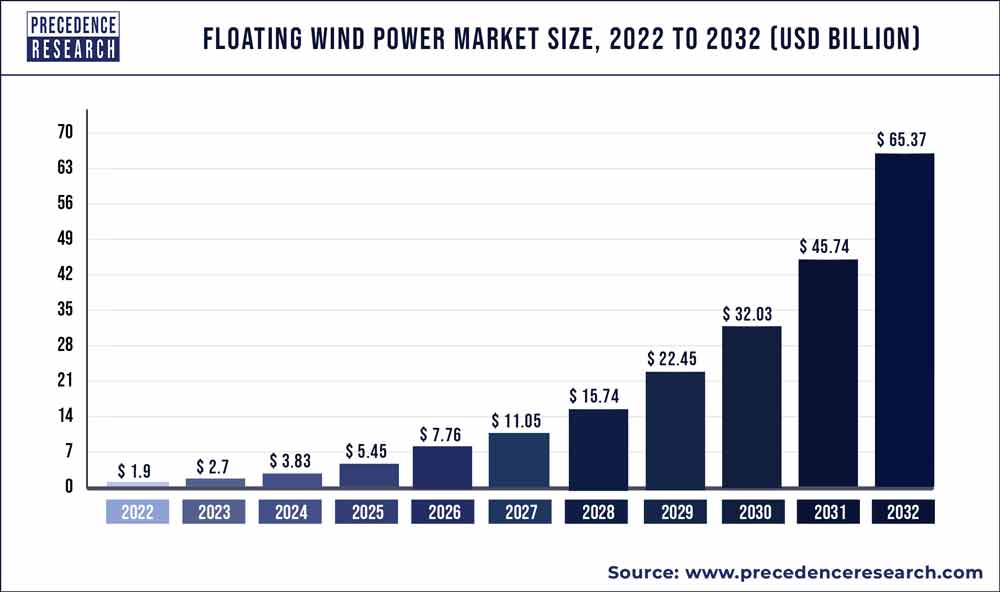 Key Takeaways:
By capacity, the above 5 MW has captured 82% market share in 2022.
By depth, the deep-water segment held a 58% revenue share in 2022.
Europe has dominated the market with a 61% revenue share in 2022.
When compared to pre-pandemic analyses, demand for floating wind power has been lower than expected across all the nations because to the unprecedented and overwhelming COVID-19 pandemic. In comparison to 2019, the worldwide market for floating wind power showed a fall of 56.9 percent in 2020. Floating structure is used to deploy floating wind power in offshore sites that are impractical for permanent foundations because of the harsh weather conditions.
Farms having floating wind farms represent enormous potential for generating a tremendous quantity of electricity and have already shown to be helpful in tough environmental circumstances.
Among the top nations on the international market are China, Japan, the United Kingdom, Norway, and Germany. The UK, China, Spain, and Norway all had significant increase in latest offshore wind energy installations in 2021. According to their most recent investment plans in renewable energy, the trend will continue.
The COVID 19 pandemic's continued breakout has had an effect on market expansion. The key countries for developing new floating power plants are China, the UK, Japan and United States. These countries all have significant economies. But the coronavirus pandemic has left its mark on them. According to the IEA, a coronavirus has led the demand for energy to decline by an unprecedented 4.9 % in 2020. Renewable energy has lagged behind the least expensive source of energy during the crisis caused by COVID 19 as a result of favourable policies favouring less expensive and much cleaner sources. The cost of energy from new wind energy capacity additions has decreased by 9% over the past ten years, according to the worldwide weighted average levelized in 2020.
Growth Factors
Due to the availability of cutting-edge technology, operational benefits the global market is expected to expand as demand for floating wind power installations rises. This will inspire more governments, organisations, and offshore operators to explore floating wind energy possibilities. The worldwide market size is expected to increase from 2023 to 2032 as a result of the growing need for renewable energy.
Report Scope of the Floating Wind Power Market
| | |
| --- | --- |
| Report Coverage | Details |
| Market Size in 2023 | USD 2.7 Billion |
| Market Size by 2032 | USD 65.37 Billion |
| Growth Rate from 2023 to 2032 | CAGR of 42.5% |
| Base Year | 2022 |
| Forecast Period | 2023 to 2032 |
| Segments Covered | Water Depth, Turbine Capacity, and Geography |
| Companies Mentioned | General Electric (US),Vestas (Denmark), Siemens Gamesa (Spain), Goldwind (China), Shanghai Electric Wind Power Equipment Co. (China),ABB (Switzerland), Doosan Heavy Industries and Construction (South Korea), Hitachi (Japan), Nordex SE (Germany), EEW (Germany), Nexans, (France), DEME (Belgium), Ming Yang Smart Energy Group Co, China), Envision (China), Rockwell Automation (US), Hyundai Motor Group (South Korea), Schneider Electric (France), Zhejiang Windey Co.(China), Taiyuan Heavy Industry Co., (China), Sinovel(China) |

Key Market Drivers
Growing shift towards the generation of clean energy
Because of the rise of carbon emissions caused by rising energy demand, both developed and developing countries have embraced sources for renewable energy. Wind farms have been developed because renewable energy sources like solar as well as wind are more effective in minimising carbon emissions. Offshore wind farms now exist as a consequence of advanced and technical research. Therefore, the market for floating wind has been pushed by sources of renewable energy.
According to the IEA's reports published by World Energy Investment, which was released in 2021, renewable energy accounts for the greatest portion of the $530 million, or almost 70% of it, that may be utilised to build new power plants. Consumer need for carbon-neutral power has sparked technical advancement and a solid supply chain system as energy vision for the future.
Growing investments expenditure in the development of sustainable energy
With fewer carbon emissions and less pollution, wind energy is one of the renewable energy source with the greatest growth. According to the Wind Energy Council, the market for wind energy has expanded recently. Investment in energy development is boosted by the creation and administration of wind as well as by the production and distribution of power using wind energy.
Key Market Challenges
High capital investment- The commercial expansion of the floating wind power may be constrained by the large initial expenditure. It can be expensive to establish and maintain the power lines that transport electricity under the seabed back to land. In water that is deeper over 200 feet, it is difficult to build a strong and safe wind farm. These issues are starting to be solved by floating wind turbines. The development of floating wind farms and expensive research impede industry expansion. The wind turbines can sustain damage from wave action. The initial expense of pre-development of wind farm, legal approval, technical considerations, engineering efforts, and comparable other criteria add gasoline to the fire that restricts the growth of floating wind turbines.
Key Market Opportunities
The operative benefit of floating wind as compared with the fixed offshore structure
Unlike onshore wind farms, floating wind farms need to have any land space for installation. Bird deaths are decreased by floating turbines because they may more readily evade migratory flight lines and nesting and feeding sites. Offshore wind that floats has the power to spark green revolution.
The four main categories for foundations of floating wind are barge, tension-leg platform, semi-submersible, and deep ocean floating spar. Examples of fuel that contributes to maintaining environmental balance include decarbonizing extractive sectors which are energy intensive, generating clean hydrogen fuel through electrolysis, and desalinating saltwater. With the use of subsea cables, floating offshore wind needed less setup time and produced more electricity. With the highest wind flow, floating wind farm can resist challenging meteorological conditions. These operative benefits will drive the growth of the floating wind power.
Segments Insight
Water Depth Insights
Due to the numerous benefits of installing floating wind farms in deep water, the deep-water sector is forecast to have a greater market share for floating wind power and to expand even further. Deep oceans provide more wind speeds and zero obstructions in path of wind, which increases the possibility for catching wind energy. These factors are major benefits of this sort of installation.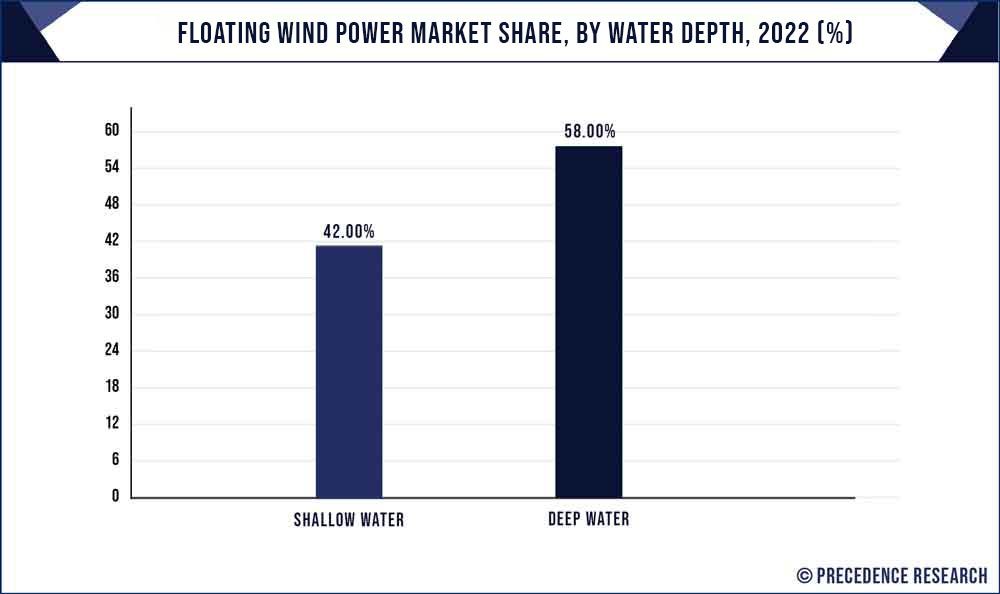 The Floating foundations are thought to open new prospects for the large-scale development of various wind farms in some nations with a short continental shelf, hence driving the need for floating wind power. Floating wind turbines are a recommended substitute for permanent bottom foundations in the depth range of 25 to 50 metres for shallow and transitional water. These provide a number of benefits, including lower capital requirements, environmental advantages, and easily accessible.
Turbine Capacity Insights
The installation of the wind farms usually depends on anticipated electricity and the availability of funding. Since a wind farm requires significant upfront investment, a bigger capacity of the wind farm is viewed as a viable investment when considering the potential returns. In line with this trend, latest wind farms that have been approved for development have a capacity greater than 5 MW. As a result, this market sector has a bigger market share.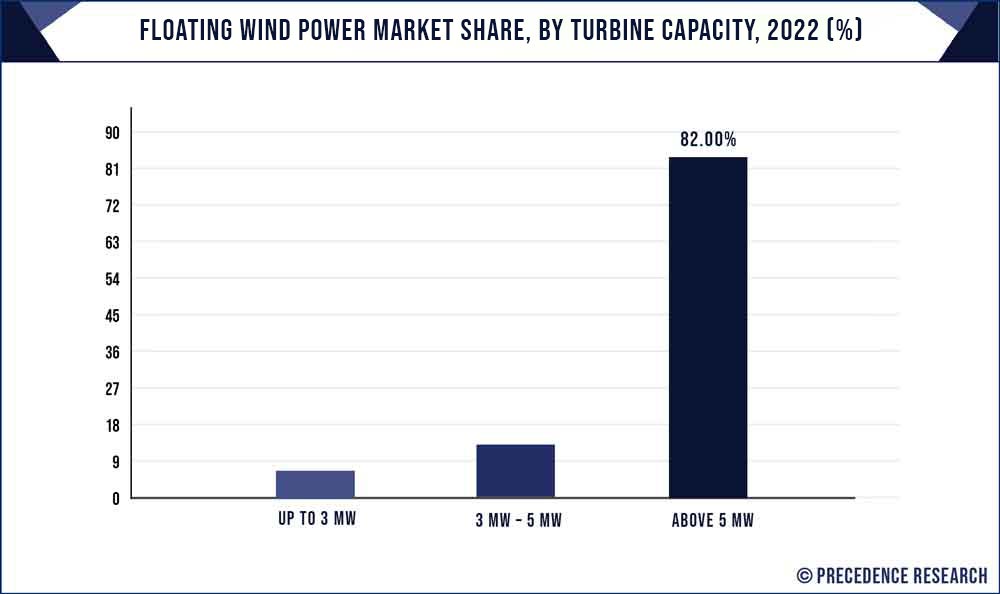 Globally, several testing phase projects have been conducted since 2013, with the majority of them having a capacity between 2 and 5 MW. The excellent examples are the projects in Germany, the UK, and Japan. These initiatives are anticipated in nations with promise but little market penetration. In the upcoming years, this will fuel investment in the 3MW to 5MW and up to 3MW sectors.
Floating Wind Power Market Share, By Region, 2022 (%)
| | |
| --- | --- |
| Regions | Revenue Share in 2022 (%) |
| North America | 15% |
| Asia Pacific | 18% |
| Europe | 61% |
| Latin America | 4% |
| MEA | 2% |

Regional Insights
On the international market, Japan now controls the Asia continent area. The government intends to increase the wind capacity of installed floating offshore up to 4 GW by the end of year 2032 and to 18 W in 2050, according to the Japan Wind Power Association, which would further draw in numerous investors. The UK leads the industry globally with yearly installation of 47.5 megawatts and a target of 1 gigawatts for offshore floating wind by 2032. It is believed that most of the target will be constructed off the coast of the Scotland region and in south-westerly waters close to the UK. Following Japan, other nations with erected floating wind farms include the United Kingdom, France, the United States, and Sweden. Other nations, including Norway Germany, Spain, are anticipated to establish as significant market players throughout the projection period in light of the planned construction of floating wind power.
Additionally, Asia Pacific countries are shifting toward web-based modern activities in every field as a result of expanding industry. According to the GSM Association, research on the potential effects of new services and linked devices is progressing in countries including Japan, Australia, and South Korea. Additionally, the local automobile industry is thriving. The most notable region in the world for producing vehicles is Asia Pacific. Thus, during the speculative term, the APAC market will likely be driven by the expansion of these end-use organisations. Because of increased interest in the oil and gas sector and increased building activity within the regions, which promotes the expansion of the private and business areas, it is projected that Latin America, the Middle East, and Africa would see remarkable improvement.
Recent Developments
Hitachi ABB power grids introduced a range of transformer solutions for applications related to offshore floating that were made to withstand the physically needed circumstances on the floating structures as well as the harsh environment in June 2021. The choice will make it possible to successfully gather and integrate far bigger amounts of wind energy into the world energy grid, directly promoting the development for sustainable future.
In June 2021, Odfjell Oceanwind and Siemens Gamesa signed an Memorandum of understanding to work together on developing offshore wind units. A fleet of floating units are developed, owned, and operated by Odfjell Oceanwind to supply electricity to microgrid.
The third and last stages of the Dogger Bank offshore wind farm's turbine supply, service, and warranty contracts were completed, according to a May 2021 announcement by GE Renewable Energy.
Siemens Gamesa has been approved as the preferred supplier for the whole 1,044 MW Hai Long offshore wind projects in Taiwan as of May 2021.
Segments Covered in the Report
(Note*: We offer report based on sub segments as well. Kindly, let us know if you are interested)
By Water Depth
Shallow Water
Transitional water
Deep Water
By Turbine Capacity
Up to 3 MW
3 MW – 5 MW
Above 5 MW
By Geography
North America
Europe
Asia-Pacific
Latin America
Middle East & Africa (MEA)