The global cosmetic oil market size was evaluated at USD 6 billion in 2022 and is projected to hit around USD 19.05 billion by 2032 with a registered CAGR of 12.3% during the forecast period 2023 to 2032.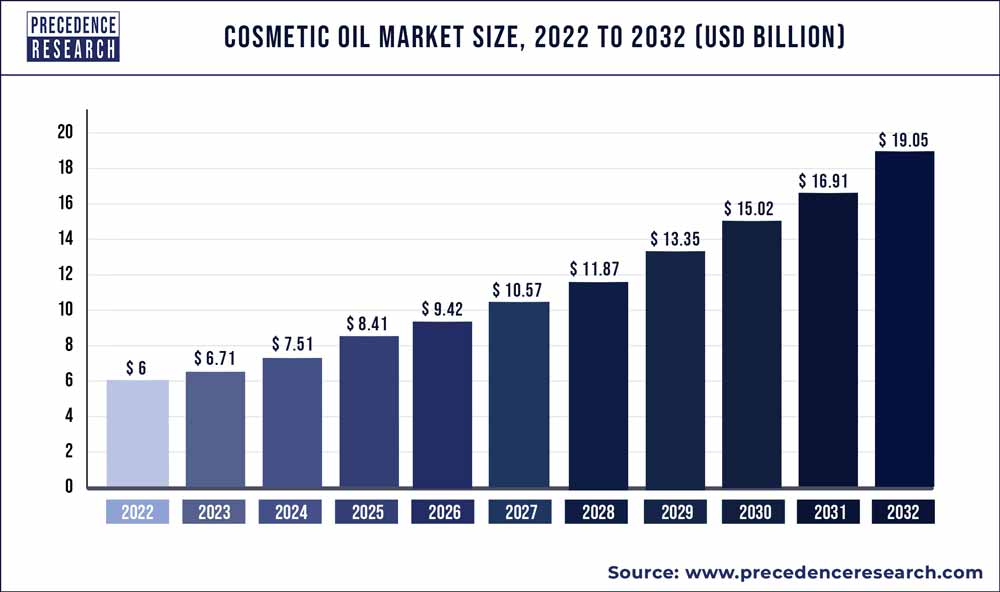 Access our Premium Real Time Data Intelligence Tool, Visit: Precedence Statistics
Key Insights:
In 2022, By source, the vegetable oil segment held the largest market share.
In 2022, By application, the hair care segment has captured the largest market share.
In 2022, By geography, the North America region has accounted for the majority revenue share.
The Asia Pacific cosmetic oil market is anticipated to expand at a CAGR of over 5.9% from 2023 to 2032.
Essential oils and carrier oils like almond and coconut oil are both used in cosmetics. In the upcoming years, demand for these oils is anticipated to be driven by a variety of qualities, including their antibacterial, moisturizing, and anti-inflammatory properties, which will subsequently support market growth. Demand is also anticipated to increase due to consumers' growing preference for organic and natural cosmetic products. In addition to lipsticks, lip balms, moisturizers, and serums, cosmetic oils are utilized in hair and skin care products such as hair, facial, and elixir oils.
Depending on the kind of skin, cosmetic oils are used for a number of purposes, including nourishing the skin and avoiding irritation and skin inflammation. At first, makers of cosmetic oils mostly targeted women, but as social media influencers proliferated and beauty awareness increased, they started to also target guys. During the projection period, it is predicted that expanding operations to other demographics would strengthen the cosmetic oil industry.
The market for cosmetic oils will see increased sales due to the rising demand for cosmetic goods as a result of people's increased awareness of outward attractiveness. Because of its inherent capacity to hydrate and nourish skin as well as to give a natural odor, cosmetic oil is utilized in cosmetic goods. During the anticipated timeframe, the expansion of men-focused beauty goods and the quick development of the gender-neutral cosmetic industry are anticipated to drive product growth.
Growth Factors
Cosmetic oils provide a number of advantages, including the ability to heal sunburn, prevent dandruff, treat acne, enhance the quality of the skin, protect the skin, prevent wrinkles, and treat acne. They are also rich in antioxidants and antibacterial qualities.
The growing natural cosmetics.
Increasing awareness of cosmetic products.
Report Scope of the Cosmetic Oil Market
Report Coverage
Details
Market Size in 2023
USD 6.71 Billion
Market Size by 2032
USD 19.05 Billion
Growth Rate from 2023 to 2032
CAGR of 12.3%
Base Year
2022
Forecast Period
2023 to 2032
Segments Covered

By Source
By Application
By Type
By Industry Vertical

Regions Covered

North America
Europe
Asia-Pacific
Latin America
Middle East & Africa

Key Market Drivers
Demand for natural cosmetic ingredients is growing - The growing desire for natural ingredients is driving up demand for the product. Bio-oils may replace chemical face creams and be an excellent treatment for dry skin, stretch marks, hyperpigmentation, and acne, according to recent studies. Due to growing consumer concerns about the ingredients used in cosmetics, the natural and organic cosmetics sectors are expected to experience significant growth in the years to come. By developing a variety of essential oils as well as hair and facial pressure oils, businesses like Innisfree, Farsali, Khadi, and Biotique are attempting to prosper in the cosmetic oil industry. The rise in skin issues brought on by things like pollution, hormone imbalances, genetic abnormalities, and other things are projected to boost the market need even more. Globally increasing disposable incomes will promote the expansion of the cosmetics industry, which will lead to additional growth in product demand. The cosmetic oil sector will expand as a result of the rising usage of shampoos and hair oils to treat hair loss issues.
Internet penetration - Increased internet usage, social media marketing, and changing lifestyles are all contributing to the growth of the cosmetic oil market. Increasing marketing efforts to contact potential clients via social media platforms, for example, many companies are advertising organic and herbal oils that contain little to no toxic chemicals in them, which is an efficient approach to attracting clients. For instance, as more people have hair loss difficulties, they have started purchasing organic oils like mama earth oil, viva naturals, and others that provide a variety of oils that aid in hair development.
Key Market Challenges
Pore blocking and contamination with toxins - Mineral oils may clog pores and increase the risk of acne and blackheads. Even the purest Mineral Oil will trap germs on the skin or use a product with extra ingredients that can clog pores, raising the possibility of breakouts. To prevent skin moisture loss, this oil creates a physical barrier on top of the skin. There are several different grades of mineral oil. Cosmetic-grade Mineral Oil, which is purer than technical grade yet has raised concerns from scientists, is used in cosmetic products. Furthermore, there is convincing evidence that Mineral Oil hydrocarbons represent the biggest threat to human health due to their absorption through the skin, food, and air.
Key Market Opportunities
Increasing male-specific cosmetic oil opportunities - People today are more likely to use cosmetics to improve their appearance. Many issues, including hair loss, grey hair, coarse hair, and others, affect young men. With the use of the right cosmetic oil and knowledge on how to apply the right cosmetic oil to hair, all of these issues may be resolved. As a consequence, the market for cosmetic oil that caters to men's needs has a lot of space for expansion.
Segments Insight
Source Insights
On the basis of source, the vegetable oil segment has held the largest market share in 2022. The fastest-growing segment of the market is one that may be attributed to the rising demand for vegetable oil in cosmetic applications. Due to their ability to heal and protect the skin, essential oils, avocado, almond, palm, and other types of vegetable oils are commonly used in cosmetic goods. Due to increased public awareness of its beneficial effects on the skin, vegetable oil is being utilized more commonly in cosmetics. The market share for cosmetic oils will also be encouraged by the expansion of the use of innovative vegetable oils in cosmetic goods. Vegetable oils have also received a lot of attention because of their numerous biological roles and appealing technical characteristics including simple skin absorption and remarkable spreadability.
Due to its growing use in skin and hair care products, coconut oil has the greatest market share. Due to its ability to moisturize skin, coconut oil is frequently utilized in cosmetic goods. Additionally, coconut oil cures wounds, combats acne, and treats skin diseases and infections. Additionally, the growing popularity of organic and natural certifications in cosmetics has significantly increased the demand for vegetable oils recently, driving the growth of the industry as a whole. The development of the cosmetic oil industry will be further accelerated by the increased innovation of cosmetic products using various vegetable oils.
Application Insights
On the basis of application, the hair care segment has captured the largest market share in 2022. To give the hair a shiny and smooth texture, cosmetic oil is widely used in a variety of hair care products such as hair oil, shampoos, conditioners, serums, and other hairstyle products. These oils also promote the development of hair follicles by moisturizing the scalp. Additionally, the growing significance of hair care and style in people's life has had a favorable impact on the demand for various hair care products, regardless of gender.
Regional Insights
On the basis of geography, the North America region accounted for the majority of revenue share in 2022. Because of the increased need for inventive and multipurpose cosmetic products spurred on by changing lifestyles and busy work schedules, the market for cosmetic oils in North America is expected to grow quickly. Additionally, fresh growth potential will be created by innovation and R&D for the development of new goods, as well as the presence of large cosmetic enterprises in the area. The prevalence of early aging and hair greying, especially among young people, will cause a rise in the sale of hair care products across North America. The expansion of the cosmetic oil market over the course of the projection period will also be significantly influenced by the usage of vegetable oils in daily and personal care products.
Over the course of the forecast period, the Asia Pacific cosmetic oil market is anticipated to expand at a CAGR of over 5.9%. The significant growth is linked to urbanization, population increase, and economic growth. Additionally, the growing production of personal care and cosmetic products in Asian nations like China and India is probably going to support market expansion in the area. More than 80% of the Asia-Pacific market for cosmetic oil is anticipated to be accounted for by China, Japan, India, and South Korea.
Recent Developments
In May 2022 – A brand accelerator project called Beauty Activations was launched by Symrise Cosmetic Ingredients to collaborate with North American cosmetics brands. Due to the partnership with Symrise and the Beauty Activations platform, brands will have access to detailed marketing statistics, unique formulae, and a choice of award-winning ingredients.
Key Market Players
Vcos Cosmetics Pvt Ltd
SOPHIM
Bramble Berry
Aroma Foundry
Uncle Harry's Natural Products
Botanic Choice
MakingCosmetics Inc.
A.G. Industries
AOT Organic Products
Marnys
Segments Covered in the Report
(Note*: We offer reports based on sub-segments as well. Kindly, let us know if you are interested)
By Source
Mineral Oil
Vegetable Oil
By Application
Hair Care
Skin Care
Lip Care
Others
By Type
Olive
Almond
Coconut
Essential
Others
By Industry Vertical
Chemical and Petrochemical
Oil and Gas
Energy & Power
Automotive
Healthcare
Others
By Geography
North America
Europe
Asia-Pacific
Latin America
Middle East & Africa (MEA)