The global cosmetics market size was valued at USD 375.30 billion in 2022 and is expected to hit around USD 560.50 billion by 2030 with a compound annual growth rate (CAGR) of 5.1% from 2021 to 2030. U.S. cosmetics market size was estimated at USD 57 billion in 2022.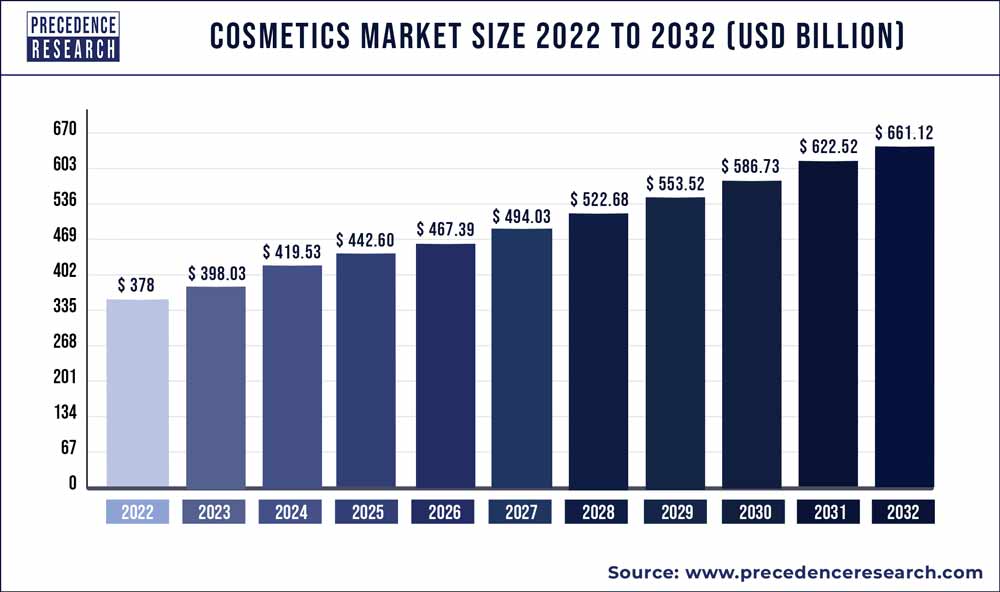 Key Takeaway:
By product, the skincare segment accounted market share of over 41% in 2022.
The hair care segment is expanding at a CAGR of 6.4% from 2022 to 2030.
The fragrance segment is growing at a CAGR of 4.6% from 2022 to 2030.
By end-use, the women segment held revenue share of over 61% in 2022.
The men segment is expected to grow at a CAGR of 5.9% from 2022 to 2030.
By distribution channel, the offline segment has captured 76% revenue share in 2022.
The online segment is growing at a CAGR of 6.3% during the forecast period 2022 to 2030.
Growth Factors
Rapid changing lifestyle across the globe is the major factor boosting the global cosmetics market. Moreover, changing climatic conditions in diversified region such as North America, Europe and Asia-Pacific and LAMEA has influenced the need for cosmetics and skin care products. Furthermore, the global per capita per income has observed a significant growth over the past few years especially in emerging countries. Rise in urbanization and growth of the middle class consumers in developed and developing region have encouraged the adoption of convenience oriented lifestyle and making cosmetics more desirable for all age group customers particularly amongst youngsters.
Moreover, raising demand for natural cosmetics products is the current trend in the market. Manufacturers like Patanjali, Emami, Loreal, Procter & Gamble Company, The Estee Lauder Companies Inc. and others are continuously indulged in producing herbal and natural ingredients cosmetics products. Furthermore, increasing awareness amongst male for personal grooming and hygiene has further boosted the growth of the market. Increasing in regressive promotions and advertisements through social media platforms such as Instagram, Facebook, YouTube and others by manufacturers has played a significant role in the growth of the market. However, Covid-19 has negatively impacted the global cosmetics market as implementation of lockdown and curfew practices were present globally. Moreover, supply chain restriction across the globe was the major which has restricted the growth of the market.
Furthermore, in the context of e-commerce growth, social commerce is significantly booming. The social commerce helps consumer to interact with brands or buying a product and service. Moreover, livestreaming has become a key social commerce tool in cosmetic world which significantly increased with the Covid-19 crisis. According, to Google almost 70% of millennials watch an online tutorial on YouTube during the Covid-19 crisis. In addition, online advertisement has significantly increased as it helps in better customer reach in lessor time.
Cosmetics Market Production, manufacturing and investment data
Loreal, a globally leading cosmetics company estimated that the company's sales for year 2022 reached 38.26 billion Euros, the company has witnessed 28% increased e-commerce sales in 2022.
The sales for overall premium/prestige beauty products in the United States boosted by 15%. Specifically, the sales for skincare increased by 12% in 2022 than 2021, the NPD Group stated.
In 2022, the United States generated $49.2 billion sales in cosmetics.
According to the report by Euromonitor, the high-end products will make 54% of the market in China by 2025.
Puig, a Spanish beauty and fragrance brand stated that its annual revenue grew by 40% in 2022 to 3.620 billion Euros.
According to the company, the sales for makeup products boosted by 52% as compared to 2021. In March 2023, the United States' exports for beauty products reached up to $607 million.
In 2022, Amazon generated 23% of its total revenue from the beauty and personal care segment.
Report Scope of the Cosmetics Market
| | |
| --- | --- |
| Report Coverage | Details |
| Market Size | USD 560.50 Billion by 2030 |
| Growth Rate | CAGR of 5.1% From 2021 to 2030 |
| Largest Market | North America |
| Base Year | 2021 |
| Forecast Period | 2021 to 2030 |
| Segments Covered | Categort, Gender, Distribution Channel |
| Regional Scope | North America, APAC, Europe, Latin America, MEAN, Rest of the World |
| Companies Mentioned | Avon Products Inc., L'Oreal S.A., Revlon, Inc., Kao Corporation, Oriflame Cosmetics S.A., Shiseido Company Limited, Skin Food Co., Ltd., The Estee Lauder Companies Inc., The Procter & Gamble Company and Unilever Plc. |
Category Insights
Based oncategory, the cosmetics market is divided into skin and sun care products, hair care products, deodorants & fragrances, and makeup & color cosmetics. The skin care products and sun care products constitutes a major market share in during the forecast period. However, the hair care products are expected to grow at the highest CAGR.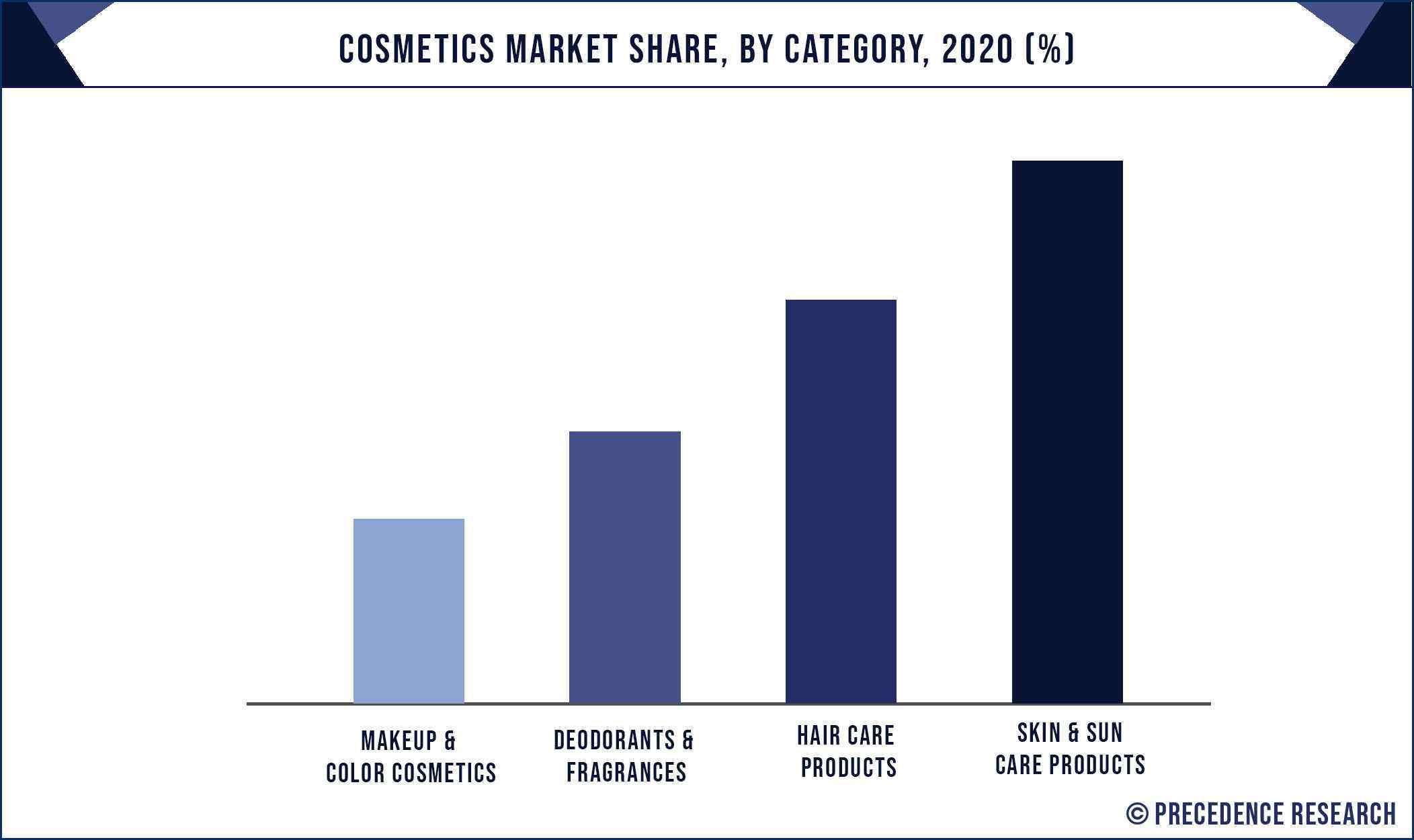 Skin care is an umbrella term under which sun care, facial care, body care, hand care products fall under the same umbrella. Skin care products are majorly used by women as compared to men owing to the overall consciousness regarding their skin. Presently, manufacturers are using new technologies such as nanogold and nanosome technology or nano particles for producing new skin care products. These nanoparticles help in keeping the skin more young and provide safety against harmful ultraviolet rays.
Moreover, hair care segment of cosmetics products has reached to steady growth phase. Hair care products remain dynamic factor owing to its regular use by both men and women. Rising consumer preference towards spa's and saloon for hairstyles creates addition demand for the hair care products.
By Gender
On the basis on gender, the cosmetics market is categorized into men, women and unisex. The women segment in terms of market share and is projected to grow with a significant CAGR during the forecast period. Moreover, the cosmetics market across the globe has witnessed steady growth owing to increasing beauty consciousness among women. Furthermore, increase in young and female working population is further expected to boost the market growth.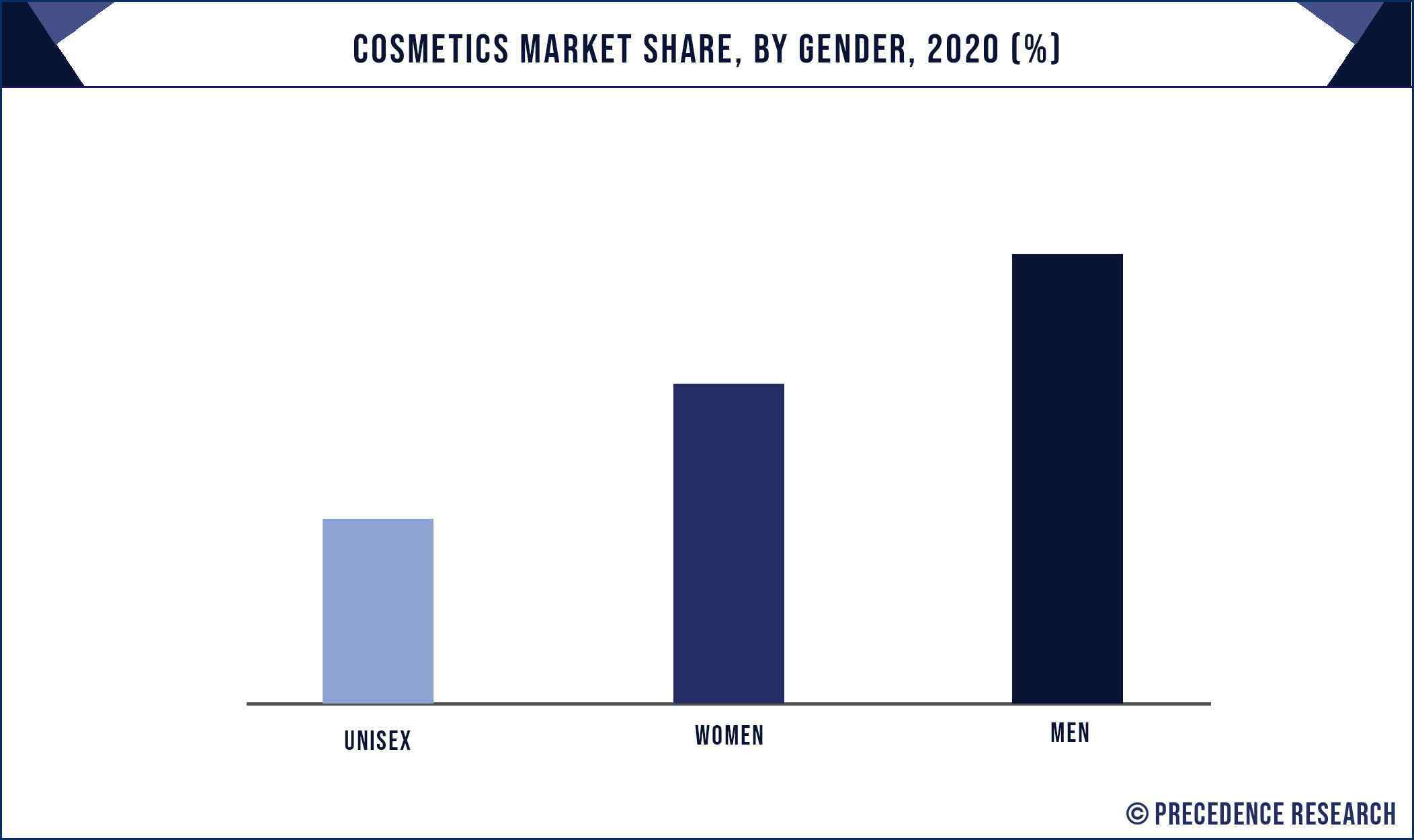 Raising awareness regarding personal grooming amongst men further expected to drive the market. Moreover, increasing men's preference towards herbal and natural cosmetics products is continuously rising which further augments the growth of the market.
Distribution Channel
By distribution channel, the cosmetics market is segmented into hypermarkets/supermarket, specialty stores, brand stores, convenience and online sales channel. Hypermarkets/supermarket is retail outlets that focus on selling a particular range and associated items. Hypermarkets/supermarket maintains considerable depth in the type of product that they specialize in selling premium prices products. Moreover, manufacturers are continuously making efforts to increase shelf visibility of their products and hence they are majorly targeting hypermarkets/supermarket stores. As a result, great variety of cosmetics products is available in this retail stores. Moreover, hypermarkets/supermarket stores provides great amount discount which result in attracting more and more customer, hence resulting in boosting the cosmetics market
Geographical Coverage
North America market holds the major share in the year 2022 and it expected to retain its dominant during the forecast period. The Asia-Pacific cosmetic market was valued at USD 164 billion in 2020 is expanding growth at a CAGR of 6% in the forecast period.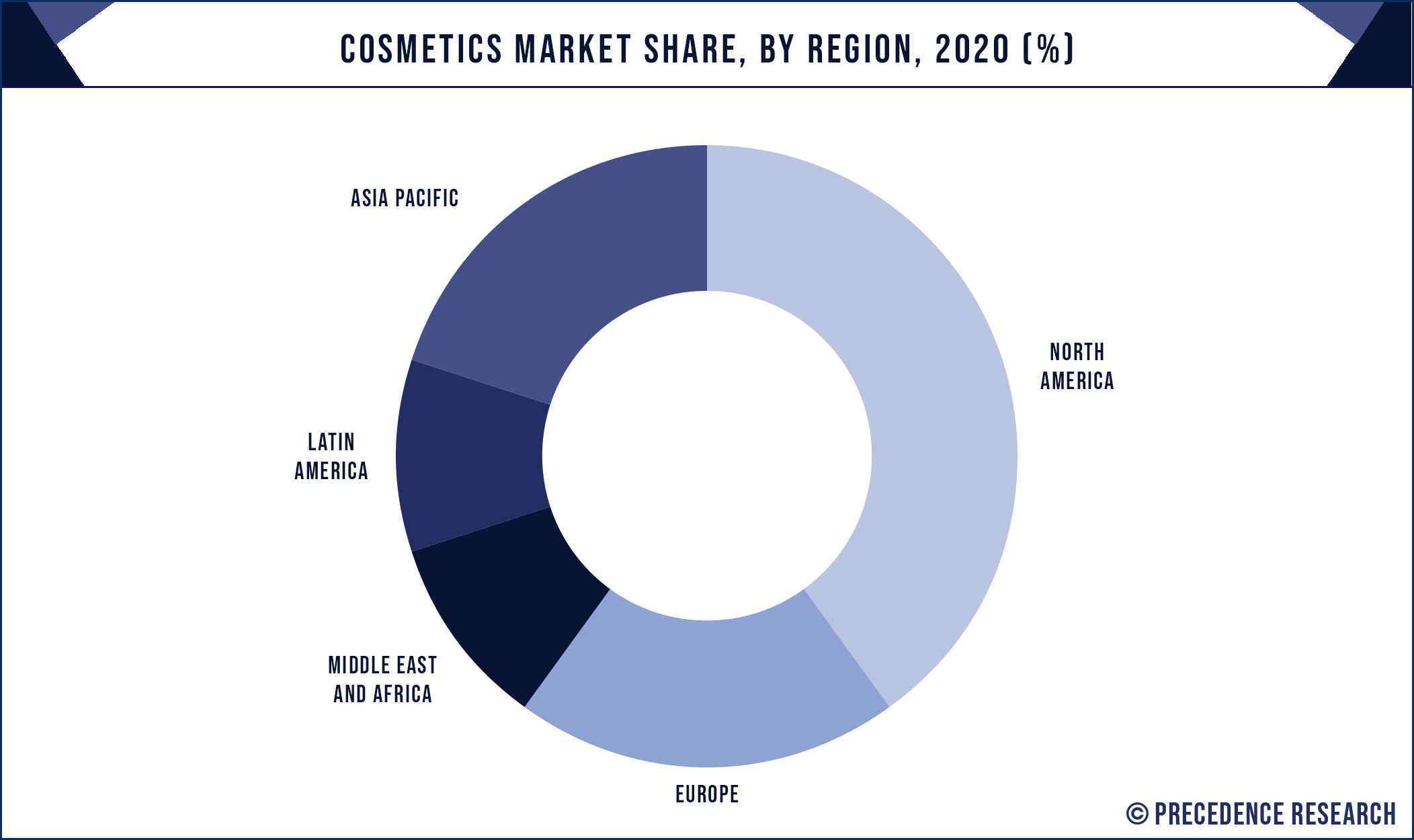 North America market is a mature market and it includes countries such as U.S., Canada and Mexico. Increase in population and improved lifestyle are the major factors that boost the growth of the cosmetics market. Raising purchasing power in this region is the prime factor which contributes towards the growth of the cosmetics market. Moreover, raising awareness amongst men's regarding the personal grooming has further driven the sales of cosmetics products. Furthermore, unisex cosmetics products such as deodorants have become increasingly popular in this region owing to the associated benefits. This in turn further boosts the growth of the cosmetics market.
Key Companies Profiled
The global cosmetics market is characterized by the presence of various small and big players. The major market player includes Avon Products Inc., Kao Corporation, L'Oreal S.A., Oriflame Cosmetics S.A., Revlon, Inc., Shiseido Company Limited, Skin Food Co., Ltd., The Estee Lauder Companies Inc., The Procter & Gamble Company and Unilever Plc.. As the market is competitive in nature, the players are indulged in raising their competitive share by means of strategic initiatives like mergers, new product and acquisitions.
Segments Covered in the Report
By Category
Skin & sun care products
Hair care products
Deodorants & fragrances
Makeup & color cosmetics
By Gender
By Distribution Channel
Hypermarkets/Supermarkets
Specialty Stores
Pharmacies
Online Sales Channels
Other
By Geography
North America

Europe

U.K.

Germany

France

Russia

Italy

Spain

Rest of Europe

Asia Pacific

China

India

Japan

South Korea

Rest of Asia-Pacific
LAMEA

Latin America

Middle East

Africa