The global halal cosmetics market size was evaluated at USD 38 billion in 2022 and is expected to hit around USD 118.55 billion by 2032 with a registered CAGR of 12.1% from 2023 to 2032.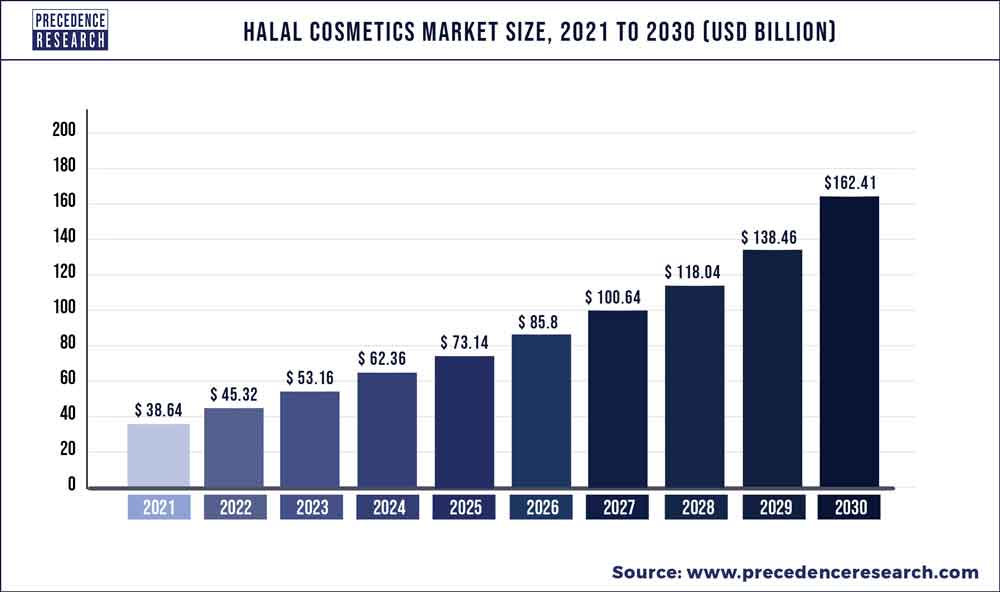 Halal cosmetics are products that are made of ingredients that are not nonpermissible by Islamic law. All cosmetics are free from any animal products or genetically modified organisms ingredients. The increasing Muslim population has led to a rapid rise in the market for halal cosmetics. An increasing number of women, especially Muslim women entering into the cosmetics and fashion industry, becoming professionals are all leading the way for the demand for halal cosmetics products. These products are free from animal cruelty. Due to a growing trend for personal grooming and the use of beauty products that adhere to the religious norms of the Muslim community, there is a growth in the use of these products. Products like the lipstick Lip Balms Foundation, skin care products, creams, moisturizers, lotions, and products of personal hygiene and personal care are all manufactured under this domain.
The market for halal cosmetics is expanding, especially in regions dominated by the Muslim population. In countries like Saudi Arabia, UAE, Indonesia, Turkey, and Malaysia, there's a growing demand for halal cosmetics. Since Muslims constitute a great part of the global population. This cosmetic industry is expected to grow. There's an increase in the production of Sharia-compliant products. India ranks third in terms of the high Islamic population. Growing standard of living and rapid urbanization has boosted the halal cosmetics market growth in India. There's an increasing demand for Sharia-compliant products or halal-certified products.
The halal cosmetics market was also hit by the COVID-19 pandemic. Look cosmetics market was largely affected as new products were needed like hand sanitizers and eye care. As wearing the mask was a social norm the cosmetics products market had become sluggish.
Growth Factors
The compliance with halal certification and the increase in the population of the Muslim community, there is a group in the demand for halal cosmetics. Major market players in the cosmetics industry are also entering the halal cosmetics market. The high cost, which is associated with these cosmetics hampers the market. The increased purchasing power of the growing women Muslim population is expected to increase the demand for halal cosmetics. As young Muslim women are taking interest in fashion and makeup there is growth in this market. There's growth in the fragrances market due to a desire for personal grooming.
The market is expected to grow due to the growing concern among people about animal welfare and their living rights. The trend for veganism is also gaining attention and many people are boycotting animal-based products, so all of these factors are expected to help in the growth of the market. Earlier, the choice of halal cosmetics was extremely timid, but in recent years due to the increased portfolio of various companies, there is an increase in the range of products that are provided.
Many halal-certified cosmetic manufacturers have entered the market. Halal products are not just in demand because of the muslin population but as they symbolize cleanliness, hygiene, and safety non-Muslim women or men are also resorting to halal cosmetic products. Not just the production, but the packaging of these products also require hygiene. All of these reasons are helping in driving the demand for these products in many non-Muslim countries also.
Report Scope of the Halal Cosmetics Market
Report Coverage
Details
Market Size in 2023
USD 42.41 Billion
Market Size by 2032
USD 118.55 Billion
Growth Rate from 2023 to 2032
CAGR of 12.1%
Base Year
2022
Forecast Period
2023 to 2032
Segments Covered

By Product Type
By Application
By Distribution Channel

Regions Covered

North America
Europe
Asia-Pacific
Latin America
Middle East & Africa

Segments Insight
Product Type Insights
On the basis of the product, the halal cosmetics market is segmented into Fragrance, color cosmetics, and personal care. Personal care is sub-segmented into hair care and skin care.
On the basis of the product, personal care products hold the largest market share and it is driven by the number of Muslim women population, which are increasingly using such products. These products are a combination of personal hygiene and religious observances. Halal cosmetics market has a vast product portfolio and a great application in the consumer's lives. Most halal cosmetics do not cause any skin irritation and also do not have any long-term side effects on health. With the increased disposable income and the adoption of modern lifestyles, it is expected that the market shall grow during the forecast period. For the non-Muslim population, varieties of vegan products are proving to be a good skin care segment.
Application Insights
On the basis of application, the hair care segment has the largest market share and is expected to remain the same during the forecast. Hair massage creams, shampoo conditioners, hair oil, hair gels, etc. are all the products that come under the Hair care segment.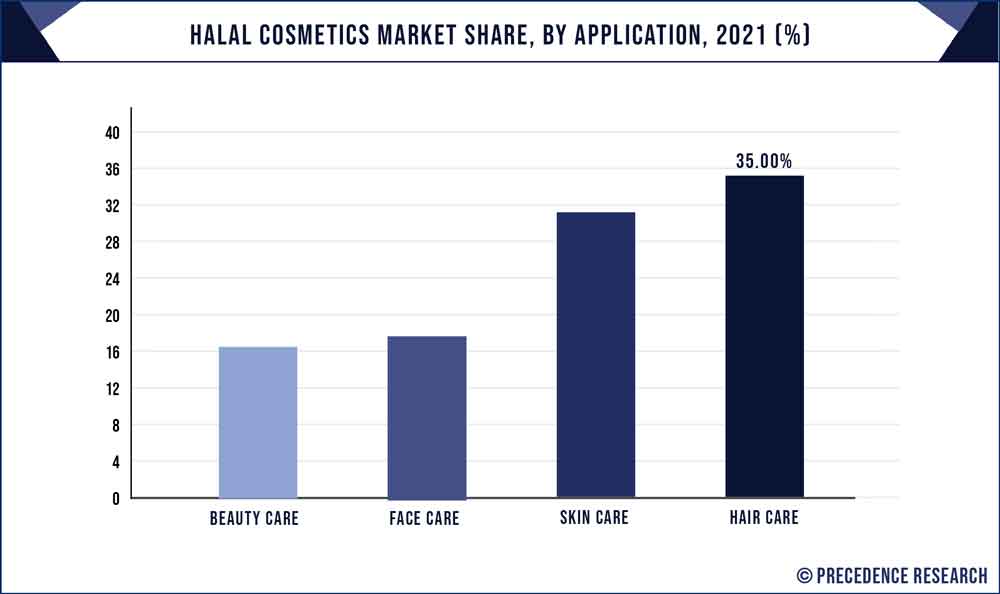 The hair care segment has grown in the previous years, and it is expected to grow during the forecast period due to specific interest and desire for healthy hair among Muslim women.
Distribution Insights
On the basis of distribution channels, there are two modes, online mode, and offline mode. Halal cosmetics are majorly distributed across the globe with the help of offline channels like Specialty Stores, brand stores, boutiques, and brand outlets. Post COVID-19pandemic e-commerce activities have also increased across the world. Due to the pandemic, there has been the involvement of e-commerce with halal cosmetics. The distribution of halal cosmetics through hypermarkets and supermarkets or even convenience stores is doing well. The store-based segment is expected to have the highest share and is expected to grow well during the forecast.
Halal Cosmetics Market Share, By Region, 2022 (%)
| | |
| --- | --- |
| Regions | Revenue Share in 2022 (%) |
| North America | 5.9% |
| Asia Pacific | 74% |
| Europe | 11.6% |
| Latin America | 5.5% |
| MEA | 3% |

Regional Insights
There's a great demand for halal cosmetics in developing as well as developed nations worldwide. Many countries in North America, Europe, and the Asia Pacific are having a great demand for halal cosmetics. The North American region dominates the market for halal cosmetics. The halal cosmetics market is providing a large amount of product base in order to capture the market worldwide. Multinational players are also entering the halal cosmetics range as they see great growth opportunities in various regions.
Recent Developments
Novel halal-sanctioned skin care products were presented by a Muslim-possessed skincare brand Flora and Noor in June 2021. This company offers various products that are cruelty-free, vegan, and halal-approved. There are toners, serums, cleansers, body scrubs, bath bombs, and moisturizers.
In order to cater to a diverse consumer base, ex-L'Oreal executives launched a halal brand in August 2020.
Boozer, is a Brazilian cosmetics company. Located in Amazon. Has a range of products called Simbioze Amazonica. And these products have received halal certification in December 2019.
Key Market Players
IBA Halal Care
Inika
Mena Cosmetics
PHB Ethical Beauty
Sampure Minerals
Wardah Cosmetics
Amara Cosmetics
Brataco Group of Companies
Clara International Beauty Group
Halal Cosmetics Company
Segments Covered in the Report
(Note*: We offer reports based on sub-segments as well. Kindly, let us know if you are interested)
By Product Type
Personal Care Products
Color Cosmetics
Fragrances
By Application
Skin Care
Face Care
Hair Care
Beauty Care
By Distribution Channel
By Geography
North America
Europe
Asia-Pacific
Latin America
Middle East & Africa (MEA)