The global dark store market size accounted for USD 12 billion in 2022 and is projected to hit around USD 307.4 billion by 2032, growing at a CAGR of 38.4% during the forecast period from 2023 to 2032.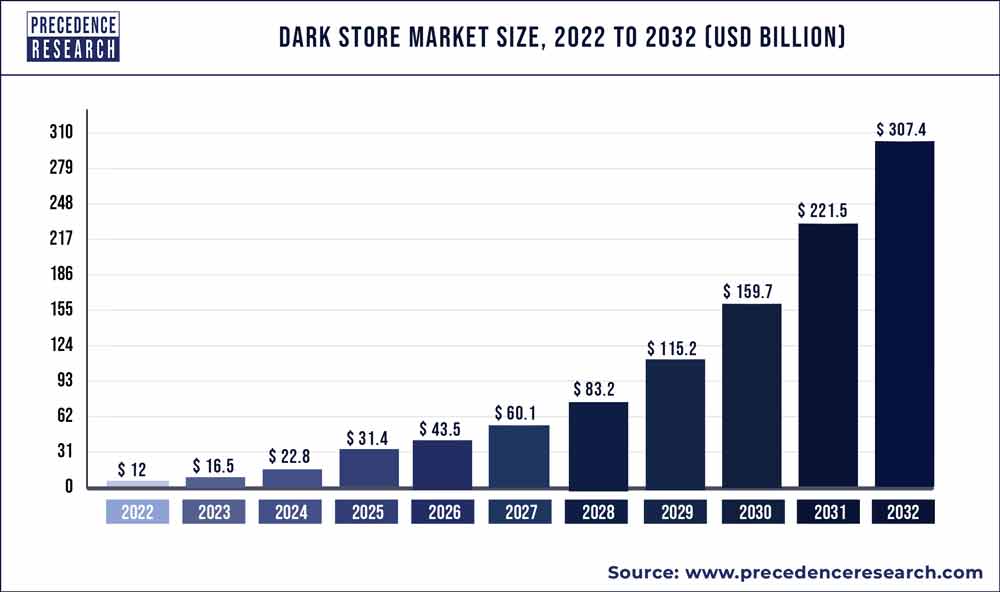 Access our Premium Real Time Data Intelligence Tool, Visit: Precedence Statistics
Market Overview:
A micro fulfillment center, with a small local store but without customers, basically dedicated to rapid online fulfillment is known as a Dark Store. The increased utilization of smartphones and easy availability of the internet boost the dark store industry. These stores mainly ship the orders directly to the convenient collection point or address specified by the customer. The Dark Stores are used for faster delivery and quick shopping. The Dark store became well-known due to the long lockdown during the COVID-19 Pandemic.
According to the collected data by Kesari Mahratta Trust, 26.1% of respondents ordered their goods frequently while the pandemic was at its worst and the lockdown was implemented, compared to 38.7% of respondents who always purchased their daily requirements from a dark store. The eCommerce saw a 43% increase between 2019-2020 almost certainly the result of the national lockdown according to U.S Census Bureau Report. The online route facilitates groceries delivery from a dark store. Order fulfillment and shipping are made simple in dark stores.
Today, a number of well-known supermarket chains across the world are experimenting with dark shops. The bulk of these stores are larger than 100,000 square feet and include specialized in-house equipment including food processing, cold press systems, slaughtering lines, etc. The typical dark stores, on the other hand, tend to be smaller in size, covering 10,000 to 20,000 square feet.
Report Scope of the Dark Store Market
Report Coverage
Details
Market Size in 2023
USD 12 Billion
Market Size by 2032
USD 307.4 Billion
Growth Rate from 2023 to 2032
CAGR of 38.4%
Base Year
2022
Forecast Period
2023 to 2032
Largest Market
North America
Segments Covered

By Age Group
By Category
By Delivery Options
By Non-Food Products

Regions Covered

North America
Europe
Asia-Pacific
Latin America
Middle East & Africa

Market Dynamics:
The benefits of Dark stores involve quick and contact-free shopping, faster delivery, a larger audience, and broader reach. Along with this, there is a more extensive range of products. The dark store is the best way for improving the distribution of products and enhanced storage for many brands. Retailers will be able to start operations in new areas and countries in which they do not yet have physical operations due to this type of online business. Globally the concept of Dark stores has gone beyond the FMCG and grocery segments as per A Forbes report.
The restraints faced by the dark store market are perishability challenges. The expired products must be kept separately, the liquid must not leak and airtight containers must stay airtight at the time of delivery. The location of the dark store also plays an important role in delivery. The products must be orderly placed and easily available. Longer home delivery routes and the requirement to bring click-and-collect purchases to the shops, where additional handling expenses are also paid, result in considerably higher transportation costs.
The busy schedules of customers have led to an increase in demand for dark stores. The pandemic has led to an increase in online shopping as it is much safer. The same-day delivery requirement and new customer trends, which are more centered on the web, have encouraged firms in the industry to reinvent themselves in order to give agile and effective service, even if the majority of supermarkets still prepare orders from the shops. In addition to using autonomous carts to gather things for packers who subsequently prepare the orders for delivery, stores may also utilize robots to assemble and prepare orders.
COVID-19 Impact:
Many changes in consumer behavior have been brought about through the COVID-19 pandemic. Due to the pandemic, the majority of people have attempted online grocery shopping for the first time, which forced retailers to focus on online delivery. Due to the ease of placing an order with just one click from the comfort of your home and the close proximity of physical stores, people choose online grocery rapid delivery. Dark shops are a strategy to assist retailers to succeed in the q-Commerce, or the "rapid commerce" age since they are less willing to tolerate the risk of supply chain interruptions in the context of increasing pressure for on-demand delivery.
Consumers' daily routines were severely disturbed during the pandemic, and many of them spent a lot of time at home. Some people experimented with new foods and items from grocery stores, while others learned how to cook for the first time. New routines emerged when customers had time to consider their alternatives. The dark store is not a temporary solution we have to adapt and evolve. The COVID-19 standard has accelerated the e-commerce industry, reducing delivery times to as little as 30 minutes while assuring that product quality is unaffected. A rising population, improved accessibility, and lower labor costs in the Asia Pacific are likely to cause the area to see the quickest growth rate throughout the forecast period.
Segments Insight
Many UK-based studies focused on the age of grocery e-commerce shoppers and 25–44-year-olds are found to be the most active group with one-third of respondents regularly engaging with e-commerce services. On the other hand, customers over 65's were the least frequent online shoppers, with just 1 in 10 respondents reporting regular e-commerce use.
In terms of value during the second quarter of 2021, online commerce accounted for 12.5% including all retail sales, according to the U.S. Census Bureau. This indicates that $12 was spent online for every $100 spent in America. Various strategies were adopted by the regional players to expand their footprints.
Products that are useful for the house include storage, batteries, home decor, and air fresheners. The growing use of rapid commerce platforms for purchasing utilities is anticipated to fuel the segment's growth. Instant grocery systems give customers instant availability and one-click access to a wider choice of items. As a consequence, customers are drawn to use these platforms frequently to buy domestic utilities due to their accessibility, which is anticipated to have a beneficial impact on the industry's growth.
A dark store strategy may also assist retailers to enhance their fulfillment strategy as the holiday shopping season draws near by continuing to offer a location where customers can pick up their purchases safely.
Age Group Insights
Based on age group, the global dark store is segmented into children, adults, and the elderly. According to the collected data by Kesari Mahratta Trust, it was seen that most of the respondents (42%) were between the age of 31-40 years followed by people aged above 60 years (16%) and people between 41-50 years (15.1%). Out of the total sample, 13.4% of the people were from each 18-30 years and 51-60 years. The ratio of children was minimum as access to smartphones is limited for children.
Category Insights
Based on category type, the global dark store is segmented into groceries, meat, and dairy. The convenient and most preferred method to buy groceries is online. The Dark store provides a wide selection of food that can be supplied at the customer's doorstep. Wide varieties of food items can be offered at a single delivery platform. This segment is differentiated on the basis of vegetarians, non-vegetarians, and Vegans. Dairy supplies are hindered due to the demand for a vegan products. The Office of National Statistics (ONS) reports that the UK's online grocery shopping share increased significantly from 5.4% in 2020 to 14.7% by February 2021.
Delivery Options Insights
Based on market type, the global dark store is segmented into Curbside Pickup, In-Store Pickup, and Home Delivery. Customers may conveniently pick up their orders from the curb. It often comprises of reserved parking spaces where a store representative may deliver the purchase to the consumer without asking them to get out of their car. There is typically a dedicated pickup location near the front entrance within many popular dark stores, this is in-store pickup.
Home Delivery which is rapid, easy, and contactless is advantageous to customers, especially when essential are required. We all had to reconsider our attitudes about personal safety and space as a result of the COVID-19 outbreak. Many people prefer to continue their grocery shopping online rather than standing in long ques at the supermarket. For contactless grocery purchasing, curbside pickup and delivery work perfectly.
Non-Food Products Insights
Based on non-food product type, the global dark store is segmented into body and bath products, cleansing essentials, and others. The pandemic is anticipated to support segment growth due to increased demand for cleaning products and disinfectants. Additionally, as demand for natural products like organic floor cleaners rises, customers are getting more and more aware, which is likely to enhance the market development. Quick grocery platforms provide a diverse selection of cleaning goods delivered in a few minutes; the demand is thus anticipated to increase.
Regional Insights
Based on region type, the global dark store is segmented into North America, Europe, Asia Pacific, and LAMEA. North America acquired the largest revenue share of over 36% in 2022. The expansion might be attributed to the increased use of platforms for supermarket delivery straight to your house. When Tesco, the largest grocery company in the UK, established its first customer-free stores in Croydon, Surrey, and Kent in 2009, the phrase "dark shop" first came into use. Tesco was shipping around 475,000 online orders each week from its 4,000 retail outlets at the time.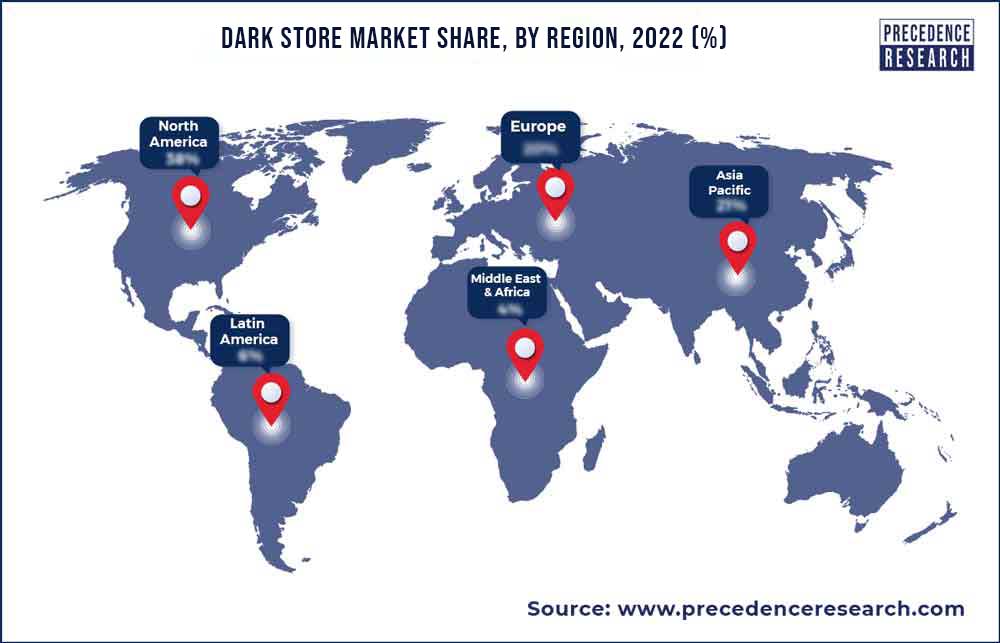 A 2018 Marist poll found that 56% of Americans aged 30 to 44 made more than one online purchase every month, compared to 33% of Americans aged 45 and older who had never done so. As part of its efforts to build its rapid food delivery business, Uber Technologies will extend its network of "dark stores" in Japan.
Key Industry Development:
In September 2022, with the acquisition of Rosie, Instacart intensifies its technology solutions for independently owned and locally operated grocery stores.
In September 2022, Walmart Invites Canadian Ecommerce Companies to Expand U.S. Online Marketplace.
In August 2022, Amazon India Signs MoU with Council of Handicrafts Development Corporations (COHANDS) under the Karigar Program.
In June 2022, Door Dash, Inc. (NYSE: DASH) announced the complete acquisition of Wolt Enterprises Oy (Wolt).
In June 2022, NATUREPRO launches same-day delivery across India with ZFW Dark Stores. ZFW Dark store announced a partnership with personal care brand NATUREPRO to promote luxury as well as sustainable yet affordable products to the customers through same-day deliveries across India.
In December 2020, Uber Technology, Inc. acquired Postmates, Inc. to improve the delivery of food, groceries, necessities, and other commodities.
In August 2022, Coca-Cola and Grab Work Together to Promote Digitalization and Growth in Southeast Asia.
The service providers are integrating smart technologies like dynamic route optimization, smart tracking, and sophisticated analytics to improve the efficiency of their delivery supply chains.
Dark shop owners are developing technology and data models in order to deliver the most commonly purchased products in densely populated metropolitan zip areas in less than 15 minutes.
To keep ahead of the competition, grocery delivery firms must take advantage of dark stores.
Key Players of the Market:
To make groceries and other necessities easily accessible and quickly available on one platform, a number of market players are working to improve their current products. For instance, meal delivery services like Deliveroo and Uber Eats included groceries in August 2020.
Some of the major players include:
Amazon.com, Inc.
Swiggy
Uber
Ola Foods
Supermarket Grocery Supplies Pvt Ltd.
Walmart, Inc.
Target Brands, Inc
Dunzo Daily
Instacart
Auchan
Wolt
Flipkart
Grab
Segments Covered in the Report
(Note*: We offer reports based on sub-segments as well. Kindly, let us know if you are interested)
By Age Group
By Category
By Delivery Options
Curbside Pickup
In-Store Pickup
Home Delivery
By Non-Food Products
Cleaning
Essentials
Bath & Body
By Geography
North America
Europe
Asia-Pacific
Latin America
Middle East & Africa (MEA)