The global dialysis market size accounted for USD 101 billion in 2022 and is projected to surpass around USD 185.18 billion by 2032, poised to grow at a CAGR of 6.30% during the forecast period 2023 to 2032.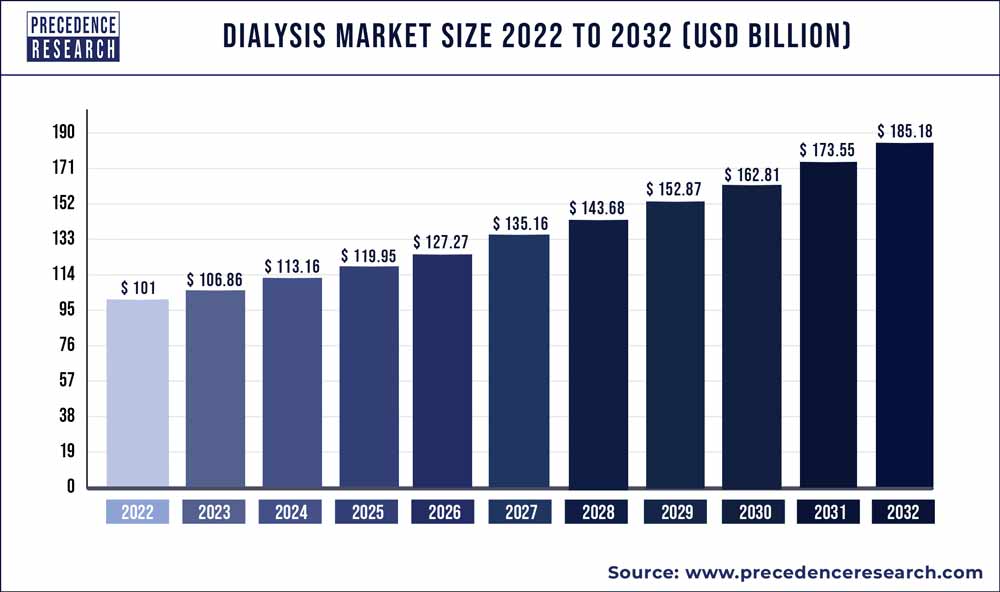 Key Takeaways:
In 2022, services segment accounted largest market share 79%
In 2022, product segment has contributed largest share 22%
In 2022, hemodialysis dialysis segment has registered 55% market share
North America has garnered highest revenue share 41% in 2022
Asia Pacific region is expected to grow at a CAGR of 6% from 2023 to 2032
Dialysis is a treatment used to eliminate waste products from the blood, such as urea and creatinine, caused by faulty kidney function, and is frequently necessary for persons suffering from chronic renal failure. End-stage renal disease (ESRD) and kidney transplantation are both treated with this surgery. Throughout the procedure, the blood is cleaned, excess fluid and toxins are removed, and electrolyte balance is restored.
There are two types of dialysis: hemodialysis and peritoneal dialysis. Waste materials such as urea are extracted extracorporeally from the patient's blood during hemodialysis. The peritoneum in the abdomen is utilised for dialysis in peritoneal dialysis. The increase in the number of diabetic and hypertensive patients, the spike in financing for the development of new medicines, and the rise in the number of end stage renal disease (ESRD) patients are all contributing to market expansion. Furthermore, dialysis is favoured over kidney transplantation, which is projected to drive dialysis market expansion even further. Moreover, an increase in the senior population, an increase in healthcare spending, and an increase in disposable income are likely to fuel market expansion.
According to the National Kidney Foundation, chronic kidney disorders impact 10% of the worldwide population, with over a million people dying each year owing to a lack of cheap therapies. This scenario has increased dialysis treatment penetration throughout the years, contributing to the growth of the global dialysis market. However, the dangers and problems connected with dialysis, as well as product recalls, may hinder the dialysis market's development.
Also, increased occurrences of kidney failure, a scarcity of kidney donors for transplants, time-consuming kidney transplant procedures, and rising demand for home peritoneal dialysis treatment will generate new chances for the global dialysis market to develop in the future.
Report Scope of the Dialysis Market
| | |
| --- | --- |
| Report Coverage | Details |
| Market Size in 2023 | USD 106.86 Billion |
| Market Size by 2032 | USD 185.18 Billion |
| Growth Rate from 2023 to 2032 | CAGR of 6.30% |
| Base Year | 2022 |
| Forecast Period | 2023 to 2032 |
| Segments Covered | Type, Dialysis Type, End User, Geography |
| Companies Mentioned | Fresenius Se and Co. Kgaa, Asahi Kasei Corporation, B. Braun Melsungen Ag, Baxter International Inc., Becton, Dickinson And Company (C. R. Bard, Inc.), Davita, Angiodynamics Inc., Diaverum Deutschland Gmbh., Nikkiso Co. Ltd., Nipro Corporation, Medtronic, Asahi Kasei Corporation |

Growth factors
One of the major drivers of the dialysis industry is the increasing prevalence of chronic kidney disease and renal failure. Regarding the price and healthcare facilities services, the overall burden of ESRD and CKD is one of the greatest. ESRD is a condition in which one or both kidneys cease to function correctly and the patient requires long-term renal infusion treatment or a kidney transplant. As a result, the rising frequency of ESRD is increasing the global cost burden of renal illnesses and is one of the important causes for boosting revenue generation from services.
In addition, the advent of the COVID-19 pandemic is expected to boost the expansion of the dialysis business in the coming years. This is mostly due to active instructions published by government agencies to perform the surgery for critical COVID-19 patients. For example, the Government of India recently issued guidelines regarding the dialysis procedure for coronavirus patients, which includes, the state must allocate and recognize one facility with a suitable amount of skilled staff, a dialysis machine, proper system for treatment of water, and additional support equipment.
Market expansion is anticipated to be fueled by additional regulatory authorities giving the go-ahead for the introduction of new goods and consumables, government involvement in the prevention and control of renal diseases, and joint efforts by a number of organisations to deliver such effective renal services in underserved parts of developing nations.
One of the significant developments in the sector recently has been the increasing desire of patients for obtaining treatment at home, particularly in developed and emerging nations. Furthermore, governments in places such as North America are developing new financing mechanisms for treating renal illness, with a preference for lower-cost care at home. Furthermore, the number of patients opting for treatment in home care settings is expected to rise in the future years.
Dialysis Type Insights
Dialysis Market is divided into two categories i.e Hemodialysis and Peritoneal Dialysis's. Hemodialysis is further classified into two types: conventional and everyday (short daily and nocturnal hemodialysis). Hemodialysis produced the most revenue of the two in 2022 and is predicted to continue to dominate revenue throughout the projection period. Waste materials like as urea are removed extracorporeally from the inmate's blood during haemodialysis. The peritoneum in the stomach is used in dialysis in peritoneal dialysis. During the foreseeable years, haemodialysis is likely to stay dominant. Inadequate peritoneal treatment training in both developed and developing nations has reduced peritoneal treatment preference. Aside from the therapeutic benefits linked with this treatment, such as the reduced time required to operate and adopt arteriovenous fistula (AV Fistula), the demand for haemodialysis is increasing.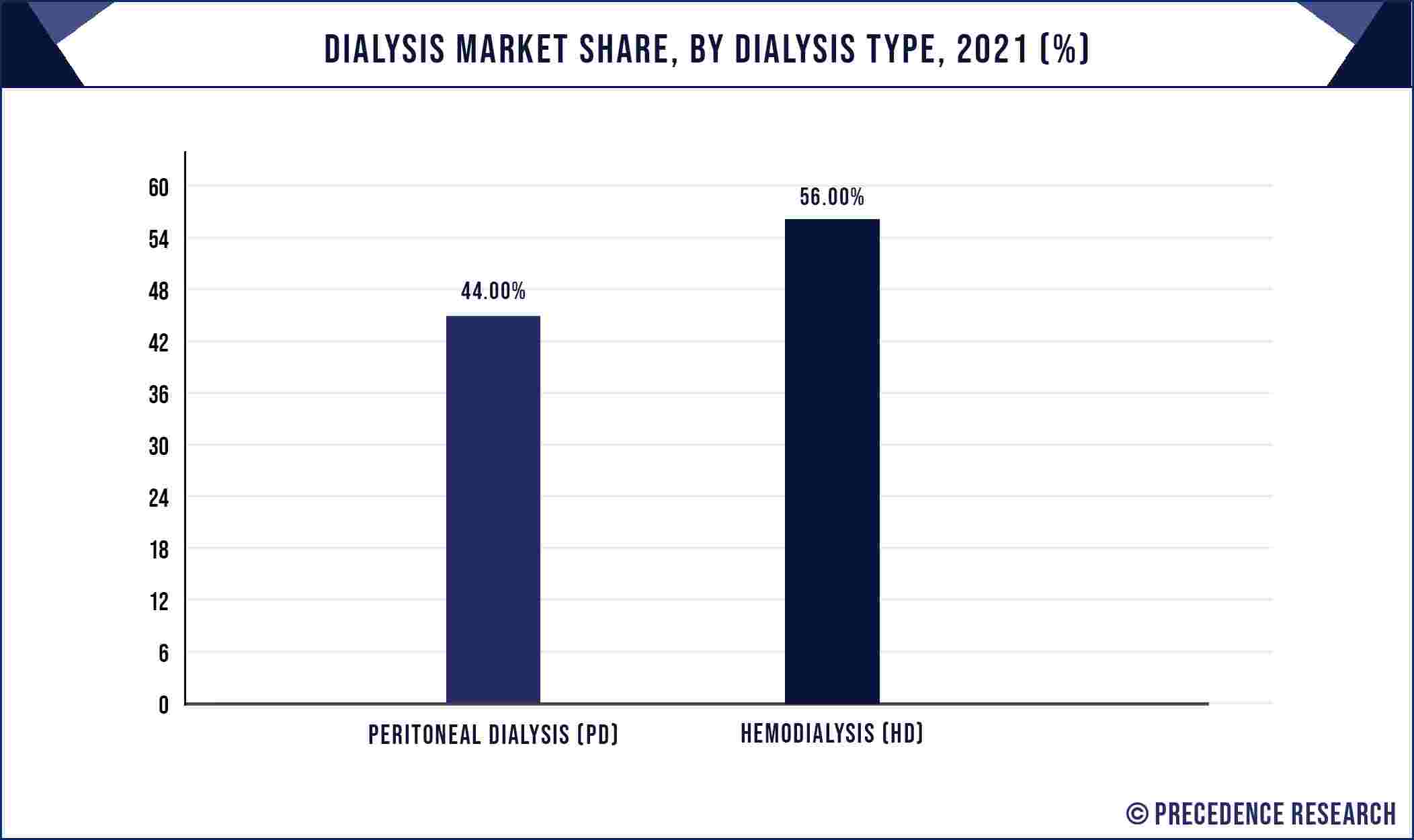 Peritoneal Dialysis (PD) is one of the most rapidly developing treatment choices for kidney failure and is a superior alternative, particularly for patients with residual kidney function and sensitivity to the rapid fluid balance changes associated with hemodialys. PD allows for more treatment options and minimises the number of visits to dialysis clinics. Choosing PD home dialysis has advantages such as improved outcomes, less drugs, and fewer food restrictions. Patients may use PD at home without assistance and simply monitor themselves 24 hours a day, seven days a week. These benefits have made peritoneal dialysis more popular among renal patients today, and will continue to fuel the home care segment development of the peritoneal dialysis market over the projection period. The majority of end-stage renal disease patients receiving PD therapy are older, and their degree of accessibility, experience, and technical knowledge varies greatly. Many senior cycler patients' technophobia and unwillingness to utilise cyclers are seen as market limitations.
Currently, the coronavirus pandemic is posing a number of difficulties for patients and clinical healthcare professionals all around the world. A possible upsurge in the incidence of kidney injury is predicted to result from the surge in COVID patients and its severity rate. The epidemic has greatly boosted the need for renal replacement fluids on a global scale. Comparing COVID-19 patients to historical US populations, the need for RRT has risen fivefold (4.9 percent as of 2020 VS. 0.9 percent earlier). Prior to the pandemic, there had been a progressive trend toward home hemodialysis treatment, and concerns about the spread of the COVID-19 virus have significantly increased patient interest in HD therapy. This issue is probably going to increase the use of home hemodialysis equipment during the pandemic.
Although the majority of patients choose hemodialysis, peritoneal dialysis is predicted to be the fastest expanding category throughout the projection period due to effective elimination of harmful chemicals and increased desire for homecare among dialysis patients.
Type Insights
The market is divided into two types: Services and Products. In 2022, services made up the greatest portion, mostly due to the expansion of renal care centres with modern equipment for both chronic and urgent treatment throughout the world, as well as a growing emphasis on quality-care delivery to patients by service providers. Additionally, increasingly patient-focused and profit-driven business models among care providers are raising service demand. The product sector is predicted to develop steadily in the coming years as the number of local and regional companies in this market increases to meet the increased demand for innovative goods and consumables.
End User
End consumers in the worldwide market are classified as centres and hospitals, as well as home care. In terms of value, dialysis treatment centres accounted for the largest market share in 2022, owing to favourable reimbursement offered by renal facilities and hospitals for renal treatments, an expanding patient population with CKD and ESRD, and increasing population healthcare spending. Homecare, on the other hand, is expected to be the fastest-growing category over the projected period, with a significantly higher CAGR. The hospital segment is expected to develop in the near future because to an increase in the number of COVID-19.
Dialysis Market Share, By Region, 2022 (%)
| | |
| --- | --- |
| Regions | Revenue Share in 2022 (%) |
| North America | 41% |
| Asia Pacific | 19% |
| Europe | 32% |
| Latin America | 4.3% |
| MEA | 3.7% |

Geography
In 2022, the North American market was worth USD 340 billion. During the projection period, North America is expected to dominate the market share. The high incidence of CKD and ESRD in the United States and Canada, together with greater treatment rates in these countries, are expected to drive market growth over the projected period. The United States is also expected to see an increase in demand for services and products as a result of the rising prevalence of coronavirus infections and associated renal failures. Europe is predicted to be the second biggest region in this market in terms of size, with moderate long-term growth. The region's rapid expansion is mostly owing to a rising senior population suffering from renal problems.
Furthermore, Asia-Pacific is predicted to see comparatively large value development in this market. Funding from public players to enhance access to renal care is expected to boost market growth throughout the projected period. The National Health and Family Planning Commission of China established regulations for the fundamental standard and administration of haemodialysis facilities in December 2016, with the goal of standardising the growth of autonomous such centres across the nation. Such a well-established regulatory framework for renal treatment facilities is expected to drive market growth in Asia Pacific throughout the forecast period.
In Brazil, the increased prevalence of CKD among the senior population is fueling the expansion of the market for services and goods. Due to the delayed diagnosis of chronic CKD and ESRD, the Middle East and Africa region is anticipated to develop slowly to moderately over the forecast period. Though, increased urbanisation in the area and rising awareness regarding the seriousness of renal illnesses are expected to drive revenue in this region throughout the projection period.
Key market developments
In May 2021, Davita Inc. enhanced its home renal care programme by incorporating Baxter International Inc.'s HomeChoice Claria automated peritoneal dialysis (APD) equipment. This innovative technology improved the company's home dialysis programme and is a key step toward promoting home dialysis.
In May 2021, Fresenius Medical Care AG and Co. KGa launched the Kinexus treatment management platform, a cloud-based solution. This system was developed to improve workflows, productivity, and patient outcomes while managing peritoneal dialysis using the Liberty Select cycler.
Key market players
Fresenius Se and Co. Kgaa
Asahi Kasei Corporation
B. Braun Melsungen Ag
Baxter International Inc.
Becton, Dickinson And Company (C. R. Bard, Inc.)
Davita
Angiodynamics Inc.
Diaverum Deutschland Gmbh.
Nikkiso Co. Ltd.
Nipro Corporation
Medtronic
Asahi Kasei Corporation
Segments covered in the report
(Note*: We offer report based on sub segments as well. Kindly, let us know if you are interested)
By Type
Product

EQUIPMENT

Dialysis Machines
Water Treatment Systems
Others dialysis equipment

Consumables

Dialyzers
Catheters
Other dialysis consumables

Dialysis Drugs

Services
By Dialysis Type
Hemodialysis (HD)

Conventional Hemodialysis
Short daily hemodialysis
Nocturnal hemodialysis

Peritoneal dialysis (PD)

Continuous Ambulatory Peritoneal Dialysis (CAPD)
Automated Peritoneal Dialysis (APD)
By End User
Dialysis Center and Hospitals
Home Care
By Geography
North America
Europe
Asia-Pacific

China
India
Japan
South Korea
Malaysia
Philippines

Latin America

Brazil
Rest of Latin America

Middle East & Africa (MEA)

GCC
North Africa
South Africa
Rest of the Middle East & Africa