The global dialysis equipment market size was reached at USD 18.24 billion in 2022 and it is projected to be worth around USD 30.08 billion by 2032, poised to grow at a CAGR of 5.13% during the forecast period from 2023 to 2032.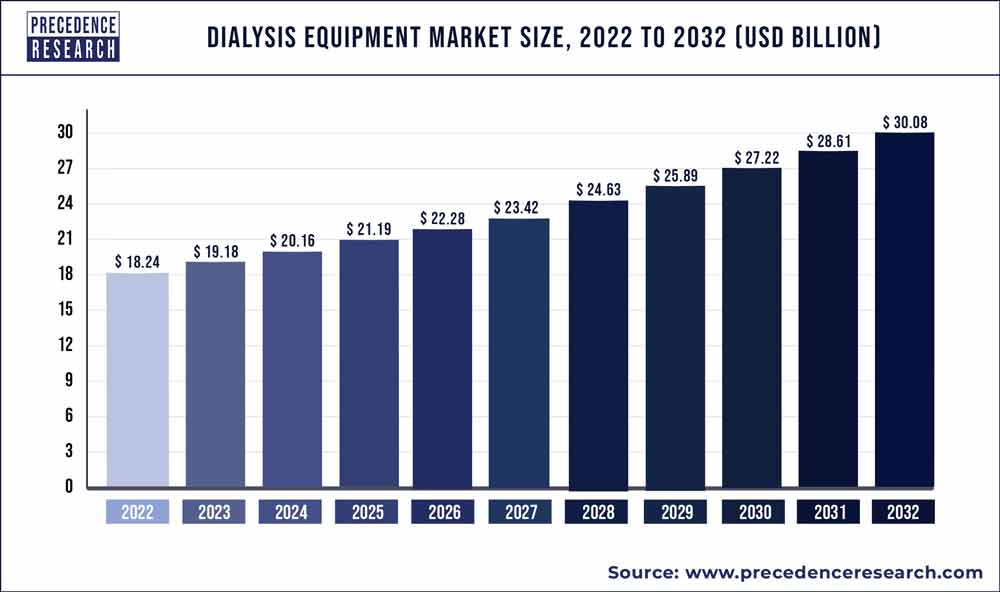 Key Takeaways:
Asia Pacific region generated for the largest share of the market in 2022.
By Product Type, the hemodialysis machines segment contributed more than 70% of revenue share in 2022.
By End-User, the hospital segment captured for the largest market share in 2022.
The dialysis equipment market shall be defined as the global market for medical devices and machines that are used to treat patients on dialysis. If your kidneys are incapable of performing these functions, dialysis is a procedure which helps remove waste products and excessive fluid in the blood. Patients with end-stage renal disease (ESRD) or chronic kidney failure often require regular dialysis treatments to manage their condition. In view of the increasing incidences of chronic kidney disease and End stage renal disease worldwide, the dialysis equipment market is quickly developing in the healthcare sector. For patients with decreased kidney function, dialysis is a lifesaving treatment as it enables the removal of waste products and excessive fluid from the blood. Various devices and equipment used for the dialysis process, namely hemodialysis machines, peritoneal dialysis systems, dialyzers, dialysis catheters, dialysis concentrates and solutions, as well as water treatment systems are covered by this market.
The market will be stimulated by an increase in the worldwide burden of kidney disease. CKD is the 12th highest cause of death globally in 2019, as measured by the Global Burden of Disease Study. The increasing prevalence of risk factors such as diabetes, hypertension, obesity, and the aging population has significantly contributed to the growing incidence of kidney diseases. As a consequence, to meet the needs of an increasing number of patients requiring renal replacement therapy, the demand for dialysis equipment has increased. Furthermore, the increasing preference for home-based and portable dialysis equipment has fueled market growth. Home dialysis is an excellent option for patients, providing them with a number of advantages such as the convenience of receiving treatment at their own house, greater flexibility in scheduling, and reduced exposure to healthcare-associated infections.
The development of simple and transportable dialysis equipment, which is easily operated and transported, has been enabled by advances in technology. These tools make it easier for patients to actively take part in the therapy, resulting in increased compliance and improved results.
Report Scope of the Dialysis Equipment Market:
| | |
| --- | --- |
| Report Coverage | Details |
| Market Size in 2023 | USD 19.18 Billion |
| Market Size by 2032 | USD 30.08 Billion |
| Growth Rate from 2023 to 2032 | CAGR of 5.13% |
| Largest Market | Asia Pacific |
| Base Year | 2022 |
| Forecast Period | 2023 to 2032 |
| Segments Covered | By Product Type and By End-User |
| Regions Covered | North America, Europe, Asia-Pacific, Latin America, and Middle East & Africa |

Key Market Drivers:
Increasing prevalence of kidney diseases
The growing incidence of kidney illness is a key factor driving the market for dialysis equipment. Millions of people worldwide are affected by chronic kidney disease (CKD) and end-stage renal disease (ESRD), which have emerged as major global health concerns. The prevalence of risk factors like diabetes, hypertension, obesity, and aging populations are a few of the reasons that contribute to the rising incidence of renal disorders. Diabetes is one of the primary causes of renal disease. Both the number of people at risk of having renal issues and the frequency of diabetes worldwide are rising. Similarly to this, hypertension, or high blood pressure, is a risk factor for renal disease.
The burden of kidney illnesses likewise rises as the incidence of hypertension rises. Due to the increased risk of illnesses like diabetes and hypertension, obesity is another important risk factor for kidney disease. The prevalence of renal disorders has increased globally as obesity rates have increased, which has increased the demand for dialysis equipment. Additionally, an important factor in the rising incidence of renal disorders is the aging population. Individuals' kidneys naturally alter in structure and function as they age, making kidney disease more likely.
Elderly people are more at risk for renal illnesses due to age-related comorbidities including diabetes and hypertension. The number of people needing dialysis treatments is anticipated to drastically increase as the global population ages quickly.
The rising prevalence of kidney diseases necessitates the use of dialysis equipment to manage patients with impaired kidney function. Dialysis is a lifesaving treatment that helps to eliminate waste products and excess fluid in the blood if your kidneys are not capable of doing these functions properly. The demand for dialysis equipment such as hemodialysis machines, dialyzers, and dialysis concentrate is expected to increase due to the increasing number of patients diagnosed with CKD or ESRD.
Therefore, the increasing prevalence of kidney diseases, driven by risk factors such as diabetes, hypertension, obesity, and an aging population, is a significant driver for market growth in the dialysis equipment sector. The demand for dialysis equipment is set to remain high due to the increasing number of patients requiring retrievable kidney replacement therapy, as the global burden of Renal Diseases continues to rise.
Shift towards home-based dialysis
The increasing trend to home dialysis is a major driving force for the growth of the dialysis equipment market. Home dialysis offers numerous advantages to patients with chronic kidney disease (CKD) or end-stage renal disease (ESRD), driving the demand for dialysis equipment designed specifically for home use. A home-based dialysis system ensures you are able to receive treatment in a comfortable environment. It will therefore be unnecessary to regularly visit dialysis centers, thus reducing travel time and associated costs.
In addition, patients may have more control over their treatment schedule and are able to enjoy greater flexibility and a better quality of life. There is also a reduction in the risk of hospital-borne infections due to home dialysis. Infections can be fostered at dialysis centers, where patients with reduced immune systems gather in one place. By performing dialysis at home, patients are exposed to a controlled and hygienic environment, minimizing the risk of infections.
Furthermore, Home based dialysis results have been positive in terms of clinically meaningful outcomes. Studies have shown that, compared to patients who received treatment in a dialysis center, patients undergoing home-based therapy experienced an improvement in their survival rate, better control of blood pressure, and more likelihood for receiving the right dose of dialysis. The encouraging results are contributing to an increase in patients and healthcare providers' acceptance and preference for home dialysis.
Therefore, A major driver of market growth in the dialysis equipment industry is an increasing trend towards home-based dialysis. The demand for specialized equipment to be used at home is increasing because of the convenience, flexibility, improving medical outcomes, infection control and cost-effectiveness related to home dialysis. In response to this trend, the dialysis equipment market is projected to increase as technology advances and patients prefer home-based care.
Key Market Challenges:
High Cost of Equipment
The high cost of equipment poses a major obstacle to market growth in the dialysis sector. The cost of dialysis equipment, dialyzers, catheters and accessories can be too much for healthcare providers and patients to bear. A significant obstacle, especially in regions with limited financial resources, maybe the initial investment needed to set up dialysis centers or units that are operated at home.
The costs of equipment have an impact on healthcare professionals as well as patients, due to the potential for increased treatment costs and financial burdens. Access to dialysis treatments, especially for underserved groups or healthcare institutions in resource-limited settings, may be restricted by the cost of equipment. In order to secure wider availability and increase the market share of dialysis equipment it will be essential to address affordability issues and explore options for cost-effective solutions.
Key Market Opportunities:
Technological Advancements
The market for dialysis equipment is given an important opportunity to grow thanks to advances in technology. Technological progress could give rise to a new revolution in dialysis, which would fundamentally change the way patients are treated and improve overall results. Patients receiving dialysis treatments are being remotely monitored by healthcare providers, thanks to the evolution of connectivity and modern health solutions. In real-time, proactive management and prompt intervention is possible with monitoring of critical signs, treatment parameters as well as patient data. Telehealth integration is facilitating remote consultations, thereby reducing the need to visit healthcare facilities frequently in person. This technology is allowing healthcare professionals to treat and assist patients in their homes, improving convenience and accessibility whilst reducing the burden on health infrastructure.
Furthermore, an opportunity to grow the market is being generated by portability and wearable dialysis equipment. These small and portable devices allow dialysis to be performed while maintaining the patient's daily activities and mobility. Mobility devices provide a flexible means of transport for patients that do not interfere with their treatment schedules. In order to provide continuous dialysis therapy, which imitates the function of a natural kidney, Wearable devices such as "wearable artificial kidneys" are being developed. Technological developments in portable and wearable devices are not merely enhancing the convenience of patients but also improving their quality of life.
Therefore, technological progress is providing a wealth of opportunities for growth in the dialysis equipment market. Manufacturers may explore all ways to increase the quality of care for patients, provide better treatment outcomes and differentiate their products on the market including remote monitoring, telemedicine integration, Artificial Intelligence enabled systems, mobile worn-out devices, robotics, and technology automation. The integration of these new technologies will allow manufacturers to remain at the forefront of innovation, attract customers and take part in overall market development for dialysis equipment.
Segments Insight:
Product Type Insights:
By product type, the market is segmented into hemodialysis equipment, peritoneal dialysis equipment, and other equipment. The largest segment in the dialysis equipment market is hemodialysis machines because they are a commonly used type of dialysis. Hemodialysis is a procedure to remove waste products and excess fluid from the blood of patients with end-stage renal disease by using a machine to remove waste products and excess fluid from the blood of patients with end stage renal disease.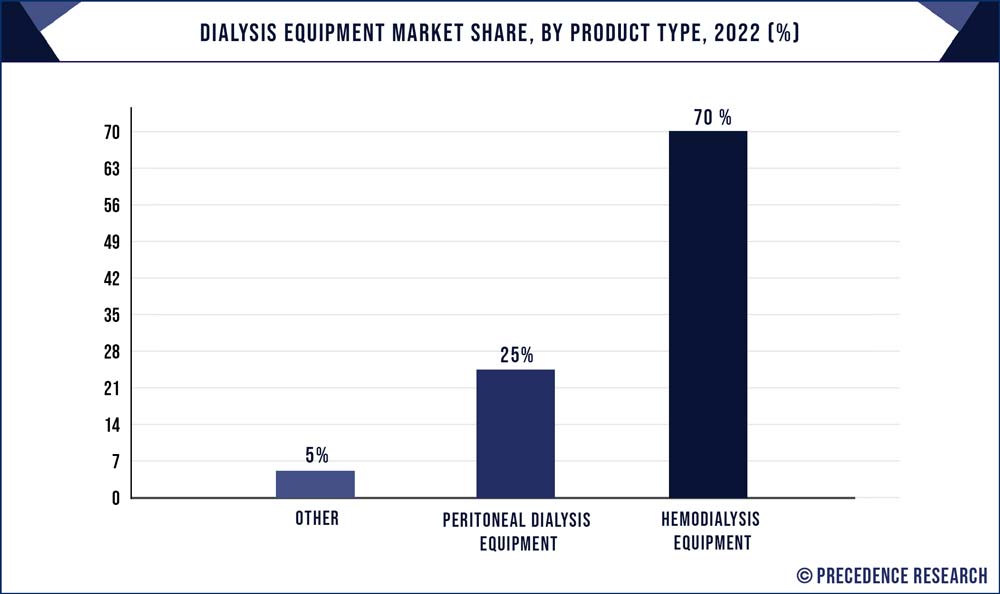 Moreover, the market for hemodialysis equipment is expected to grow as a result of increasing demand for home dialysis. A type of hemodialysis, which can be performed in a person's home, is called home dialysis. This is a more convenient option for some patients, and it can also save healthcare costs.
End-Use Insights:
By end user, the market is segmented into hospitals, dialysis centers, and home care settings hospitals accounted for the largest market share in terms of end users, and are expected to remain dominant over the forecast period. As the main provider of dialysis treatment, hospitals are among the most important end users on the dialysis equipment market. Dialysis is a treatment that removes waste products and excess fluids from the blood of people with end-stage renal disease (ESRD). ESRD is a condition in which kidneys are unable to perform their normal functions.
Regional Insights:
The Asia Pacific region accounted for the largest share of the market by 2022, and is projected to retain its dominance over the forecast period. Increased adoption of dialysis equipment in the Asia Pacific as a result of higher incidences and prevalence of end-stage renal disease, which is resulting in an increasing market size for dialysis equipment.
In addition, the favorable conditions for the utilization and installation of dialysis equipment in emerging countries are being created by a more rapid pace of infrastructure development as well as an increase in patient awareness and education.
North America is projected to be the second largest region. The market is expected to benefit from a promising growth opportunity during the forecast period in Europe, owing to the increasing cases of ERSD.
Key Industry Developments:
In January 2019, Baxter International Inc. has been granted FDA approval to conduct a clinical study for an on demand peritoneal dialysis solution production system. A good platform for patients to perform peritoneal dialysis at home is provided by the new system.
In September 2019, Baxter has been granted a licence by Health Canada to use the Prismax system. The Prismax system is designed for the treatment of Acute Kidney Injury in Intensive Care Units. In order to increase its market share and revenues the company benefits from this endorsement.
Key Market Players:
Nxstage Medical, Inc.
Medivators Inc.
Asahi Kasei Corporation
Nikkiso Co., Ltd.
Nipro
Medtronic
Isopure Corp.
Fresenius Medical Care AG & Co. KGaA
Dialife
Diaverum
DaVita Inc.
Cantel Medical
BD
B. Melsungen AG
Baxter
Segments Covered in the Report:
(Note*: We offer reports based on sub segments as well. Kindly, let us know if you are interested)
By Product Type
Hemodialysis Equipment
Peritoneal Dialysis Equipment
Other
By End-User
Hospitals
Dialysis Centers
Homecare Settings
By Geography
North America
Europe
Asia-Pacific
Latin America
Middle East and Africa