The global digital printing market size was estimated at USD 26.3 billion in 2022 and is projected to surpass around USD 51.49 billion by 2032, anticipated to grow at a registered CAGR of 7% between 2023 and 2032.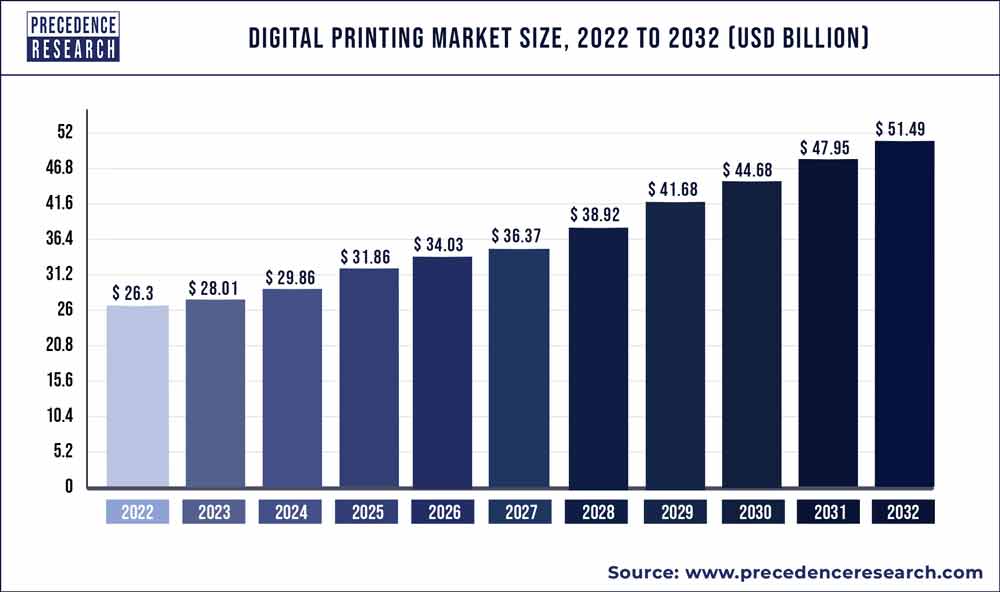 Access our Premium Real Time Data Intelligence Tool, Visit: Precedence Statistics
Key Takeaways
The North America Market has captured a 37.6% revenue share in 2022.
The Asia Pacific market is expected to reach a CAGR of 5.7% from 2023 to 2032.
By print head, the inkjet segment has captured a 60% revenue share in 2022.
The cutting-edge printing technique is known as "digital printing systems" uses electronic "les" that were conceived using computer software for printing. Images are printed using digital formats like PDF and JIP on medium surfaces including paper, cloth, and ceramic. The end-use manufacturer may accelerate the creation and manufacturing of images thanks to digital printing. The ink is ejected onto the surface in an exact pattern by inkjet-based printing, which makes use of thermal bubble creation technology. Additionally, inkjet printing enables the printing of efficient materials in three dimensions.
Short-run color printing that is precise, cost-effective, and delivered quickly is the goal of digital printing techniques. In comparison to traditional printing methods, digital printing systems are equipment built to provide high-quality finished goods. In comparison to more conventional approaches, it offers the most affordable alternative for personalized marketing materials including business cards, letters, direct mail, and more. Additionally, digital printing speeds up the delivery of the final product by reducing the length of the production cycle.
The overall quantity of waste in the print sector has decreased as a result of significant advancements in supply chain management, time-efficient production, and print manufacturing efficiency. Digital printing has benefited from technological improvements that have made waste reduction possible while retaining good print quality.
In comparison to conventional printing methods like offset printing and solid ink printing, digital printing uses mild solvents and less dangerous chemicals. As a result, the market for printed electronics is seeing an increase in demand for digital printing solutions, which is putting a greater emphasis on eco-friendly printing and efficient production.
The market's growth rate dropped in 2020 due to the appearance of COVID-19, and it is predicted that growth would remain somewhat modest until the end of 2021. The COVID-19 epidemic in the construction business generated a number of challenges for the market.
Report Scope of the Digital Printing Market
Report Coverage
Details
Market Size in 2023
USD 28.01 Billion
Market Size by 2032
USD 51.49 Billion
Growth Rate from 2023 to 2032
CAGR of 7%
Base Year
2022
Forecast Period
2023 to 2032
Segments Covered

By Ink
By Digital Printing
By Print Head
By Printhead
By Application

Regions Covered

North America
Europe
Asia-Pacific
Latin America
Middle East & Africa

Growth Factors
Due to the quick acceptance of laser and inkjet printing solutions in the paper and packaging industries due to their adaptable and cost-effective features, the digital printing industry is anticipated to increase over the course of the projection period. Global use of IoT and AI-based technologies is anticipated to fuel the market for digital printing. Additionally, it is anticipated that increased consumer electronics usage of digital printing would raise demand for smart thermostats. Given these elements, it is predicted that the worldwide market for digital printing would expand rapidly in the next years.
One of the factors driving the growth of the worldwide digital printing market is the surge in sustainable printing solutions in the pharmaceutical, healthcare, packaging, and label sectors along with the desire for cost-effective printing techniques. However, a significant obstacle for this industry is the large initial investment required for digital printing facilities in poorer nations. Additionally, the worldwide digital printing market benefits from innovation in printing technology for small and medium-sized businesses, which opens up lucrative potential.
Key Market Drivers
There are structural and transitional changes occurring in commercial printing
Commercial printing is undergoing substantial structural and transitional changes as a result of the difficult shift from traditional print technologies to digital. The cost of printing is anticipated to rise because the technology is still specialized and calls for printing in smaller or customized quantities. To strengthen their market position and increase their global footprint, several businesses have been investing in a variety of solutions, growth initiatives, partnerships, and collaborative projects.
For instance, digital imaging solutions provider Canon U.S.A., Inc. introduced the Prismacolor Manager solution in April 2022. When utilizing compatible printers, the solution may help users evaluate and monitor print quality. Additionally, it demonstrates to users how their printed color compares to either a standard used in the commercial printing sector or to their own internal printing specs. Because it is a cloud-based service, customers can easily deploy it and track and compare results over time.
The latest advancements
The most recent technological developments, like artificial intelligence (AI), IoT, machine learning, data analytics, etc., have greatly tailored services. Large-volume orders can benefit from greater print customization thanks to the convergence in digital printing. Cost, though, continues to be a significant barrier.
Key Market Challenges
The digital printing market's overall market growth is constrained by expensive investments
Because the total cost of ownership, including labor costs, maintenance costs, ink, water, energy costs, and fabric post-treatment, is higher for conventional printing than for digital printing, the price of digital printing equipment is significantly higher than the price of conventional printing equipment. Digital printing is approximately 1.5 times more costly per square meter of cloth than conventional printing. In addition, qualified professionals are needed to run digital printing equipment. These thus are the main market constraints that will slow the market's rate of expansion.
Key Market Opportunities
The rapid adoption of digital printing
Significant factors that affect the development of the worldwide digital printing market include the quick uptake of digital printers in home and business settings, the explosive rise of IoT and AI-based technologies, and the expansion of inkjet printer use in the food and beverage industry. However, the high cost of goods in developing nations poses a significant obstacle to early adoption, which restrains the market's expansion. On the other hand, it is predicted that the use of digital printing in the automotive, healthcare, and textile industries would provide profitable prospects for the market for digital printing during the projected decade.
The rise in the adoption of laser and inkjet printing solutions
The growth of IoT and artificial intelligence technologies, as well as the rise in the usage of laser and inkjet printing solutions, are also anticipated to propel market expansion in the years to come. Additionally, new printing technologies for small and medium-sized businesses and a growing focus on environmentally friendly printing are expected to provide the market with plenty of growth prospects in the near future.
Segments Insight
Ink Insights
The worldwide digital printing market is divided into many ink categories based on type, including aqueous, UV-cured, solvent, dye sublimation, latex, and others. The market for UV-cured inks is expected to have the highest revenue in 2022. An ink that cures when exposed to UV light is known as UV ink. The majority of the vehicle in these inks consists of monomers and initiators. The ink is applied to a surface and then exposed to UV light, which causes the release of highly reactive atoms from the initiators, which causes the monomers to swiftly polymerize and the ink to solidify into a film. Nearly all of the ink is used to create the film since UV curing does not require parts of the ink to evaporate or be removed.
The total amount of ink used is decreased, lowering the cost of printing as a whole. Environmental friendliness is another benefit of UV inks. Their good opacity suggests that the print work is crisp, distinct, and easy to read on the page. In contrast to regular ink, which can smear and appear unsightly and unprofessional, UV ink also resists spreading. They are much contrasted, which makes reading them much simpler. This ink creates a lovely high gloss that is practical and visually beautiful. It guarantees print consistency: the print work will appear the same throughout the whole run without fading. Eliminating the need for frequent cleaning results in significant time, financial, and waste savings. Reading is made easier because of UV inks' ability to capture and reflect light.
Over the projected period, the latex market is anticipated to develop moderately. Latex ink, although water-based, is a heat-fusing kind that enables printing on a variety of uncoated base materials. It may be bonded to the base material like a solvent ink and has comparable handling characteristics as water pigment ink. This makes it waterproof and scratch-resistant. Depending on the substance and whether it is used indoors or outdoors, latex ink has a different lifetime. In addition to being water and chemical resistant to varying degrees, latex printing is also scratch and abrasion-resistant.
Print Head Insights
The global market is divided into laser and inkjet segments based on the print head. The inkjet market held the highest market share in 2022. Thermal inkjet, electronic inkjet, piezo inkjet, and micro-electro-mechanical system (MEMS) inkjet are the other divisions. Small and inexpensive thermal inkjet (TIJ) printers are capable of printing high-resolution codes on a variety of surfaces. There are several brands and versions of TIJ printers, each with a unique set of advantages (mobility, substrate specialty, print height, etc.). They are able to meet the needs of the modern manufacturing line without compromising quality. With TIJ printers' ink cartridge system, print head services like routine maintenance are not required. If there is an issue, it is typically quickly and easily fixed by just changing the ink cartridge with a new one. The four-step thermal inkjet printing process is substantially simpler than the continuous inkjet printing method, which employs ink-filled tanks, pressurizes, and piezoelectric print heads. The drop ejection technique's simplicity enables TIJ machines to be substantially more compact than other printer types, which lowers maintenance costs.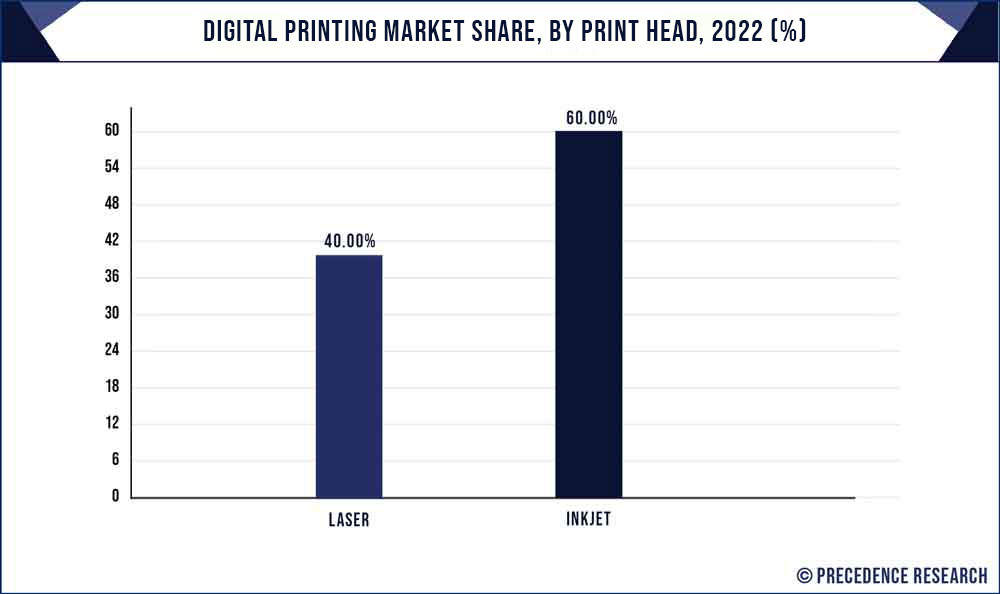 The laser market is growing at the highest CAGR over the forecast period. In contrast to the conventional ink-on-paper printing technique, a laser printer prints utilizing a laser and electrical charge. The neatness and sophistication of print goods have increased thanks to laser printers, which typically have resolutions of 600 dots per inch or more. In a laser print procedure, a laser beam is directed at a mechanical cylinder known as a photoreceptor. The photoreceptor, therefore, develops a pattern, which is subsequently coated with toner. Due to electrical charges, toner sticks to the paper in patterns predetermined by the printing software. Finally, by heating the paper, the toner is fused to the paper. It generates prints the quickest when compared to other printers. Compared to ink cartridges, toner cartridges are more durable, produce more pages, and do not dry up like ink. High-quality printouts are produced using laser printers, which are silent.
Digital Printing Market Share, By Region, 2022 (%)
| | |
| --- | --- |
| Regions | Revenue Share in 2022 (%) |
| North America | 37.6% |
| Asia Pacific | 22.4% |
| Europe | 28% |
| Latin America | 7% |
| MEA | 5% |

Regional Insights
The global digital printing market is divided into North America, Europe, Asia Pacific, and RoW based on geographical analysis. The highest market share belonged to the North America segment, which is anticipated to expand at a CAGR of 5.60% over the course of the forecast period. In practically every industry, including automotive, building, infrastructure, manufacturing, and technology, North America is the most developed area in the world. This region's prosperous state is a result of its strongly interconnected markets. In terms of revenue, the market is expanding strongly.
The economies of nations like the United States and Canada dominate the North American area due to their highly diverse industrial markets. Compared to other regions, this region's industries are more flexible in terms of expansion and innovation.
Recent Developments
July 2020: In order to promote its multifunction PIXMA G series inkjet printers, which can be used in both households and workplaces, Canon India has launched a new campaign called "India Ka Printer."
Key Market Players
Avery Dennison Corporation
Hewlett-Packard Development Company, L.P.
Seiko Epson Corporation
Ricoh Company
Inca Digital Printers Limited
Smurfit Kappa Group PLC
Roland DG Corporation
Westrock Company
Amcor PLC
ARC Document Solutions LLC
Market Segmentation
(Note*: We offer reports based on sub-segments as well. Kindly, let us know if you are interested)
By Ink
Solvent
UV-Cured
Latex
Dye Sublimation
Others
By Digital Printing
Digital Printers
Ink
Printhead
By Print Head
Inkjet

Thermal Inkjet
Piezo Inkjet
Electrostatic Inkjet
Micro-Electro Mechanical System Inkjet

Laser
By Printhead
Plastic Film
Release Liner
Textiles
Glass
Ceramics
Paper
Others
By Application
Books
Commercial Printing
Texting
Packaging

Labels
Cartons
Flexible Packaging
Corrugated Packaging
Metal Packaging

Others
By Geography
North America
Europe
Asia-Pacific
Latin America
Middle East & Africa (MEA)