The global distributed cloud market size is expected to be worth around USD 10.91 billion by 2032 from valued at USD 2.30 billion in 2022 and growing at a registered CAGR of 16.90% during the forecast period 2023 to 2032.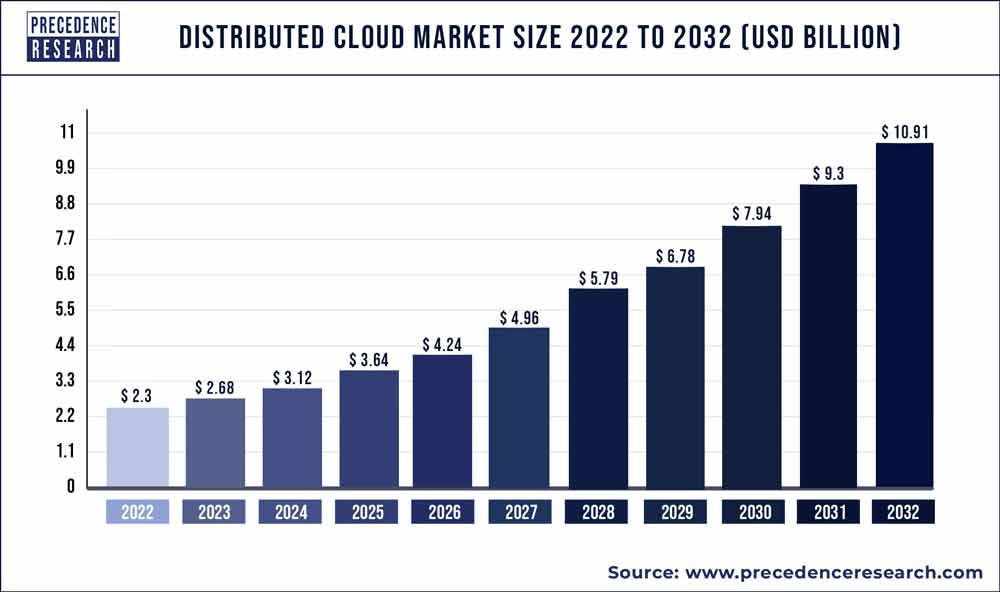 A distributed cloud is a cloud computing technology application that connects data and applications provided from different geographic locations. A distributed cloud is one in which processing, storage, and networking is placed in a micro-cloud that is separate from the centralized cloud. As a decentralized cloud system, the distributed cloud is closer to the end user. Organizations may decrease latency, network congestion, and the risk of data loss by using a distributed cloud approach.
Furthermore, because data may be stored in the nation where it was created, enterprises can better assure compliance with data sovereignty requirements. Companies are suddenly required to allow a more mobile workforce. With several technical implications and issues, the concept of remote work has developed as a requirement that enterprises must consider. IT leaders from many businesses believe that having a uniform operating experience across the edge and public and private clouds is critical.
The distributed cloud is a cutting-edge and one-of-a-kind strategy in the IT industry. It has a regionally scattered architecture that mostly performs network edge services. Enterprises will be able to monitor and control multiple components thanks to the distributed cloud. Edge apps, apps distributed over many clouds, and various legacy data center apps are among these components. As corporations implement cloud technologies, data theft is becoming a serious problem, and as a result, organizations are attempting to adopt minimal data recovery strategies in order to lose their data. Distributed cloud platforms also provide enterprises with a variety of procedures for data security, such as permission and auditing. Furthermore, data recovery delivers increased dependability. As a result of data recovery, several firms are able to keep their data safe and secure, fueling market growth.
Report Scope of the Distributed Cloud Market
| | |
| --- | --- |
| Report Coverage | Details |
| Market Size in 2023 | USD 2.68 Billion |
| Market Size by 2032 | USD 10.91 Billion |
| Growth Rate from 2023 to 2032 | CAGR of 16.90% |
| Base Year | 2022 |
| Forecast Period | 2023 to 2032 |
| Segments Covered | End User, Service Type, Deployment Type, Organizational Size, Application, Geography |
| Companies Mentioned | IBM Corp., Amazon web services, Microsoft Corp., VMware Inc., Salesforces Inc., Pivotal Inc, Cloud Sigma Inc., Google,LLC, Alibaba Corp., Digital Ocean Inc |

Growth Factors
The rising use of mobile technologies, the increased requirement for minimal data recovery, and the growing use of digitalization, handling higher workloads and data, and better data recovery are some of the main driving reasons for the growth of this market. Furthermore, the ability of public cloud services to transition toward better distributed cloud computing with high end security is fueling the market's growth. However, security worries may stymie the market's expansion. Furthermore, cloud technology adoption, new product releases, and increased government involvement in implementing and promoting cloud technologies are projected to drive market prospects. As corporations implement cloud technologies, data theft is becoming a serious problem, and as a result, organizations are attempting to adopt minimal data recovery strategies in order to lose their data. Distributed cloud platforms also provide enterprises with a variety of procedures for data security, such as permission and auditing. Furthermore, data recovery delivers increased dependability. As a result of data recovery, several firms are able to keep their data safe and secure, fueling market growth.
Distributed cloud solutions assist to increase privacy by storing data in a neighboring or local region; yet, the methods for path control and therefore data storage must travel long even to reach a nearby cloud. Furthermore, when data requires immediate processing and is not kept in public clouds, storage devices owned by data owners can be relocated to another large data center. This technique may raise worries about data ownership and, as a result, raise privacy problems. Many enterprises can see the development and future potential that the distributed cloud may provide, and as a result, they are creating their own distributed clouds. IBM, one of the market's leading participants, has also created the "IBM Cloud Satellite" distributed cloud system, which allows users to access the IBM cloud from anywhere. It may be installed in the cloud or supplied as a service at the edge. Companies must also migrate from old systems to public cloud without physically relocating. Volterra, another major key player in the market has announced the launch of a distributed cloud platform and it offers edge cloud, multi cloud, and network cloud; thus, with these product launches and organizations' migration to multi cloud systems, the market's opportunities are expected to grow in the coming years.
The distributed cloud service market is being driven by rising need for low-cost data backup, storage, and security across all industries, as well as data management requirements arising from greater use of mobile technologies and the promotion of distributed cloud service adoption rates. The distributed cloud service shifts the centralized approach of most public cloud services into a new era of cloud computing technologies. Furthermore, throughout the 2023-2032 forecast periods, the need for high-end security and clearly defined division drives market expansion.
End User Insights
The BFSI sector accounted for the biggest proportion of the Global Distributed Cloud Market among all End-Users. The distributed cloud is useful for improving banking processes and screening multiple transactions in seconds, which helps the sector safeguard against financial crimes and improve customer experience.The use of distributed cloud in financial institutions is growing rapidly in order to provide a better client experience. The growing usage of the Internet of Things (IoT) for analyzing enormous data volumes, as well as the growing need for cost-effective cloud computing services and scalable & agile systems to store secret information, is driving the BFSI industry.
On the other hand, the automobile industry is predicted to account for a sizable portion of the Global Distributed Cloud Market. The constantly expanding automotive industry and rising consumer disposable income are fueling the need for integrating automation technologies to improve the customer experience, which is favorably affecting the growth of the automotive distributed cloud market.Furthermore, the rapid adoption of advanced technologies such as Artificial Intelligence, Machine Learning, and the Internet of Things, among others, to improve vehicle efficiency and performance is another critical factor expected to drive demand for distributed cloud technology in the automotive industry.Several firms now claim to be multi-cloud providers, but in reality, they just use individual and multiple clouds. They are also paying several cloud providers. These businesses operate each app on a single cloud provider.
However, the multi-cloud method is distinct. It welcomes the qualities of each cloud provider and allows its customers to take use of each cloud's unique capabilities. Multi-cloud enables organizations to support microservices in a smooth and effective manner. It also improves the availability and flexibility of each app.
Service Type Insights
Data Storage has the greatest market share in the global distributed cloud market. It's because of the fast digitization of records. The distributed cloud spreads people's data over a network, allowing data to be situated closer to end-users and accelerating transfer speed, reducing network congestion and the danger of data loss. Furthermore, because distributed clouds do not rely on centralized data centers or energy-intensive cooling systems for servers, they are a greener storage option. As a result, these properties of distributed cloud are projected to contribute to their rising acceptance for data storage in the next years.This Cloud deployment architecture combines Public Cloud and Private Cloud features. Data and apps may be shared between public and private cloud environments using hybrid cloud. Organizations primarily employ Hybrid Cloud when their on-premise infrastructure needs additional scalability, in order to meet variable business demands. When using the potential of the Public Cloud, organizations may store their sensitive data on their Private Cloud.
This service distribution allows an organization to fulfill highly particular response time and performance needs, regulatory or governance compliance mandates, or other demand that requires cloud infrastructure to be hosted somewhere other than the cloud provider's regular availability zones.The expansion of the internet of things (IoT) and edge computing has been a significant driver of dispersed cloud installations. AI applications that transmit significant volumes of data from edge locations to the cloud require cloud services to be as near to the edge site as feasible, and relocating cloud resources to the edge location itself can considerably improve performance for these applications.
Distributed Cloud Market Share, By Region, 2022 (%)
| | |
| --- | --- |
| Regions | Revenue Share in 2022 (%) |
| North America | 41% |
| Asia Pacific | 22% |
| Europe | 23% |
| Latin America | 8% |
| MEA | 6% |

Regional Insights
North America held 41% market share in 2022. Digitization, the existence of a significant number of organizations, data security, data backup, and data recovery are the primary drivers of North America's Distributed Cloud market growth. Furthermore, rising use of cloud computing, internet of things (IOT), and other technologies is boosting market growth. In addition, industrial automation, better customer service for faster enquiries, and other factors are propelling the Distributed Cloud market forward.
GAIA-X will pave the way for Europe's next invention of the data infrastructure collaboration between European countries and cloud companies on a federated cloud system that will allow organizations to reap the benefits in regard of cloud computing which will collaborate with partners with no being tied to a single vendor. IBM is a GAIA-X member. They share goals for accountability, security, and data protection, as well as portability interoperability and the advancement of open principles and environments.
According to geographical study, Asia Pacific market revenue is expected to expand considerably during the projected period due to growing production in APAC countries such as China and India. Furthermore, China is the world's largest production and consumer, which is projected to drive future regional Distributed Cloud Service Market growth. Revenue growth in the regional market is expected to be enhanced further by greater usage and awareness among manufacturers.
Key market developments
Google Cloud and banking software provider Temenos partnered in 2019 to provide financial services assistance to companies operating banking software and apps on Google Cloud.
Key market players
IBM Corp.

Amazon web services

Microsoft Corp.

VMware Inc.

Salesforces Inc.

Pivotal Inc

Cloud Sigma Inc.

Google LLC

Alibaba Corp.

Digital Ocean Inc
Segments covered in the report
(Note*: We offer report based on sub segments as well. Kindly, let us know if you are interested)
By End User
Automotive

BFSI

Healthcare

Public Safety

Government

Private organization

Education
By Service Type
Data Storage

Networking

Data Security

Autonomy

Others
By Deployment Type
Public Cloud

Hybrid Cloud

Private Cloud
By Organizational Size
By Application
By Geography
North America
Europe
Asia-Pacific

China
India
Japan
South Korea
Malaysia
Philippines

Latin America

Brazil
Rest of Latin America

Middle East & Africa (MEA)

GCC
North Africa
South Africa
Rest of the Middle East & Africa