The global dropshipping market size was evaluated at USD 230.14 billion in 2022 and it is expected to hit around USD 1,921.24 billion by 2032, poised to grow a CAGR of 23.64% during the forecast period from 2023 to 2032.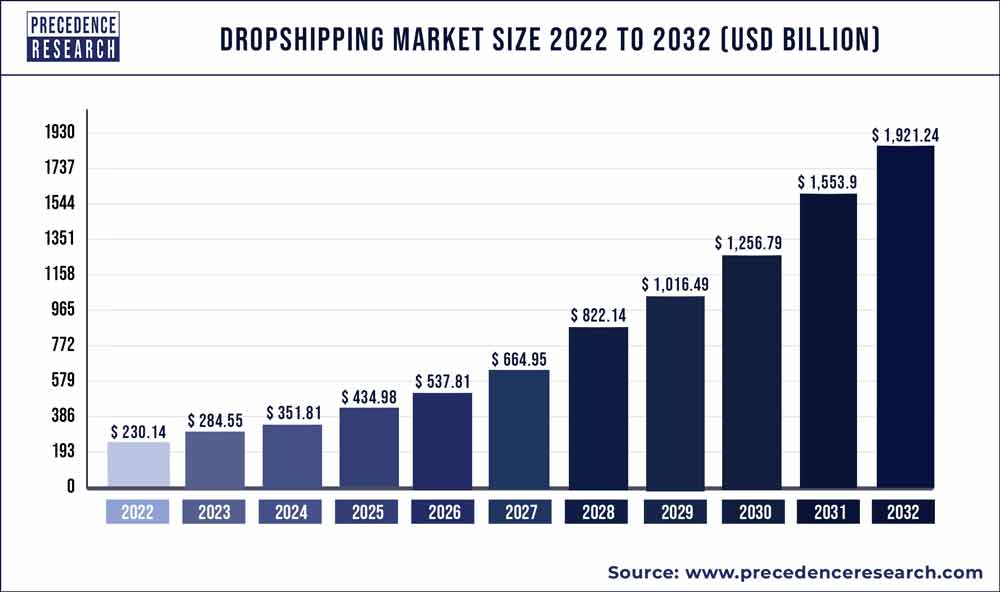 Key takeaways:
Asia Pacific led the global market with the largest market share of 35% in 2022.
North America is expected to be the second-largest marketplace throughout the forecast period.
By Product, the fashion segment is expected to lead the market throughout the forecast period.
By Product, the electronics segment will continue to grow at a considerable rate.
Market Overview:
Dropshipping is a fulfillment method where e-commerce businesses delegate the tasks of sourcing, storing, and shipping products to a third party, usually a supplier. This approach is popular among entrepreneurs looking for efficiency and cost savings, although it can impact the customer experience. With dropshipping, products are shipped directly from the manufacturer or wholesaler to the customer, while the dropshipping company serves as an intermediary, offering a range of product categories for consumers to choose from.
Acting as a middleman, a third-party retailer or dropshipping firm forwards customer orders to suppliers at wholesale prices and charges customers the retail price. This transaction is facilitated through an online platform that connects customers and suppliers. The dropshipping market is expected to experience substantial growth, driven by the increasing preference for online shopping and the growing trend of cross-border e-commerce. As a result, the surge in demand for dropshipping services is primarily influenced by the expansion of the e-commerce industry.
Growth Factors:
The exponential rise of e-commerce has provided productive grounds for the expansion of dropshipping. Since more consumers embrace online shopping, the demand for efficient and convenient ways of fulfilling orders has grown. Dropshipping offers a viable solution by eliminating the need for retailers to handle inventory and logistics, thereby streamlining the order fulfillment process. Furthermore, setting up a dropshipping business requires minimal upfront investment compared to traditional retail models. This accessibility has attracted a wide range of entrepreneurs, including individuals, small businesses, and even established e-commerce retailers seeking to diversify their product offerings.
The dropshipping market also benefits from a vast array of product options and categories. Retailers can choose from an extensive selection of products offered by numerous suppliers and manufacturers. This flexibility allows for niche targeting and the ability to cater to specific customer preferences and market segments. Furthermore, the dropshipping market capitalizes on the global reach of e-commerce. With the advent of cross-border trade and improved international shipping capabilities, dropshipping businesses can expand their operations to reach customers worldwide. This global market reach opens up significant growth opportunities and enables retailers to tap into new markets and demographics.
Report Scope of the Dropshipping Market:
| | |
| --- | --- |
| Report Coverage | Details |
| Market Size in 2023 | USD 284.55 Billion |
| Market Size by 2032 | USD 1,921.24 Billion |
| Growth Rate from 2023 to 2032 | CAGR of 23.64% |
| Largest Market | Asia Pacific |
| Second Largest Market | North America |
| Base Year | 2022 |
| Forecast Period | 2023 To 2032 |
| Segments Covered | By Product |
| Regions Covered | North America, Europe, Asia-Pacific, Latin America, and Middle East & Africa |

Market Dynamics:
Driver:
Rising e-commerce sector
The growing e-commerce sector is expected to fuel the growth of the dropshipping market during the forecast period. E-commerce, the buying and selling of goods and services online, has experienced significant growth in the recent years, driven by advancements in technology, changing consumer behavior and increased internet accessibility. As e-commerce continues to thrive, it provides a favorable environment for the growth and proliferation of dropshipping business models.
The increasing popularity of online shopping has created an increase in demand for products that can be conveniently purchased and delivered at the doorsteps of consumers. This shift in consumer behavior has opened up new avenues for the growth of dropshipping retailers. With the use of e-commerce platforms, dropshipping business can reach a wider audience of online shoppers that are actively seeking variety and competitive pricing.
Also, the major key advantage of dropshipping in the e-commerce landscape is its low barrier to entry. Aspiring entrepreneurs can easily set up online stores without the need for substantial upfront investment in inventory. This accessibility has attracted a diverse range of individuals, including solopreneurs and small-scale businesses, which may not have the resources or infrastructure to establish traditional retail operations. Thus, the dropshipping market has experienced significant growth and diversification, with retailers capitalizing on various niches and product categories.
Restraint:
Limited control over inventory and shipping
The limited control over inventory and shipping is likely to limit the growth of the dropshipping market during the forecast period. While dropshipping offers advantages such as low startup costs and streamlined operations, the lack of direct control over these critical aspects can pose challenges for retailers and impact their ability to provide a seamless customer experience. Further, in dropshipping, retailers rely on third-party suppliers to maintain and manage inventory. This lack of control can result in situations where products are listed as available for purchase but are actually out of stock or no longer available. Such discrepancies can lead to customer dissatisfaction, negative reviews, and even damage to the retailer's reputation. Similarly, limited control over shipping can present challenges in ensuring timely and reliable delivery of products to customers.
Dropshipping retailers are dependent on their suppliers to handle shipping and logistics. Delays in order processing, shipping errors, or issues with package tracking can negatively impact the customer experience. Retailers may face difficulties in providing accurate and up-to-date shipping information to customers, resulting in customer frustration and potential loss of repeat business. Thus, this is likely to limit the growth of the market in the years to come.
Opportunity:
Rising emphasis on niche markets
The capitalizing on niche markets is likely to offer growth opportunities for the dropshipping market in the years to come. Focusing on niche markets allows dropshipping retailers to stand out from the competition. In saturated markets, catering to a specific niche enables businesses to differentiate themselves and create a unique selling proposition.
By offering products that specifically meet the needs and interests of a particular customer segment, retailers can attract customers who are seeking specialized solutions or unique products. This targeted approach helps build a loyal customer base and increases the likelihood of repeat purchases. Niche markets often have less competition compared to broader markets. By identifying and targeting underserved niches, dropshipping businesses can tap into unexplored market potential. With fewer competitors, retailers have a better chance of establishing themselves as industry leaders within their niche, gaining brand recognition, and capturing a significant market share. This competitive advantage contributes to sustained growth and profitability.
Moreover, capitalizing on niche markets allows for effective marketing strategies. By means of understanding the specific needs, preferences, and pain points of the target audience, dropshipping retailers can tailor their marketing messages and campaigns accordingly. This targeted marketing approach increases the chances of connecting with potential customers and driving conversions. Additionally, niche markets often have dedicated online communities, forums, and influencers that cater to the specific interests of the audience. Collaborating with these influencers and engaging in niche-specific marketing channels can help raise brand visibility and attract a highly engaged customer base. This is expected to create opportunities for the growth of the market in the future.
Segments Insight:
Product Insights:
On the basis of the product, the fashion segment is expected to dominate the market during the forecast period. The fashion industry is highly influenced by trends and changing consumer preferences. Dropshipping allows retailers to quickly adapt to emerging fashion trends by sourcing and offering a wide range of trendy and fashionable products to customers.
The ability to stay updated with the latest styles and designs attracts fashion-conscious consumers and drives demand in the dropshipping market. Also, retailers don't need to invest heavily in stocking inventory upfront, reducing the financial risk associated with carrying unsold or outdated fashion products. This makes it easier for entrepreneurs to enter the fashion market and test different products without the burden of managing inventory. These factors are likely to create opportunities for the fashion segment of the dropshipping market during the forecast period.
The electronics segment is likely to grow at a considerable CAGR during the forecast period. The electronics segment offers a wide range of products, including smartphones, tablets, laptops, gaming consoles, audio devices, smart home appliances, and more. Dropshipping lets retailers access a vast selection of electronics products from various suppliers and manufacturers, providing a diverse range of options to cater to different customer preferences and budgets. The availability of a comprehensive product range drives customer engagement and boosts sales in the dropshipping market.
Also, new electronic devices, gadgets, and accessories are constantly introduced into the market, attracting tech-savvy consumers. It further helps retailers to stay at the forefront of technology by quickly sourcing and offering the latest electronic products to customers. The ability to provide cutting-edge electronics drives demand in the dropshipping market.
Regional Insights:
Asia Pacific is expected to dominate the global dropshipping market throughout the forecast period. This is attributable to the rise of the middle class in many Asia Pacific countries that has led to an increase in disposable income and consumer purchasing power. This creates a larger consumer base with greater demand for a wide range of products, which can be effectively met through the dropshipping model. Additionally, the region is culturally diverse, with unique consumer preferences and niche markets. Dropshipping enables retailers to cater to specific market segments by offering specialized products that align with local tastes and preferences. This ability to tap into niche markets is also expected to support the growth of the market within the estimated timeframe.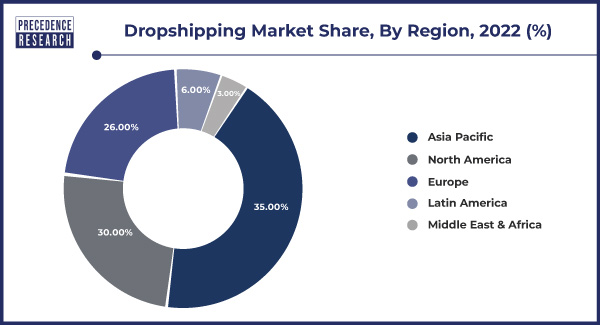 North America is observed to be the second-largest region during the forecast period. The United States dominated the region's market in 2022. The rapid growth of e-commerce in the region has created a favorable environment for the expansion of the dropshipping market. Consumers in the region often prefer the convenience of online shopping, driving higher demand for products that can be efficiently fulfilled through dropshipping. Further, consumers in the United States have higher expectations when it comes to fast shipping, product variety, and excellent customer service which is also expected to support the growth of the market. Additionally, the early adoption as well as deployment of modern technologies is also likely to create immense growth opportunities for the regional market in the years to come.
Recent Developments:
In November 2022, Dropshipping Direct recently completed the acquisition of Empire Ecommerce, aligning with industry trends focused on efficiency and the FBA Wholesale model. The transaction was finalized last week, providing Dropshipping Direct with strengthened systems, an expanded customer base, and opportunities for strategic partnerships.
In November 2022, MerchMixer, one of the leading Shopify dropship app, achieved a Lifetime Gross Merchandise Volume of $2M and introduced its Reseller Portal. This innovative platform enables Resellers to list and dropship MerchMixer products on a wide range of platforms, including BigCommerce, Walmart, WooCommerce, eBay, and various other channels, offering greater flexibility and reach for dropship Resellers.
Key Market Players:
AliExpress
SaleHoo
Wholesale2B
CJDropshipping
Modalyst
Worldwide Brands
Dropified
Shopify Inc.
Dropshipper.com
Dropship Direct
Segments Covered in the Report:
(Note*: We offer reports based on sub-segments as well. Kindly, let us know if you are interested)
By Product
Furniture and Appliances
Toys, Hobby and DIY
Food and Personal Care
Fashion
Electronics
Others
By Geography
North America
Europe
Asia-Pacific
Latin America
Middle East and Africa