The global enterprise application market size was estimated at USD 241 billion in 2022 and is predicted to hit around USD 480.75 billion by 2032, growing at a compound annual growth rate (CAGR) of 7.2% during the forecast period 2023 to 2032.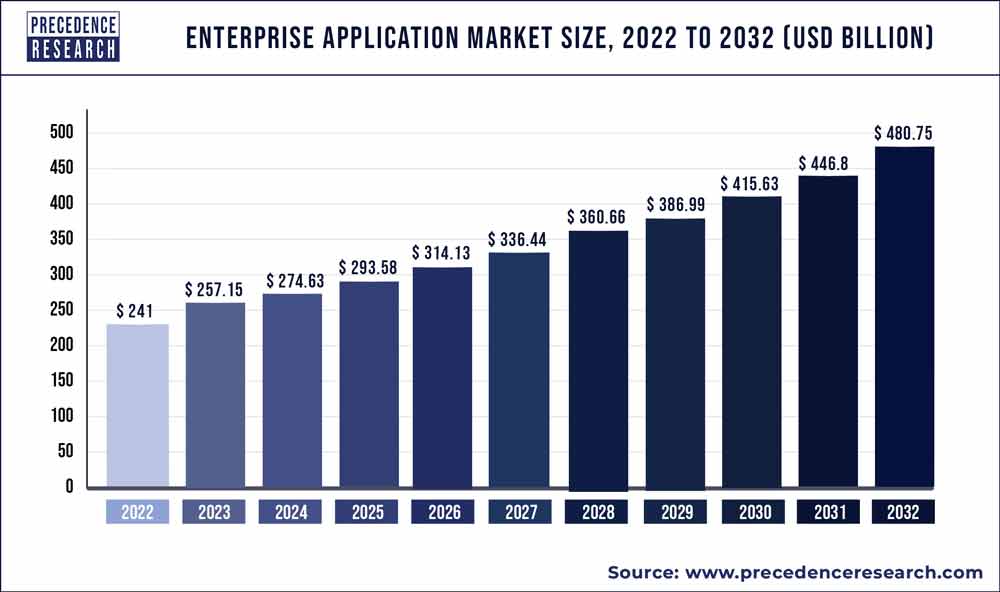 Access our Premium Real Time Data Intelligence Tool, Visit: Precedence Statistics
Key Takeaways:
Based on deployment mode, the cloud segment accounted 57% market share in 2022.
The on-premise segment is expected to grow at a 5.2% CAGR by 2032.
The ERP enterprise segment generated a 26% revenue share in 2022.
The heavy metals & machinery segment is growing at 11% through 2032.
Enterprise application is basically a software which is designed to handle the corporate environment of both business and government in their day-to-day operations. It is a large software and is quite critical and complex. It consist of a collection of software and is used to handle operations of an organization to simplify their business and Management related task. It integrates all the business processes like marketing, HR, Finance, accounting, inventory control, manufacturing, distribution channel and project management. The system process the information at a very high speed and can be placed across different networks. The advance version of the Enterprise application will also offer a platform to link with the customers, suppliers, partners to provide higher customer satisfaction.
Growth Factors
Enterprise application is capable enough to allow data flow from both inside and outside of the firm. The popularity of EA is gradually expanding among the various businesses as they are becoming major assets for cutting charges and expansion of market. The urge of businesses to improve their customer service quality and to increase efficiency as well as productivity of their respective business is increasing the demand of EA in various sectors.
Companies are shifting from licensed to open-source applications, owing to low cost associated with them. Regional vendors operating in the market provide support for open-source applications. Apart from support, these vendors modify open-source codes and customize them as per requirement of end-user industries. Vendor's charge affordable price for their services. Generally, SMEs are the major end user industries for open-source applications, owing to their limited budget for IT department.
The enterprise application market is expected to grow during the forecast period due to the uncountable advantage advantages like data security and safety. Apart from that cloud segment is also witnessing the highest growth in the approaching years as the cloud segment doesn't require any kind of infrastructure related to IT as all the data is directed and saved on cloud server. This is offering a great advantage to small and medium enterprises as they lack infrastructure.
Businesses are going through rapid change, owing to changing demand from customers, strict regulations, and economical changes. To study changing demands of customers, it is essential for companies to constantly interact with customers, which is possible through implementation of specific enterprise application. Businesses are now engaged in enhancement of productivity and different business operations. Thus, providing companies with ample growth opportunities to cater to changing business models. Companies are expanding their geographical presence through acquisitions and partnerships.
Integration and collaboration of businesses is possible through implementation of enterprise application, which enables them to centralize their business operations. Synchronization and collaboration of business documents and their rapid sharing is also possible by the use of appropriate enterprise application. Geographical expansion of companies provide significant growth opportunities for the global enterprise application market.
Report Scope of the Enterprise Application Market
| | |
| --- | --- |
| Report Coverage | Details |
| Market Size in 2023 | USD 257.15 Billion |
| Market Size by 2032 | USD 480.75 Billion |
| Growth Rate from 2023 to 2032 | CAGR of 7.2% |
| Base Year | 2022 |
| Forecast Period | 2023 to 2032 |
| Segments Covered | Component, Solution Type, Deployment Mode, Organization Size, Industry Vertical, Geography |
| Companies Mentioned | IBM corporation, Fujistu Ltd, Microsoft Corporation, Salesforce . com. Inc, SAP SE., Software AG, Tibco software Inc, Infor, Hewlett Packard enterprise (hpe), QAD inc |

Solution Type Insights
The product includes CRM, ERP, SCM, Web Conferencing, BI, BPM, CMS, EAM and others. The use of cloud computing has opened up a road for businesses to grow faster without any much hardware requirements. The major enterprise application like supply chain management, customer relationship management system and knowledge management systems are the dominant in the market.
The CRM software is basically contact list with a brain, it give insights about the customer journey mapping along with customer contact information and details of the touch points. It also includes the information related to interaction whether in person or on social media, or over a phone and email, or calls on customer support and also contains notes of the last interaction. The project management tools helps towards maintaining a better project management for teams, even if the team in scattered all over the World it can help team to collaborate and synchronize effectively.
ERP stands for enterprise resource planning, and it is a software program that can be used to improve a variety of business processes. It is ideal for gathering, storing, managing, and interpreting data from company operations. ERP can aid in product planning, human resources, inventory management, accounting, marketing and sales, and supply chain management. The ERP software basically takes all the modules of the business and digitizes them and later creates complex networks between them which ensures that everyone is working from the same records and updated information. ERP is appropriate for any organization; however, it does require little modification to fulfill demands for businesses. ERP has evolved from back-office activities to business process synchronization. Innovative ERP solution are being introduced by ERP application suppliers to their clients and customers. As a result of technology advancements, ERP providers are developing affordable ERP applications for small and medium businesses, which drive growth of the market.
In addition, ERP vending firms create ERP applications that can be used on-premise, cloud, or on web-based ERP. Furthermore, some suppliers provide ERP on a transactional basis, which means that consumers can pay according to how much time users spend using ERP solution, which impact positively on the market growth. Moreover, industries are adopting ERP applications to optimize their business functions and IT process. Social media and its integration with ERP application would provide lucrative opportunities for ERP vendors in the future. Employees are increasingly adopting smartphones and tablets in the workplace, resulting in a larger need for smartphone-enabled ERP solution. Many organizations are expanding their global presence, which will provide more opportunities for ERP solution providers to meet growing demand for ERP from end-user sectors.
Component Insights
On the basis of component, the enterprise application market is segmented into solution and service. The solution segment held the major share in the market in 2022. Enterprise solution such as ERP, BI, and CRM are used to execute transactions, accounting, inventory, managing supplier & vendor relationships and control associated business processes. The enterprise application software application provides detailed information about all processes involved in the complete supply chain cycle. In addition, BI enables firms to make better business decisions and play an important role in strategic planning process. Spreadsheets, digital dashboards, data mining, data warehousing, and local information systems are few of the BI tools that are accessible for various industries, which drive growth of the market.
There is an increase in adoption of enterprise solution such as SCM software, BI, ERP, and CRM that manage the flow of products and different kinds of information across the number of industry verticals as it strengthens enterprise application operations of an organization. In addition, in sales and marketing, CRM software is extensively utilized. It offers them access to every client engagement, including email, social media, phone calls, and even face-to-face meetings.
It assists companies in ensuring that no sales opportunities are neglected. In addition, factors such as growth in the demand for cloud-based SCM software along with rise in adoption of advanced technologies such as Machine Learning (ML) and Internet of Things (IoT) are impacting positively on growth of the enterprise application market. In addition, significant employee use of smart phones within the workplace is adopting mobile-based BPM solution, which further provide lucrative opportunities for the market growth.
Deployment Mode Insights
On the basis of deployment mode, the enterprise application market is segmented into on-premise and cloud. On-premise software is installed on individual systems rather than on a remote server. It is the traditional technique used by many businesses to access enterprise software. In the on-premise software system, corporations must use their own computing resources and must acquire only authorized copy of software. On-premises deployments have less security problems than cloud-based deployments as this software is deployed on independent computers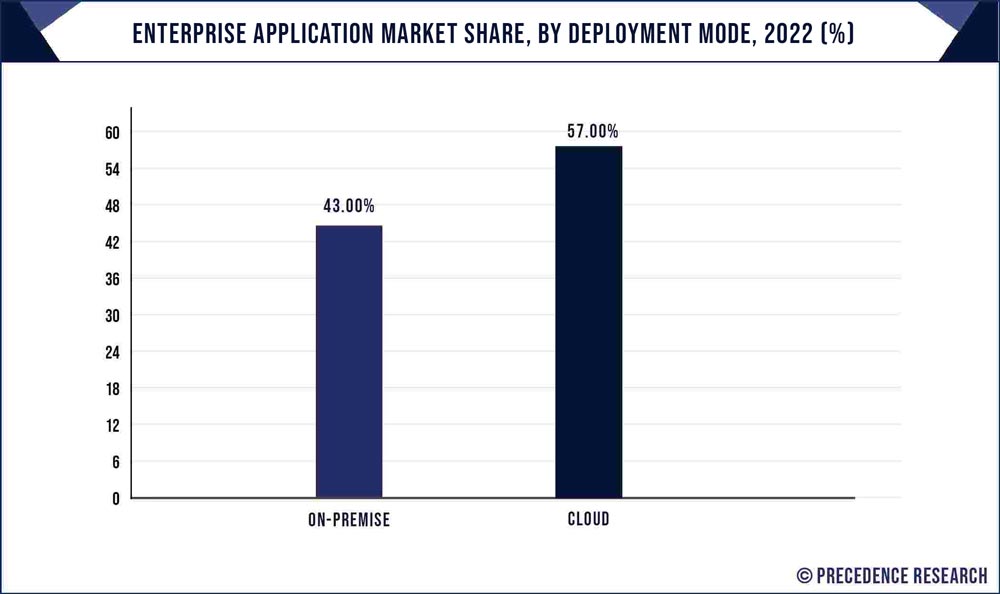 Due to increase in adoption of enterprise application, adoption of on-premise based software also increases for security reasons.
Further, on-premise based enterprise software handles business-critical data such as firm financials, corporate trade secrets, and employee information, necessitating full control over the software and guaranteeing that the data is secure. Hence such features provide ample opportunities for the market growth.
Organization Size Insights
On the basis of organization size, the enterprise application market is segmented into large enterprises and SMEs. Large enterprises considered here are those having revenue above 200 million and have employee size of more than 1000 employee. Large size businesses have enormous volumes of materials & supplies flowing around multi-location business footprints. Large number of companies operates in the global enterprise application market offering specific enterprise application solution as per the requirement of end user industries.
In large organization, there is an increase in adoption of enterprise application, owing to rise in consumer and end-customer demands, which leads to high competition across industries. There is an increase in adoption of enterprise software such SCM in large enterprises to operate a lean supply chain.
In addition, as organizations expand, this balancing act becomes even more difficult. Furthermore, large enterprises are integrating their large volume of data in the cloud to augment their speed, accuracy, and value chain scalability, which is opportunistic for the market. Easy accessibility and greater control of enterprise application software over cloud deployment are anticipated to boost adoption of SaaS-based ERP in large enterprises.
Industry Vertical Insights
The use of different software are depended on its industry vertical like manufacturing, BFSI, healthcare, retail, government, Aerospace and defense, Telecom and IT and others. Different organizations have different kind of expectations as well as requirements from the software.
Banking, financial services, and insurance (BFSI) sectors are considered under BFSI vertical segment. The business is seeing fast reception of ERP software after a few financial unrest. Tough government law and regulation and guaranteeing customer loyalty are a part of the major difficulties faced by the business. Financial institutions are investing heavily in IT department to achieve a competitive edge over their competitor and deliver customer centric products and services. Financial institutions are adopting ERP applications such as content management system owing to increase of unstructured data. The modern user is searching for better encounters and greater personalization. Sectors including BFSI and fintech service provider are pushing the envelope for client experience.
BFSI software solution are relied upon to develop at a critical rate owing to development in digitalization of banking exchanges and big data analytics. There is a strong connection between the business objectives of an undertaking and the specialized difficulties it faces while accomplishing them. The modern client is searching for better experience and more prominent personalization. Areas including BFSI and finch service providers are pushing the envelope for batter client experience. For instance in November 2021 Standard Chartered bank partnered with starling bank tech to launch its new banking as a service finch platform.
Enterprise Application Market Share, By Region, 2022 (%)
| | |
| --- | --- |
| Regions | Revenue Share in 2022 (%) |
| North America | 35% |
| Asia Pacific | 24% |
| Europe | 30% |
| Latin America | 7% |
| MEA | 4% |

Regional Insights
North America is having a clear dominance in global enterprise application market as it held the largest revenue. The North America has the largest adoption rate due to the customer centric approach of enterprise application software. The growth is mainly driven by the presence of technological infrastructure and key players.
In Europe, many organizations are implementing enterprise application which have increased its demand and had invited many companies to open their data center in the European countries. The increased demand of real time data access and growing adoption of cloud and mobile based applications are acting as fuel to accelerate this market in this region.
The Asia Pacific region is anticipated to be the fastest growing region in terms of global enterprise application market for the forecast period. The growing technological development initiated by the mega vendors like Microsoft, IBM and oracle has attributed to the growth of Enterprise Application market.
Key market players
IBM corporation
Fujistu Ltd
Microsoft Corporation
Salesforce . com. Inc
SAP SE.
Software AG
Tibco software Inc
Infor
Hewlett Packard enterprise (hpe)
QAD inc
Segments covered in the report
(Note*: We offer report based on sub segments as well. Kindly, let us know if you are interested)
By Component
By Solution Type
Customer relation management (CRM)

Enterprise resource planning (ERP)

Supply chain management (SCM)

Enterprise asset management

Business intelligence

Business process management

Content management system

Web Conferencing

Others
By Deployment Mode
By Organization Size
By Industry Vertical
BFSI

Manufacturing

Healthcare

Retail

Government

Aerospace & Defense

Telecom & IT

Others
By Geography
North America
Europe
Asia-Pacific

China
India
Japan
South Korea
Malaysia
Philippines

Latin America

Brazil
Rest of Latin America

Middle East & Africa (MEA)