The global flying bikes (Hoverbikes) market size was estimated at USD 66.32 billion in 2022 and is expected to hit around USD 329.28 billion by 2032, poised to grow at a CAGR of 17.38% during the forecast period 2023 To 2032.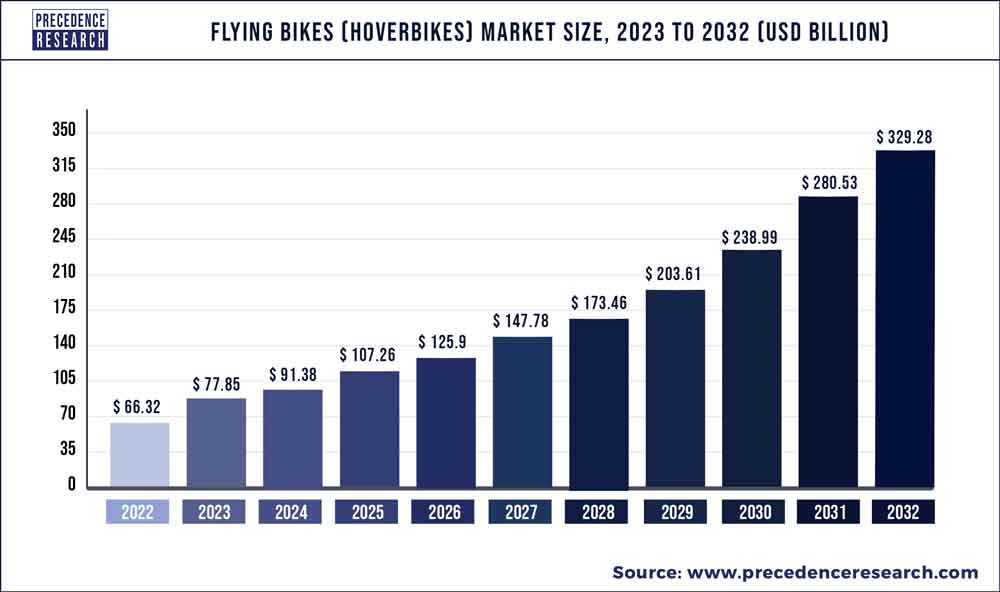 A flying bike, also referred to as a flying vehicle, is a motorized vehicle with the ability to fly and/or operate on roads like a motorbike. Twin propellers are often included on a flying motorcycle, in front of and behind the rider. By merging numerous technologies, including cutting-edge manufacturing techniques, automated vehicles, and extremely efficient batteries, enhanced flying bike concepts have been produced. Increased expenditures on hoverbikes are expected to hasten the development of future urban transit, freight, and delivering packages, together with defense and military uses.

The newest advancements in automobile and airplane technology have made new technologies accessible. One such concept is the hoverbike, which blends bike and chopper to improve transport.
Key Takeaways:
Based on geography, the Asia-Pacific market has generated more than 36% revenue share in 2022.
Based on geography, the North American area is expected to experience considerable growth at a CAGR of 8.7%. from 2023 to 2032.
Based on mode of operation, the electric segment has accounted highest revenue share of around 75% in 2022.
Based on application, the emergency services segment had the greatest share roughly one-third of the overall share in 2022.
Based on application, the emergency services segment is predicted to grow at a CAGR of 25.4% from 2023 to 2032.
Growth Factors:
A hoverbike/flying/flying bike is a car that resembles a motorbike and has can the ability to fly as well as travel on the street. A hovering bike characteristically has 2 propellors, 1 situated in front of the user but only one in the back. Driverless automobiles, urbane series, and multifaceted industrial approaches remained joint to crop-cultured fluctuating bicycle representations.
The marketplace for hoverbikes consumers understood development in assets, which is foreseen to hurry the outline of upcoming urban commutation, merchandise & set transportation, and defense and armed request. For the request for city shuttling resolutions to alteration, politicians must ratify limitations and rules. Along with invention novelty, organizational progress is anticipated to produce an important part in the following years.
The industry of floating bikes is anticipated to increase as a result of factors including the outlook regarding urban mobility changing and new applications for flying bikes emerging. Nevertheless, the exorbitant cost of floating motorcycles & safety concern limit market expansion. Additionally, it is anticipated that key players' strategy expansions and the acquisition of the Asia-Pacific industry's unrealized talent would present market participants with profitable growth prospects. For riders of hoverbikes, worthy addition featuring GPS and multiple-angle sensors are offered. This headgear has a great design and will offer range and tracking mapping. This cutting-edge helmet will show riders of hoverbikes their way in three dimensions. This helpful device will notify you if you have to turn. This functions similarly to Google Earth.
The body of the hoverbike is equipped with a rescue parachute. In terms of safety features, the Hoverbike also has 3 times the redundancies of a chopper. One of the most critical difficulties for most metropolises is traffic congestion brought on by motor vehicles. The enormous number of cars, lorries, and other vehicles vying for space now just cannot be accommodated by the roads-built decades ago.
The bulk of such land-based automobiles uses fossil fuels especially when they are parked, producing a range of dangerous pollutants. This includes substances that are directly harmful to our health, including such sulfur dioxide, which produces breathing issues, microscopic solid materials floating in the air, as well as other hydrocarbons like benzene, which also was previously believed to trigger cancers (soot). Since these substances are constantly emitted, switching to electric vehicles whether land-based or VTOL that don't produce them could be advantageous. As a result of decreased traffic, gasoline can be utilized more effectively and won't be lost in traffic jams. Ideally, there would be less traffic on the roads as hovering bikes are becoming more prevalent.
Report Scope of the Flying Bikes (Hoverbikes) Market
| | |
| --- | --- |
| Report Coverage | Details |
| Market Size in 2023 | USD 77.85 Billion |
| Market Size by 2032 | USD 329.28 Billion |
| Growth Rate from 2023 to 2032 | CAGR of 17.38% |
| Base Year | 2022 |
| Forecast Period | 2023 to 2032 |
| Segments Covered | By Mode of Operation and By Application |
| Regions Covered | North America, Europe, Asia-Pacific, Latin America and Middle East & Africa |

Key Market Drivers:
Rising desire for personal transportation free of traffic jams
A novel, entertaining, and secure means of transportation, hoverbikes are accessible to practically everyone. The thrill of lifting may be known to ambitious motorcycle riders; however, the flying drives up the ante considerably. The Hover Bike provides a new flying pathway that is faster, harsher, and simpler to use than a helicopter.
The Hover Bike would be a new way to fly that is quicker, less expensive, and simpler to use than a helicopter. This safe and more affordable alternative is available to everyone, not just those who cannot afford a conventional helicopter. This marketplace was expected to grow as a result of improved infrastructure in nations like Germany, China, the US, and Japan, along with rising urban congestion and traffic for commuters, workers, business owners, and protection of environmental organizations, rising demand for private transport without traffic issues, and rising safety issues for both drivers and vehicles.
The high-end computer revolution has become more prevalent in urban movements
Urban mobility has recently shifted toward electronic high expertise and a rise in the use of greener transportation solutions to build the next group's robust and environmentally friendly transport network. In addition, the accelerating trend towards urbanization calls for the creation of alternate transportation options to meet present urban transportation problems like gridlock and elevated air pollutants, among many others.
In response, businesses in the transportation industry have created cutting-edge solutions like flying bikes. Much cash has been spent on creating hoverbikes that are ready for the future. Continuing R&D, experimentation, upgrades, and technical advances are necessary to produce a useful and dependable product. Among the most environmentally friendly innovations to arrive on the scene recently is flying bicycles. Products with flying bikes have relatively high pricing in the industry.
Key Market Challenges:
Short-range emissions might be greater: VTOLs need a significant amount of energy to lift off and climb, despite being quite economical once in the air. Accordingly, the advantages in terms of energy consumption and pollutants are significantly smaller for short distances. Electric flying vehicles are widely regarded as a practical option for city transport, especially for journeys of up to 17 kilometers. Because of their efficiency during the cruise phase, VTOLs may reduce pollution across greater distances; yet, short journeys may produce emissions that are even greater than those produced by other modes of transportation.
In comparison to other vehicles, they cannot accommodate a large number of passengers: Due to the need for them to be lighter to take off from the floor without expending too much power, such flying bikes are only suitable for small groups of individuals. The effectiveness of electronic air vehicles is once again put into question when it's realized that electric trains and light railways may replace many automobiles in large cities. One could counter that this is true for vehicles as well. VTOLs should only be employed for longer flights to maximize their efficiency and environmental advantages, and funding for other electric modes of transportation should also be raised during the same moment.
It will be excessively expensive to use this way of transportation: To borrow a little private jet and transport a small number of passengers, will require a licensed pilot. If technology advances and ride-sharing is exploited to its maximum potential, operators could be able to cut costs. It cannot be regarded as an ecologically friendly technology, though, if the cost is high. Sustainability must be affordable for everyone, rather than a luxury for a select few.
Key Market Opportunities:
In certain cases, the use of flying vehicles greatly reduced pollution
In addition to the gases which directly endanger human health, environmental gases like carbon dioxide as well as nitrogen oxides that reach the atmosphere trap energy and bring about global warming. In several cases, the use of flying vehicles greatly reduced pollution. On a 100-kilometer voyage, a fast-charging VTOL having four occupants emits 52% fewer greenhouse gases than the typical gasoline-powered car.
Flying bikes are much more than prospective to be completely occupied, involving people sharing rides, that they are now because they have to be piloted, as opposed to being inhabited by just one person. Continuing the melody of reduced discharges and enlarged efficiency.
Flying bikes can be transportable from a given point P to point Q much quicker
Associated with terrestrial portable, there is a noteworthy discount in the quantity of petroleum wanted and the distance of the way. Terrestrial portable typically involves several diversions, road traffic-colored lights, and connections, all of which reduce road competence and promotion petroleum charges. Today, mainstream metropolises are motionless intended and constructed everywhere carriages and additional superficial cars. As they portable additional internal, additional streets are constructed.
The greatest dangerous road, however, strength be those that attach metropolises. Huge highways and sidesteps are designed to facilitate cars to move among various sites. With further lanes getting added each year, these roads are being widened to accommodate the growing number of vehicles that use them. Since roads traverse farms and travel through forests, these roadways sometimes have a severe influence on the environment and threaten important wildlife habitats.
Segments Insight:
Mode of Operation Insights
The electric segment has generated the highest revenue share of around 75% in 2022. Additionally, it is predicted that throughout the forecast timeframe, this segment will exhibit the highest CAGR of around 24.1%. The study also examines several market segments, such as hybrid and many others.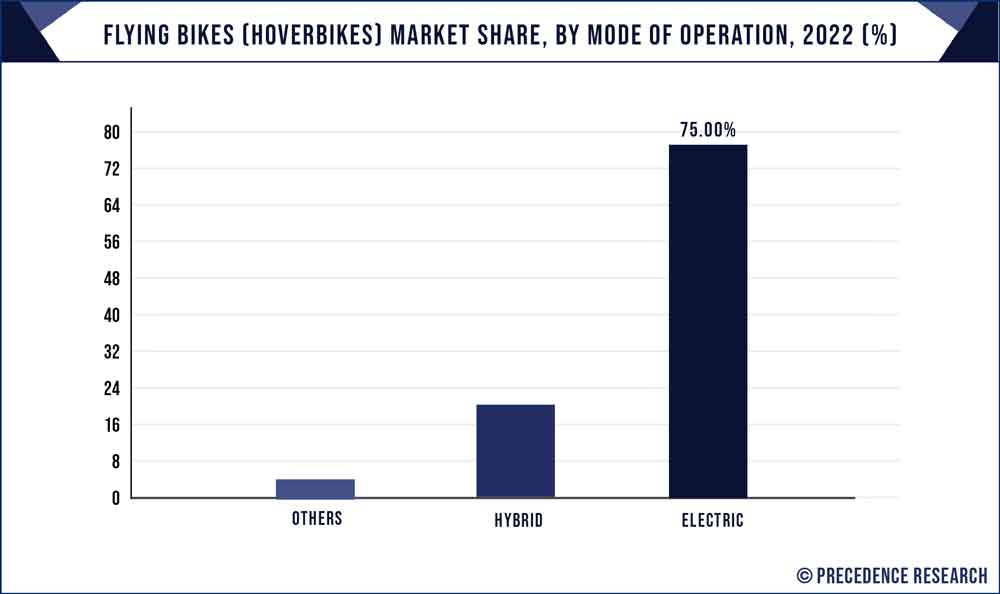 Application Insights
In 2022, the emergency services market had the greatest share roughly one-third of the overall share, and is anticipated to keep leading during the projection period. The emergency services segment is expected to grow at a CAGR of 25.4% over the forecast period. The study on the hoverbike industry also examines other market sectors, including transport, law enforcement, military and also security applications, and others.
Flying Bikes (Hoverbikes) Market Share, By Region, 2022 (%)
| | |
| --- | --- |
| Regions | Revenue Share in 2022 (%) |
| Asia Pacific | 36% |
| North America | 29% |
| Europe | 27% |
| Latin America | 5.3% |
| MEA | 2.7% |

Regional Insights
In 2022, the Asia-Pacific market has accounted 36% revenue share. The soaring motorcycle market is anticipated to expand at the quickest rate in the region of Asia-Pacific. The desire for high-tech automobiles and the size of the Chinese racer motorbike market makes it the major in the APAC. China is presently a foremost essential marketplace for huge automobiles by way of a consequence of the nation's growing non-refundable revenue. Virtually altogether main car manufacturer obligated capitalized 1Bn in China, which is recognized for creating miniature and practically valued client vehicles. The existing carriage acceptance is expected to rise in demand especially compared to industrialized nations. China's rising auto production standards have contributed to the industry's growing expansion.
Through the projection period, the North American area is anticipated to experience considerable growth at a CAGR 8.7%.
Recent Developments:
The country's first floating bike, the XTURISMO Hoverbike, has been unveiled by a Japanese beginning company called AERWINS Technology, bringing transportation transport of the future one small step. The hoverbike's manufacturer called it the TURISMO. On September 15, during the Detroit car show, the above-flying bike made its premiere.
Key Market Players:
A.L.I Technologies
Aerofex Corporation
BMF Motorrad
Duratec S.R.O
HOVER
Jetpack Aviation
Kalashnikov Concern JSC
Lazareth Auto-Moto
Malloy Aeronautics
Raytheon
Safran
Honeywell
Thales
Northrop Grumman
Segments Covered in the Report:
(Note*: We offer report based on sub segments as well. Kindly, let us know if you are interested)
By Mode of Operation
By Application
Transportation
Emergency Services
Police Administration
Military and Defense purposes
Others
By Geography
North America
Europe
Asia-Pacific
Latin America
The Middle East and Africa