The global glucose market size accounted for USD 47.88 billion in 2022 and it is expected to hit around USD 75.62 billion by 2032, poised to grow at a CAGR of 4.68% during the forecast period 2023 and 2032.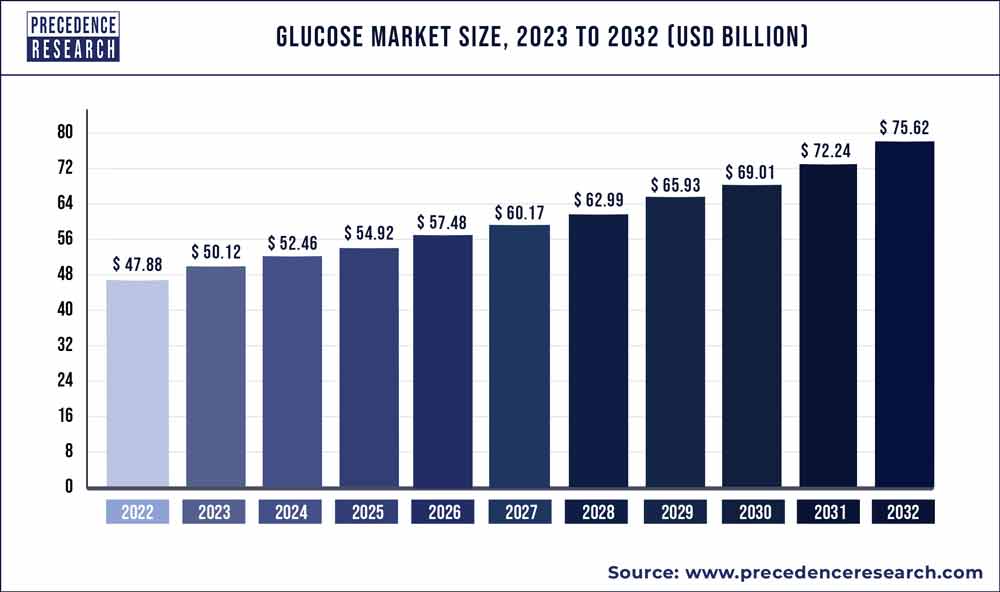 Key Takeaway:
Asia Pacific captured more than 39% of the revenue share in 2022.
By form, the syrup sector leads the market and generated more than 72% of the revenue share in 2022.
By form, the solid sector is expected to expand at a remarkable CAGR from 2023 to 2032.
By application, the food and beverages segment dominated the market and generated more than 55% of the revenue share in 2022.
Market Overview:
Rising sales are driving the market for soft drinks, confectionery, as well as bakery products in the sector of food and beverages that contain Glucose. Glucose is utilized in a variety of industries, including pharmaceuticals, food and beverages, pulp and paper, and cosmetics and personal care.
It functions as a stabilizer, flavor enhancer, texture enhancer, adjunct, humectant, coating & bulking agent, preservative, and others. One of the most significant components of glucose is that it inhibits sugar from crystallizing in sweets. The abovementioned factors are the advantages of glucose that are driving its requirement and usage around the world.
In the United States, the glucose syrup sector had the highest revenue share. Due to the abundance of corn in the United States, glucose is primarily obtained from corn starch. Producers use corn syrup/glucose syrup in their products because the FDA has listed it as safe under 21 CFR184.1865. As a result, the syrup segment dominates the industry.
Glucose is used in cosmetics and personal care for various product formulations, such as hair care and skin care products, cleaning products, makeup products, and bath products. Glucose functions, such as humectants, skin-conditioning agents, and flavoring agents, among others, contribute to its use in the market.
Report Scope of the Glucose Market
| | |
| --- | --- |
| Report Coverage | Details |
| Market Size in 2023 | USD 50.12 Billion |
| Market Size by 2032 | USD 75.62 Billion |
| Growth Rate from 2023 to 2032 | CAGR of 4.68% |
| Largest Market | Asia Pacific |
| Base Year | 2022 |
| Forecast Period | 2023 to 2032 |
| Segments Covered | By Form and By Application |
| Regions Covered | North America, Europe, Asia-Pacific, Latin America and Middle East & Africa |

Market Dynamics:
Drivers
Increasing use in the bakery and confectionery industry.
Aside from imparting sweetness, glucose or dextrose also serves as a flavor enhancer and texture-creating agent. It prevents sugar crystallization, a desirable feature in confectionery products, so its use in the confectionery industry has increased significantly.
It is commonly used to manufacture homogeneous confectionery items such as chewing gum and chocolates. Dextrose monohydrate is being used as an alternative to sucrose by confectionery manufacturers all over the world. Dextrose has actively paved strong growth opportunities in the bakery and confectionery sectors as a result of these additional benefits.
Increase supply in the pharmaceutical industry.
Pharmaceutical companies are now selling medicines and supplements containing glucose, dextrose, and maltodextrin, which are utilized to treat a variety of health problems such as accidents, trauma, and sickness. Glucose, dextrose, and maltodextrin have all been used in the production of paper and pulp, and these are some of the factors anticipated to propel market growth.
Restraints
Diabetes is a significant impediment to market growth.
Many doctors believe fructose is better for people with diabetes than sugar, but glucose is absorbed by every cell in the body. The liver, on the other hand, is in control of fructose metabolism. Diabetes has been linked to the intake of high fructose corn syrup, which includes an abundance of free-floating fructose. In comparison to fruit, which contains fructose, fiber, and nutrients to aid digestion, glucose syrup has little nutritional value. There are only calories and sugar.
Opportunities
Increased R&D activity.
Rising R&D activities in a variety of industries, including pharmaceuticals, food and beverage, and others, as well as a strategy to track the untapped market, are expected to open up new opportunities for manufacturers in the glucose, dextrose, and maltodextrin markets.
The launch of low-sugar syrup has become a significant trend in the glucose industry, gaining popularity. To meet consumer demand and strengthen their position, significant players in the glucose industry are focusing on the launch of low-sugar syrups. For example, the ingredion launched a stable sweet low-sugar syrup in November 2020. It is produced with the support of corn.
The company intended to market these stable sweet low, sugar-glucose syrups in a variety of forms, including lollipops, chewy sweets, hard-boiled candy, gummies, and jellies. This reduces sugar recrystallization and stickiness in the finished product while improving shelf-life and color stability.
Impact of COVID-19:
COVID-19 is a health crisis that has impacted almost every industry around the world, resulting in a long-term effect that is expected to impact manufacturing expansion over the predicted period. Global lockdowns and restrictions affected the supply chain, posing challenges for producers in the glucose, dextrose, and maltodextrin markets. Retailers continued to put pressure on profit margins due to intense competition, pricing issues, and shifting consumer preferences, slowing market growth. The demand for glucose increased after COVID-19 due to growing consumer consciousness towards health and fitness.
Segments Insight:
Form Insights:
The syrup sector leads the industry and is reported for the largest share of over 72% in 2022. The sector is also expected to continue throughout the projected period. Syrup is liquid glucose commonly derived from corn as well as cereal grains such as wheat, barley, rice, cassava, and potato. For instance, various glucose syrup was provided by AGRANA under the label AGENABON. Most of them are produced from wheat and corn. According to the culture of the region, it is generally used in the manufacture of a diverse range of beverages and food products.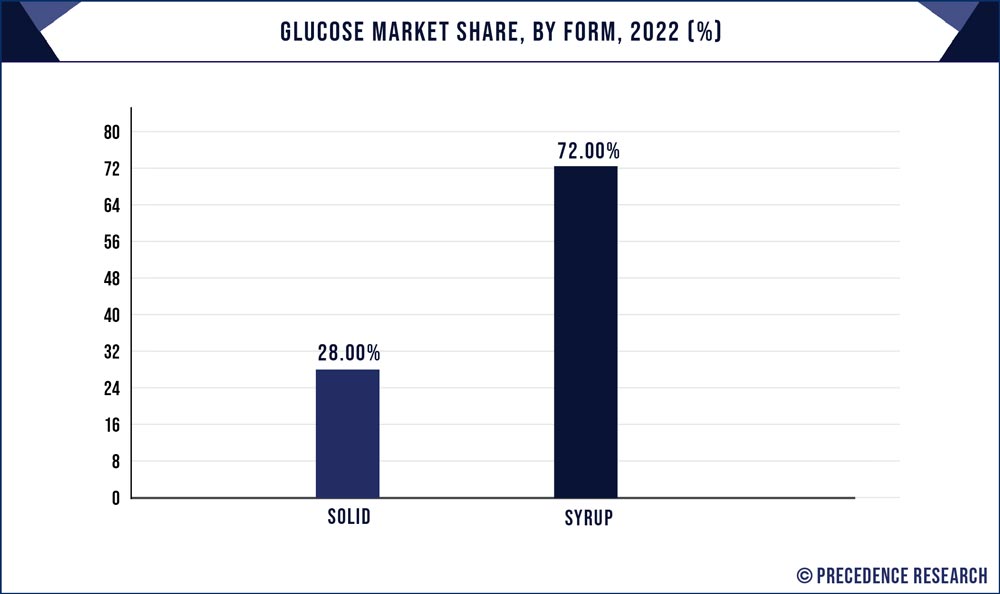 The rising demand for convenience foods, as well as the increased use of such syrups in bakery products such as desserts, are the factors propelling the market growth. Furthermore, as the demand for sugar substitutes grows, such syrups are used in the production of chewing gum, ice cream, canned meals, and chocolates.
Non-GMO, organic, vegan, and low-sugar syrups are among the current developments in the syrup market. AGENABON, for example, aids in the reduction of microbiological decay during storage as well as the decrease of syneresis. AGENABON organic syrup is a preferred ingredient for non-GMO and organic products like spices, ice cream, meat products, ketchup, barbecue sauces, and liqueurs.
The solid sector is predicted to expand at a remarkable CAGR over the anticipated period. Glucose powder or solid form is growing in the beverages and food sector due to the rising demand for natural glucose powders. The continuously boosting demand throughout the beverage and food industry also significantly impacts the market.
Application Insights:
The food and beverages sector dominated the industry and had the largest share of around 55% in 2022. The expanding food and beverages industries globally due to expanding R&D activities by the key industry firms for the advancement of innovative products as well as improvisation of current is propelling the market.
The existence of characteristics that lock in moisture and enhance the flavor of items such as cakes, muffins, and other ready-to-eat food products has predicted that Bakery & Confectionery Products will be the leading glucose market from 2023 to 2032. An advantageous characteristic of confectionery products is that there should be no crystallization of sugar. Glucose is mainly used in the manufacturing of confectionery products like chocolates and chewing gum.
The growing need for bakery and confectionery items owing to changing diet habits combined with increasing urbanization as well as an expanding number of females in bakery product production is mainly encouraging market expansion. The application of glucose in baked goods has advantages; it's simply fermentable, promotes browning in buns and bread making, and avoids syrup crystallization. This makes it a suitable component in bakery foods.
Regional Insights:
Asia Pacific led the glucose market in 2022 and generated for more than 39% of total revenue. The region is expected to maintain its dominance during the predicted period of 2023 to 2032. The existence of large customer support is the most important factor in determining the highest regional industry value. The region's major economies, including China and India, contribute significantly to revenue. The region's market is being driven by the rising need for food and beverage products in these countries as a result of large customers and prompt economic development.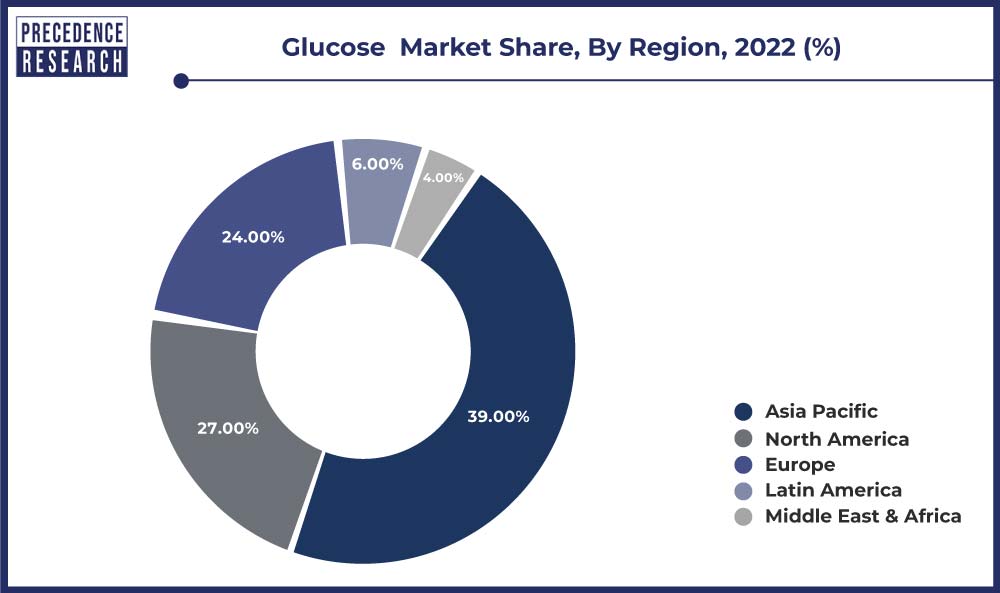 Europe is gaining momentum due to its significant economies, which include the United Kingdom, Italy, and Germany. Organic, natural, and clean-label products are currently important factors driving demand in European industry. Due to the aging population's emphasis on health, European customers are opting for healthy options like fresh, artisanal, ethnic, and organic food products. As it has been manufactured in the region for over a century, glucose syrup dominates over solid form.
Recent Developments:
In March 2023, CUBIQ FOODS collaborated to speed up the plant-based product on new fat technology.
In January 2023, a partnership was formed between Cargill and BASF to deliver high-performance enzyme solutions.
PureCircle was acquired by Ingredion Incorporated in July 2020. This resulted in an expansion of the product portfolio of Ingredion Incorporated.
In December 2022, Pfizer announced EMA and FDA approval of Etrasimod in Ulcerative Colitis.
In November 2022, FYBRIN® RS F100, a resistance starch was formulated by Grain Processing Corporation (GPC).
Key Market Players:
Roquette Freres
Gulshan Polyols
Sigma Aldrich Corporation
Atn Investments Pty Ltd.
Tate & Lyle PLC
Cargill, Inc.
Archer Daniels Midland Company
Pfizer, Inc.
Ingredion, Inc.
ProAgro GmbH
Grain Processing Corporation
Tereos SCA
Avebe Group
Global Sweeteners Holdings
AGRANA
Fooding Group Limited
Segments Covered in the Report:
(Note*: We offer report based on sub segments as well. Kindly, let us know if you are interested)
By Form
By Application
Food & Beverages

Bakery & Confectionery
Dairy
Soups, Dressings & Sauces
Beverages
Others

Pharmaceutical
Cosmetic & Personal Care
Pulp & Paper
Others
By Geography
North America
Europe
Asia-Pacific
Latin America
The Middle East and Africa