The global hard seltzer market size is expected to attain around USD 65.8 billion by 2032 from USD 14.39 billion in 2022, growing at a CAGR of 16.42% from 2023 to 2032.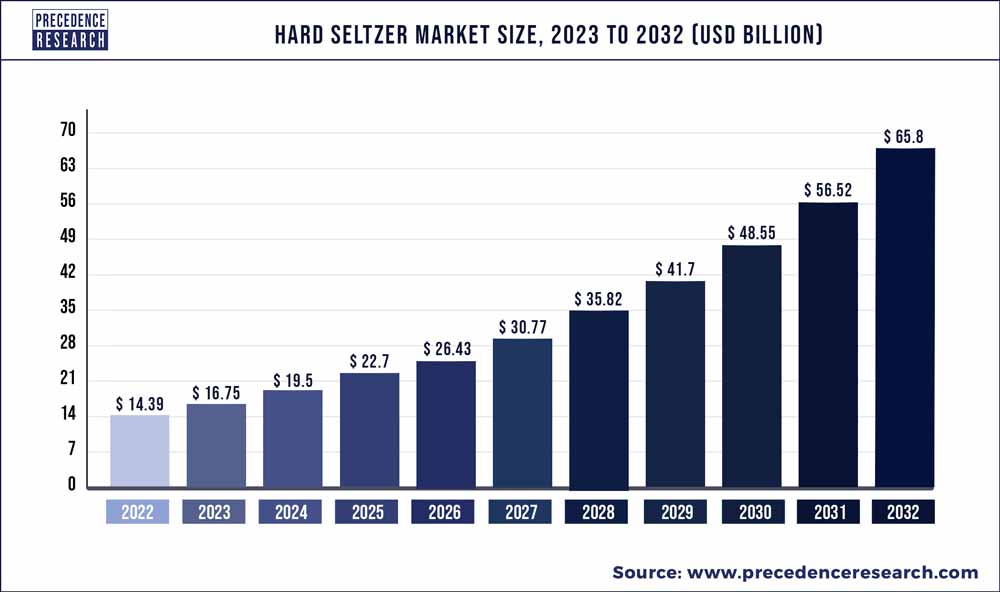 Key Takeaways:
By geography, the North America captured highest share of approximately 56% in 2022.
By geography, The Europe market is anticipated to grow fastest CAGR from 2023 to 2032.
By ABV content, the 5.0% to 6.9% segment generated more than 52% of the revenues share in 2022.
By ABV content, the 1.0% to 4.9% segment are anticipated to grow approximately at a 24% CAGR between 2023 and 2032.
By distribution channel, the off-trade segment contributing for approximately 71% of revenue share in 2022.
By distribution channel, the on-trade segment is predicted to grow at the fastest rate of approximately 24.10% between 2023 and 2032.
Market Overview:
The demand for the product is driven by the younger generation's growing preference for low-alcohol beverages. Furthermore, the low-alcoholic drinks requirement has increased as consumers attempt to decrease their alcohol intake or become sober-curious. Due to rising health consciousness among consumers, COVID-19 has significantly changed the drinking style of alcoholic drinks from high to low-content alcohol.
Furthermore, due to stay-at-home orders from around the world, the revenue share of products increased drastically over e-commerce networks throughout the pandemic. The total costs per order increased by 20% from the previous, between February and March 2020, as reported by the delivery apps for alcohol, Minibar, and Drizly. Furthermore, hard seltzers meet the demand for new flavors and cocktail combinations, and insta-friendly sustainable cans provide easy installation.
Report Scope of the Hard Seltzer Market
| | |
| --- | --- |
| Report Coverage | Details |
| Market Size in 2023 | USD 16.75 Billion |
| Market Size by 2032 | USD 65.8 Billion |
| Growth Rate from 2023 to 2032 | CAGR of 16.42% |
| Base Year | 2022 |
| Forecast Period | 2023 to 2032 |
| Segments Covered | By ABV Content, By Packaging and By Distribution Channel |
| Regions Covered | North America, Europe, Asia-Pacific, Latin America and Middle East & Africa |

Market Dynamics:
Drivers
Surge in urbanization
The market expanded significantly due to emerging economic growth, the tourism and travel industry, increased online liquor sales, and cafe and bar outlets. The growing influence of modernization on individuals, changing buyer perceptions of alcoholic beverage consumption, rapidly growing urbanization, and altering consumer preferences in emerging regions is predicted to drive the development of the global seltzer industry.
The rising trend of alcoholic beverage consumption among the young generation owing to changing user choices, rising disposable income, and consumer peer influence are the essential components expected to propel the demand for the global alcoholic beverage segment.
Restraints
Adverse health effects, as well as alcohol poisoning
Hard seltzer misuse occurs when a female consumes more than 12 ounces of hard seltzer per day or a male consumes more than 24 ounces of hard seltzer in a day, according to National Institute on Alcohol Abuse and Alcoholism (NIAAA). Hard seltzer abuse can progress to hard seltzer addiction over time. Even if one wants to, this disorder makes them unable to quit drinking seltzer. Tolerance and physical dependence are also signs of addiction to hard seltzer. Tolerance means more extensive or frequent drinks to achieve the desired effect.
Physical dependence occurs when the body requires hard seltzer to function. For instance, Conigliaro warned that binge drinking makes people more likely to engage in risky sexual behavior, get into fights, or drive while intoxicated. Additionally, they run a higher risk of developing alcohol poisoning, a severe and possibly fatal side effect of consuming too much alcohol quickly.
Opportunities
Rising adoption of new flavors among consumers
The flavor profiles vary by brand and range from primary flavors like black cherry, lime, and ruby grapefruit to much more elevated flavors like melon basil, lemon agave hibiscus, and cucumber peach. As a result of changes in consumer preferences and the influence of peers among consumers, there is an increasing trend of alcohol consumption among the older and younger generations.
According to the National Family Health Survey-4 (NFHS-4), alcohol consumption is widespread throughout India across all states and union territories (UT), with a projected 160 million people consuming alcohol, including 29.2 % of men and 1.2% of women. Since hard seltzer drinks have improved in taste and variety for health-conscious consumers, the global hard seltzer market has seen a considerable increase in sales and demand.
Impact of COVID-19
The COVID-19 outbreak in 2020 had an adverse impact on the hard seltzer market, with assembling tasks incidentally suspended across major assembling centers, resulting in a significant production workload. Producers halted product launches and production activities in emerging economies of the Asia Pacific and LAMEA. Furthermore, the pandemic had a restraining impact on buyer demand.
Hard seltzer is an untapped potential market that has yet to be explored by the alcoholic beverage industry. It is likely to provide dynamic and lucrative business opportunities for new entrants. Many countries had implemented lockdowns to control the spread of the coronavirus, which was the most difficult challenge for hard seltzer manufacturers and dealers in expanding their business into untapped regions.
Due to the growing health consciousness among consumers, the outbreak of the COVID-19 pandemic has significantly changed the drinking style of alcoholic beverages from high content to lower. Due to stay-at-home orders from around the world, the revenue share of hard seltzer increased considerably through e-commerce networks during COVID-19.
Segments Insight
ABV Content Insights
The global hard seltzer industry is segmented on ABV content into 1.0% to 4.9%, 5.0% to 6.9%, and others. 5.0% to 6.9% ABV hard seltzers accounted for over 52% of the revenues generated in 2022. The concept of moderation is a rising trend, particularly in the US, driving this segment's growth. Many alcohol industry players have been developing their product lines of low-alcohol drinks.
1.0% to 4.9% ABV hard seltzer sales are anticipated to grow approximately at a 24% CAGR between 2023 and 2032. Due to the rise in awareness regarding general well-being, individuals of all age groups are attempting to reduce alcohol consumption. A significant boost in online forums about minimizing drinking over the last two years and a notable reduction in discussions about casual and high drinking events have been implemented. San Juan Spiked, Funky Buddha Premium, Corona, BON Viv Spiked, Crook & Marker Spiked Seltzer, Smirnoff, Night Shift Hoot, Willie's Superbrew, Coors Hard Seltzer are some of the key players in the market space.
Packaging Insights
The market is divided into two categories: metal cans and bottles. Cans made of metal have a larger market share as they have many benefits, like durability, printing of multi-color, convenience, and sustainability. Additionally, beverages in metal cans do not need additives and maintain their original taste for a prolonged period.
The canned form of hard seltzer with striking design and color enhances the premium look and appeal of the product; due to this, companies are focusing on introducing the product in the given format. For instance, In Mexico and Brazil, the Coca-Cola Company unveiled Topo Chico hard seltzer in shiny aluminum cans in August 2020.
Since bottles provide a better handling and user experience than cans, the bottle segment is estimated to dominate the market during the predicted period. The primary factor in consumers' high preference for bottles is their transparency, allowing the inside substance to be displayed.
Distribution Channel Insights
The market is segmented into on-trade and off-trade distribution channels. The off-trade segment was the highest distribution channel, accounting for approximately 71% of revenue in 2022. All retail stores, for instance, convenience stores, supermarkets, wine and spirit shops, and mini markets, are included in this segment. People often prefer these shops because they provide substantial discounts and promotions.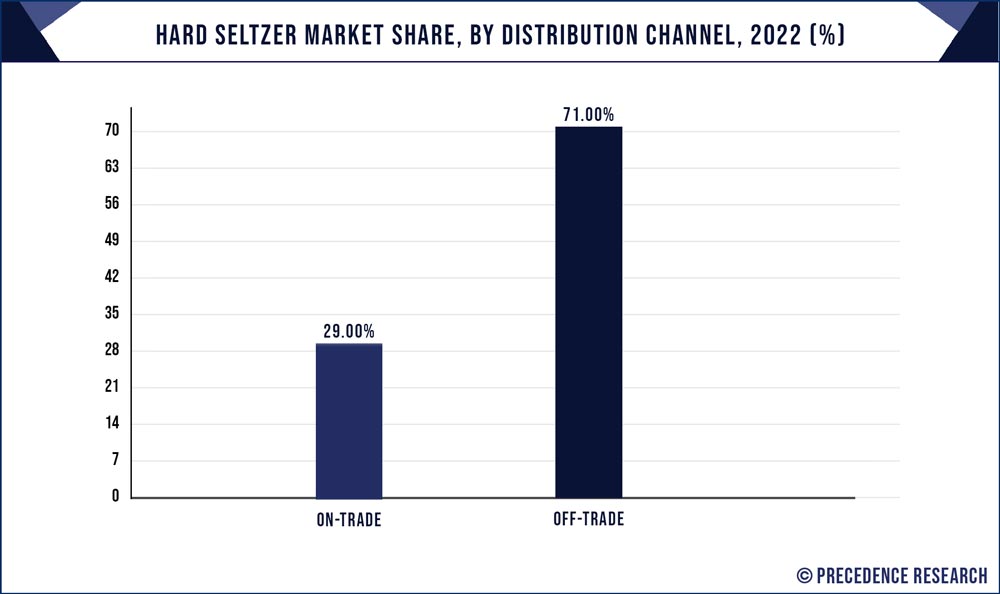 Furthermore, most brands introduce their goods through big supermarket chains, including Target and Walmart, to achieve a broader consumer base. Rising urbanization and rapid retail sector growth are anticipated to propel the off-trade channel of the hard seltzer market.
From 2023 to 2032, the on-trade channel is projected to grow at the fastest rate of approximately 24.10%. Outlets which include bars, hotels, clubs, and lounges, are examples of on-trade distribution channels. The worldwide COVID-19 resulted in lockdowns, and as a result, sales from the said channels decreased. However, product sales through on-trade channels increase with relaxed rules and individuals focusing on get-togethers, socializing, and parties.
Hard Seltzer Market Share, By Region, 2022 (%)
| | |
| --- | --- |
| Regions | Revenue Share in 2022 (%) |
| Asia Pacific | 16.7% |
| North America | 56% |
| Europe | 20.6% |
| Latin America | 4.3% |
| MEA | 2.4% |

Regional Insights
In 2022, North America had the highest share of approximately 56%. The region noticed an increased demand, particularly from youth. Key players are encouraging the products they produce with novel techniques. For example, in June 2020, White Claw, Vancouver-based Mark Anthony Brands, saw a significant increase in sales due to its intense social media existence, which included YouTube videos and internet memes. Furthermore, the demand for these drinks made them appropriate to consumers, which is anticipated to increase hard seltzer consumption during the forecast period.
The European hard seltzer industry is anticipated to grow fastest CAGR In the next few years, lifestyle changes and consumer preferences are expected to fuel the expansion of the seltzer market. The demand for the seltzer industry is propelled as people become health-conscious and enhance their consumption of carbonated beverages. Seltzer is low in calories, gluten-free, and high in nutritional value. Seltzers are provided with alternative alcohol bases to meet various consumer needs.
The growing demand for low-alcohol and low-calorie beverages is driving up demand for seltzer in Europe, as it contains fewer carbohydrates and calories than other beers and mixed drinks.
Recent Developments:
In April 2021, the first global marketing campaign was launched to capture unscripted, momentary content encouraged by the White Claw induced by Mark Anthony Brands' White Claw in collaboration with various groups of creators across the United States and worldwide.
In May 2020, Fellr, an Australian brand, launched two flavors of alcohol seltzer made in Australia: Lime & Soda and Dry & Lime.
Smirnoff Seltzer entered the UK region in June 2020. In the United States, this hard seltzer is made available in two flavors: Smirnoff Seltzer Raspberry and Rhubarb and Smirnoff Seltzer Orange and Grapefruit.
In June 2020, Tesco announced the launch of a hard seltzer distributed by Mark Anthony Brands. This launch is a significant milestone for the UK category, quickly becoming a magnet for top-selling manufacturers.
In August 2022, PURSUE hard seltzer was launched in Mumbai with a fresh and diverse taste profile that includes exotic mixtures of 100% natural flavors, providing a refreshing sensory feel for individuals looking to improve their daily routines.
In October 2022, the United States Soccer Federation announced a new multi-year strategic partnership with Truly Hard Seltzer, making it the first official hard seltzer in United States Soccer history.
Key Market Players
The Coca-Cola Company
Mark Anthony Brands International
Heineken N.V.
Anheuser-Busch InBev
Diageo plc
Kopparberg
The Boston Beer Company
Constellation Brands, Inc.
Molson Coors Beverage Company
San Juan Seltzer, Inc.
Segments Covered in the Report
(Note*: We offer report based on sub segments as well. Kindly, let us know if you are interested)
By ABV Content
1.0% to 4.9%
5.0% to 6.9%
Others
By Packaging
By Distribution Channel
By Geography
North America
Europe
Asia-Pacific
Latin America
The Middle East and Africa