The global hybrid devices market size was estimated at USD 32.6 billion in 2021 and it is estimated to hit around USD 154.1 billion by 2030 and is poised to grow at a compound annual growth rate (CAGR) of 18.84% between 2022 and 2030.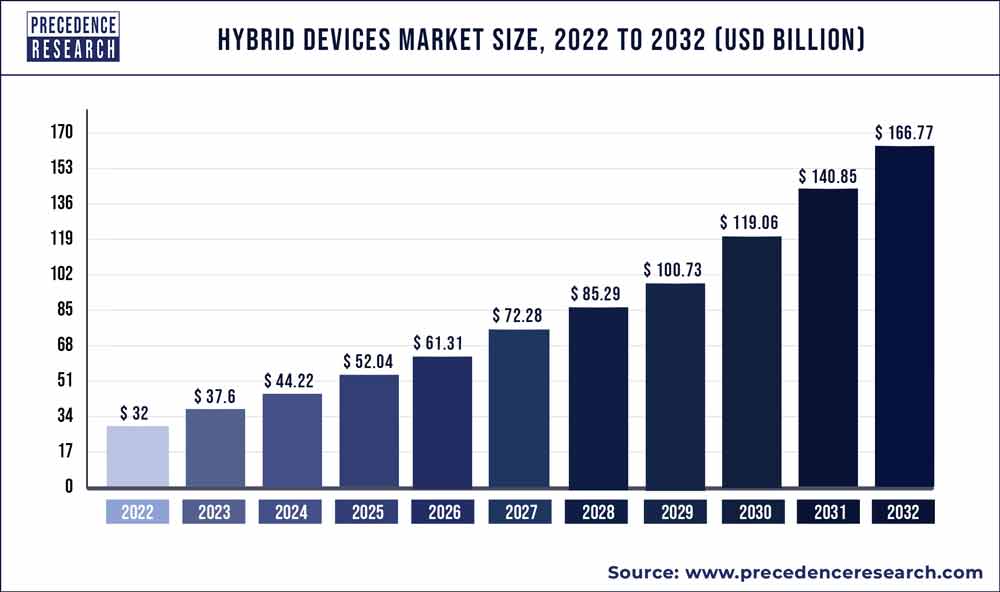 Key Takeaways:
By type, the convertible segment contributed highest revenue share 54% in 2021 and growing at a CAGR of 21% from 2022 to 2030.
Based on screen size, the 12-15 inches segment accounted highest share 47% in 2021. However, the less than 12 inches segment is anticipated to grow at a remarkable CAGR from 2022 to 2030.
By end user, the IT and Telecom segment hit largest revenue share 34% in 2021. However, the personal use segment is expected to grow at a CAGR of 19.8% over the forecast period.
Asia-Pacific is anticipated to reach at a CAGR of 19.7% over the forecast period.
In 2021, North America accounted for a market share 37% in the overall market.
Hybrid gadgets combine the functions and productivity of two separate devices with comparable characteristics. For instance, a laptop and tablet combo. Detachable keyboard is a feature of the laptop. The gadget may be used as a tablet after the keyboard has been removed.
These gadgets are increasingly in demand in the IT, retail, and healthcare sectors. The device's mobility, versatility, and light weight are said to be the causes of the growing pace. Manufacturers active in the worldwide hybrid devices market are developing new designs as they track the device's acceptance rate. Detachable and convertible hybrid devices are additional categories for hybrid devices. The keyboard on the convertible hybrid device can be rotated, folded, or slid in order to turn it into a tablet. However, by disengaging the keyboard, a detachable hybrid device can be transformed into a portable tablet PC. Users are not required to bear the extra weight of the keyboard in this situation.
In addition, ongoing innovation in productivity, accuracy, and efficiency is the primary element driving the worldwide market for hybrid devices. Users are being forced to transition from traditional to hybrid devices due to technological advancements in the mobility and usefulness of hybrid devices. Global demand for hybrid devices has been greatly impacted by the expanding requirement for improved business mobility. The popularity of hybrid devices has grown quickly in response to the rising demand for devices with longer battery lives. One of the main advantages of these devices is quick navigation using a pen or a touchscreen, as well as simple information capture and storage. Their use in business-related tasks has expanded due to the growing understanding of these benefits, which has quickly raised demand for them.
Report Scope of the Hybrid Devices Market
| | |
| --- | --- |
| Report Coverage | Details |
| Market Size in 2022 | USD 38.74 Billion |
| Market Size by 2030 | USD 154.1 Billion |
| Growth Rate from 2022 to 2030 | CAGR of 18.84% |
| Base Year | 2021 |
| Forecast Period | 2022 to 2030 |
| Segments Covered | Type, Screen Size, End User, Geography |
| Companies Mentioned | LG Corporation, Microsoft Corporation, Fujitsu Ltd, Lenovo Group, Toshiba Corporation, ASUSTeK Computer Inc., Dell Inc., Samsung Corporation, Acer Inc., Hewlett-Packard Development Company. |

Growth factors
Global demand for hybrid devices is being driven by rising consumer demand for devices with longer battery life and powerful batteries. One of the main worries for customers continues to be the battery backup provided by electronic devices like cellphones, laptops, and tables. To offer a hybrid device with a long battery life, hybrid device makers are concentrating on manufacturing hybrid gadgets. Because hybrid computers operate for longer than typical laptops do, producers of hybrid devices are able to provide this desire for increased battery life.
A secondary battery is put on the keyboard, and hybrid devices also come with two high-quality batteries: a primary battery that is mounted on the screen. For instance, the Toshiba Portege Z20t has a battery life of up to 17 hours with the keyboard connected and about 9 hours in tablet mode when the keyboard is removed. As a result, it is projected that rising demand and the release of hybrid devices with improved features and longer battery life will fuel the expansion of the worldwide hybrid devices market.
In addition, the market for hybrid devices is expanding as business mobility is becoming more widely accepted, touchscreen technology is becoming more widely used, and continual improvements in efficiency, productivity, and accuracy are driving the market need for hybrid devices. Some of the key benefits of these devices are quick navigation using a pen or a touchscreen, as well as quick collection and storing of specific data. The market demand for hybrid devices has risen quickly as a result of the expanding usage of these advantages in business-related operations. However, it is also anticipated that widespread use of hybrid computers with extra characteristics including speed, easy touch input for browsing, built-in security, quicker wake times, and remote access control would spur market expansion.
Type Insights
The global market for hybrid devices is divided into two types based on type: detachable and convertible. The detachable hybrid devices segment is also analysed to have dominated the global hybrid devices market and is anticipated to maintain its lead during the forecast period.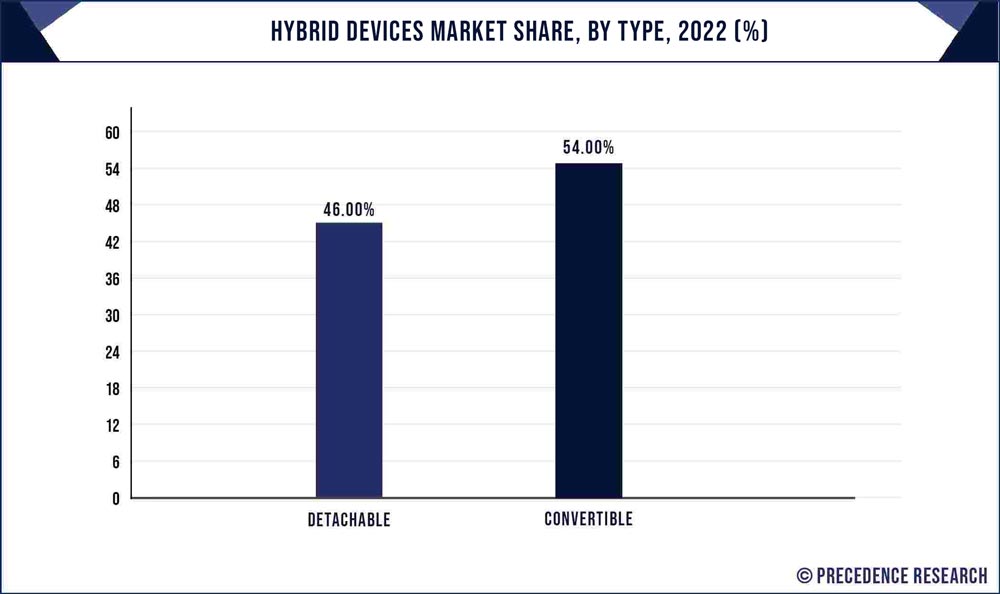 The convertible hybrid market is also predicted to increase at an impressive rate throughout the forecast period. A completely functional tablet that is coupled to a docking mechanism to provide the user a fully functional keyboard is referred to as a detachable hybrid device. The integrated device turns into a laptop and offers all the features of a conventional laptop when the keyboard is attached to the tablet. Convertible laptops, on the other hand, are laptops with a keyboard that can be rotated 360 degrees to transform into a tablet.
Additionally, consumers do not appreciate convertible computers due to the weight and size the folding keyboard adds. Lenovo, a top worldwide PC supplier, has developed a new hybrid devices market trend in detachable devices. The Lenovo Yoga Tab 3 Pro includes a hinge with a hole in the middle that allows you to hang the tablet from a wall. Additionally, it offers a tilt mode for simpler typing and for using the device's built-in projector to display the screen.
Given that convertible devices include removable hinges, adjustable stands, and designs that are best suited for increased productivity and mobility, the convertible sector is anticipated to see the greatest CAGR of 19 percent throughout the projection period.
Screen Size Insights
Based on screen size, the hybrid devices market growth in 2020 was driven by the 12–15 inches sector, and it is anticipated that this segment would continue to dominate in the years to come. This is due to the fact that the market's largest segment and most widely available screen size, 12 to 15 inches, is where industry players are concentrating their efforts. However, the less than 12 inches category is anticipated to see the fastest growth rate over the course of the projection period due to reasons including the rise in devices with smaller screens for users who want to store their devices in convenient locations.
End User Insights
In terms of end users, the market for hybrid devices worldwide accounted for roughly one-third of the IT and telecom segment's market share in 2021. Nevertheless, the personal use category is anticipated to see the greatest CAGR of 20% over the course of the projection period as consumers experiment with fully functional laptops instead of tablets to access a variety of information.
Due to the move that businesses and consumers are making toward digital solutions, the use of hybrid devices in the IT industry has expanded. The need for user-friendly, agile, efficient, and scalable computing solutions is growing, and organisations are becoming more mobile, which has improved the prognosis for the global market for hybrid devices.
Hybrid devices have been created as a result of the rising need for high-tech personal computers and laptops in commercial enterprises and educational organisations. The market companies supply the integrated features and high functioning parts like front and back cameras, 4-16 GB RAM, 256 GB to 1 TB data storage, fingerprint, and others while building the hybrid devices. The availability of such cutting-edge capabilities in hybrid devices is accelerating the uptake of these machines in a number of industries. resulting in the market's expansion.
Hybrid Devices Market Share, By Region, 2021 (%)
| | |
| --- | --- |
| Regions | Revenue Share in 2021 (%) |
| North America | 37% |
| Asia Pacific | 18.5% |
| Europe | 32.6% |
| Latin America | 8.5% |
| MEA | 3.4% |

Geography Insights
In terms of technical breakthroughs and usage, North America is a fast-expanding area in the worldwide market for hybrid devices. It has a sophisticated infrastructure and the resources to pay for hybrid device solutions. Additionally, the region's market for hybrid devices has significant development potential due to the increased spending power of North Americans. The area offers tremendous prospects for the premium and ultra-premium range of products.
However, over the projected period, Asia-Pacific is anticipated to have the highest CAGR and be the area with the quickest growth. The adoption of hybrid devices is anticipated to rise rapidly in the Asia-Pacific area, thus major firms are concentrating their efforts there to expand their businesses. Additionally, customers in the Asia-Pacific region desire devices with increased productivity and multimedia capabilities. Due to the great desire for both productivity and entertainment, individuals in this region have a high adoption rate for hybrid devices. The region's growing internet user base is one of the main growth drivers for the hybrid devices market.
The European market for hybrid devices is anticipated to increase steadily. The region's growing use of tablets and 2-in-1s for business applications is a major factor in the growth of the hybrid device industry. As a result, corporate groups in the area are using these gadgets more frequently. Additionally, owners looking to replace outdated devices running Windows XP and Windows 7 with Windows 8 or the recently released Windows 10 operating systems are the main drivers of hybrid device sales in Europe. France, the U.K., the Nordic nations, and Germany continue to lead this trend, as the use of hybrid devices is now a component of digital strategy and mobility in both the public and private sectors.
The demand for hybrid devices has expanded as a result of initiatives like "One Laptop per Child (OLPC)," which is fueling this market's expansion in Latin America. A group called "One Laptop per Child (OLPC)" was established to oversee the creation of educational technology for use in underdeveloped nations. One-to-one education refers to the practise of providing each student with a digital device, most frequently a laptop, to aid in learning. As a result, Uruguay became the first nation in the world to provide a laptop to every primary school student enrolled in a public education in 2009. Furthermore, the increasing middle class in Latin America has significantly expanded its purchasing power recently, and this trend is anticipated to continue in the future
Key market developments
In April 2022, Dell, a manufacturer of computers and associated items, announced the release of a new line of laptops under its Precision and Latitude portfolio, including the Precision 7670, Latitude 9330, and Precision 7770, to cater to consumers' increased demand for hybrid workstations. The brand-new Dell Latitude 9330 also boasts a 2-in-1 capability that enables customers to use it as a tablet and a laptop, both of which are based in Japan. Additionally, it has a touchpad capability for rapid access to complex settings like microphone mute/unmute, video on/off, and other capabilities. Additionally, the Dell Precision 7770 and Precision 7670 provide 128 GP DDR5 storage and a 12th generation Intel Core processor.
The most recent Chromebook notebook, which is powered by a Celeron processor from Tel, was introduced by HP in India in April 2022. The business added that the most recent gadget was created especially for youngsters between the ages of 4 and 15 to support their connectivity and creativity in any learning setting, including the classroom. Additionally, the new laptop has a touch screen that can be rotated up to 360 degrees so that it may be used as a tablet.
Key market players
LG Corporation
Microsoft Corporation
Fujitsu Ltd
Lenovo Group
Toshiba Corporation
ASUSTeK Computer Inc.
Dell Inc.,
Samsung Corporation
Acer Inc.
Hewlett-Packard Development Company.
Segments covered in the report
(Note*: We offer report based on sub segments as well. Kindly, let us know if you are interested)
By Type
By Screen Size
Less Than 12 Inches
12-15 Inches
Greater than 15 Inches
By End User
Personal Use
Educational Institutions
Healthcare
IT and Telecom
Retail
Others
By Geography
North America
Europe
Asia-Pacific

China
India
Japan
South Korea
Malaysia
Philippines

Latin America

Brazil
Rest of Latin America

Middle East & Africa (MEA)