The global GaN semiconductor devices market size was valued at USD 2.67 billion in 2022, and is projected to surpass around USD 26.83 billion by 2032, poised to grow at a projected CAGR of 26% during the forecast period from 2023 to 2032.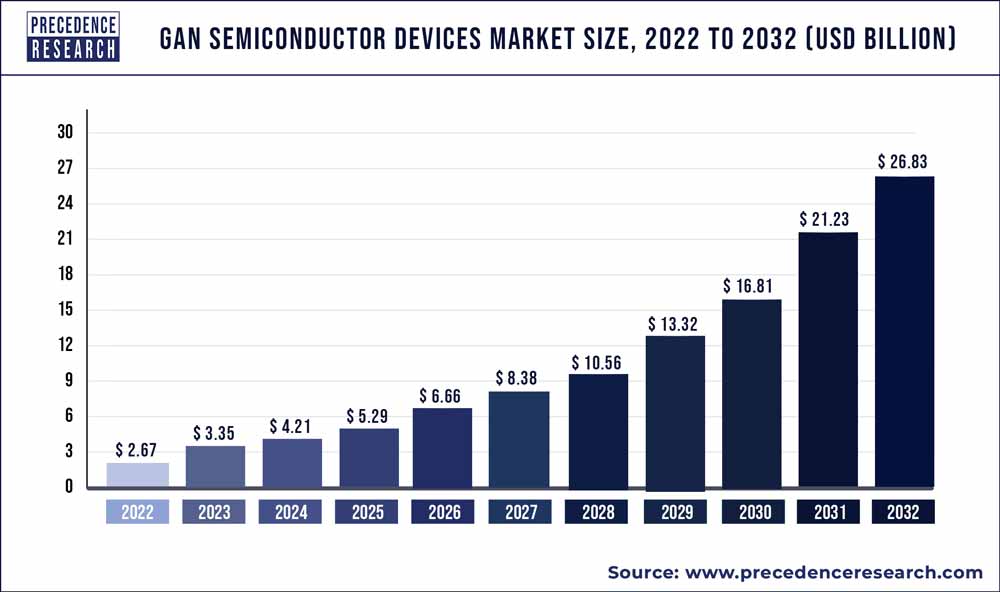 Access our Premium Real Time Data Intelligence Tool, Visit: Precedence Statistics
Key Takeaways:
The transistor market category had the lion's share with more than 35.6% revenues share in 2022.
The 4-inch category controlled the market and generated more than 34% of worldwide sales in 2022.
The 6-inch sector is expected to grow at the greatest CAGR from 2023 to 2032.
The market was led by the Information & Communication Technology (ICT) sector, which was responsible for more than 20.7% of worldwide revenue share in 2022.
North America dominated the GaN semiconductor devices market with revenue share of 40% in 2022.
The Europe region held the second-highest revenue share from 2023 to 2032.
The semiconductor gallium nitride (GaN) has dynamic chemical and electrical features such as high voltage breakdown and saturation velocity. As a result, they are appropriate for use in a variety of switching devices Gallium nitride is expected to be a silicon alternative because of its low power consumption and improved temperature tolerance and efficiency. As a result, gallium nitride semiconductor devices and their applications in inverters, smart grid systems, electric cars, communication devices, and other areas are becoming increasingly popular. Power, automotive, consumer electronics, and military industries are just a few examples. Improvements in the semiconductor sector will pave the way for improved gallium nitride.
Growth Factors
The broadband gap quality of the GaN, which leads to its use in new semiconductor devices, is one of the primary drivers fueling the rise in the market for GaN semiconductor devices applications and the rise in their use in consumer electronics and the automotive industries. Furthermore, its expanded use in RF power applications has shown a favorable influence on the market's expansion. However, its use in applications like CATV and others with frequencies below 3.5GHz is not cost-effective, which may impede its ability to operate. However, it is anticipated that rising demand and utilization of these devices in the aerospace, medical, military, and other sectors would further propel the market.
In 2016, Qorvo introduced the new QPD1009 GaN transistors. These 50 Volt transistors were created to increase power and performance in commercial, uses for radar, defense, and communications. They are inexpensive, come in 3x3 plastic QFN packages, and work at power levels from 10W to 125W. The market for gallium nitride semiconductor devices benefited from this product since it provided a significant system and operational cost reductions as well as greater impedance Input/output, a compact device, increased power, and performance.
GaN is a replacement for silicon because of its superior efficiency and low power consumption, and its demand and utilization have increased in the healthcare sector. Gallium, As a result, the demand for nitride semiconductor devices is anticipated to increase significantly in the healthcare industry. Robots in the aerospace industry employ components made of gallium hospitals to do delicate operations. Additionally, GaN-based semiconductor devices and components are employed in scanning apparatus like MRI, sonograms, and miniature x-ray devices, which offer accurate positioning skills useful for executing procedures.
The market for gallium nitride semiconductor devices is expanding due to a number of causes, such as internet service providers' increased focus on implementing high-capacity and low-latency networks employing optical connections. As a result, there will be an increase in the need for power semiconductors and energy-efficient GaN components in wired communications.
GaN semiconductor sales are anticipated to increase since they are employed in 5G infrastructure. The 4G technology would be superseded by 5G technology because to restrictions on traffic, data output, and energy efficiency.
Due to their increased data transmission and execution dependability in military communications and radars, these semiconductor devices are also extensively employed in the defense and aerospace industries. Radars typically employ GaN ICs for efficient navigation, real-time monitoring of air traffic, and collision avoidance.
Due to the advantages of 6-inch GaN semiconductors, such as accurate current regulation and consistent voltage supply, the 6-inch category is expected to grow at a CAGR of over 25% in the near future. Applications in the automotive, consumer electronics, and defense industries have grown as a result.
Report Scope of the GaN Semiconductor Devices Market
Report Coverage
Details
Market Size in 2023
USD 3.35 Billion
Market Size by 2032
USD 26.83 Billion
Growth Rate from 2023 to 2032
CAGR of 26%
Base Year
2022
Forecast Period
2023 to 2032
Segments Covered

By Product
By Component
By Wafer Size
By End Use

Regions Covered

North America
Europe
Asia-Pacific
Latin America
Middle East & Africa

Key Market Drivers
Suitability of GaN in RF applications - The market for GaN semiconductor devices is primarily driven by the RF semiconductor device sector, which has enormous demand. Electronic equipment must be able to operate at a wide spectrum to function in the RF sector, which is closely tied to the communications industry depending on the application, and a variety of communication frequency bands. Due to its capacity to produce high power amplification at extremely low GaN semiconductor devices have made inroads into the market for RF power semiconductor devices at high frequencies.
Key Market Challenges
Silicon carbide (SiC) is a more effective substitute for high-voltage semiconductor applications
SiC offers sophisticated power handling capabilities and higher power efficiency for a variety of power tasks, including power transmission, power amplification, power rectification, and power factor adjustment. SiC is the ideal substitute material for high-voltage power applications, silicon is recommended because it has cutting-edge qualities including excellent power efficiency at high voltages, high exceeding pure silicon in terms of flexibility, reliability, and power rectification, power factor correction, and power amplification many leagues.
Despite the fact that GaN has some benefits over SiC, including higher power efficiency, it lacks the ability to provide SiC-like performance when exposed to high voltage ranges (>1 kV). Due to its lack of innate SiC material stands out as the superior choice for high-voltage power semiconductors due to its great toughness and hardness.
Key Market Opportunities
Applications in electric and hybrid electric vehicles
Electric vehicle (EV) and hybrid electric vehicle (HEV) development present the attractive potential for the market for GaN semiconductor devices. Opto-semiconductor devices and GaN power semiconductor devices both have extensive Opportunities for expansion in the power and optoelectronic systems employed in this application category are facilitated by the fast market for EVs and HEVs.
GaN demand is anticipated to increase as a result of the electronic systems in EVs and HEVs. Semiconductors, especially those used in the domains of control systems, motor drives, brake systems, lights, and displays. The battery systems, electric motors, and inverters found in many automotive body sections among the recently developed GaN power semiconductor devices are mechanical systems and cooling systems to become a part of EVs and HEVs.
Segments Insight
Product Insights
In 2022, the opto-semiconductors market sector held a commanding market share of more than 35.6% of worldwide sales. Opto-semiconductors are used in products like LEDs, solar cells, photodiodes, lasers, and optoelectronics, which might be mainly responsible for this. Opto-semiconductors are being used more often in the automobile industry for pulse-powered lasers, indoor and outdoor illumination, and car lights. Opto-semiconductors are thus becoming more popular in the automotive and consumer electronics sectors. Additionally, opto-semiconductors are widely employed in applications like pulsed laser and light detection and ranging (LiDAR), which is encouraging for the segment's growth.
Over the projection period, the GaN radio frequency devices segment is predicted to grow at the greatest CAGR. The rising usage of Gallium Nitride radio frequency devices for a wide range of applications across industries including consumer electronics and defense, which are the market's early adopters, may be credited with the segment's rise. Additionally, electric vehicle vehicle-to-grid communication systems and vehicular communication systems also employ high-frequency GaN devices.
Component Insights
In 2022, the transistor market category had the lion's share with more than 36% of the worldwide revenue. GaN-based power transistors and devices supporting 4G technology have seen a surge in acceptance in recent years, which has raised the demand for high-power transistors for base stations used in the telecommunications industry. GaN-based transistors are more effective and functional at high power densities and high switch frequencies than silicon-based transistors, which will lead to a larger proportion of the transistor segment in 2021. Additionally, the segment growth has been supported by the growing use of GaN transistors in propulsion systems for electric and hybrid cars, such as Field Effect Transistors (FET) and Insulated Gate Bipolar Transistors (IGBT).
Over the projected period, it is expected that the power IC segment will continue to rise steadily. The increased use of GaN-based power ICs, which provide capabilities including effective navigation, collision avoidance, and real-time air traffic management, is responsible for segment growth. For instance, Qorvo, Inc. introduced the QPF4005 next-generation 5G wireless front-end module dual-channel IC in June 2017 for use in point-to-point and 5G wireless base station and terminal applications.
Wafer Size Insights
In 2022, the 4-inch category controlled the market and generated more than 34% of worldwide sales. This is due to the fact that 4-inch wafers make it easier to produce semiconductor devices on a big scale. The usage of 4-inch wafers is expanding quickly because they assist 2-inch wafers to overcome their constraints and are widely employed in sectors that rely on semiconductor products. The industry is also being driven by the rising demand for 4-inch-wafer gallium nitride devices used in high-power amplifiers, optoelectronic devices, telecom frontends, and high-temperature devices. Moreover, a crucial element driving the industry development is projected to be the 4-inch substrate's applicability for space communication applications because to its radiation-hardened qualities.
Over the projected period, the 6-inch sector is predicted to grow at the greatest CAGR. The segment is being driven by advantages such as the consistent voltage supply and accurate current regulation provided by 6-inch wafers. A 6-inch wafer is designed to offer more accurate current management and improved voltage uniformity. Due to features like a high breakdown voltage and little current leakage, it finds extensive use in consumer electronics and defense equipment. Additionally, the growing use of 6-inch wafers in industrial products like Monolithic Microwave Integrated-Circuit (MMIC) power amplifiers for wireless cellular base stations and automobile collision-avoidance systems is encouraging for the segment's growth.
End Use Insights
In 2022, the market was led by the Information & Communication Technology (ICT) sector, which was responsible for more than 21% of worldwide revenue. The global deployment of Internet-of-Things (IoT) technology is a major factor in the category growth. IoT devices require effective and economical parts that allow for a continuous flow of information. GaN-based semiconductors are anticipated to meet the criteria for IoT-enabled goods' low power consumption and high efficiency. These semiconductors are also commonly employed in the densification of remote radio heads, small cell, and distributed antenna system (DAS) networks. Among other things, they are employed in base transceiver stations, data centers, servers, base stations, transmission lines, and satellite communication.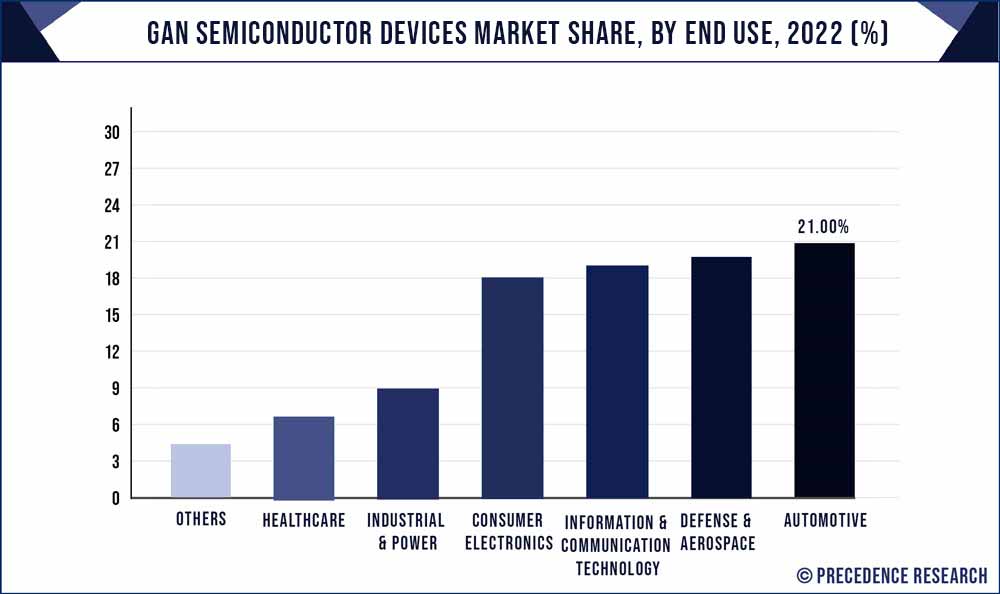 The rising use of GaN technology in the defense and aerospace industry to improve the bandwidth and performance dependability in communications, electronic warfare, and radars may be credited with the segment's rise. GaN is a material that is included in the ICs used in radar boards, allowing more effective navigation, easier collision avoidance, and real-time air traffic management. Additionally, GaN semiconductors' higher working frequencies make them appropriate for use in military jammers, terrestrial radios, and radar communication.
Regional Insights
The market for GaN semiconductor devices is dominated by North America. The increase in demand for semiconductor devices from the military, emergency medical services, and offshore oil and gas exploration is responsible for the highest market growth. Additionally, the region's aerospace industries and several well-known companies fuel the expansion of the GaN semiconductor devices market there.
Additionally, the region's GaN semiconductor devices business is developing because to the expanding consumer electronics market. Due to the rapidly growing aerospace industry, the US holds the largest share of the regional market. It is anticipated that throughout the study market, the North American GaN semiconductor devices market will continue to dominate the worldwide market.
In the market for GaN semiconductor devices, Europe comes in second. The booming end-user industries, such as the automotive and consumer electronics sectors are what is driving the industry. The expansion of the regional market is also aided by the growing use of gallium nitride semiconductor devices in advanced industries including military & aerospace, information & communication technology, and healthcare.
Recent Developments
In April 2022, Top power semiconductor manufacturer ROHM Co Ltd. (Japan) and leading power supply manufacturer Delta Electronics Inc. (US) joined forces to develop and mass-produce gallium nitride (GaN) power devices. GaN high-electron-mobility transistors (HEMTs) with a ground-breaking 8V gate that can tolerate voltage were mass-produced by ROHM in March.
By integrating ROHM's market-proven power research and production knowledge with Delta's power supply device development technology, this alliance would make it feasible to build 600V breakdown voltage GaN power devices that are optimized for a variety of power supply systems.
Key Market Players
Cree, Inc.
Efficient Power Conversion Corporation
Fujitsu Ltd.
GaN Systems
Infineon Technologies AG
NexgenPowerSystems
NXP Semiconductor
Qorvo, Inc.
Texas Instruments Incorporated
Toshiba Corporation
Segments Covered in the Report
(Note*: We offer reports based on sub-segments as well. Kindly, let us know if you are interested)
By Product
GaN Radio Frequency Devices
Opto-semiconductors
Power Semiconductors
By Component
Transistor
Diode
Rectifier
Power IC
Others
By Wafer Size
2-inch
4-inch
6-inch
8-inch
By End Use
Automotive
Consumer Electronics
Defense & Aerospace
Healthcare
Industrial & Power
Information & Communication Technology
Others
By Geography
North America
Europe
Asia-Pacific
Latin America
Middle East & Africa (MEA)