The global immunohistochemistry market size accounted for USD 2.4 billion in 2022 and it is projected to surpass around USD 4.5 billion by 2032, expanding at a CAGR of 6.49% between 2023 and 2032.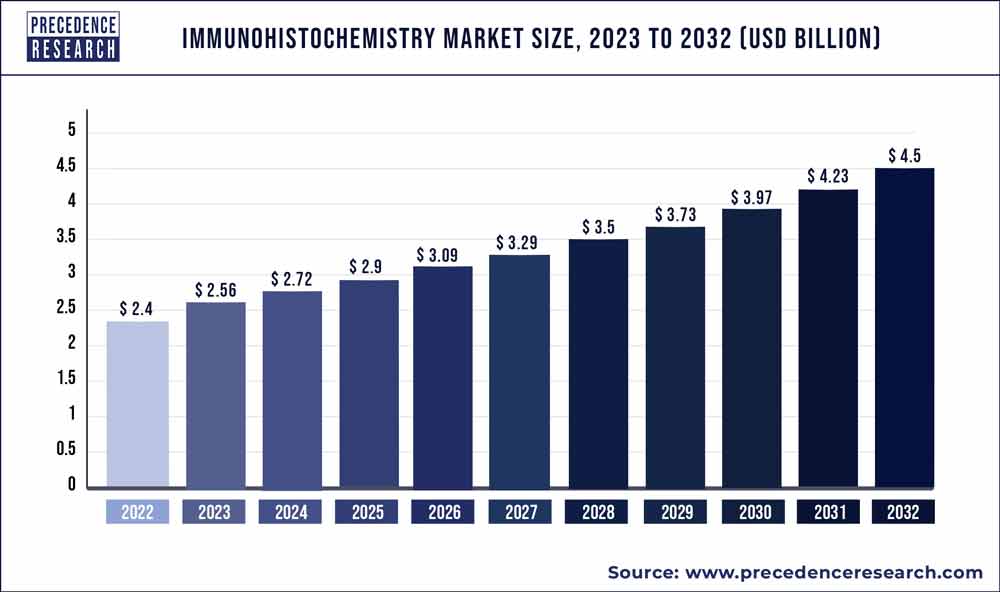 Key Takeaways:
By product, the antibodies segment was dominated in 2022 with 40.7% of the global revenue.
By application, the diagnostics segment held 69.5% of the total revenue in 2022.
By end user, hospitals and diagnostics laboratories segment has contributed more than 70.6% of annual revenue in 2022.
The research institutes segment has held a 12% revenue share in 2022.
Market Overview:
The immunohistochemistry market is expanding due to more products being approved for use and the release of technologically sophisticated immunohistochemistry solutions for disease diagnosis. It is anticipated that the rising prevalence of chronic diseases will raise the demand for immunohistochemistry products, fueling market expansion.
The market for immunohistochemistry is expanding due to a growing emphasis on drug monitoring, better chances of detecting various diseases, technological advancements, and increased public awareness of new diagnostics equipment. The market for immunohistochemistry is predicted to grow slowly due to the low specificity of IHC techniques and their high setup costs. A cancerous growth must be accurately and promptly diagnosed to effectively manage a disease.
However, some chronic diseases cannot be accurately diagnosed using IHC techniques, which may prevent widespread use. Immunohistochemistry market expansion is constrained by the high setup cost of IHC equipment, a significant burden on diagnostic laboratories and hospitals in developing economies.
Clinical pathology has seen a rise in the use of IHC protocols, particularly in the fields of hematopathology, neuropathology and oncologic pathology. The method has significantly influenced cancer diagnostics. Therefore, the rising incidence of cancer is anticipated to boost the need for immunohistochemistry and fuel market expansion.
Additionally, extensive uses of immunohistochemistry in development and drug discovery activities are anticipated to spur revenue growth throughout the forecast period. And whole-slide imaging and Digital image analysis provide accurate and impartial assessments. Image analysis is therefore applicable to various drug discovery processes, such as target validation, biomarkers expression studies, patient stratification, drug repositioning, and efficacy of drugs and safety studies.
Report Scope of the Immunohistochemistry Market
| | |
| --- | --- |
| Report Coverage | Details |
| Market Size in 2023 | USD 2.56 Billion |
| Market Size by 2032 | USD 4.5 Billion |
| Growth Rate from 2023 to 2032 | CAGR of 6.49% |
| Largest Market | North America |
| Fastest Growing Market | Asia Pacific |
| Base Year | 2022 |
| Forecast Period | 2023 to 2032 |
| Segments Covered | By Services, By Molecule and By Mode |
| Regions Covered | North America, Europe, Asia-Pacific, Latin America and Middle East & Africa |

Market Dynamics:
Drivers
The rise in the number of people with chronic diseases.
The rise of the elderly and the rising incidence of cancer are driving factors in the immunohistochemistry market. The IHC market is expected to expand due to additional factors like rising healthcare spending and improved healthcare infrastructure, which will eventually lead to more hospitals and diagnostic labs opening every day.
The market's growth rate is also boosted by using technologically developed immunohistochemistry solutions and expanding drug discovery and development activities.
The global immunohistochemistry market is expected to grow due to increasing product approvals and the emergence of technologically sophisticated immunohistochemistry remedies for disease diagnosis. Additionally, the participation of key players in developing IHC methods through partnerships with pharmaceutical drug companies to create and deliver IHC diagnostic solutions for their immunotherapies presents growth offers for the market players operating in the IHC market. Additionally, it is anticipated that increasing public awareness of chronic diseases will increase the need for immunohistochemistry products, eventually leading to growth in the IHC market.
The market's growth rate is also anticipated to be supported by the use of IHC in detecting several neurodegenerative disorders caused by numerous factors, including cannabidiol use and cigarette smoking.
Restraint:
High level of consolidation
The expiration of antibody patents is a severe issue for the global market. The patent protection for some primary antibodies made and marketed by Merck (Germany) and F. Hoffmann-La Roche AG (Switzerland) is about to expire. As a result, such market participants' total revenue and profitability are declining.
Participants in the market must also deal with issues like heightened price pressure from governments around the world and reduced R&D output. To overcome these challenges, major market players are acquiring smaller and mid-sized competitors with innovative products. This provides a set of economic and distribution platforms for these goods to enter new international markets.
Opportunity:
Rise in the demand for personalized medicine.
Due to personalized medicine remarkable success in treating a patient with non-small-cell lung cancer, its use is expected to increase. This method of choosing a course of treatment is supported by immunohistochemistry techniques, which perform the most thorough and precise histological subtyping of tumours.
An improvement over molecular testing is the increased accessibility of immunohistochemistry assays that recognise mutant proteins. Due to their high reproducibility, interpretive complexity and manageable level of technical, and relative affordability, these methods are essential new equipment in treating cancer in the modern era.
Multiplex and mutation-specific immunohistochemistry assays have significantly contributed to personalised medicine and targeted therapy.
COVID-19 Impact:
COVID-19 had a negative effect on the world economy. The COVID-19 virus was deemed a pandemic by the World Health Organization. The virus spread quickly through personal interaction, so the lockdown was implemented in almost all nations. Additionally, due to the pandemic, all countries closed their borders, which had a negative effect on the world economy.
The lockdown impacted every aspect of the diagnostics sector, including IHC testing. After the surgeries, the surgeons perform an IHC test to provide the best patient care. The number of hospital visits by patients, elective procedures, and diagnostic testing has significantly decreased due to the pandemic, which has significantly impacted the sales of IHC products during the pandemic.
Segments Insight:
Product Insights
Due to the crucial role that antibodies play in drug testing and disease diagnosis; the antibodies market was dominated in 2022. In terms of utilisation, monoclonal antibodies and related products such as antibody fragments, Fc-fusion, and antibody-drug conjugates have taken the lead. The antibodies are used in various fields, including hematopathology, neuropathology, and pathology. The kits segment is expected to grow at the fastest CAGR during the forecast period.
The antibodies segment is expected to dominate the global immunohistochemistry market during the forecast period. The requirement fuels segmental expansion that antibodies be used in the immunohistochemistry diagnosis of infectious diseases, cancer, and other diseases. Another important factor driving the development of the antibodies market is the expanding use of research antibodies for drug discovery.
Due to the convenience of using kits and their simplicity in development and research for educational and biotechnological procedures, the IHC kits segment is also anticipated to experience severe expansion during the forecast period.
Additionally, the sorted kits, which can be utilized without the inconvenience of measuring precise specific antibodies stains for tissues, can save a tonne of time and aid in preventing human errors during the procedure, fueling demand for the market. Moreover, several major companies are now offering kits and assays as immunohistochemistry R&D increases, driving the segment growth.
Application Insights
The global market has also been divided into segments for diagnostics and drug testing based on applications. More than 69.5% of the total revenue in 2022 came from the diagnostics application segment, which is expected to continue to lead the market throughout the forecast period.
Numerous chronic conditions, including autoimmune diseases, cancer, infectious diseases, cardiovascular diseases, diabetes mellitus, and nephrological diseases, can be diagnosed using immunohistochemistry tests. Moreover, it is anticipated that the increasing incidence of chronic diseases will drive the diagnostics market.
The increasing incidence and prevalence of cancer primarily drive the segment's growth. The majority of infectious diseases and the favourable reimbursement environment for IHC tests are additional factors driving the segment's market share growth.
However, the segment is anticipated to experience significant growth throughout the forecast period due to the numerous immunohistochemistry applications in drug testing. In processes like drug efficacy, biomarker expressions, drug repositioning, drug discovery, etc., histomorphometry quantification and immunohistochemical staining are frequently used. Because of their widespread use by biotechnology and pharmaceutical companies, this sector is growing.
End Use Insights
Hospitals and diagnostics laboratories accounted for the largest end-user share of the global IHC market in 2022. This expansion was due to the significant number of IHC tests conducted in medical facilities. Moreover, the demand for hospitals with cutting-edge institutions has risen due to the healthcare sector's changes.
In turn, it is anticipated that this will increase this segment's sales revenue and it is anticipated that they will continue to hold this position throughout the forecast period. This is because more people are embracing technological advancements like digital pathology and automated sample preparation, which have significantly increased value.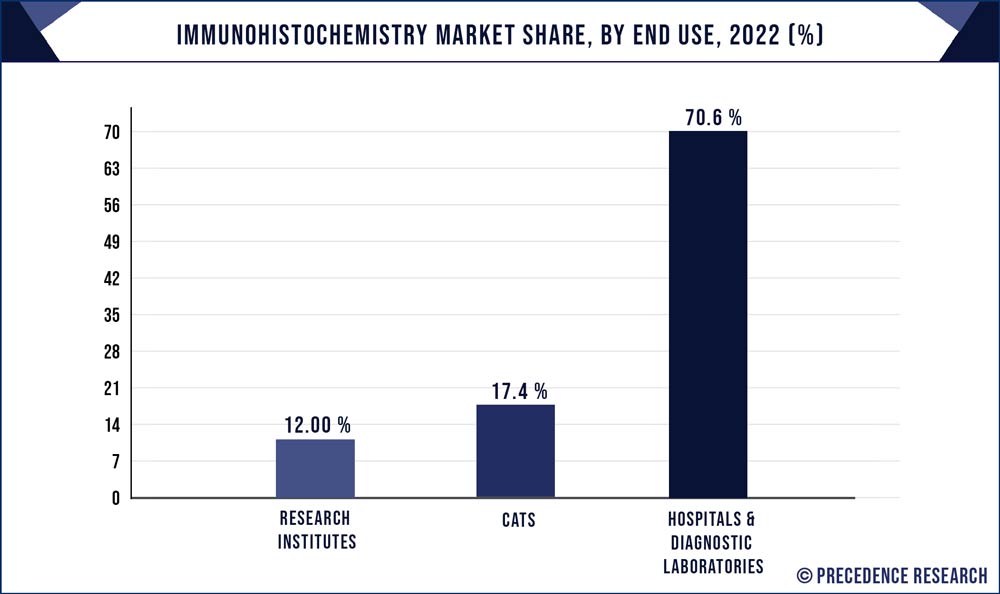 The other important aspect that has contributed substantially to the segment's growth in recent years is the expanding market for disease diagnosis due to the increase in the incidence of chronic diseases.
Due to the effectiveness of the IC staining procedures and their benefits over conventional special enzyme staining techniques, the development and research segment of the market is also anticipated to have developed during the forecast period.
Research institutes are anticipated to post a profitable CAGR during the forecast period. This is due to the technique's numerous benefits over staining methods typically used in pharmaceutical development and research. For instance, Cell Signalling Technology offers a human-specific VISTA rabbit monoclonal antibody authorised by IHC for biomedical research. The widespread use of IHC methods in drug testing by research institutes can also be credited with the growth.
The method enables the evaluation of biomarker distribution and localization and the expression of various proteins in various biological tissue sections, which is carried out in research settings. Research institutions use IHC techniques to evaluate drug efficacy tests during drug development.
Regional Insights
Due to advancements in commercialization AND biotech, the IHC market in North America held the top spot globally in 2022. The increasing use of this immunohistochemistry equipment in diagnostic facilities and laboratories can be attributed to the North American region's dominance. Additionally, the adoption of automated devices is increased by favourable reimbursement policies in nations including the United States and Canada, which supports the expansion of the IHC market in the North American region.
Additionally, it is anticipated that a rise in the number of cancer patients from North American nations will raise the need for these immunohistochemistry methods.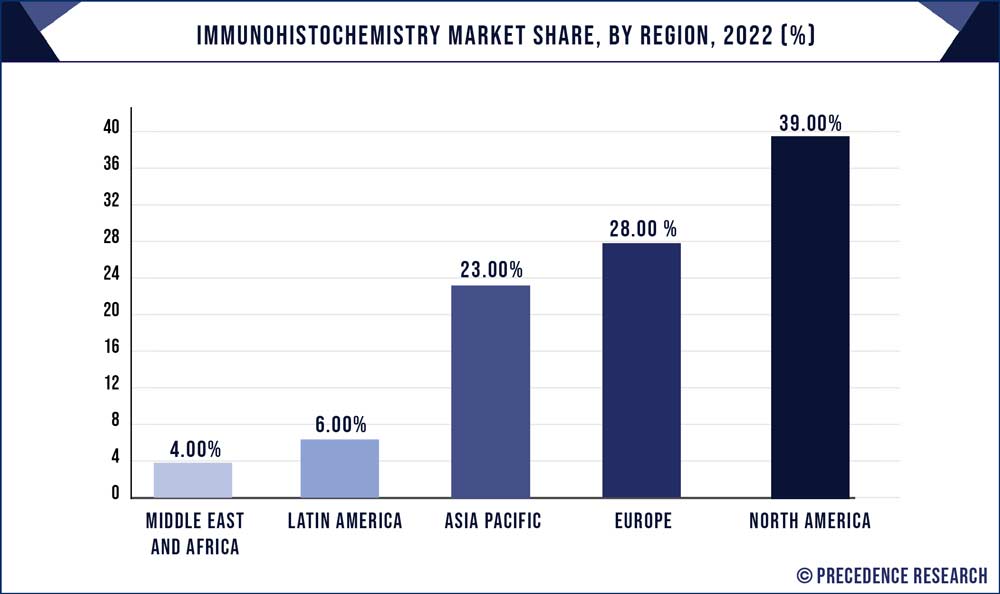 Contrarily, the Asia-Pacific region's IHC market is anticipated to experience the fastest CAGR growth during forecasting. The economic growth development of nations like India, China, South Korea, and Singapore is blamed for the rapid expansion of the immunohistochemistry market in the Asia-Pacific region. Aside from these, the high rate of chronic diseases and the rapid ageing of the population are other factors driving the growth of the Asia-Pacific Immunohistochemistry Industry.
In addition, the WHO predicts a 50% increase in CVDs annual events in China between 2023 and 2032. Following Asia Pacific, the European IC market is anticipated to expand at a healthy CAGR in the ensuing years. This region's demand for products and services is primarily driven by ongoing economic expansion and rising urban disposable income.
Latin America's IHC market is expanding due to growing cancer rates, recent economic stabilisation, rising healthcare costs, developing infrastructure, and increasing disposable income.
The Middle East and Africa IHC markets are anticipated to grow at a 7.3% annual rate during the forecast period.
Recent Developments:
January 2023- Akoya Biosciences Inc. and Agilent Technologies Inc., two titans in the biosciences sector, collaborate to create a multiplex immunohistochemistry diagnostic product. The new solutions are anticipated to aid in tissue analysis and commercialising assay processes for clinical research.
November 2022- Biocare Medical, a leading producer and provider of antibodies and immunohistochemistry tools, procured molecular probe supplier empire genomics to advance its cancer research and diagnostic techniques. The company hopes to provide more excellent diagnostic equipment and patient outcomes with this project.
November 2022- With the Ventana FOLRl RDx test developed by F. Hoffmann-La Roche AG, which has now received FDA approval for use, a treatment procedure for Platinum-Resistant Ovarian Cancer, ImmunoGen's Elahere, has a companion for the diagnostic method. Through an immunohistochemical assay, the test is anticipated to aid in diagnosing epithelial ovarian cancer and the potential for treatment.
September 2022- A partnership between The Industrial Centre and Indica Labs for Artificial Intelligence Research in Digital Diagnostics is creating an Al-based pathology solution to improve pathology teams and detect cancer in lymph nodes from cases of colorectal surgeries (card).
Key Market Players:
F. Hoffmann-La Roche Ltd.
Abcam plc.
Thermo Fisher Scientific Inc.
Merck KGaA
Agilent Technologies, Inc.
Perkinelmer, Inc.
Cell Signaling Technology, Inc.
Danaher Corporation
Bio-Rad Laboratories, Inc.
Bio SB
Segments Covered in the Report:
(Note*: We offer report based on sub segments as well. Kindly, let us know if you are interested)
By Product
Antibodies

Primary Antibodies
Secondary Antibodies
Equipment

Tissue Microarrays

Slide Staining System
Tissue Processing Systems
Slide Scanners
Others

Reagents

Histological stains
Chromogenic Substrates
Diluents
Blocking Sera and Reagents
Fixation Reagents
Organic Solvents
Stabilizers
Proteolytic Enzymes

Kits

IHC Kits for Animal Tissue
IHC Kits for Human Tissue
By Application
Diagnostics

Cancer
Diabetes Mellitus
Cardiovascular Diseases
Infectious Diseases
Autoimmune Diseases
Nephrological Diseases

Research Applications

Drug Development and Testing
Others

Forensic applications
By End-Use
Research Institutes
Hospitals & Diagnostic Laboratories
Others
By Geography
North America
Europe
Asia-Pacific
Latin America
The Middle East and Africa