The global IoT battery market size was estimated at USD 9.4 billion in 2022 and is expected to hit around USD 23.83 billion by 2032, poised to grow at a compound annual growth rate (CAGR) of 9.8% during the forecast period from 2023 to 2032.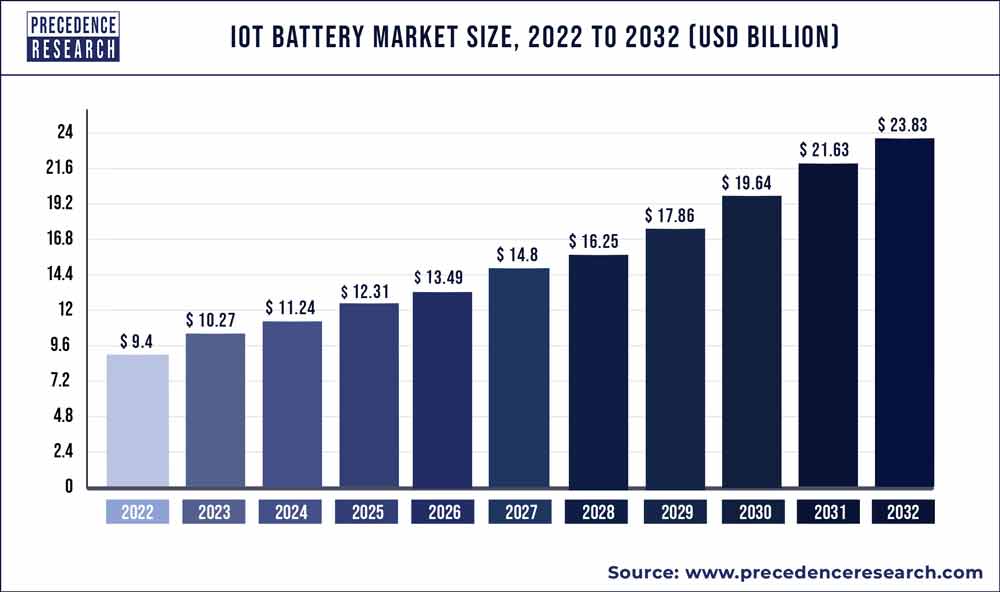 Access our Premium Real Time Data Intelligence Tool, Visit: Precedence Statistics
The popularity of Internet of things technology has soared in recent years, fueling all of their new smart gear. IoT gadgets can be anything from smart speakers to smartphones to fitness trackers to smart home security systems. They are electronic gadgets linked to one another through the internet and the cloud. All consumer batteries convert the chemical energy they contain inside into electrical energy, which is subsequently utilized to power various gadgets. There are many different chemical combinations used, but lithium-ion and alkaline batteries are the most popular. While the battery's internal chemistry has an impact on how well it performs, the battery's discharge rate and energy density represent the true indicators of quality and worth.
The development of Internet of Things (IoT) technologies may be slowed by power and battery issues. To store enough power to run a device and not lose power over time, these IoT-based devices therefore need high capacity batteries and lengthy shelf lives. As a result, choosing the right battery for IoT devices is essential given that they are used in a variety of sectors, including consumer electronics, home automation, wearable technology, BFSI, industrial, retail, agriculture, aerospace & defense, and healthcare.
Growth factors
The expansion of internet connectivity in developed nations and the increased need for affordably priced smart wireless sensor networks are projected to be the market's main growth factors. The industry is anticipated to benefit significantly in the future from the expanding popularity of the Internet of Things (IoT). Additionally, it is anticipated that the market for wearable technology would expand over the course of the projection period as a result of the growing popularity of IoT and increased awareness of equipment for physical fitness in emerging nations. It appears that the Internet of Things is ready to be extensively deployed in commerce. The growth of IoT technologies has been aided by sophisticated underlying technologies and an abundance of gadgets. Power source for IoT Increased IoT utilization, a multifold increase in IoT usage, and an increase in applications in cutting-edge and portable technology all contribute to the market's growth.
The coronavirus epidemic has changed both how the semiconductor business operates and how society as a whole function. The IoT enabled devices also suffered during pandemic however, the demands from healthcare and home automation segment drives the battery market.
The demand for IoT battery is expected to rise in the predicted years as it has more demand owning to rise in the wearable device's preference.
IoT lead technology is used in almost every sector and has a great future hence, future of this product is expected to boom in the coming years.
Report Scope of the IoT Battery Market
| | |
| --- | --- |
| Report Coverage | Details |
| Market Size in 2023 | USD 10.27 Billion |
| Market Size by 2032 | USD 23.83 Billion |
| Growth Rate from 2023 to 2032 | CAGR of 9.8% |
| Base Year | 2022 |
| Forecast Period | 2023 to 2032 |
| Segments Covered | Type, Rechargeability, Application, and Geography |
| Companies Mentioned | Panasonic Corporation, Duracell Inc, LG Chem Ltd, STMicroelectronics N.V, Ultralife corporation, Samsung SDI Co, Cymbet Corporation, Enfucell OY, Rocket Electric Co. Ltd, SAFT Groupe SA |

Key Market Trends
App controlled management

: People have begun to lead smarter lives, preferring to conduct everyday tasks using technology. As a result, technology-enabled devices are controlled by IoT, which affects sales, supporting IoT battery market.

New product launch:

Panasonic created a brand-new battery management system that evaluates the electrochemical impedance of batteries to assess the remaining worth of lithium-ion batteries in gadgets. Applications for devices with lithium-ion battery modules would make advantage of it. As a result, these items help the battery for the IoT market to flourish.

Surge in applications:

Almost every sector is relying on IoT and IoT enabled devices. This technology has been a booming factor in every aspect. The rise in acceptance of smart devices by consumers is driving the market. The new developments has been carried out on a regular basis owning to its large applications and efficient output.
Drivers in the IoT Battery Market
Increasing Demand for Wearables

: Wearables are intelligent devices that can be inserted into the body of the user, attached to clothing, or worn as accessories. Because of recent technological breakthroughs, wearables can be coupled with IoT technology. Due to lifestyle variables like obesity, people are encouraged to engage in fitness-related activities and track their performance via wearables. Because it has become clear that size, weight, power consumption, reliability, and ease of use are some of the most important factors end users consider when choosing a wearable device, wearables are continuously improving in terms of ergonomics, product material, battery life, storage capacity, functionality, performance, and usability. It is projected that the millennial generation's increasing demand for fitness wearables will accelerate the adoption of wearables.

Rise in demand for thin and flexible batteries

: Future growth indicators for the global flexible batteries market include increasing demand for flexible batteries from electronic assemblers and manufacturers, rising production capacities at manufacturing facilities and assembly locations around the world, and an expanding presence of electronic assemblers and manufacturers globally. The growing use of various smart wearable devices, ongoing research and development initiatives in developing regions related to flexible battery manufacturing technology in developed economies, and the Asia Pacific region's simple access to skilled labor and raw materials are additional factors that are likely to have a significant impact on the global flexible batteries market. The market for flexible batteries in APAC is being driven by the rising demand for mobile electronics and IoT-enabled devices in nations like China, Japan, and South Korea. Hence, these factors are driving the IoT battery market across globe.
Challenges in the IoT Battery Market
Fluctuation in raw material prices

- The price linkage mechanism for raw materials has caused conflict between the battery and energy storage system businesses. This circumstance resulted from a sharp rise in the price of making batteries, which was accompanied by an increase in the price of minerals and raw materials.

Availability of product substitutes

-

Smart devices may be powered by kinetic energy from routine activities. Additionally, solar electricity can provide endless power for IoT devices, but using it presents difficulties, particularly if the devices are small.
Segmental Insights
Type Insights
According to type, the chemical segment is in the lead and is anticipated to contribute most to the IoT battery market. Due to their ability to deliver the greatest power per unit of mass and volume, lithium-ion batteries have emerged as the standard power source in the majority of applications. They are the most efficient in terms of coulometry. In other words, it gives the greatest power out of a Li-ion battery for every Watt put into it. IoT gadgets, particularly smartphones and smartwatches, are very popular with rechargeable lithium-ion batteries. Lithium-ion batteries typically have a high energy density and a minimal rate of self-discharge. They are the most reliable kind of rechargeable battery and may be used repeatedly without losing power. These are the most common batteries on the market, and IoT devices in particular benefit greatly from their dependability and even customizability.
That reliability component is extremely important for Internet of Things gadgets. IoT gadgets include appliances, home security systems, lightbulbs, and fitness trackers. For several of these devices, homeowners may have major concerns about damage or a complete system shutdown.
Rechargeability Insights
Products that don't need a lot of power and have a short lifespan use primary batteries. Due to their shorter self-discharge times than rechargeable thin-film batteries, these batteries are seeing an increase in use in a variety of applications, including smart packaging, smart cards, home automation, retail, and patches for aesthetic and medicinal purposes. The primary battery market is anticipated to expand at the greatest CAGR during the forecast period.
IoT Battery Market Share, By Region, 2022 (%)
| | |
| --- | --- |
| Regions | Revenue Share in 2022 (%) |
| North America | 38.5% |
| Asia Pacific | 19.8% |
| Europe | 26.4% |
| Latin America | 9% |
| MEA | 6.3% |

Geography Insights
During the forecast period, North America is expected to maintain its dominant position. This region is a key market for batteries used in Internet of Things (IoT)-enabled devices due to the presence of some of the largest worldwide companies, including Cisco Systems, Texas Instruments, and Intel. A number of North American companies are also producing batteries for wearable technologies, smart packaging, smart cards, medical equipment, and wireless communication systems. The increasing demand for wearables and medical devices is one of the primary drivers of this region's battery market growth. As a result of advancements made in the North American packaging industry, smart sensors, RFID tags, and smart labels are now present in containers. Smart packaging uses printed small batteries. Moreover, the rise in demand for smart packaging is predicted to be the main driver of the growth of the thin-film and printed batteries segments of the North American IoT battery market.
Asia-Pacific region will grow at a significant rate during the projected period. In the Asia Pacific region, the sale of semiconductors is expanding quickly, which is the main driver of flexible batteries. China, Korea, and Japan are among the countries that contribute the most to the semiconductor sector in Asia Pacific. Major semiconductor companies including Samsung Electronics, LG, and others are also located in the region. Hence, this region is expected to be in a dominating state during the forecast period.
Key Market Developments
To mass-produce battery cells for upcoming battery-powered electric vehicles, LG Chem and General Motors joined together. Through a new, equally-owned joint venture company, each of these businesses plan to invest USD 2.3 billion in the development of cutting-edge battery technology to lower battery costs.
Key market players
Panasonic Corporation

Duracell Inc

LG Chem Ltd

STMicroelectronics N.V

Ultralife corporation

Samsung SDI Co

Cymbet Corporation

Enfucell OY

Rocket Electric Co. Ltd

AFT Groupe SA
Segments covered in the report
(Note*: We offer report based on sub segments as well. Kindly, let us know if you are interested)
By Type
By Rechargeability
Primary Batteries

Secondary Batteries
By Application
By Geography
North America
Europe
Asia-Pacific
Latin America
Middle East & Africa (MEA)