The global IoT in transportation market size was estimated at USD 85.21 billion in 2022 and is expected to hit around USD 498.47 billion by 2032, poised to grow at a compound annual growth rate (CAGR) of 21.69% during the forecast period 2023 to 2032.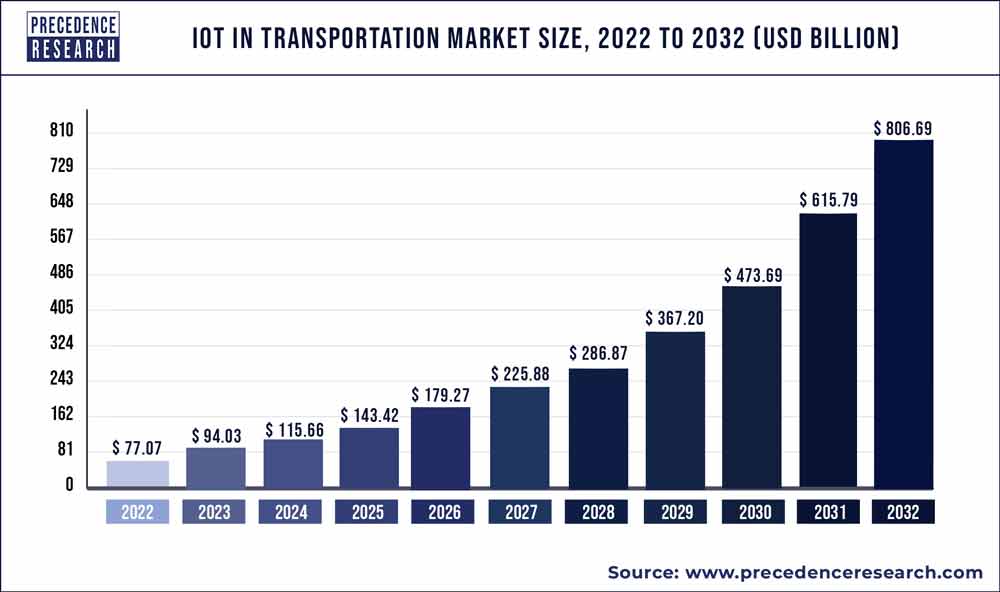 Key Takeaways:
By mode of transportation, the rail segment is poised to grow at a CAGR of 21.5% between 2023 to 2032.
By source, the software segment accounted revenue share of over 48% in 2022.
The North America region has garnered a revenue share of over 40% in 2022.
The Asia-Pacific region is expected to grow at a remarkable CAGR of 21% from 2023 to 2032.
The networking of physical tools and machines is known as the Internet of Things (IoT), and it has applications in the automotive, electronics, insurance, industrial, and retail sectors. It makes use of device connectivity to remotely control or detect objects. Numerous services are offered by it, such as traffic congestion control, security and surveillance systems, toll and ticketing systems, vehicle telematics and reservations, remote monitoring, and others. It can be found, among other places, in smart grids, smart homes, smart cities, and virtual power plants. One of the most crucial platforms for applications like smart energy management systems and smart cities is the Internet of Things (IoT).
IoT technology assist in giving clients more precise, current, and real-time data to help them plan trips and enhance communication. Additionally, using IoT-enabled technology, it gives the potential to measure things like train speeds, aero plane part conditions, roadway temperatures, and the number of vehicles at an intersection, all of which can assist to increase the safety of our transit systems globally. The market for IoT in transportation offers enormous potential, but it also heavily depends on how quickly enterprises adopt new technologies. With such a quick transformation, it would be feasible to provide users, governments, and enterprises with exceptional quality of experience in addition to increased economic potential.
Report Scope of the IoT in Transportation Market
| | |
| --- | --- |
| Report Coverage | Details |
| Market Size in 2023 | USD 94.03 Billion |
| Market Size by 2032 | USD 806.69 Billion |
| Growth Rate from 2022 to 2030 | CAGR of 27% |
| Base Year | 2022 |
| Forecast Period | 2023 to 2032 |
| Segments Covered | Source, Components, Transport, Application, Geography |
| Companies Mentioned | Alcatel-Lucent, AT&T Inc., Garmin International Inc., IBM Corp., Denso Corp., Thales Group, General Electric, Verizon Communications Inc., Cisco Systems, Inc., TomTom N.V. |

Growth Factors
In the upcoming years, it is projected that there will be a rise in the need for intelligent traffic control, increased transportation safety thanks to IoT-connected devices, and investments made by industry leaders to diversify their product lines with cutting-edge IoT-driven technology. The main drivers of the growth of the IoT in intelligent transportation systems market over the forecast period are the increased emphasis on R&D to enhance IoT integrated software and lower the cost associated with its operation.
The world's expanding demand for urban connections is causing a considerable development of the railway network, which is producing a positive prognosis for the industry. In the railroad sector, IoT is frequently used to manage timetables, maximize capacity, and carry out preventative maintenance. The The industry is thus able to improve operational effectiveness and safety while decreasing delays. Due to the increasing demand for connected mobility solutions that save commuting times, significant product utilization in highway automobiles is also having a favorable impact on market growth.
Moreover, by maximizing performance while utilizing the least amount of resources, it can increase efficiency. This challenging goal is realizable by integrating IoT into freight strategy. Increasing multimodal visibility is one strategy for cutting back on resources in logistics and transportation.
IoT technology provides drivers with the precise routes to avoid traffic, bad weather, and expensive fuel. Even better, if issues do develop, IoT devices update in real-time, allowing users to take immediate action. IoT also provides correct information prior to shipping and improved visibility while in route to boost productivity. As mentioned, IoT considerably increases intermodal visibility, which is advantageous to both customers and businesspeople. Moreover, investing in IoT gives your customers reliable information about the state of their products, enhancing their whole experience.
IoT offers analytics, monetization, connectivity, security, and security to enable more intelligent transportation tactics. A long-term technology development for transportation and supply networks is the Internet of Things. Businesses will consequently become more adaptable, discover revenues from deeper analysis, offer customers better experiences, and securely deliver items on schedule.
Source Insights
Based on source, the hardware segment dominant the IoT in transportation market in 2022. Hardware in the Internet of Things can take many different shapes, from the base processors that run smartphones to the sensors that gather data from the outside world to the edge machines that process and analyze the data. IoT hardware is at the core of any wired project, and as the Internet of Things has grown, so too have the technical capabilities of these boards.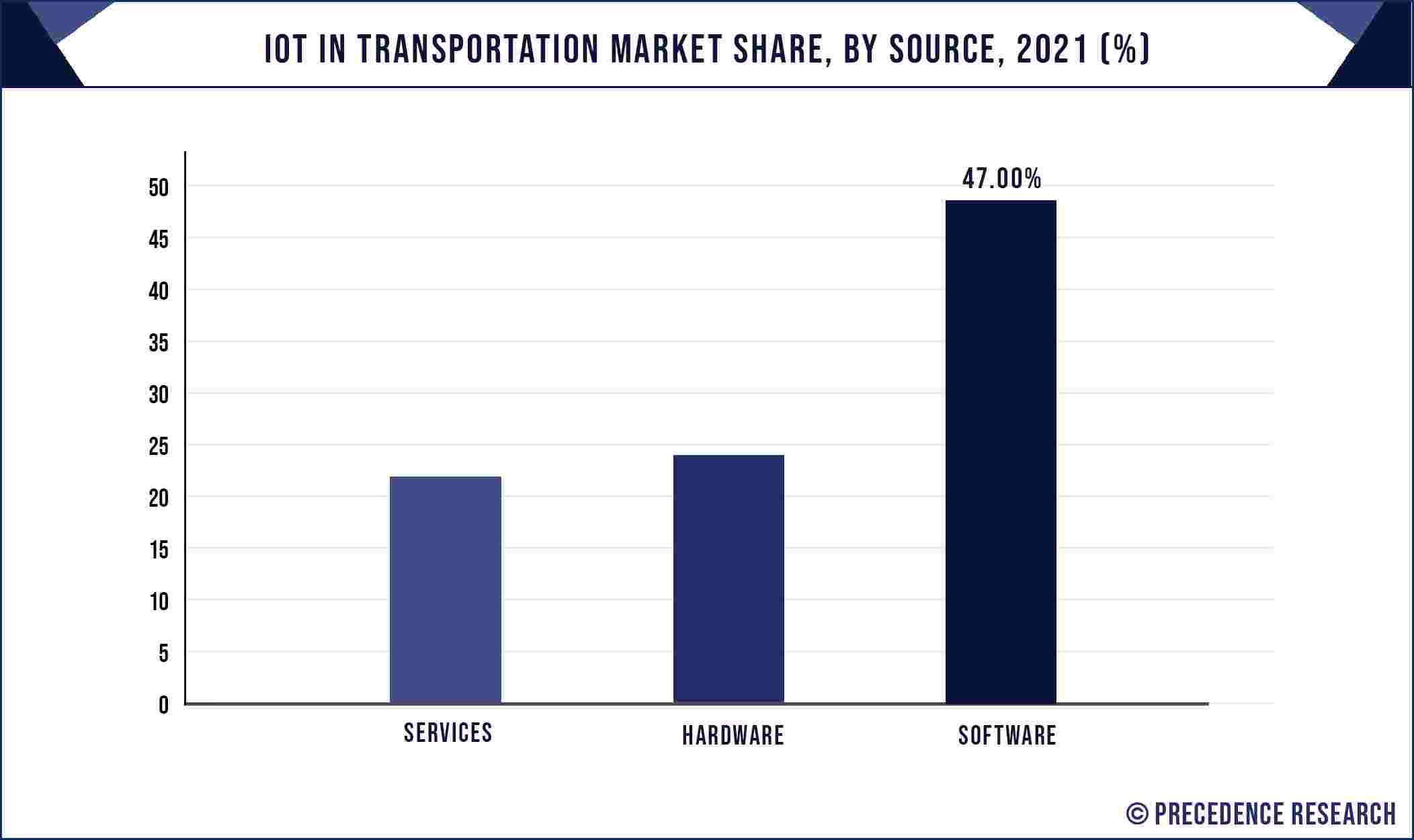 Every aspect of travel, from the schedule to the electronic room key, may be made easier by IoT. In the near future, it might serve as a lone information source. This cause rise in adoption of IoT in the travel industry that rises the IoT market.
The desire for integrated security and safety systems to boost public safety as well as an increase in the usage of linked and smart technology in transportation infrastructure are two factors contributing to the considerable market share represented by the software sector.
Transport Insights
Depending upon the transport, the airways and maritime segment is the dominant player and is anticipated to have the biggest impact on IoT in transportation market. As connected devices and sensor-based systems open the door for numerous forms of regulation and control, the IoT has altered the ways and methods of the industry. In addition to this, baggage monitoring, cabin climate management, and even emergency alerts are other key milestones that are being employed in the aviation industry as it continues to incorporate IoT techniques and devices. These span from passengers to personnel. Although it may seem ludicrous, there is actual air traffic on the runway. For a step further, the planes can be made to be tracked via a system of the times of their arrival and departure so that it is possible to see for the availability and pauses on the runways, even though the planes are already tracked of their real-time location and maintained communication with.
Railways transportation has seen a significant growth in the transportation market. IoT in railways is made possible by a wide variety of smart devices, including temperature and vibration sensors, station and vehicle cameras, digital signs, machine learning libraries, security systems, and more. By combining these intelligent devices into a single end-to-end solution, railroad operators can: transform data into useful insights; and increase the effectiveness of current systems. With the use of sensors, cameras, and in-vehicle computers, rail operators can keep track of diagnostic data for their fleet to prevent breakdowns, anticipate maintenance needs, and plan out servicing plans to keep trains moving and minimizing downtime. Additionally, smart cameras with computer vision and artificial intelligence (AI) capabilities assist in automating safety alerts for hazardous water spills, fires, and accidents. Additionally, they can be used to find lost children in crowded places or to see if someone goes into conveyor belts, trips and tag on escalators or onto trackways, or enters forbidden areas.
IoT in Transportation Market Share, By Region, 2022 (%)
| | |
| --- | --- |
| Regions | Revenue Share in 2022 (%) |
| North America | 40% |
| Asia Pacific | 24% |
| Europe | 27% |
| Latin America | 5% |
| MEA | 4% |

Regional Insights
The highest market share and dominant position in the IoT in transportation market belongs to North America during the forecast period. Due to the region's strong industrial, logistics, and transportation sectors and their numerous technological breakthroughs, the IoT is growing in the transportation business. Additionally, it is anticipated that government initiatives and regulations in a variety of end-user industries will promote market expansion in the area. Additionally, a highly skilled labor and reasonably low costs have benefited both domestic and foreign businesses in the U.S. logistics sector.
Asia-Pacific is considered as second largest region in IoT in transportation market. This region includes China, India, Japan, South Korea, and rest of the world. One of the markets for IoT transportation in Asia Pacific with the quickest growth rate is the automotive industry. As IoT use increases in the transportation industry, a variety of tools & services have been combined to provide better transport management through a variety of systems. Among others, it consists of a system for controlling traffic congestion, toll and ticketing systems, automobile telematics, reservations, security and surveillance systems, and remote monitoring. The adoption of IoT in the Asia Pacific region's transportation sector makes it easier to improve operation and control, traffic planning, the management of staff and passenger information, material management, energy management, data analytics, and other processes. It provides services for cloud application development, tail allocation, sensory inputs, unforeseen aircraft repair, and reliable & secure communications. Reduced prices for powerful sensors and controllers, increased connectivity, an increase in information, communication, and technology, increased internet penetration, government initiatives for smart cities, and spending by governments in the Asia Pacific region are a few of the key factors propelling the market's growth.
Key Market Developments
Verizon established a partnership with Audi America to provide embedded in-vehicle networking solutions and advanced connectivity. According to reports, the Audi A4 and A5 model lines would be the first to provide these connected vehicle technologies.
Key market players
Alcatel-Lucent
AT&T Inc.
Garmin International Inc.
IBM Corp.
Denso Corp.
Thales Group
General Electric
Verizon Communications Inc.
Cisco Systems, Inc.
TomTom N.V.
Segments covered in the report
(Note*: We offer report based on sub segments as well. Kindly, let us know if you are interested)
By Source
Hardware

Software

Services
By Components
By Transport
Roadways

Railways

Airways

Maritime
By Application
Traffic Congestion Control Systems

Automotive Telematics

Reservation, Toll, & Ticketing Systems

Security & Surveillance Systems

Remote Monitoring

Others
By Geography
North America
Europe
Asia-Pacific

China
India
Japan
South Korea
Malaysia
Philippines

Latin America

Brazil
Rest of Latin America

Middle East & Africa (MEA)

GCC
North Africa
South Africa
Rest of the Middle East & Africa