The global kaolin market size exceeded USD 4.08 billion in 2022 and it is projected to attain around USD 6.74 billion by 2032, growing at a remarkable CAGR of 5.2% throughout the projection period from 2023 to 2032.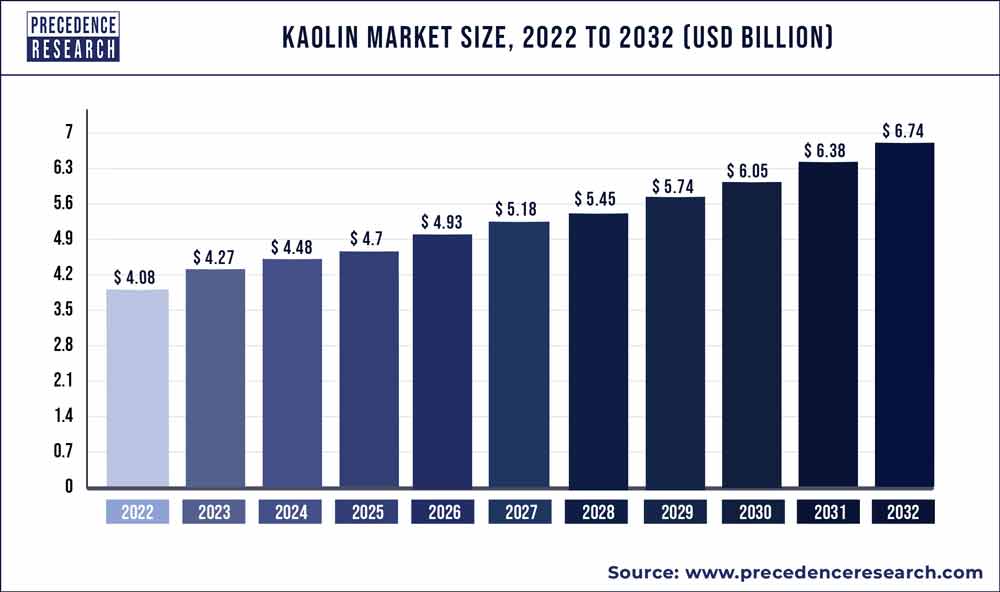 Access our Premium Real Time Data Intelligence Tool, Visit: Precedence Statistics
Key Takeaways:
Asia Pacific region generated more than 47% of revenue share in 2022.
By Process, the water-washed segment is predicted to dominate the global market from 2023 to 2032.
By End-use, the paints and coatings segment is expected to contribute the biggest revenue share from 2023 to 2032.
Market Overview:
China clay, often known as kaolin, Soft white clay is widely used in the creation of paper, rubber, paintings, and many other products. It is an essential component in the manufacture of China and porcelain. The hill in China known as Kao-ling, where it has been mined for centuries, is from which kaolin derives its name. In its natural state, kaolin is a white, porous powder mostly formed of the mineral kaolinite, which is thought to be made up of roughly hexagonal, plate crystals ranging in size from 0.1 microns to 10 microns or more. Vermicular and book forms, as well as occasionally macroscopic shapes that are close to millimeter diameters, can be adopted by these crystals. Moreover, iron hydroxide pigments are frequently used to dye unrefined kaolin yellow.
When making kaolin for industrial use, it is frequently necessary to chemically bleach the clay to get rid of the iron pigment and wash the other minerals with water. When kaolin is mixed with water at a 20 to 35 percent concentration, it transforms into plastic and keeps its shape even after pressure is released. The kaolin produces a slurry or watery suspension when there is higher water content. The kaolin market is being driven by the increasing construction activities across the globe, the growing cosmetic industry, the growing uses of kaolin in the paint and coating sector and the increasing use of kaolin in medicinal products.
According to the India Brand and Equity Foundation, by 2022, India will likely surpass China as the third-largest building market in the world. To promote sustainable growth in the nation, India intends to invest US$ 1.4 trillion in infrastructure projects under the National Infrastructure Pipeline (NIP) between 2019 and 2023.
As per Cosmetic Europe, the personal care and cosmetics sector adds at least 32 billion USD to the European economy each year. Cosmetics manufacturing generates a direct contribution of USD 12.1 billion and an indirect contribution of USD 20 billion through the supplier chain.
China produced around 11.57 million metric tons of processed paper and cardboard in September 2022, according to Statista. Over the observed period, the production output has been comparatively stable, with variations varying between 10.47 and 11.97 million metric tons.
Report Scope of the Kaolin Market:
| | |
| --- | --- |
| Report Coverage | Details |
| Market Size in 2023 | USD 4.27 Billion |
| Market Size by 2032 | USD 6.74 Billion |
| Growth Rate from 2023 to 2032 | CAGR of 5.2% |
| Largest Market | Asia Pacific |
| Base Year | 2022 |
| Forecast Period | 2023 to 2032 |
| Segments Covered | By Type, By Process, and By End-use Industry |
| Regions Covered | North America, Europe, Asia-Pacific, Latin America, and Middle East & Africa |

Market Dynamics:
Driver:
Increasing demand for paper and ceramics product
Demand for kaolin is anticipated to increase along with the demand for ceramic and paper products. After being formed and hardened by heating to high temperatures, a ceramic is a product made of either metal or non-metal compounds. Paper goods include items like paper towels, napkins, and corrugated papers created from wheat straw, flax, bamboo, wood, and sugar cane waste. By adjusting the gloss, smoothness, brightness, opacity, and printability of ceramic and paper, kaolin coating improves their visual appeal. For instance, the International Energy Agency (IEA), an independent international agency with headquarters in France, stated in November 2021 that the production of paper and paperboard worldwide climbed by 3% between 2010 and 2019 and was predicted to rise by 1.5% year through 2030. The kaolin market is going to be driven by the growing demand for paper and ceramic products.
Restraints:
Decreased rate of medicinal absorption in kaolin consumers
In many food and drug compositions, kaolin is a crucial ingredient. However, it has been noted that the rate of absorption of some antibiotics and heart medications decreases when an individual has consumed kaolin in any form. In the bodies of people who use kaolin products, antibiotics like Clindamycin and Trimethoprim as well as cardiac medicines like Digoxin and Quinidine are absorbed more slowly. This important aspect is anticipated to significantly slow the market's revenue growth.
Opportunities:
Technological advancements
The primary trend gaining traction in the kaolin market is technological developments in the production of kaolin. Major players in the market are adopting cutting-edge kaolin production technology, which includes techniques like crushing, bunging, screening, magnetic separations, and others, to remove various impurities from kaolin and to properly design its features to guarantee smoothness. Key companies might get a competitive edge in the market due to such improvements. For instance, in July 2020, three companies—Metso Outotec of Finland, Imerys Minerals Ltd. of France, and PREDICT of France—partnered with three universities, including Aalto University, Technische Universiteit Delft, and Delft University. These companies provided sustainable technologies, end-to-end solutions, and services for the processing of minerals. The MONICALC project intended to develop a high-quality, energy-efficient kaolin manufacturing method.
The calcination of kaolin may be made more efficient while using less energy, which reduces CO2 emissions. This is the goal of the integrated method being investigated by the MONICALC project. Thus, this is expected to drive the growth of the market over the forecast period.
Segments Insight:
Process Insights:
Based on the process, the global kaolin market is segmented into water-washed, air-floated, calcined, delaminated, surface-modified, and unprocessed. The water-washed segment is expected to dominate the market over the forecast period. To attain the desired particle size, purity, residue, and brightness, water-washed kaolin must undergo an extensive production process that involves slurring, grinding, crushing, sorting, centrifuging, sifting, chemically and perhaps concentrated drying, and magnetic treatment. Since the 14% bound water of hydration present in crude kaolin is still present, water-washed kaolin is hydrous kaolin.
The calcined segment is expected to grow exponentially during the forecast period. The basic material for the heat treatment process known as calcination, which produces calcined kaolins, is water-washed kaolin. Based on the desired finished product, water-washed feed kaolin is chosen for processing. Because calcined kaolin is anhydrous, the 14% bound water of hydration present in raw clay has been removed during the calcining process. Calcined kaolin can be used to control the shrinkage and plasticity of slips (engobes) used on wet or leather-hard pottery in addition to being widely utilized in ceramic glazes. Kaolin that has been calcined softens at around cone 35 and is refractory. Its uses include investment casting, low expansion bodies, thermal insulation bodies, refractory castables and furnishings, and permeable ceramic compositions. Thus, this is expected to drive the growth of the segment during the forecast period.
End-use Industry Insights:
Based on the end-use industry, the paints and coatings are expected to capture the largest revenue share over the forecast period. Kaolin is a crucial component of paint formulas and is used as a filler in paint. This substance enhances paint film development, adds gloss to painted surfaces, inhibits quick collapse, boosts wear resistance against various weather conditions, and slows moisture absorption. Kaolin is a chemical that the coatings industry is utilizing more and more because it improves tint strength and opacity, sheen control, scrub and stain resistance, holdout, and pigment suspension in architectural coatings. Kaolin-based paints offer much higher-quality finished painted goods and improve the functionality of painted surfaces, which is driving up mineral demand in the market and accelerating this segment's revenue growth.
Regional Insights:
The Asia Pacific region is expected to capture the largest market share in 2022. The regional growth is attributed to the increasing construction industry in the nation like India and China. The construction industry rises owing to the rapid urbanization in these nations. For instance, according to the National Institutes of Indian Affairs, Indian cities are going through a makeover. Since 1951, there has been a six-fold increase in the urban population, from 62.4 million in 2011 to an expected 590 million in Indian cities by 2030, which is twice the population of the United States. Moreover, according to the report of CEIC, building construction in Beijing totaled 237,142 square meters in 2020, a 5% increase over the previous year.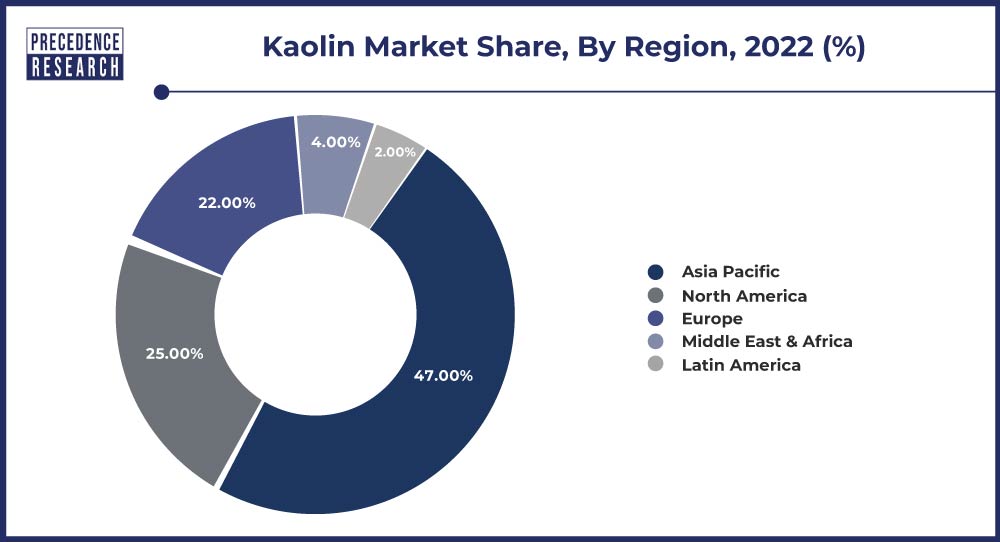 Further, the growing cosmetic industry in the region is expected to provide enormous opportunities for market growth during the forecast period. Kaolin is widely used in skin care products including face masks and others. For instance, as per Euromonitor International research, the sales of beauty and personal care products in China reached USD 88 billion in 2021, a spike of 10% from the previous year. Thus, this is expected to drive the market growth during the forecast period.
North America is expected to capture the largest market share during the forecast period. The growth in the region is attributed to the increasing production and export of kaolin minerals. For instance, as per OEC, the US is the top exporter of kaolin in 2021 which was around USD 604 million. Moreover, the increasing demand from the paper and packaging industry is expected to drive the forecast period.
Europe is expected to hold a significant market share during the forecast period. The growth in the region is ascribed to the increasing demand for the component in rubber, plastics, paper and glass industries. Moreover, the growing construction industry in the region is expected to propel the market expansion. For instance, according to the European Construction Industry Federation, France construction activity increased by 10.5% in Volume in 2021.
Recent Developments:
In September 2022, in a joint announcement, BASF Inc. and KaMin LLC, a worldwide performance minerals business owned by IMin Partners announced they had successfully acquired the kaolin minerals division of BASF. By expanding its diversification into highly engineered, expanding market categories and expanding its already sizable portfolio of cutting-edge product solutions for everyday life, this purchase transforms KaMin from day one. A global leader with enormous scale, technical ability, and talent will be able to provide customers, distributors, and brand owners around the world greater value.
In November 2020, Adromeda Metals (AND) has issued a fresh mineral resource estimate for the Great White Kaoline project joint venture. ADN owns 75% of the South Australian project, and Minotaur exploration owns remaining 25%.
In March 2022, Imerys successfully sells some assets and mining resources in North America that supply hydrous kaolin to the paper and packaging industries to Thiele Kaolin Corporation, one of the leading manufacturers of processed kaolin clay.
Key Market Players:
Kaolin AD
Quartz Works GmbH
Imerys
KaMin LLC
BASF SE
KERAMOST, a.s.
I-Minerals
EICL
SCR-Sibelco NV
Thiele Kaolin Company
Segments Covered in the Report:
(Note*: We offer report based on sub segments as well. Kindly, let us know if you are interested)
By Type
By Process
Water-washed
Air-Floated
Calcined
Delaminated
Surface-Modified
Unprocessed
By End-use Industry
Ceramics and Sanitarywares
Fiberglass
Paints and Coatings
Rubber
Adhesives and Sealants
Plastics
Others
By Geography
North America
Europe
Asia-Pacific
Latin America
Middle East and Africa