The global legal marijuana market size was accounted at USD 17.5 billion in 2019 and predicted to reach around USD 65.1 billion by 2027, study by Precedence Research.
The global legal marijuana market is expanding at a compound annual growth rate (CAGR) of around 17.8% during the forecast period 2020 to 2027.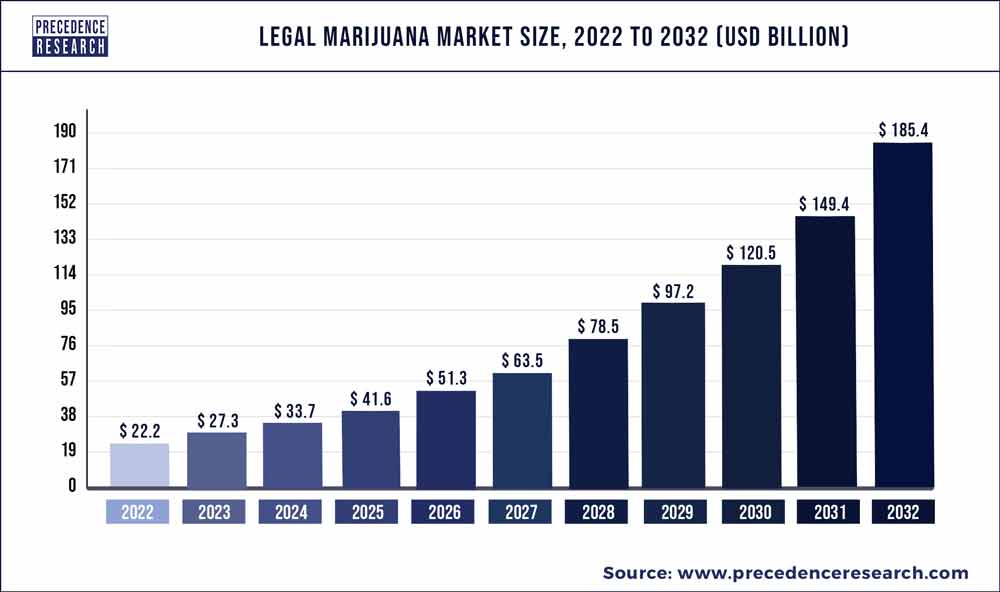 Growth Factors
Marijuana or cannabis has been utilized as a medicine in several cultures for many of years. There is now mounting reception of the plant as a legitimate selection for patients who suffer from medical issues such as seizures or chronic pain. It is widely employed for treatment of mental disorders and diseases, migraine, chronic pain conditions, arthritis, cancer treatment, and other medical circumstances.
The application of cannabis for medical uses is gaining impetus across the world due to current legalization in several countries. Medical marijuana is employed for the treating chronic conditions including arthritis, cancer, and neurological circumstances like depression, anxiety, epilepsy, Parkinson's, and Alzheimer's disorders. Such a widespread scope of application is predicted to promise well for the medical marijuana market growth. Cannabis legalization is frequently observed upon with dual discernments where its authorization has been met with skepticism related with probable abuse. On the other hand, it is thought that legalization could, in turn, permit individuals to exercise harmless substance usage, whereas also gaining its therapeutic profits. As a consequence, there is snowballing number of nations that are progressively legalizing the practice of cannabis across the world.
Yet, the numerous contradictory judgments of smoking cannabis, which include the composition of continued cough, mucus, and respiratory contaminations like COPD, will act as the constraints for the growth of the market.
Until lately, marijuana and its byproducts were widely limited under legislation in nations such as the UK, and U.S. which specified they had no medicinal value and carried a considerable risk of misappropriation. Policies concerning the usage of cannabis-based goods for medicinal resolves are rapidly altering, and marijuana can be prescribed for therapeutic use in many nations. The FDA has permitted two synthetically made cannabinoid medications -- dronabinol, and nabilone -- to cure nausea and sickness from the chemotherapy procedure. The Epidiolex(a cannabidiol) was permitted in 2018 for healing seizures allied with two infrequent and severe pattern of epilepsy, Dravet syndrome and the Lennox-Gastaut syndrome. Medical cannabis commodities have recently become permissible in Germany, U.K., Italy, Netherlands, and Portugal, with France and Spain also on track to allow them soon. This is expected to provide significant new opportunities for treating patients.
The major driver for the upsurge in the marijuana market is the skincare benefits associated with the product. People have long used marijuana to treat ailments. Cannabis-based beauty products show results of them being beneficial in all forms of beauty products. CBD filled anti-wrinkle beauty products exhibit considerable outcomes just after forty days of usage. CBD can regulate inflammation and oil production, 2 of the motives why acne develops. Going by this, it is clear that the cannabis extract market has a bright future as CBD products can be made to suit all skin types. That is the reason that almost 48% of millennial U.S. say they would buybeauty products with infused CBD oil for skin care. Similarly, 18% of millennials purchase hair care products that contain CBD. Even the best-selling beauty products on e-commerce websites such as Amazon are all-natural brands.
Type Insights
Depending on type, the medical segment seized the foremost revenue stake of more than 68% in 2020, due to the rising acceptance of cannabis as a pharmaceutical product for treatment of severe medical situations. Moreover, the snowballing necessity for pain management therapies coupled within creasing disease burden of chronic pain amongst elders is predictable to lift the demand for medical marijuana in the market.
Product Insights
Different types of products assessed in the legal marijuana market are oils, buds and tinctures. Among all, marijuana buds accounted for majority of the market revenue share in 2020. The buds are economical as compared to other types of products, making them more popular. Oils are the second-most revenue generating product type. Its application in treating nausea and cancer is the major reason for its wide use.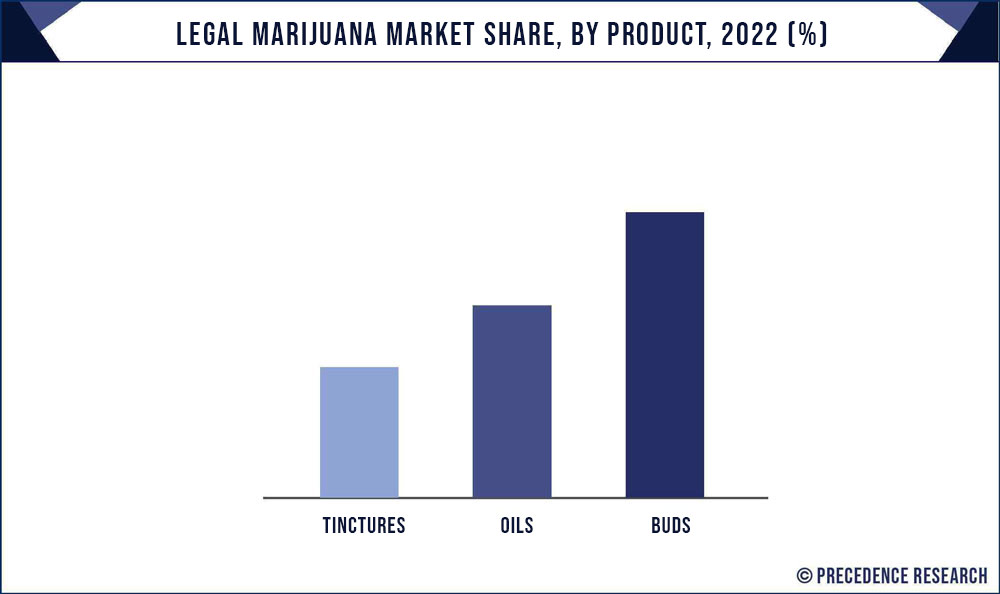 Buds are key plant products and are easily obtainable deprived of any processing, which makes them comparatively reasonable for patients with low-income. Furthermore, the quick onset of action of smoking buds than other kinds is expected to supplement the growth of this segment further.
Application Insights
Among different medical applications, in 2020, the chronic pain segment conquered the global legal marijuana market due to the occurrence of a huge patient pool. Whereas, mental disorder application segment is anticipated to record the rapid growth during the prediction period on account of escalating number of patients undergoing from mental disorders like depressions, Alzheimer's illness and anxiety disorder.
Cancer applications generated highest revenue within the application segment. The prime reason is the increased demand for pain management in a large patient base suffering from chronic disorders.
Regional Insights
North America governed the global market on account of cumulative legalization of cannabis for both recreational and medical purposes. There is a budding consciousness among consumers concerning the health assistances offered by cannabis.
North America accounted for more than 85% of the global revenue. Increasing legalization and favorable government guidelines in Canada and the U.S. are the key factors contributing the growth of legal marijuana market in North America. Moreover, the 2018 Farm Bill that legalizes hemp-based goods in the United States is playing an important role in boosting the demand for legal marijuana.
In the U.S. around 33 states have indorsed marijuana in some capacity, creating new employment and economic openings within the legal marijuana industry. With more states anticipated to advance cannabis legalization actions in the years to come, and federal lawmakers seeing restructuring legislation, more Americans will soon be able to legally access cannabis.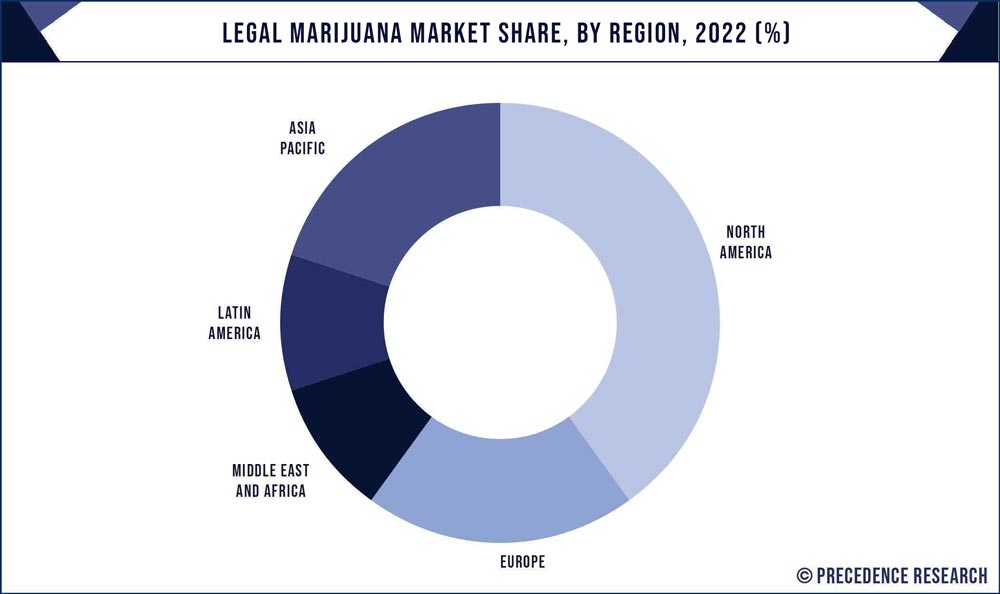 Furthermore, Europe medical cannabis market is anticipated to perceive significant growth duringestimate timeframe. Legalization of medical usage of marijuana in Germany in 2017 fashioned a domino effect on other European nations for commencement marijuana-associated research programs. This also directed to legalization of medicinal application of cannabis in the UK. With public backing principally in the support of legalization of medical cannabis, most of the patients in Europe are hopeful to have legal access to cannabis. Furthermore, varied demographics and huge patient population are appealing numerous medical marijuana players in Europe, thus leading to industry development. In February 2019, Thailand became the foremost country in Southeast Asia to permit for the consumption and growth of medical marijuana, opening its first legal cannabis greenhouse.
Europe was the second prominent market majorly due to changes in the legalization of marijuana and increasing awareness regarding its medicinal use. The 'Cannabis as Medicine' Act passes by Germany in March 2017 created a mechanism for quality-controlled cannabis supply, including domestic production. Patients for whom all other treatment options have been exhausted can get a medical prescription for dried cannabis flowers and extracts of standardized quality at a pharmacy. The prescription of cannabis preparations is not restricted to particular specialists, nor is their usagerestricted to explicit medical indications.
Marijuana is used in Australia for medicinal and recreational use, with a testified one-third of all Australians aged 22 or older (33.5%, about 5.8 million) having tried marijuana and around 1 million people using annually. It is estimated that about 750,000 Australians use marijuana every week and approximately 300,000 uses it on a daily basis. Australia has one of the highest rates in for marijuana prevalence across the world, and Australia's native population has higher levels of marijuana use. On 24 February 2016, Australia legalized medicinal cannabis at the federal level. On 25 September 2019, the Australia Capital Territory (ACT) passed a bill to make the ACT the first region in Australia to legalize marijuana for personal use as of 31 January 2020.
Key Companies & Market Share Insights
Corporations engaged in this market are executing numerous tactics like novel product launch, partnerships and acquisitions to seizemajor revenue stake in medical marijuana market.The growth of the market in North America is flourished by the existence of foremost cannabis giants such as Aurora Cannabis Inc., Medical Marijuana Inc., and Canopy Growth Corporation who are incessantly capitalizing and cooperating for the advancement of novel products to cater the consumer demand.
Significant players functioning in global legal marijuana market are:
Aurora Cannabis
GW Pharmaceuticals, plc.
Organigram Holding, Inc.
Canopy Growth Corporation
Maricann Group, Inc.
Aphria, Inc.
Maricann Group, Inc.
The Cronos Group
Tilray
ABcannMedicinals, Inc.
Lexaria Corp.
Report Scope of the Legal Marijuana Market
| | |
| --- | --- |
| Report Highlights | Details |
| Market Size | USD 65.1 Billion by 2027 |
| Growth Rate | CAGR of 17.8% From 2020 to 2027 |
| Base Year | 2021 |
| Historic Data | 2017 to 2020 |
| Forecast Period | 2021 to 2027 |
| Segments Covered | Marijuana Type, Product, Application |
| Regional Scope | North America, APAC, Europe, Latin America, MEAN, Rest of the World |
| Companies Mentioned | Aurora Cannabis, GW Pharmaceuticals, plc., Organigram Holding, Inc., Canopy Growth Corporation, Maricann Group, Inc., Aphria, Inc., Maricann Group, Inc., The Cronos Group, Tilray, ABcannMedicinals, Inc., Lexaria Corp. |
Segments Covered in the Report
This research report includes complete assessment of the market with the help of extensive qualitative and quantitative insights, and projections regarding the market. This report offers breakdown of market into prospective and niche sectors. Further, this research study calculates market revenue and its growth trend at global, regional, and country from 2016 to 2027. This report includes market segmentation and its revenue estimation by classifying it on the basis of end-use and region as follows:
By Marijuana Type
By Product Type
By Application
Mental Disorders
Chronic Pain
Cancer
Others
By Regional
North America
Europe
Asia Pacific
Middle East & Africa
Latin America