The global micro motor market size was valued at USD 41.21 billion in 2022 and is projected to hit around USD 76.99 billion by 2032 and is poised to grow at a compound annual growth rate (CAGR) of 6.50% from 2023 to 2032.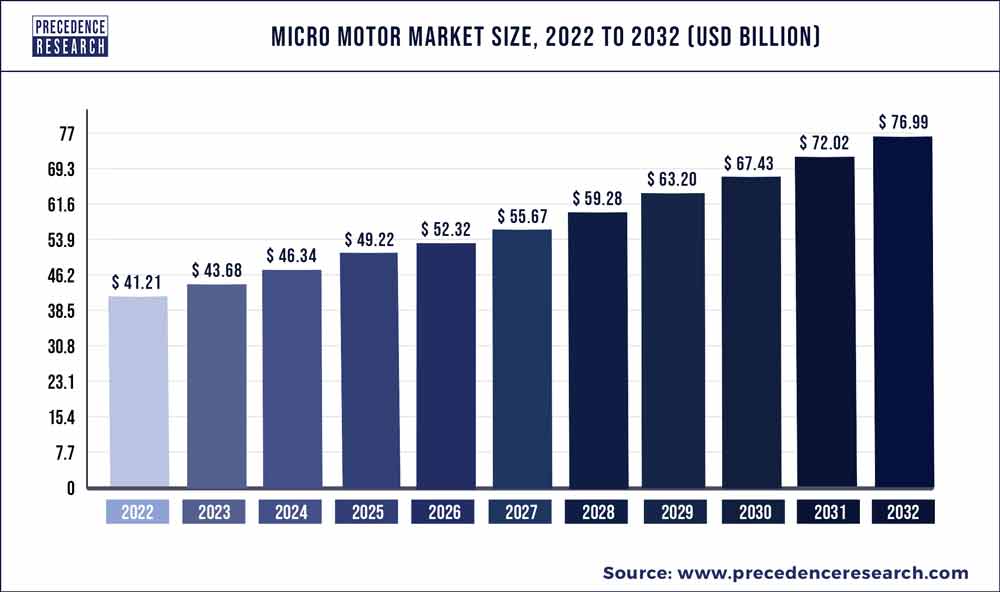 Access our Premium Real Time Data Intelligence Tool, Visit: Precedence Statistics
Key Takeaways:
By technology, brushed motor segment accounted 63% revenue share in 2022.

The brushless motor technology segment held 37% market share in 2022.

By type, AC segment accounted 71% market share in 2022.

The DC type segment has garnered 29% revenue share in 2022.

Asia Pacific region held the market in dominate position with 37% in 2022.
Micro motors are smaller and less in weight. The main goals of micro motor design are to reduce electromagnetic interference and power consumption. Fast operation, greater performance, and a wider range of power options are just a few of the advantages of micro motor. Process related to drilling, polish, grind, and many more industrial processes are all used using micro motor. Micro motor are available in both brushed and brushless modes. The industrial and aerospace industries both employ micro motors extensively. Micro motors come in 1V to 60V power ranges.
Electronic control, a high weight to power ratio, and rapid speed are the characteristics that set micro motors apart from other motors. They are used in portable power tools, computer accessories, printers, disc drives, and automobiles. The COVID-19 pandemic has had a detrimental impact on the worldwide micro motor market principally as a result of the suspension of international commerce, extended lockdowns, and stopped production processes in the electronics and manufacturing industries.
The growth of the micro motor market is fueled by advantages including high torque, reduced noise level, energy savings, and increased operational efficiency. The market for micro motors is expanding due to the rising trend of industrial automation and the rising popularity of small electronic gadgets. Applications for micro motor include hand dryers, surgical tools, fans, pumps, compressors, and home appliances. The micro motor market is expanding as a result of an increase in the urban population and rising consumer awareness of environmentally friendly products.
The market is expanding as a result of an increase in demand for DC motors in HVAC, agricultural, and other applications due to characteristics including energy efficiency, variable speed, environmental friendliness, small size, and low maintenance costs. The demand for automobiles is fueled by an expansion in urbanisation and industrialisation in developing nations like Germany, France, the United States, and others. This is anticipated to increase demand for micro motor and propel the worldwide market for 10V–20V micro motor. For instance, from 2017 to 2019, the level of urbanisation in the United States rose by 0.45%.
Due to the increased need for motors, micro motors are also employed in a number of industry sectors, including agriculture, medicine, healthcare, and automotive. Due to increased government investment in this sector, the healthcare business is expanding quickly in a number of nations, including the UK, the U.S., and India. As an illustration, the UK government invested $252.9 billion on the healthcare sector in 2018. Due to its energy efficiency, high torque, and high rpm, brushless DC motors are likely to see an increase in demand as a result. The expansion of the micro motor market in the Middle East is driven by an increase in demand for HVAC systems, particularly in GCC nations and the UAE owing to a shift in focus toward reducing reliance on oil. The need for HVAC and infrastructure is further increased by events like the World Expo 2020 in the United Arab Emirates and the FIFA World Cup 2022 in Qatar. The demand for micro motors in the Middle East is anticipated to rise as a result. All of these occurrences fuel the micro motor market's expansion.
The automobile industry slowdown and expensive initial capital expenditure are anticipated to impede the expansion of the micro motor market. Additionally, it is projected that the growing demand for micro motors from robotics and automated robot technologies would offer attractive prospects for the expansion of the micro motor market.
Report Scope of the Micro Motor Market
| | |
| --- | --- |
| Report Coverage | Details |
| Market Size in 2023 | USD 43.68 Billion |
| Market Size by 2032 | USD 76.99 Billion |
| Growth Rate from 2023 to 2032 | CAGR of 6.50% |
| Base Year | 2022 |
| Forecast Period | 2023 to 2032 |
| Segments Covered | Type, Technology, Power Consumption, Application, Geography |
| Companies Mentioned | Mitsuba Corporation, Nidec Corporation, Johnson Electric Holdings Limited, Mabuchi Motors, Abb Ltd., Wellings Holdings Ltd., Asmo Co. Ltd., Constar, Maxon Motors Ag, Buler Motors Gmbh, Risun Expanse Corp., Kin Yat Holdings Ltd., Arun Microelectronics Ltd., Shenzhen Zhaowei Machinery & Electronics Co. Ltd., Citizen Micro Co. Ltd., Dr. Fritz Faulhaber Gmbh & Co., Lunar Motors Pvt. Ltd., Foshan Shunde Hengxing Micro-Motor Co., Ltd., Piezomotor, Zhengke |

Growth factors
There is a huge need for small, highly effective equipment to achieve optimum operations, which can be attributed to the expanding innovations in the automobile industry and the ongoing rise of technologies like automation and 3D printing. The future looks bright for the micro motor industry with new products like the EVALSP820-Xs from STMicroelectronics that increase the accessibility of 3D printing with small, reasonably priced solutions for rapid prototyping. The Zhengke DC word geared micro motor has a self-locking torque that enables the shaft to stop rotating when power is turned off, making it ideal for use in automated doors, medical equipment, windows, and other electrical appliances.
One of the key elements anticipated to support the expansion of the micro motor market is the increase in industrial automation. This is mostly seen in the medical industry, which is encouraging the use of automation to raise the bar for traditional medical service standards. Laboratories may accomplish operational automation for evaluating large numbers of samples quickly and effectively with cost-effective alternatives like micro motors. Manufacturers strive to offer cutting-edge micro motors with dynamics and high precision due to their application in industries like medical, chemical testing laboratories, molecular biology, and others.
Micro motor manufacturers might flourish as a result of the automotive industry's characteristics, which enable automakers to combine elegance and convenience. Additionally, the resilient and cost-effective micro motor is finding use in expanding industries including mining, building, and healthcare. To ensure improved performance, manufacturers are working to reduce the size of the micromotor while improving operational excellence. High-performance electric micro motor development is now achievable because to technological innovation and manufacturers' embrace of these cutting-edge techniques.
Micro motors were also in demand in the space industry in addition to the automobile sector. As an illustration, Maxon Motor may provide its effective DC micro motor to NASA, the US space agency, which would then use the micro motor in a helicopter that was being developed for NASA's impending Mars 2020 rover mission.
Micro motor may be integrated into both simple and complex environments, using a range of power sources from 5 volts to 48 volts, most likely in highly developed electrical and electronic components. They are easy to deploy in small spaces because to their minimal weight and low power requirements. One of the high-performance micro motor with a high torque density and other cutting-edge components is the piezoelectric ultrasonic motor. The manufacturers may provide considerable potential for the expansion of the market value for micro motors by using technology to overcome all the barriers.
Technology Insights
More than half of the global micro motor market was made up of brushed motors in 2022, and it is anticipated that this market segment will continue to dominate over the forecast period. The micro motor industry is expanding due to the advantages of brushed DC motors, including their straightforward design, low cost, ease of maintenance, low noise level, and high torque speed. On the other hand, brushless motors have lessening growth potential. By 2032, it is predicted that the market for brushless micro motor would be worth around US$ 37 billion, increasing by more than 240 BPS.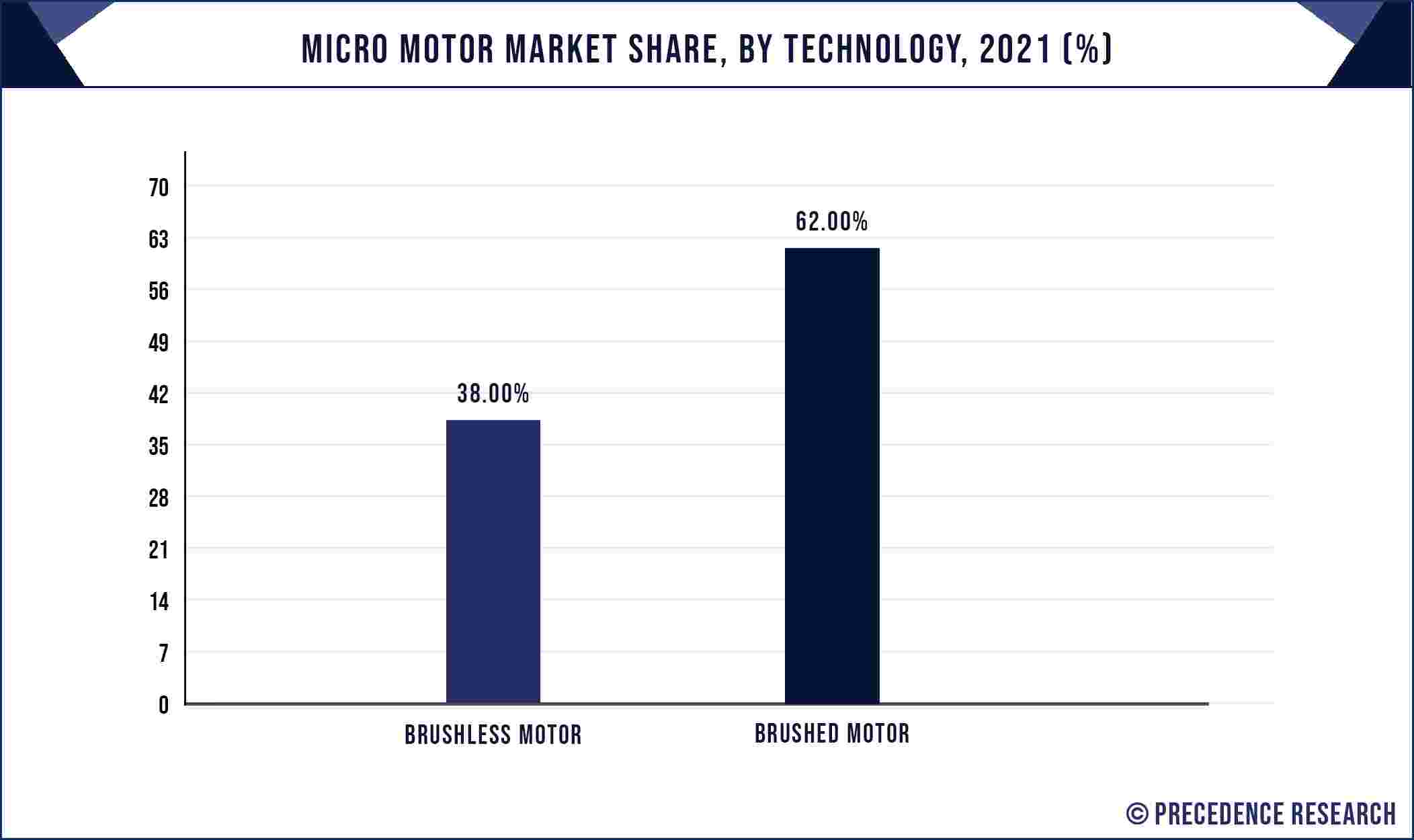 In comparison to brushed micro motor, brushless micro motor have a number of benefits, including high efficiency that produces higher torque per watt, decreased noise, a relatively longer lifespan, a high torque-to-weight ratio, and the lack of ionising spark from commutators. As a result, the market for brushless micro motors is anticipated to grow quickly. Increasing sales of plug-in electric vehicles with electromechanically driven powertrain and chassis systems are one area where brushless motors are being used and have seen recent rapid growth. These areas are expected to offer brushless motors greater growth potential than brushed motors in the future.
End User Insights
The automotive micro motor industry's primary target market is automakers. The sector also heavily relies on traders, distributors, and suppliers of car components to manufacturers. Due to the rising worldwide vehicle production, the global market for automotive micro motor is predicted to expand at a promising pace of around 7.44%. The desire for technologically advanced solutions in automobiles is growing, which has sparked the creation of high performance micro motor with functions like automated air vent movement, control of the front and rear mirrors, seat adjustments, headrest and backrest headlamp cleaning, etc. These developments are fueling the market for micro motor and their mass manufacturing.
Type Insights
According to type, the AC segment accounted for more than three-fourths of the worldwide micro motor market in 2022, and it is anticipated that it will continue to hold the top spot during the forecast period. The category is also anticipated to exhibit the greatest CAGR, at 5%, between 2023 and 2032. The usage of them in applications that operate at constant speed and their higher efficiency compared to induction motors are factors driving the segment's expansion. Additionally, the growing use of synchronous motors due to their availability in compact sizes and the cheap cost of permanent magnets both contribute to the segment's growth.
Micro Motor Market Share, By Region, 2022 (%)
| | |
| --- | --- |
| Regions | Revenue Share in 2022 (%) |
| North America | 29% |
| Asia Pacific | 37% |
| Europe | 23% |
| Latin America | 8% |
| MEA | 3% |

Geography Insights
In the United States, the market for micro motor is anticipated to reach USD 5.7 billion in 2022. At the moment, the nation holds a 22% market share worldwide. The second-largest economy in the world, China, is predicted to grow at a CAGR of 5.2% over the course of the research period to reach an estimated market size of USD 9 billion in 2032.
Japan and Canada are two other notable geographic markets, with growth rates of 3.1% and 3.6%, respectively, predicted for each during the course of the investigation. Germany is expected to see growth in Europe at a CAGR of around 3%, while the rest of the continent, as defined in the study, will reach USD 9.7 billion by the end of the analysis period.
Due to the area's expanding automotive sector, rise in healthcare facilities, and growth in mining and building activities, the Asia-Pacific region is predicted to see strong demand for micro motors. China's increasing industrial automation presents the area with significant economic potential.
Key Market Developments
The Maxon Group expanded its presence in France in March 2021. In Beynost, close to Lyon, the firm is spending EUR 10 million in a new Innovation and Production Center.
Mitsubishi Heavy Industries Machine Tools Co. Ltd., a Japanese company that specialises in motors, machine tools, cutting tools, and associated items, was purchased by Nidec Corporation in February 2021. The acquisition was made with the intention of expanding our selection of motors and actuators.
Key market players
Mitsuba Corporation
Nidec Corporation
Johnson Electric Holdings Limited
Mabuchi Motors
Abb Ltd.
Wellings Holdings Ltd.
Asmo Co. Ltd.
Constar
Maxon Motors Ag
Buler Motors Gmbh
Risun Expanse Corp.
Kin Yat Holdings Ltd.
Arun Microelectronics Ltd.
Shenzhen Zhaowei Machinery & Electronics Co. Ltd.
Citizen Micro Co. Ltd.,
Dr. Fritz Faulhaber Gmbh & Co.
Lunar Motors Pvt. Ltd.
Foshan Shunde Hengxing Micro-Motor Co., Ltd.
Piezomotor
Zhengke
Segments covered in the report
(Note*: We offer report based on sub segments as well. Kindly, let us know if you are interested)
By Type
By Technology
Brushed Motor
Brushless Motor
By Power Consumption
Below 9V
10V-20V
21V-50V
More than 50V
By Application
Automotive
Medical Equipment
Industrial Automation
Aircraft
Agricultural Equipment
Construction & Mining Equipment
3D Printing
By Geography
North America
Europe
Asia-Pacific

China
India
Japan
South Korea
Malaysia
Philippines

Latin America

Brazil
Rest of Latin America

Middle East & Africa (MEA)