The global nanomedicine market size was estimated at US$ 377.37 billion in 2021 and it is expected to hit over US$ 964.15 billion by 2030 with a registered CAGR of 11% from 2022 to 2030.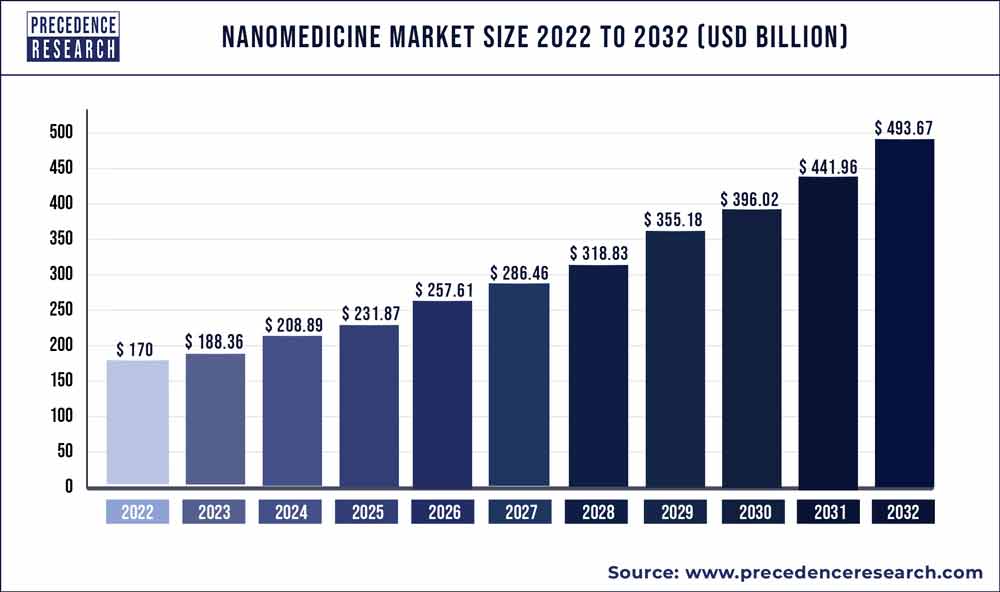 Growth Factors
The nanomedicine is the use of nanotechnology to accomplish healthcare innovation. It makes use of the properties created by a material at its nanometric scale of 10-9 m, which often differ from the same substance at a larger size in terms of physics, chemistry, and biology. Furthermore, the nanometric scale of many biological procedures in the human body, allowing nanomaterials and nanoparticles to potentially cross natural barriers to reach new delivery sites and interact with DNA or small proteins at various levels, whether in blood or within organs, cells, and tissues.
Nanomedicine offers the potential to improve early detection and prevention as well as diagnosis, therapy, and follow up for a wide range of disorders including cancer. In total, hundreds of nanomedicine products are currently undergoing clinical trials, spanning all main disorders such as cardiovascular, neurological, inflammatory, and musculoskeletal. Nanomedicine is an enabling technology in all fields of healthcare with over 80 marketed products ranging from nano-delivery and pharmaceuticals to medical imaging, biomaterials, and diagnostics.
Emerging methods for drug delivery, increased use of nanomedicine across various applications, increased government backing and funding, the surge in demand for therapies with fewer side effects, and cost effectiveness of therapies are driving the worldwide nanomedicine market. On the other hand, the nanomedicine market's growth is limited by the lengthy licensing process and the hazards involved with nanomedicine. Furthermore, the surge in nanodrug out licensing and the expansion of healthcare facilities in emerging nations are expected to give several chances for the nanomedicine market to flourish.
Report Scope of the Nanomedicine Market
| | |
| --- | --- |
| Report Coverage | Details |
| Market Size by 2030 | USD 964.15 Billion |
| Growth Rate from 2022 to 2030 | CAGR of 11% |
| Largest Market | North America |
| Fastest Growing Market | Asia Pacific |
| Base Year | 2021 |
| Forecast Period | 2022 to 2030 |
| Segments Covered | Modality, Application, Indication, Nanomolecule Type, Geography |
| Companies Mentioned | Sanofi SA, Abbott, Pfizer Inc., CombiMatrix Corporation, GE Healthcare, Celgene Corporation, Johnson & Johnson Services Inc., Luminex Corporation, Merck & Company Inc., Nanosphere Inc. |
The use of nanotechnology-based contrast reagents for diagnosis and monitoring of pharmacological effects on an unprecedentedly short timescale is also expected to fuel future growth. The demand is also expected to be influenced by the demand for biodegradable implants with extended lifespans that allow for tissue repair. Nano formulations with triggered release for tailored pharmacokinetics, nano-substances for the tumor management coupled with the radiation and nanoparticles that functions for targeted in-vivo stimulation of the cell production are expected to drive research and development in the future years.
The rising out licensing of nano medicines and the expansion of healthcare facilities in emerging markets are helping to create a market growth potential. The technological improvements such as applications in early illness diagnosis, prevention of acute and chronic ailments, and preventive intervention are likely to drive the nanomedicine market expansion. The nanotechnology entails a number of steps. The nanotechnology is the miniaturization of bigger structures and molecules on a nanometric scale, which has influenced the technology's adoption.
The worldwide nanomedicine market is likely to be driven by the increasing applications of nanomedicine as a result of technological developments in nanotechnology. There has been a boom in research activity in the field of nanotechnology, both by governments and private institutions as well as in the experimental use of this technology to cure a number of chronic diseases. This, together with the nanomedicine market's high unsatisfied medical needs, large geriatric population, and rising incidence of chronic and acute disorders is expected to give it a major boost to the nanomedicine market.
The increased global burden of chronic and infectious disorders is driving the global nanomedicine market. Cancer is the second largest cause of death worldwide, according to the World Health Organization, responsible for more than 9.5 million deaths in 2018. The nanomedicine's ability to control lymphoid and myeloid cell activity as well as improve anticancer immunity and immunotherapy efficacy will boost its use in cancer treatment. Furthermore, the opening of a NanoTherm treatment facility is likely to help the business to flourish.
Thus, the rising prevalence of genetic and cardiovascular illnesses, increasing breakthroughs in nanoscale technologies for diagnostic processes and a growing preference for tailored treatments are all driving the growth of the healthcare nanotechnology industry. On the other hand, the nanomedicine market's expansion is hampered by severe regulatory issues and the high cost of nanoparticle assisted medicine in comparison to its traditional counterparts.
Application Insights
In 2021, the regenerative medicine segment dominated the nanomedicine market. The regenerative medicine is a new field of medicine that aims to restore of restore normal function by replacing, engineering, or regenerating human cells, tissues, and organs that have been lost or harmed due to age, diseases, or congenital abnormalities.
The diagnostic imaging segment, on the other hand, is predicted to develop at the quickest rate in the future years. The diagnostic imaging refers to a variety of procedures for looking into the body to determine the source of an illness and damage and confirm a diagnosis. Doctors also use it to assess how well a patient's body responds to fracture or diseases therapy.
Indication Insights
In 2021, the cardiovascular diseases segment dominated the nanomedicine market. The heart or blood vessels are affected by this sort of sickness. High blood pressure, smoking, high cholesterol, a poor diet, and obesity can all raise the risk of cardiovascular disease.
The oncological diseases segment, on the other hand, is predicted to develop at the quickest rate in the future years. The main oncological disease is cancer. The different types of cancers such as breast cancer, stomach cancer, and lung cancer are categorized into oncological diseases.
Region Insights
North America dominated the nanomedicine market in 2021. The technological advancements combined with relevant applications in early disease diagnosis, prevention, and prophylactic of acute and chronic disorders are expected to drive the nanomedicine market growth in the U.S.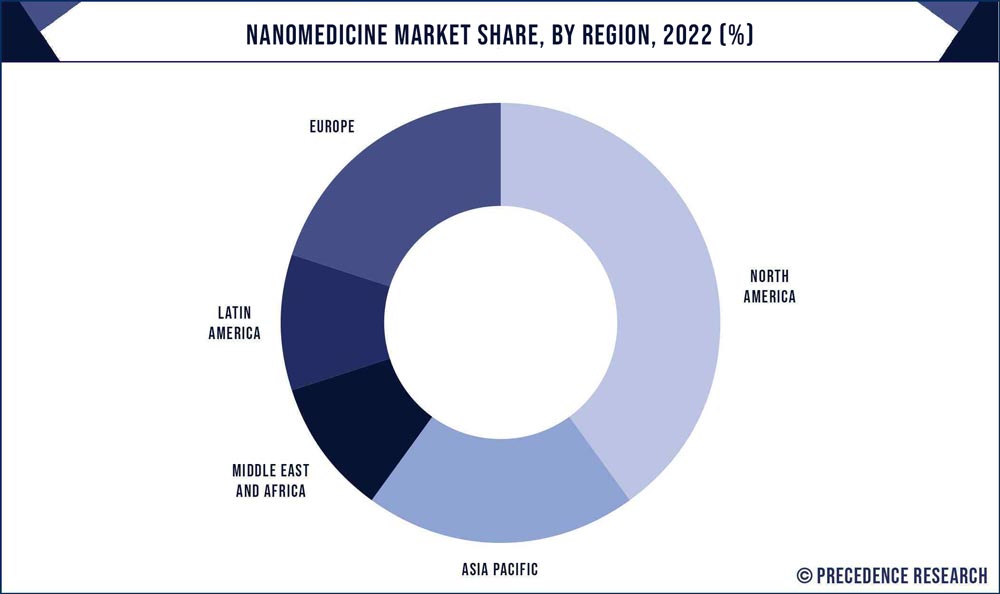 Asia-Pacific, on the other hand, is expected to develop at the fastest rate during the forecast period. Various research and development efforts are also now occurring in the region on pharmaceuticals and diagnostics based on nanotechnology, which may fuel the nanomedicine market expansion.
Key Developments
NaNotics LLC and Mayo Clinics announced a research partnership in January 2022 to develop a NaNot that targets the soluble form of PD-L1, a tumor generated immune inhibitor.
In March 2021, an agreement between Barcelona institutions and the University of Manchester's Nanomedicine Lab was awarded EUR 12 million in funding to boost the European medical nanotechnology industry.
Medtronic PLC introduced its new Adaptix Interbody System, a guided titanium spinal implant with Titan nanoLOCK Surface Technology, in October 2020.
Ablynx and Novo Nordisk announced a global collaboration and licensing agreement in November 2015 to develop and discover novel pharmaceuticals using multi-specific nanobodies. This strategic alliance is expected to increase product net annual sales, boosting the nanomedicine market growth.
Some of the prominent players in the global nanomedicine market include:
Sanofi SA
Abbott
Pfizer Inc.
CombiMatrix Corporation
GE Healthcare
Celgene Corporation
Johnson & Johnson Services Inc.
Luminex Corporation
Merck & Company Inc.
Nanosphere Inc.
Segments Covered in the Report
(Note*: We offer report based on sub segments as well. Kindly, let us know if you are interested)
By Modality
By Application
Drug Delivery
Diagnostic Imaging
Vaccines
Regenerative Medicine
Implants
Others
By Indication
Oncological Diseases
Infectious Diseases
Cardiovascular Diseases
Orthopedic Diseases
Neurological Diseases
Urological Diseases
Ophthalmological Diseases
Immunological Diseases
Others
By Nanomolecule Type
Nanoparticles

Metal & Metal Oxide Nanoparticles

Liposomes

Polymers & polymer drug conjugates

Hydrogel nanoparticles

Dendrimers

Inorganic nanoparticles

Nanoshells

Nanotubes

Nanodevices
By Geography
North America
Europe
Asia-Pacific

China
India
Japan
South Korea
Malaysia
Philippines

Latin America

Brazil
Rest of Latin America

Middle East & Africa (MEA)

GCC
North Africa
South Africa
Rest of the Middle East & Africa