The global neurotechnology market size was evaluated at USD 12.82 billion in 2022 and is projected to hit around USD 38.17 billion by 2032, growing at a CAGR of 11.53% during the forecast period 2023 to 2032.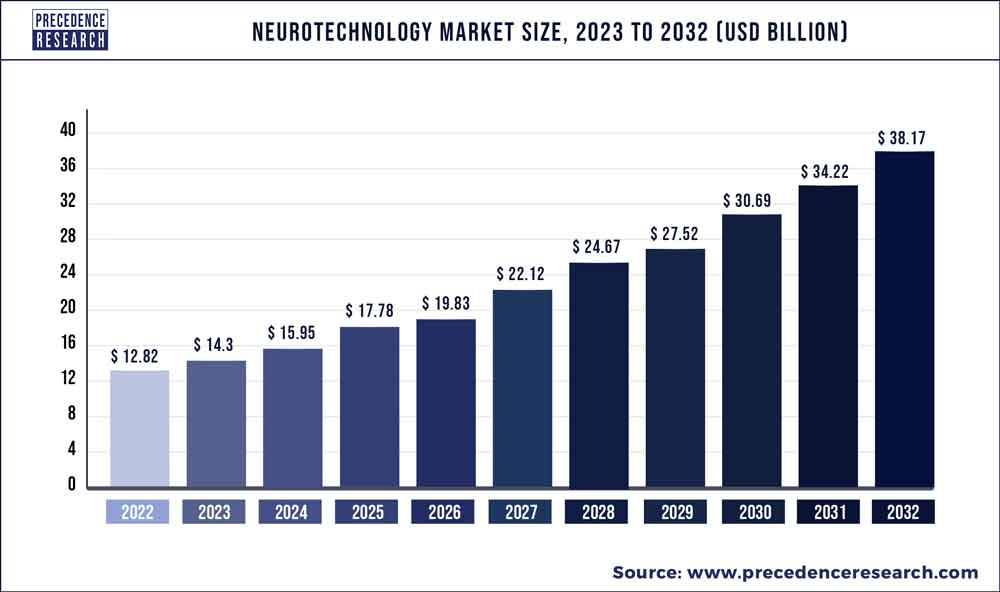 Access our Premium Real Time Data Intelligence Tool, Visit: Precedence Statistics
Key Insights:
By product type, the neurostimulation segment will likely dominate the market in 2022.
By conditions, the neurotech devices market share for pain treatment will likely increase significantly from 2023 to 2032.
By end-use, the hospital segment will likely dominate the market in 2022.
By geography, The North America is expected to expand significantly from 2023 to 2032.
Market Overview
Neurotechnology has a promising future in altering human nature when employed fundamentally. Existing neurotechnology-based devices describe how the brain works, but further study is required before they can be fully implemented. For accurate neurological ailment diagnosis and prognosis, researchers can connect to brain activity and understand people's lifestyle patterns and personalities owing to the application of neurotechnology in medical science. During the projected 2023–2032, each of these variables may present the neurotechnology market with new growth opportunities.
Neurotechnology is defined as technical development that enables the investigation and treatment of neurological processes. The nervous system controls almost every aspect of human biology and is essential for experiencing the environment. Any interruption of a procedure could be dangerous to a person. Therefore, neurological research and treatment are crucial for curing these patients' symptoms and understanding the complex ways the brain works.
Our industry-leading market research accuracy is primarily due to the data-driven and expert research report by Precedence Research methodologies. The results of the expert market survey provide stakeholders with a multidimensionally realistic analysis of market growth characteristics, such as new trends, regional dynamics, competitive insights, drivers, constraints, and development.
Report Scope of the Neurotechnology Market
| | |
| --- | --- |
| Report Coverage | Details |
| Market Size in 2022 | USD 12.82 Billion |
| Market Size by 2032 | USD 38.17 Billion |
| Growth Rate from 2023 to 2032 | CAGR of 11.53% |
| Base Year | 2022 |
| Forecast Period | 2023 to 2032 |
| Segments Covered | By Product Type, By Conditions, By End-Use |
| Regions Covered | North America, Europe, Asia-Pacific, Latin America and Middle East & Africa |

Market Dynamics
The prevalence and incidence of neurological disorders are rising, and growing funding from private and public entities is fueling the demand. UN estimates that approximately 1 billion people worldwide suffer from neurological illnesses. Expensive goods, moral dilemmas, and a rigid regulatory framework will probably constrain the industry's growth.
As malignant CNS diseases like Parkinsonism and Alzheimer's become more prevalent, the sector is expected to grow dramatically. This industry is predicted to have good growth possibilities since the aging population is more prone to central nervous system diseases like schizophrenia, Alzheimer's, and Parkinsonism. Several variables, including ongoing brain mapping research and other research initiatives, government-led neuroscience initiatives, and technological developments in the tools and algorithms utilized in the neuroscience profession, are likely to drive the market forward.
The leading cause is that neurological disorders are becoming more common and more severe. The primary factors driving the regional expansion of the neurotechnology market include a sizable patient base, an increase in traffic accidents, an aging population, and significant government expenditure in research and development.
Covid-19 Impact
The current COVID-19 epidemic has significantly impacted the neurotechnology sector due to strict lockdown regulations and restrictions on people's freedom of movement. The great coronavirus pandemic has dominated the field of neurology.
The amount of money allocated for neurotechnology has been decreasing since COVID-19 vaccine manufacture has consumed most of the available funding. Additionally, fewer appointments have been made to preserve social distance and stop the virus's spread, which will impact the market expansion.
Segments Insight
The term "neurotechnology" refers to a field of science that focuses on how the brain functions and includes technologies created to improve and restore such functionality. To study the activity of the brain, researchers and developers use neurotechnology. By updating neurotechnology, depression, restlessness, excessive exercise, and many other illnesses may be resolved. Epilepsy and degenerative motor illnesses, including Huntington's disease, Parkinson's disease, and ALS, can all benefit from treatments. The development and rehabilitation of a patient with neurological issues could be supported by technological innovation in neurotechnology.
Product Type Insights
The neurostimulation market will likely dominate the neurotechnology market in 2022 in terms of product type as it assists in treating several illnesses like epilepsy, movement problems, chronic pain, and Parkinson's disease; neurostimulation devices administer electric impulses to particular parts of the brain, nervous system, or peripheral nervous system. They are biocompatible, programmable medical devices. Future growth for neurostimulation devices is being driven by an increase in the incidence of lifestyle diseases, including chronic pain and depression, as well as a rise in the number of neurological illnesses and investment in neurological technology and development.
Conditions Insights
Based on conditions, in the upcoming years, the neurotech devices market share for pain treatment will likely increase significantly. The main factors influencing the market for this sector are the increased prevalence of chronic pain disorders and the rising demand for pain management products due to their significant therapeutic advantages. During the projection period, the sector is anticipated to grow the fastest. Diseases like disc surgical procedures, discomfort, pain in the knees or other muscles, and chronic pain are included in this section.
End-Use Insights
The hospital sector will likely dominate the industry in 2022, according to the neurotechnology market forecast. This expansion can be linked to increased public and private investment in healthcare settings to create established healthcare facilities. Neuromodulation, an invasive method that requires surgical implantation of an electrode in the brain area affected, is the most typical use for adaptive neurotech devices in hospitals. However, because of these potential benefits, the market sector is anticipated to expand over the next few years. Additionally, hospitals have highly qualified staff, specialized equipment, and state-of-the-art neurotech gadgets to perform a variety of brain diagnoses and treatments.
Regional Insights
The neurotechnology industry in North America is expected to expand significantly in the upcoming years because of the region's increasing technological innovation and advanced healthcare settings in neurotech equipment. The market is changing in favor of more knowledge and investment in diagnosing and treating neurological diseases at various primary care facilities.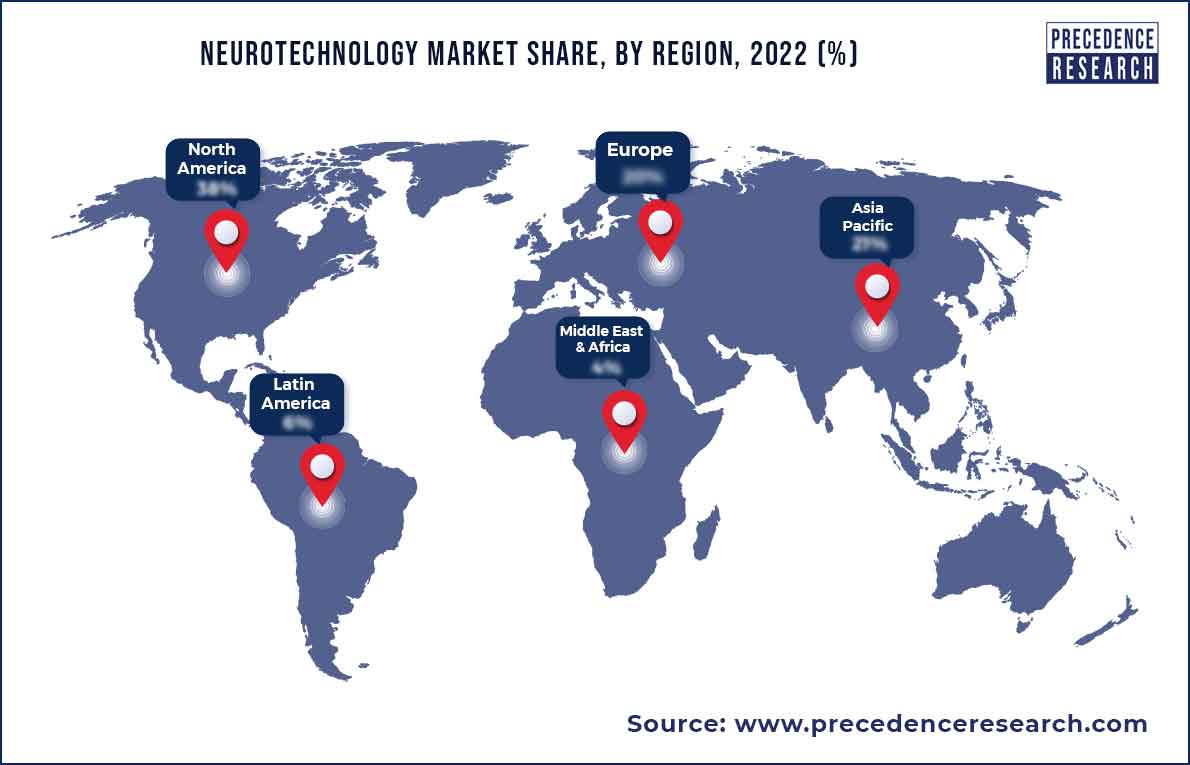 The existence of different market participants devoted to creating cutting-edge neurotech devices to enhance patient monitoring will aid market expansion. The working of significant industry players should help the region's growth in the upcoming years to increase public knowledge of neurotech devices through marketing and promotion.
Recent Developments
In September of 2021, for patients suffering from recurrent ischemic stroke, Abbott won the Food and Drug Administration (FDA) certification of Occlusion System for its Amplatzer Talisman Patent Foramen ovale (PFO). This makes the PFO occlusion process more effective and efficient, more quickly and easily. The corporation has enhanced its whole product offering thanks to this technique.
In April 2022, for USD 1.2 Bn, ArchiMed, a renowned healthcare investment firm, will purchase Natus Medical Incorporated. The corporation provided customers with valuable services because of this acquisition.
Competitive Analysis
Launching new, technologically advanced goods is the key driver of the global neurotechnology market's expansion. Additional factors driving the growth of the neurotechnology market include a rise in the incidence and occurrence of neurological diseases and an increase in financing and grants from both governmental and private organizations. The increased patent transfers, mergers, and acquisitions, product introductions, joint ventures, expanded R&D activities, and product consolidation among local and foreign firms show that the leading players in the neurotechnology market have consolidated.
Several top players that compete in the global neurotechnology market include General Electric Company, Siemens Healthcare Private Limited, Shimadzu Corporation, Koninklijke Philips N.V., Hitachi Medical Corporation, Elekta AB, Toshiba Medical Systems Corporation, and Tristan Technologies, Inc.
Segment Covered in the Report
(Note*: We offer reports based on sub-segments as well. Kindly, let us know if you are interested)
By Product Type
Neurostimulation

Deep Brain Stimulator
Spinal Cord Stimulator
Gastric Electric Stimulator
Vagus Nerve Stimulator
Sacral Nerve Stimulator
Transcutaneous Electrical Nerve Stimulation (TENS)
Others

Neurosensing
Neuroprostheses
Neurorehabilitation
By Conditions
Cognitive Disorders
Pain Treatment
Urinary and Fecal Incontinence
Epilepsy
Parkinson's disease
Hearing Conditions
Sleep Disorder
Depression
Others
By End-Use
Ambulatory surgical centers
Hospitals
Homecare facilities
Others
By Geography
North America
Europe
Asia-Pacific
Latin America
Middle East & Africa (MEA)