The global nitrogen market size is expected to surpass around USD 79.74 billion by 2032 from USD 33.84 billion in 2022, growing at a compound annual growth rate (CAGR) of 9% from 2023 to 2032.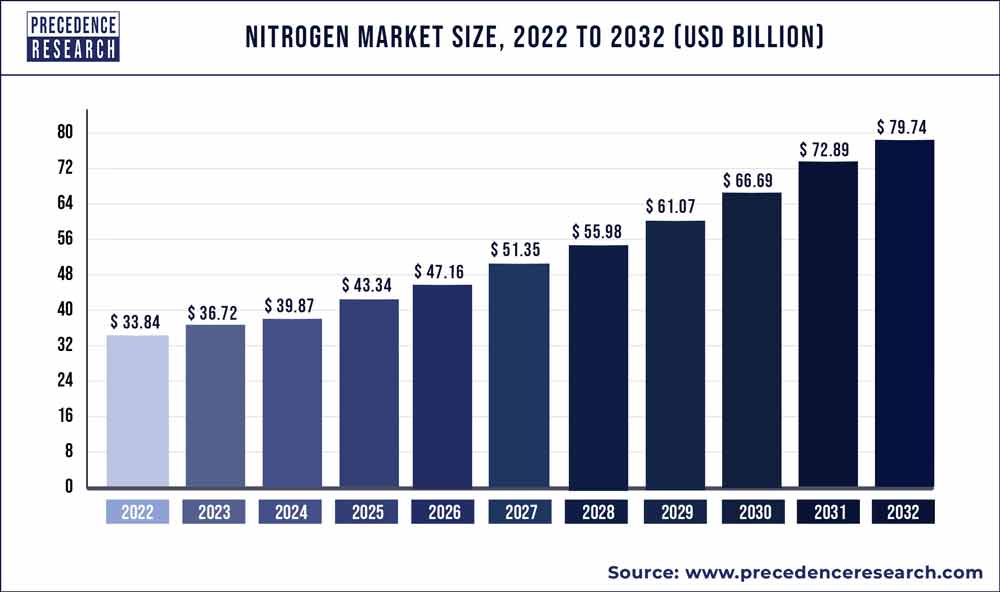 Access our Premium Real Time Data Intelligence Tool, Visit: Precedence Statistics
The nitrogen market consists of the sales of industrial nitrogen and related services used in a variety of applications, including steel manufacture to stop oxidation and food packaging in the food sector to avoid food spoiling.
The market for nitrogen is expanding in part because of the expanding food and beverage sector. In the food and beverage business, nitrogen gas is frequently utilized to package food products. Nitrogen gas prevents oxygen from coming into touch with the food item, extending the shelf life of the food by preventing oxidation. This helps to retain the quality of the food by preventing food deterioration. The need for nitrogen has significantly increased as a result of the expansion of the food and beverage sector. Consequently, this will help the nitrogen industry flourish.
Mechanical severance or fractional refining of air yields industrial nitrogen, a very pure element. It is frequently found in gaseous or liquid form and is utilized in a wide range of end-use processes, including those in the manufacture of metal, food, beverages, chemicals, and agrochemicals. The requirement to maintain the quality and safety of processed food items has increased significantly as a result of the expanding population, especially in developing countries.
Growth Factors
The rapidly increasing applications of nitrogen in the end user is rising the demand of nitrogen in the market. Nitrogen gas is utilized for a number of reasons across several industries. Industrial nitrogen use has gained appeal all over the world due to its inexpensive cost. Due to technological advancements, industrial nitrogen is now a practical solution for a variety of industries.
The growing uses of nitrogen in general people's need.
Inexpensive cost of nitrogen.
Increasing demand for nitrogen in the industry
Report Scope of the Nitrogen Market
| | |
| --- | --- |
| Report Coverage | Details |
| Market Size in 2023 | USD 36.72 Billion |
| Market Size by 2032 | USD 79.74 Billion |
| Growth Rate from 2023 to 2032 | CAGR of 9% |
| Base Year | 2022 |
| Forecast Period | 2023 to 2032 |
| Segments Covered | Product Type, Application, End-User, and Geography |
| Companies Mentioned | Air Liquide, Yingde Gases Group Company, Linde Group, Praxair Inc., nexAir, CanAir Nitrogen, Chengdu Taiyu Industrial Gases, Universal Industrial Gases, Air Products and Chemicals, Messer Group, Southern Industrial Gas Berhad, Taiyo Nippon Sanso, Corporation, Gulf Cryo, Emirates Industrial Gases Co. LLC |

Key Market Drivers
Rising applications - The increased use of nitrogen in the food and beverage sector is driving growth in the worldwide industrial nitrogen market. The growing food and beverage industry is one factor driving the growth of the nitrogen market. Nitrogen gas is commonly used in the food and beverage industry to package food goods. By preventing oxygen from coming into contact with the food item, nitrogen gas increases the shelf life of the meal. Halting food degradation, this preserves the food's quality. Moreover, the market is being boosted by the quick advancements achieved in this end-use industry in different areas of the world. A prominent trend that is projected to be crucial in the market's growth dynamics is the rise in the use of nitrogen in the healthcare sector and the manufacture of pharmaceuticals in both emerging and developed areas.
Rising demand of nitrogen - Over the next few years, the increased demand for industrial nitrogen in the chemical sector is anticipated to present possibilities for the worldwide market. The market is anticipated to be driven by ongoing developments in cryogenic fraction distillation technology. The market is anticipated to see growth throughout the forecast period as demand for improved food preservation technologies increases.
Key Market Challenges
Drawbacks of nitrogen - Liquid nitrogen, which has a boiling point of -196C, is used for a number of things, including a coolant for machinery, treatment to get rid of extra skin, pre-cancerous cells, and cryogenics. The vapor of liquid nitrogen has the potential to quickly freeze skin tissues and even result in cold burns. If someone swallows some of it, it may result in the expansion of liquid nitrogen in the stomach. Since liquid nitrogen may cause frostbite and cryogenic burns which are similar to those caused by steam or hot oil appropriate safety precautions must be taken when handling it due to its extreme coldness. These elements are impeding the expansion of the liquid nitrogen industry.
Key Market Opportunities
Increasing demand from chemical industry
The chemical industry's need for nitrogen presents a profitable business potential. In the chemical industry, nitrogen gas is an essential safety measure to prevent fire and explosions as well as to guarantee product integrity. At chemical processing and storage facilities, nitrogen gas will also be pushed into the tank head area to entirely eliminate the chance of product degradation or contamination. In order to transport items between tanks under pressure and to remove unwanted contaminants from liquid, nitrogen gas is widely utilized.
Segments Insight
Product Type Insights
On the basis of product type, the compressed gas segment is expected to have the largest market share in the coming years period this segment has dominated the market in the past with the maximum share in terms of revenue and it will continue to grow well in the coming years. The main element of an industrial gas system is compressed nitrogen gas. Cryogenic fraction distillation is a commonly utilized technique in the manufacturing of high-purity industrial gates. Throughout the projection period, there is expected to be an increase in the demand for compressed nitrogen gas for cylinder systems used in membrane separation, pressure swing adsorption, and cryogenic fractional distillation.
Foods are frequently widely and deeply frozen using liquid nitrogen, which is created via a process called cryogenic distillation. Liquid nitrogen is frequently used to preserve food, biological, and medicinal items because of its quick cooling properties and safety when added to food ingredients. Additionally, it is inert and non-toxic to food items and their constituents, which is anticipated to boost market demand.
Application Insights
On the basis of application, the industrial nitrogen segment is expected to have the largest market share in the coming years period, the segment has dominated the market and it will continue to grow well in terms of revenue. Industrial gas producers are increasingly turning to pressure swing adsorption (PSA) technology as a low-cost, highly effective way to manufacture nitrogen.
On the basis of adsorption, PSA systems work. They are composed of adsorption tanks filled with carbon molecular sieves (CMS), which may collect carbon dioxide and lingering moisture. As a result of CMS's ability to selectively adsorb oxygen at high pressures, nitrogen may flow through with the necessary level of purity. Compared to conventional cryogenic distillation or liquid nitrogen storage, nitrogen may be generated on-site utilizing PSA devices more affordably. For the low-cost nitrate manufacturing, Mahler AGS, a German producer of on-site gas generating facilities, uses PSA systems. PSA systems are being used by significant industrial gas producers to increase nitrogen output, including Linde, Air Liquide, and Praxair.
End-User Insights
On the basis of end user, the segment of food & beverages has emerged as a dominant market due to the huge demand of nitrogen in the industry. To keep commercially produced food items fresher for longer, nitrogen is employed in modified environment packaging. It also benefits in the packaging and storage of food and beverages by maintaining freshness and extending product shelf life. Additionally, nitrogen is utilized in food packaging and is primarily employed in the winemaking process to eliminate and stop oxygen from coming into contact with the wine.
In order to avoid oxidation, which can cause the wine to lose quality, food-grade nitrogen should be used. Moreover, beer, wine, and water are among the still and fizzy beverages that benefit from the packing of nitrogen.
Regional Insights
On the basis of geography, Asia-Pacific is expected to continue to be among the most alluring markets, and this region is accounted for the majority revenue share in the market throughout the projection period. The major portion of the global nitrogen market is located in Asia Pacific. This can be a result of the area's quick growth and expanding population. Furthermore, it is anticipated that this region's healthcare system would improve over the next years, which will increase demand for nitrogen.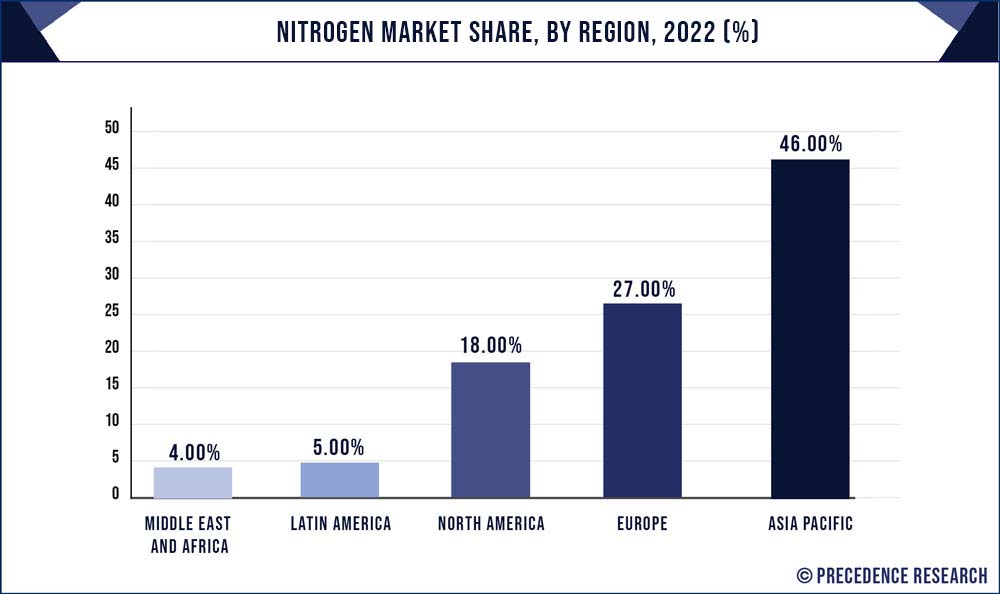 Additionally, the growing use of ammonia-based fertilizers in agricultural nations to increase soil fertility is anticipated to fuel market growth throughout the course of the projected period. Additionally, the rapid rate of industrialization is anticipated to fuel market growth in the area, particularly the expansion of end-use sectors like food and beverage. The use of improved nitrogen production techniques also improves the market's prospects in the area.
The demand for industrial nitrogen is projected to mature in developed markets like those in North America and Europe. Therefore, throughout the projection period, these locations can provide unappealing additional prospects. The growing chemical and pharmaceutical industries will raise demand for liquid nitrogen, which is predicted to drive the market in Europe for liquid nitrogen over the forecast period.
Recent Developments
In October 2019 – Southern Industrial Gases was purchased by Air Liquide, a French multinational corporation that offers industrial gases and services, for an unknown sum. By acquiring Southern Industrial Gases Sdn Bhd, Air Liquide would be able to fill twice as many packaged gases in Malaysia. Malaysia-based Southern Industrial Gases is a provider of industrial gas solutions and services.
Segments Covered in the Report
(Note*: We offer report based on sub segments as well. Kindly, let us know if you are interested)
By Product Type
Compressed gas
Liquid nitrogen
By Application
Commercial
Industrial
Science and research
By End-User
Petrochemical
Oil and gas
Metal manufacturing and fabrication
Food and beverage
Electronics
Pharmaceutical and healthcare
Chemical
By Geography
North America
Europe
Asia-Pacific
Latin America
Middle East & Africa (MEA)