The global oilseed market size was valued at US$ 256.36 billion in 2021 and it is projected to be worth around US$ 385.45 billion by 2030 and making a CAGR of 4.64% during the forecast period 2022 to 2030.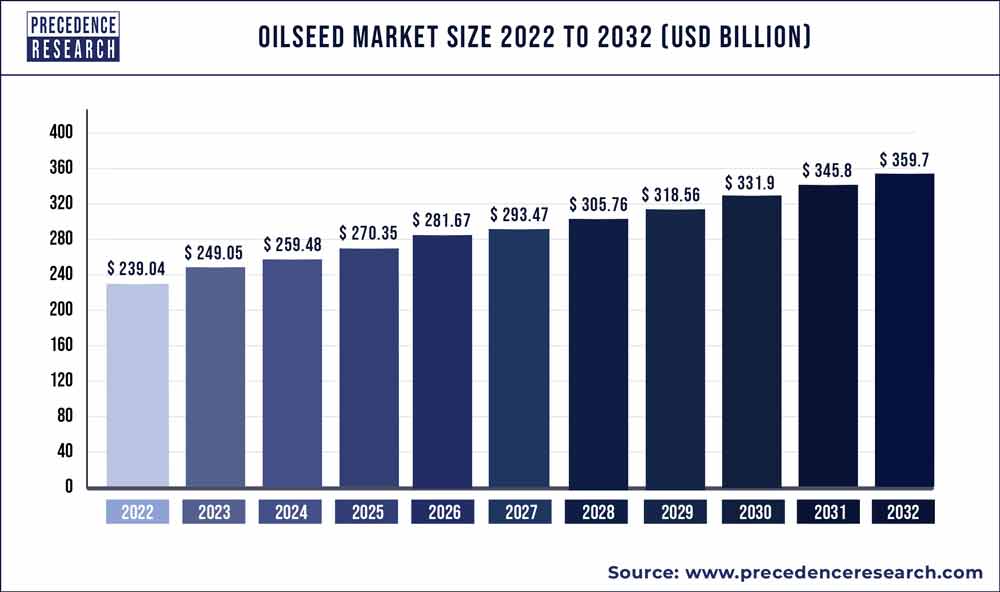 Oilseeds like sunflower, groundnut and soybean are mainly used as vegetable oil in households. People use these oilseeds as they are very beneficial to health and also they generate income and employment. These crops are not only limited to domestic use; they can also be applied in various other industry sectors like food, pharmaceuticals, cosmetics and animal feed. Because of this versatility of oilseeds, they are now in more demand and for that reason the market is booming worldwide. The oil produced from oilseed is used in human food products, while the oil residue is used as animal feed.
Vegetable oil is an invaluable product in the whole world. Due to increased acceptance and a vast area under cultivation anticipate the market to be augmented. Soybeans contain fiber, protein and are cholesterol free. Cottonseed oil is cooking oil made from the seeds of Gossypium hirsutum and gossypium herbarium cultivated for cotton plants, especially cotton fibre and animal feed, and like other oilseeds, such as sunflower seeds, cotton seeds have and oily core surrounded by a hard outer shell. Oil is removed from the grain during processing. Oil is extracted from soybean to use it as a vegetable oil. It is the second most consumed oil. Soybean is not only used for extracting oil but also for consumption as a seed legume in human diet. Soybean meal is an important component of formulated poultry and fish meals. Soybean protein is referred to as a complete protein because of its amino acid content. It is well known for its nutritional significance in the treatment of heart disease and diabetes.
Printing inks (soy ink) and oil paints use processed soybean oil as a foundation for drying oils. Sesame seed is one of the world's oldest oilseed crops, having been domesticated over 3,000 years. Many other species of Sesame exist, the majority of which are wild and native to Sub-Saharan Africa. The cultivated type, S. indicium, is from India. It thrives in drought-stricken areas, where other crops have failed. The oil content of sesame is among the greatest of any seed. It's a common component in cuisines all across the world because of its rich, nutty flavor. It, like other foods, has the potential to cause allergic responses in some people. Japan imports the most sesame in the world. Sesame oil, peculiarly from roasted seeds, is a significant component of Japanese cuisine and has traditionally been the seed's primary purpose. World's second-largest importer of sesame is China, primarily oil-grade sesame. China sells food-grade sesame seeds at a reduced cost, primarily to Southeast Asia.
Report Scope of the Oilseed Market
| | |
| --- | --- |
| Report Coverage | Details |
| Market Size by 2030 | USD 385.45 Billion |
| Growth Rate from 2022 to 2030 | CAGR of 4.64% |
| North America Market Share in 2021 | 35% |
| Fastest Growing Region | Asia Pacific |
| Base Year | 2021 |
| Forecast Period | 2022 to 2030 |
| Segments Covered | Product, Type, Breeding, Biotech Trait, End User, Application, Geography |
| Companies Mentioned | Archer Daniels Midland Company, BASF SE, Bayer AG, Burrus Seed Farms, Inc, Cargill Incorporated, Corteva Agriscience, Gansu Dunhuang Seed Industry Group Co., Ltd., KWS SAAT SE & Co., Mahyco Seeds Ltd, Syngenta Crop Protection AG. |
Growth Factors
The market is booming as the production of soybean oil has increased as the result of its demand by the population due to its nutritional value. Some of the reasons driving the growth of the oilseeds market include the need for healthy and organic oilseed-processed goods, public-private collaborations in varietal development, and molecular breeding in oilseeds. Sunflower seeds are used for the purpose of producing sunflower oil.
Sunflower oil is extensively used as frying oil in food and as a lubricant in cosmetic applications. It contains linoleic acid, a polyunsaturated fat and oleic acid, a monounsaturated fat. It also consists of huge amounts of Vitamin E. Unrefined sunflower oil is used as a salad dressing in Eastern European cuisines as it contains omega-6 fatty acids and is very nutritious. It is generally used by the public for its health benefits. Sunflower butter contains sunflower oil as well. When sunflower oil is extracted, the crushed seeds are left behind, which are high in protein and dietary fibre and can be utilized as animal feed, fertilizer, or fuel. PEG-10 sunflower glycerides are the polyethylene glycol derivatives of mono- and diglycerides generated from sunflower seed oil with an average of 10 moles of ethylene oxide, and are a pale yellow liquid with a "slightly fatty" odour.
Sunflower glycerides PEG-10 are widely utilized in cosmetic compositions. When mixed with diesel in the tank, sunflower oil can be utilized to run diesel engines. In frigid temperatures, viscosity is enhanced due to the high quantities of unsaturated fats. Because it is a rich source of oil, ash calcium, carbohydrate and protein, the sunflower segment in this market is expected to grow at the quickest rate. Sunflower seeds are widely employed in the feed business as sunflower meal, which is increasingly being used as an alternative for soybean meal due to its higher price. Canola or rapeseed oil is produced by Rapeseed, which is also known as rape or colza, which is a mustard plant cultivated for its seeds. Canola oil is multifarious in nature as it is used for cooking, as a soap and margarine ingredient, and as a lamp fuel (colza oil). Jet engines use the liquefied form of the oil to lubricate and can also be converted to biodiesel.
Fodder is produced, as a result of the seeds which are left over after oil extraction. The plant can be used as a green manure and cover crop. After soybean and palm oil, rapeseed was the world's third-largest source of vegetable oil in 2000. After soybean, it is the world's second-largest source of protein meal. Rapeseed meal is produced as a byproduct of the oil extraction process. A high-protein animal feed is produced as a byproduct, which is competitive with soybean. The feed is mostly used for cattle, although it is also used for pigs and fowl. Natural rapeseed oil, on the other hand, includes 50% erucic acid and large quantities of glucosinolates, lowering the nutritional value of rapeseed press cakes for animal feed.
Type Insights
The sunflower segment is expected to have the highest growth due to its high protein and calcium content. This segment is expected to dominate the market due to its wide acceptance across the globe.
Application Insights
Households or residential areas
Oilseeds are used as a vegetable oil cooking. They are used in households as they are abundant in protein and fat, and they have a high fat content. As a result, they are not only high in protein, but also high in concentrated energy. The expanding demand for vegetable oils in an ever-increasing number of homes is driving demand for oilseeds. Furthermore, the growing need for biofuels in both developing and developed countries is propelling the oilseeds market forward. To meet the ever-increasing demand for oil around the world, farmers are increasingly turning to genetically engineered oilseeds to boost productivity.
In commercial sector, oilseeds are high in demand because of its various applications. Oilseeds like sunflower as a type of moisturizer in cosmetic products. Oil seeds are India's second-largest agricultural export after food grains. As people are taking precedence over their health, they are choosing vegetable oil over animal fat. Linseed Oil, in addition to different vegetable oils, are extensively used for manufacturing of paints, varnishes, and lubricants. Employment is also booming as people are hired in factories to extract fit to be eaten oil from oil seeds. More than ten million people are hired in the oil sector. Oil-cake is used to feed cows and also as a fertilizer for vegetation which includes cotton, tobacco, tea, and sugarcane. Edible oils are essential part of our life as they provide health benefits.
Oilseeds are also used in Automobile sector extensively as a source of fuel. For example, sunflower oil is used in diesel engines to run it when mixed with diesel in the tank. In the automobile paint industry, castor seed oil has been evaluated as a plasticizer and film forming. The seed meal had a low moisture content, making it ideal for glossy auto paint.
Biodiesel uses rapeseed oil in engines as gas to power it in heated gas systems or mixed with cleansing petroleum. Biodiesel can be utilised in its Natural shape in contemporary in jeans without inflicting harm To the engine, and it's far mechanically mixed with fossil gas diesel in ratios starting from 2% to 20% Biodiesel. Because rapeseed derived biodiesel from new oil is more costly than everyday diesel gas because of the expenses of cultivating, crushing, and refining rapeseed biodiesel, diesel fuels are usually crafted from vintage oils.
Rapeseed oil is the number one oil inventory for biodiesel manufacturing in maximum of Europe, accounting for over 80% of the feedstock. This is partially because of the truth that rapeseed produces greater oil according to unit of land region than different oil sources, together with palm oil. A 2018 study observed that rapeseed could turn out to be an unreliable supply of oil for biofuels due to environmental modifications associated with the aid of using weather change.
Geography Insights
North America leads the oilseed market with a large market share of 35% in 2021. This is due to the increased use of cooking oil in regular cooking, which increases oilseed production. Moreover, soybean production in the United States has increased, so the growth in soybean oil consumption is continuing to accelerate the growth of the market. The United States is the world's largest soybean producer and second largest exporter. Soybeans hit about 90% of US oilseed production.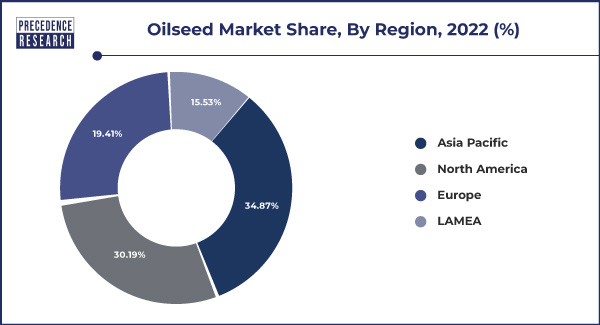 However, Asia-Pacific is forecast to be the fastest growing market during the forecast period 2022-2030 due to the growing food processing industry and increasing soybean production. India is considered the 4th largest producer of oilseeds and about 39.46 million tons of oilseeds were produced in 2018. Furthermore, soybean is the most important crop grown in India and hit 95% of the total production, which increases the use of soybeans oil and thus drive the growth of the market.
Key Market Players
Archer Daniels Midland Company
BASF SE
Bayer AG
Burrus Seed Farms, Inc
Cargill Incorporated
Corteva Agriscience
Gansu Dunhuang Seed Industry Group Co., Ltd.
KWS SAAT SE & Co.
Mahyco Seeds Ltd
Syngenta Crop Protection AG.
Key Market Developments
Corteva Agriscience is a plant science innovator. This organization had focused on enhancing its agricultural output in 2019 and decided a strategic collaboration for its growth. This collaboration will be helpful for ZeaKal's to innovate its technology in order to enhance the productivity and quality of the Oilseeds. The use of this technology will improve the process of photosynthesis
Segments covered in the report
(Note*: We offer report based on sub segments as well. Kindly, let us know if you are interested)
By Product
Sunflower
Soybean
Sesame
Cottonseed
Rapeseed
By Type
By Breeding
Genetically Modified
Conventional
By Biotech Trait
Herbicide Tolerant
Insecticide Resistant
Other Stacked Trait
By End User
Household or Residential Area
Commercial or Corporate sector
Automobiles
By Application
Oilseed Meal
Food Products
Bakery & confectionery products
Sauces, spreads, and dressings
Meat products
Others include
Feed
Industrial products
Vegetable Oil
Food products
Bakery & confectionery products
Sauces, spreads, and dressings
Meat products
R.T.E., snacks, and savory products
Industrial products
By Geography
North America
Europe
Asia-Pacific

China
India
Japan
South Korea
Malaysia
Philippines

Latin America

Brazil
Rest of Latin America

Middle East & Africa (MEA)

GCC
North Africa
South Africa
Rest of the Middle East & Africa