The global opioids market size accounted for USD 22.4 billion in 2022 and is predicted to reach around USD 25.61 billion by 2032, expanding at a CAGR of 1.4% from 2023 to 2032.
Access our Premium Real Time Data Intelligence Tool, Visit: Precedence Statistics
Key Takeaways
North America led the global market with the highest market share of 45% in 2022.
Asia-Pacific is estimated to expand at the fastest CAGR during the forecast period.
By Application, the pain relief segment has held the major market share of 24% in 2022
By Application, the anesthesia segment is estimated to grow at the fastest CAGR over the projected period.
By Route Of Administration, the injectable segment has held the highest revenue share of 44% in 2022.
By Route Of Administration, the oral segment is anticipated to expand at a CAGR of 2.5% over the predicted period.
By Distribution Channel, the retail pharmacy segment led the market with the maximum market share of 38 % in 2022.
By Distribution Channel, the three-dimensional segment is growing at a CAGR of 2.8% over the predicted period.
Opioids Market Overview
The opioid market of 1998 denoted the realm within the pharmaceutical sector centered on the manufacturing and dissemination of opioid medications, known for their potent pain-alleviating properties. During this period, prescription opioids such as OxyContin and Vicodin held a prominent position, prescribed for managing moderate to severe pain. However, there was a mounting concern in 1998 regarding the excessive prescription and potential addiction risks associated with these drugs. Regulatory measures and public awareness campaigns had yet to catch up with the prevalent availability and misuse of opioids, presaging the profound crisis that would unfurl in the years that followed.
Opioids Market in the U.S. 2023-2032
The U.S. opioids market size was valued at USD 5.75 billion in 2022 and is estimated to reach around USD 6.57 billion by 2032, growing at a CAGR of 1.4% from 2023 to 2032.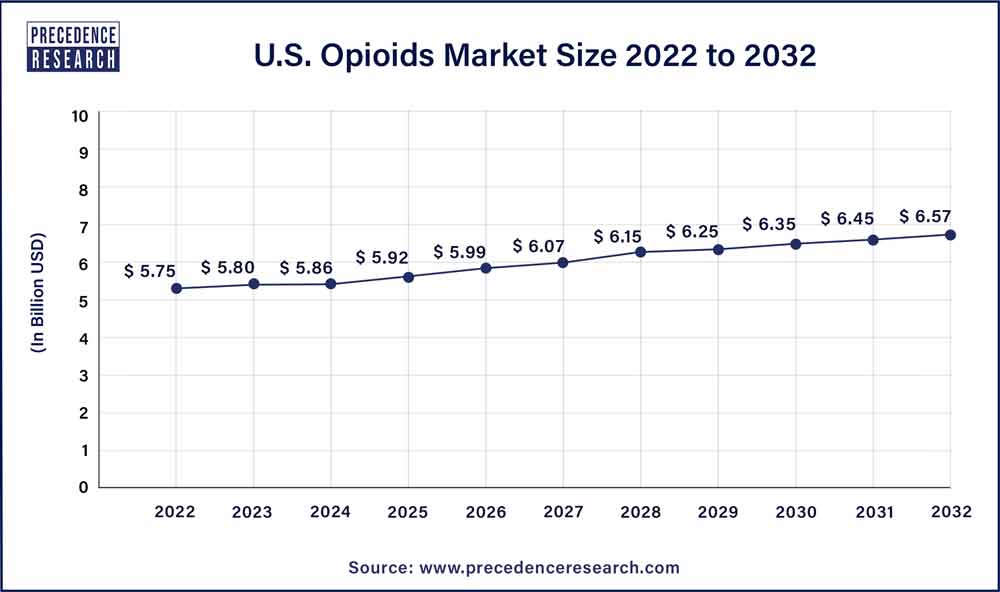 North America has held the largest revenue share 45% in 2022. North America commands a substantial share in the opioid market due to several factors. The region has a higher prevalence of chronic pain conditions, a well-established healthcare infrastructure, and a greater awareness of pain management options. Additionally, liberal opioid prescribing practices in the past contributed to a larger patient population exposed to these drugs. Despite increased regulatory scrutiny and efforts to combat the opioid crisis, North America remains a significant consumer of opioids. Furthermore, robust pharmaceutical research and development in the region have led to the creation of abuse-deterrent formulations, driving market growth.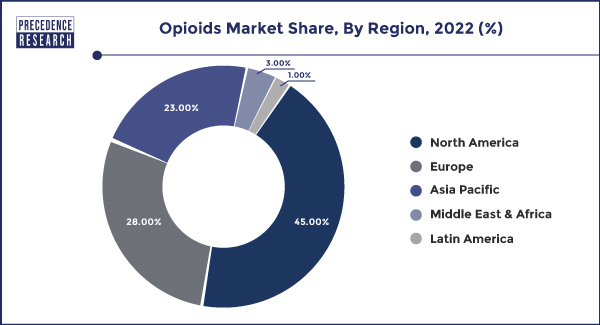 Asia-Pacific is estimated to observe the fastest expansion. Asia-Pacific's substantial growth in the opioids market is attributed to several factors. The region has a vast population with a rising prevalence of chronic pain conditions, contributing to the high demand for opioids. Additionally, the pharmaceutical industry in Asia-Pacific has been actively engaged in manufacturing and exporting opioids globally. The availability of generic opioids at lower costs makes them accessible in both domestic and international markets. However, this growth is also accompanied by challenges related to opioid misuse and regulatory control, highlighting the need for a balanced approach to opioid usage and access in the region.
Growth Factors
The opioids market has experienced notable evolution, marked by distinctive industry trends, catalysts for growth, hurdles, and avenues for business development. Pharmaceutical firms directed substantial investments toward the creation of tamper-resistant formulations and non-opioid pain relief methods, thereby molding the ever-changing terrain of the opioids market.
Recent industry trends underscore a transition towards enhanced accountability and responsibility. Pharmaceutical enterprises have embarked on innovative pathways, involving novel formulations and advanced technologies, to mitigate the perils of opioid misuse while effectively addressing pain management prerequisites. Furthermore, there is a growing inclination towards holistic pain management strategies, encompassing non-pharmacological interventions, with the potential to diminish reliance on opioids.
Growth catalysts within the opioids sector encompass the enduring necessity for pain management solutions, a progressively aging population, and a surge in chronic pain maladies. The advent of the COVID-19 pandemic exacerbated mental health concerns and pain-related complaints, potentially intensifying the demand for opioids. Nevertheless, surmounting the stigma and apprehensions regarding opioid utilization remains an intricate challenge.
The opioid market confronts a plethora of challenges, primarily entailing the pursuit of equilibrium between pain alleviation and the mitigation of addiction risks. Mounting regulatory pressures, litigation, and intensified public scrutiny have ushered pharmaceutical entities into a realm of vigilance, necessitating a comprehensive reevaluation of their operational models and a steadfast commitment to patient safety. Furthermore, the opioid sector contends with heightened competition from non-opioid alternatives and the imperative to adapt to the continually shifting landscape of healthcare policies.
Encompassed with these challenges lie substantial business prospects. Firms capable of conceiving and marketing secure, efficacious, and non-addictive pain management solutions are poised for competitive advantage. Furthermore, those offering remedies for opioid addiction treatment and rehabilitation services stand to tap into a burgeoning market niche. The opioids market metamorphoses, requiring businesses to deftly navigate this evolving terrain, underpinned by innovation and a resolute commitment to societal well-being, in order to flourish in the impending era.
In summary, the opioid market has experienced a profound transformation, underscored by the opioid crisis and the ensuing shift towards safer alternatives and comprehensive pain management methodologies. Catalysts for growth encompass the perpetual demand for pain management solutions, while challenges revolve around regulatory scrutiny and safety concerns. Businesses have a unique opportunity to innovate and address addiction treatment needs as they adapt to this dynamic landscape.
Opioids Market Scope
| | |
| --- | --- |
| Report Coverage | Details |
| Market Size in 2023 | USD 22.6 Billion |
| Market Size in 2023 | USD 25.61 Billion |
| Growth Rate from 2023 to 2032 | CAGR of 1.4% |
| Largest Market | North America |
| Base Year | 2022 |
| Forecast Period | 2023 to 2032 |
| Segments Covered | By Product, By Application, By Route of Administration, and By Distribution Channel |
| Regions Covered | North America, Europe, Asia-Pacific, Latin America, and Middle East & Africa |

Opioids Market Dynamics
Driver
Opioid prescribing practices
Opioid prescribing practices wield substantial influence over the expansion of the opioids market. How healthcare providers choose to prescribe these substances exerts a pivotal impact on the market's growth trajectory. Historically, lenient prescription practices contributed to a surge in opioid utilization, enlarging the pool of patients exposed to these medications. While efforts to curtail excessive prescription have been launched to combat the opioid crisis, they have inadvertently ushered in a more regulated market environment, rendering it increasingly challenging for patients with legitimate medical needs to access opioids.
Furthermore, the advent of abuse-deterrent formulations, designed in response to addiction concerns, has introduced novel, patent-protected opioid variants, offering a financial incentive for pharmaceutical firms and propelling market expansion. Additionally, the transformation of prescription guidelines and the incorporation of prescription monitoring initiatives have emerged as pivotal factors, directly impacting the volume of opioid prescriptions and, consequently, shaping the opioids market's size and dynamics. As prescribing practices continue to evolve in response to public health imperatives, their role as a driving force in defining the market's future trajectory remains paramount.
Restraints
Development of non-opioid alternatives
The ascent of non-opioid substitutes represents a formidable impediment to the proliferation of the opioids market. As society's awareness of the hazards intertwined with opioids, such as addiction and overdosing, continues to rise, non-opioid alternatives have gained considerable traction. This shift is fueled by the healthcare sphere's unceasing quest for pain management strategies that are not only safer but also more effective.
Non-opioid substitutes, ranging from non-steroidal anti-inflammatory drugs (NSAIDs) to avant-garde interventional therapies, furnish patients with credible avenues to alleviate pain while circumventing the addictive proclivities and potential detrimental consequences that typically accompany opioid use. Healthcare practitioners are progressively inclined to explore these alternatives, particularly in the management of persistent pain conditions.
Furthermore, evolving clinical protocols and healthcare regulations increasingly favor non-opioid methodologies as the premier choice for pain alleviation, thus curtailing the prescribing of opioids. This transformative paradigm not only safeguards patients against the intrinsic dangers associated with opioids but also acts as a limiting force on the opioids market by reducing the demand for these pharmaceuticals.
In summary, the surge in non-opioid alternatives, accompanied by the dynamic evolution of medical protocols and regulatory standards, exerts a constraining impact on the opioids market by diverting the inclinations of both patients and healthcare providers away from opioid-centered pain management solutions.
Opportunities
Innovation in abuse-deterrent formulations
Innovation in abuse-deterrent formulations is fostering significant opportunities within the opioids market. As the opioid epidemic underscores the urgent need for safer pain management options, pharmaceutical companies have a unique chance to invest in research and development to create advanced formulations that deter misuse and addiction. These innovations include technologies that make it more difficult to crush or manipulate opioids for illicit purposes, reducing the appeal to potential abusers.
By introducing abuse-deterrent opioid products, pharmaceutical companies can not only address public health concerns but also gain a competitive advantage in a market under stringent regulatory scrutiny. These formulations offer a win-win scenario: they provide patients with access to effective pain relief while mitigating the risk of addiction and diversion.
Moreover, pharmaceutical firms can secure patent protection for their novel abuse-deterrent technologies, allowing them to extend their market exclusivity and potentially capture a larger share of the opioids market. In an era of heightened awareness surrounding opioid-related issues, investing in abuse-deterrent formulations represents a strategic opportunity to meet patient needs while contributing to a safer healthcare landscape.
Impact of COVID-19
The COVID-19 pandemic has had a multifaceted impact on the opioids market. While there was a surge in demand for opioids initially to manage pain associated with COVID-19 infections, lockdowns, and disruptions in healthcare services led to reduced prescriptions. Simultaneously, the pandemic amplified mental health issues and substance abuse disorders, potentially increasing opioid misuse. Regulatory authorities implemented telehealth measures to maintain patient access to pain management, and there was a growing emphasis on non-opioid alternatives. The net effect of COVID-19 has accelerated the shift toward safer, non-opioid pain management methods and heightened awareness of opioid-related challenges in healthcare systems.
Product Insights
According to the product, the ER/long-acting opioids sector has held a 63% revenue share in 2022. The ER (extended-release) and long-acting opioids segment dominate the opioids market primarily due to its advantages in providing sustained pain relief. These formulations allow for less frequent dosing, improving patient adherence and comfort. Additionally, ER opioids are commonly prescribed for chronic pain conditions, which require continuous relief. Their steady release of medication reduces the risk of abuse compared to immediate-release opioids. Despite concerns about addiction, ER opioids remain a crucial option for patients with persistent pain, contributing significantly to the segment's major market share in the opioid industry.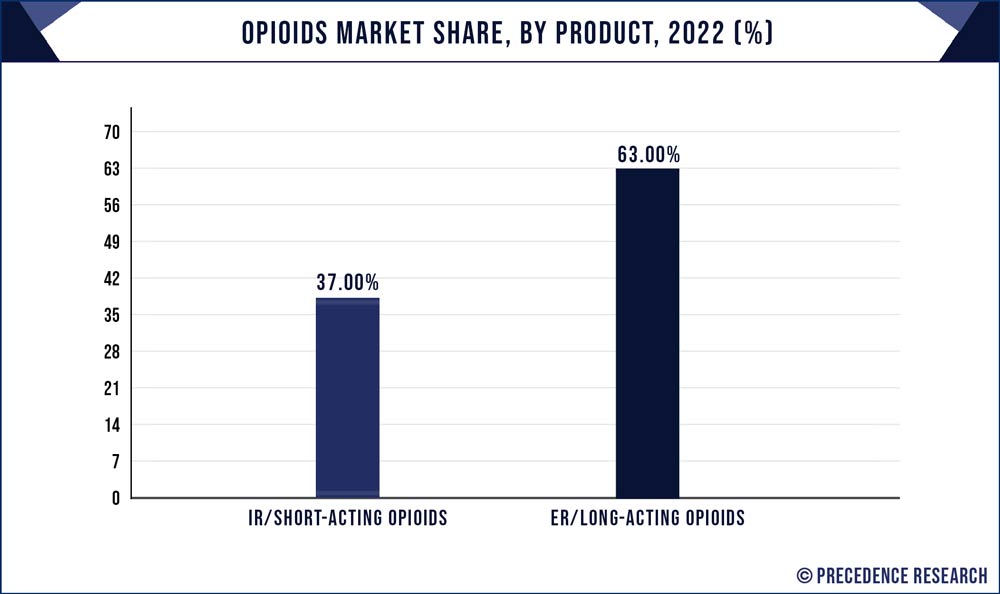 The IR/ short-acting opioids sector is anticipated to expand at a significant CAGR of 1.9% during the projected period. The IR (Immediate Release) or short-acting opioids segment dominates the opioids market due to its rapid onset of pain relief, making it suitable for acute pain management in surgeries, injuries, and medical procedures. This segment has been a conventional choice for healthcare providers in addressing immediate pain needs. Additionally, the segment has a long history of established drugs, wider patient familiarity, and relatively lower costs compared to long-acting opioids. While the market has seen a shift towards safer alternatives, short-acting opioids continue to play a significant role in addressing acute pain, contributing to their major market growth.
Application Insights
Based on the application, pain relief is anticipated to hold the largest market share of 24% in 2022. The pain relief sector commands a substantial portion of the opioids market primarily because of the extensive requirement for efficient pain mitigation strategies. Opioids stand out as potent analgesics, delivering swift and substantial pain alleviation, and are indispensable for individuals grappling with severe or persistent pain issues.
Despite concerns surrounding addiction and abuse, opioids persist as the primary choice for alleviating post-surgery, trauma-induced, cancer-related, or chronic pain. The consistent demand for effective pain relief, coupled with limited alternatives for addressing severe pain, underscores the dominance of the pain relief segment within the opioids market.
On the other hand, the anesthesia sector is projected to grow at the fastest rate over the projected period. The anesthesia segment holds a significant growth in the opioids market due to the vital role opioids play in surgical procedures and pain management during anesthesia. Opioids are commonly used by anesthesiologists to induce and maintain anesthesia, manage intraoperative pain, and provide post-operative pain relief. The steady demand for opioids in surgical settings, coupled with the rising number of surgeries globally, contributes to this segment's dominance. Additionally, the precision and efficacy of opioids in controlling pain during anesthesia make them a preferred choice, reinforcing their substantial presence in the anesthesia sector of the opioids market.
Route of Administration Insights
The injectable segment held the largest revenue share of 44% in 2022. The injectable segment holds a significant share in the opioids market due to several key factors. Injectable opioids are preferred for their rapid onset of action and efficacy in managing severe pain, making them crucial in situations like post-operative pain management and emergency care. Healthcare professionals often choose injectable opioids for precise dosing and quick pain relief.
Additionally, injectable opioids are commonly administered in hospital settings, contributing to their substantial market share. However, efforts to develop non-injectable opioid formulations with similar efficacy and safety profiles may reshape this market dynamic in the future.
The oral segment is anticipated to grow at a significantly faster rate, registering a CAGR of 2.5% over the predicted period. The oral segment holds a major growth in the opioids market due to its convenience and familiarity. Oral opioid medications are easy to administer, making them a preferred choice for both patients and healthcare providers. They offer precise dosing and can be taken at home, promoting patient compliance.
Additionally, the oral segment includes a wide range of formulations, from immediate-release to extended-release, allowing for tailored pain management strategies. While other delivery methods like injections and patches exist, the oral route remains the most accessible and widely accepted, contributing significantly to its dominance growth in the opioids market.
Distribution Channel Insights
The retail pharmacy sector has generated revenue share of 38 % in 2022. The retail pharmacy segment commands a significant share in the opioids market due to its accessibility and widespread distribution network. Retail pharmacies serve as essential points of access for patients seeking prescription medications, including opioids. Patients receive prescriptions from healthcare providers and fill them conveniently at these pharmacies. Additionally, retail pharmacies often offer patient counseling and support, contributing to patient adherence and safety. Their presence in urban and rural areas ensures broad coverage, making them a preferred channel for opioid distribution, driving their prominent share in the market.
The Three Dimensional sector is anticipated to grow at a significantly faster rate, registering a CAGR of 2.8% over the predicted period. The Hospital Pharmacy segment holds significant growth in the opioids market primarily due to its role as a key dispenser of prescription medications, including opioids. Hospitals are essential inpatient care settings where patients often require acute pain management, making opioids a crucial component of their pharmaceutical offerings.
Additionally, hospitals have robust infrastructure for controlled substance storage and dispensing, ensuring compliance with strict regulations. Furthermore, healthcare professionals in hospitals can closely monitor patients for potential opioid misuse, enhancing safety. These factors collectively contribute to the dominance growth of the Hospital Pharmacy segment in the opioids market.
Recent Developments
In January 2022, Trevena, Inc. made a significant announcement regarding the China National Medical Products Administration (NMPA) accepting their New Drug Application (NDA) for OLINVYK (oliceridine) injection. OLINVYK, an innovative intravenous pain reliever previously greenlit by the U.S. Food and Drug Administration (FDA) for treating severe adult acute pain requiring intravenous opioids, is now progressing within the Chinese market.
In October 2021, Esteve Pharmaceuticals achieved a milestone by gaining approval from the FDA for SEGLENTIS (celecoxib and tramadol hydrochloride). This approval extends SEGLENTIS' application to manage severe acute pain in adults necessitating opioid analgesics, offering an alternative approach to pain management.
In August 2022, Adalvo bolstered its opioid product portfolio through the acquisition of Onsolis, a branded opioid medication with a specific indication for chronic pain management in cancer patients. This strategic acquisition, originating from a well-regarded U.S.-based specialty pharmacy company, signifies a substantial growth opportunity for Adalvo within the opioid market.
Opioids Market Players
Mallinckrodt Pharmaceuticals LLC
Purdue Pharmaceuticals L.P.
Sun Pharmaceutical Industries Ltd
Teva Pharmaceuticals Inc.
Vertice Pharma LLC
Johnson and Johnson
AbbVie Inc (Allergan PLC)
Hikma Pharmaceuticals PLC
Endo Pharmaceuticals Inc.
Zyla Life Sciences (Egalet Corporation)
Amneal Pharmaceuticals Inc.
Pfizer Inc.
AcelRx Pharmaceuticals Inc
Alcaliber SA
Segments Covered in the Report
By Product
IR/Short-Acting Opioids
ER/Long-Acting Opioids
By Application
Pain Relief
Anesthesia
Cough Suppression
Diarrhea Suppression
De-addiction
By Route of Administration
By Distribution Channel
Hospital Pharmacy
Retail Pharmacy
Others
By Geography
North America
Europe
Asia-Pacific
Latin America
Middle East and Africa