The global Pay TV market was valued at US$ 178.2 billion in 2020 and expected to hit US$ 210.3 billion by 2030 with a CAGR of 1.7% from 2021 to 2030.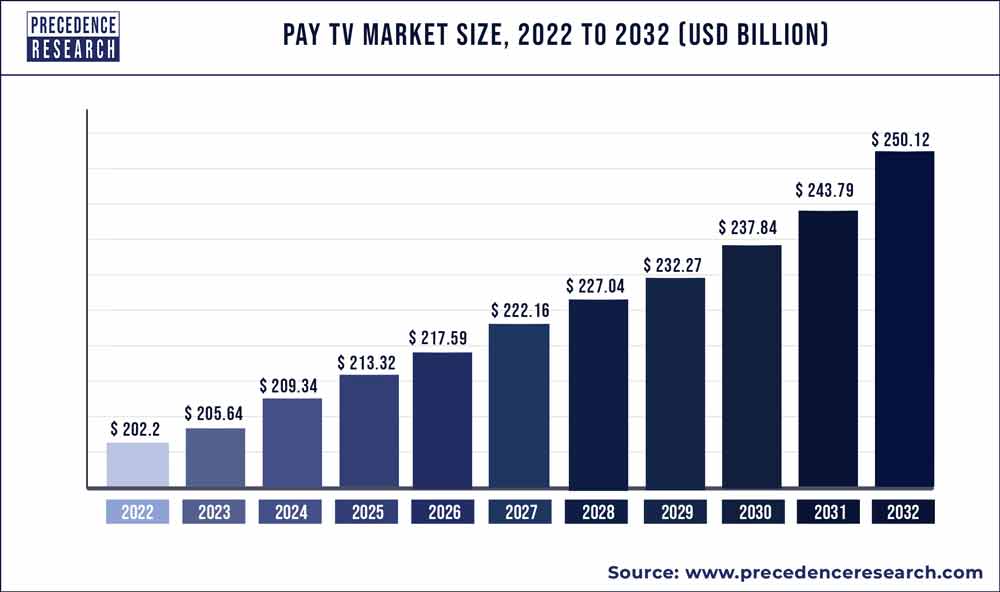 Growth Factors
The growth of the pay TV market is being driven by an emerging demand among the consumers to leverage enhanced quality content with high picture resolution. In addition to this, the ability of pay TV technology to provide an access to high-quality content from various service providers on a single platform at affordable prices boosts growth of the market.
Moreover,rising trend of Internet Protocol television along with thereduced subscription costs is projected to fuel growth of the market during forecast period. Furthermore,pay TV service providers are providinga number oflucrative value-added services such as internet connectivity, reduced subscription rates, customizable channel subscriptions, and bundled packages as per the demand of the consumer. This factor is expected to create several profit generation opportunities to the pay TV service providers; thus, boosting growth of the market in upcoming years.
COVID-19 Impact
The COVID-19 pandemic crisis, various governments and regulatory authorities have mandated both public and private enterprises to embrace new practices of teleworking and maintaining social distance. In addition to this, the governments of all the countries have took precautions that have led to the temporary shutdowns around the globe. This situation has boosted demand for entertainment; hence, resulting in an upsurge in the usage of pay TV subscriptions.
Moreover, the internet ecosystem has been playing a pivotal role in fueling market growth during the pandemic around the globe as an upsurge in internet usage has boosted the number of internet protocol television subscribers.
| | |
| --- | --- |
| Report Highlights | Details |
| Market Size | USD 210.3 Billion by 2030 |
| Growth Rate | CAGR of 1.7% From 2021 to 2030 |
| Base Year | 2020 |
| Historic Data | 2017 to 2020 |
| Forecast Period | 2021 to 2030 |
| Segments Covered | Type, Application |
| Regional Scope | North America, APAC, Europe, Rest of the World |
| Companies Mentioned | Airtel Digital TV, DIRECTV, Carter Communications, Foxtel, DISH Network Corporation, Comcast Corporation., Dish TV India Limited, DISH Network Corporation, Rostelecom, Fetch TV Pty Limited |
Segment Insights
Type Insights
By Type, in 2020, satellite TVdominated the market with around 48% share in terms of revenue of the total market.Satellite TVservice providers are actively diversifying their service offerings by providing bonus features, newer networks, and more modern channels; hence, growth of this segment is primarily boosted by rising demand among the consumer to accesssuch offerings. On the other hand, the satellite TV service providers have an ability to meet trending demand of the high-quality viewing experiences such as Ultra HD (UHD) and 4K picture quality among the users without bandwidth limitations. This factor is further expected to encourage growth of the segment during the forecast period.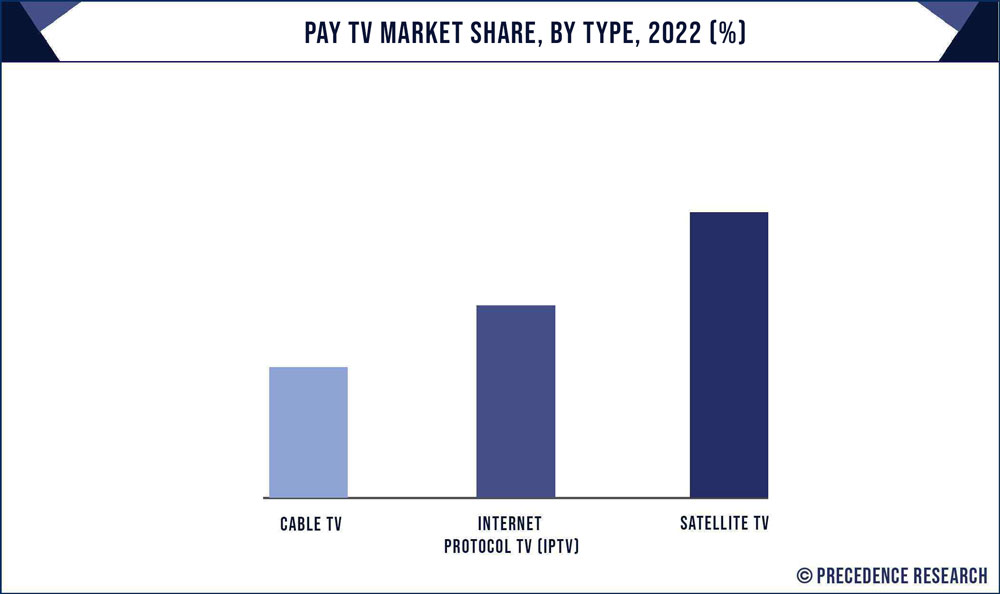 However, IPTV segment is projected to witness highest growth rate during the forecast period. This is mainly attributed to the technological advancementsin the pay TV market and surge innumber of subscribers for IPTV. In addition, huge penetration of Internet-based streaming services is projected to propel growth of the market.
Application Insights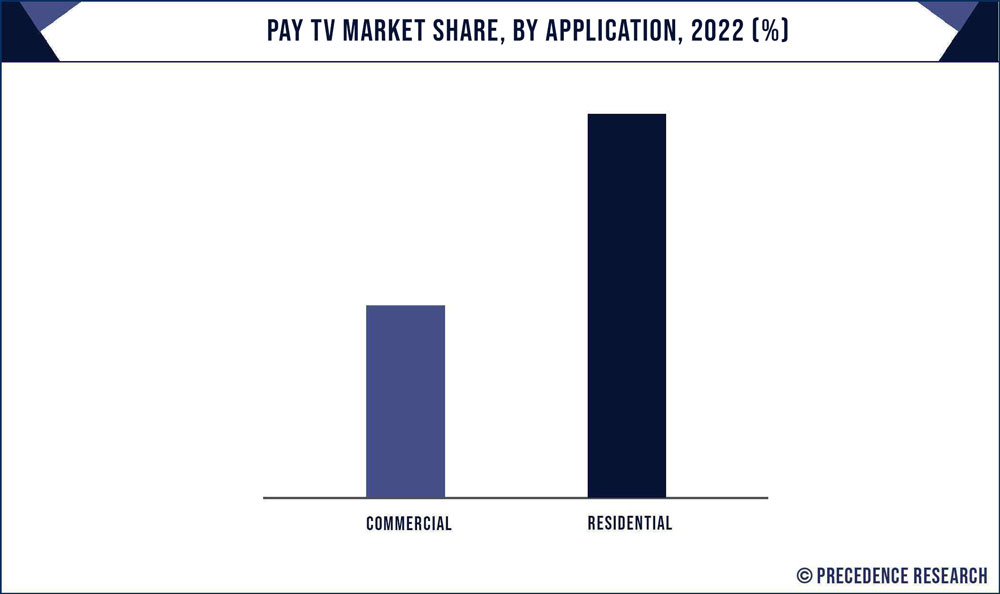 By Application Type, in 2020, residential segment dominated the market with around 60.2% share in terms of revenue of the total market. Growth of this segment is mainly attributed to the upsurge in popularity of pay TV in developing countries. For instance, according to the survey by Media Partners Asia, by 2025 over 96% of India's pay-TV homes will be digitalized as well as the base of the pay-TV subscribers would be expanded to 134 million by then. On the other hand, this segment is expected to grow at the lucrative growth rate throughout the forecast period.
Regional Insights
North America dominated the pay TV market and accounted for the largest revenue share of 40.2% in 2020. The increased usage of television and internetin this regionsignificantly contributed to the regional revenue generation. For instance, according to California State University, 99% of the households possess at least one television in America is and over 56% Americans uses pay TV. Despite higher revenue share, the region has been witnessing a decline in the growth of the market due rapid penetration of internet-enabled mediums coupled withanemergence of OTT platforms. On the contrary, rising focus towards adoption of the Integrated Broadband-Broadcast (IBB) system among the pay TV service providers is projected to boost growth of the North America pay TVmarket in forecast period.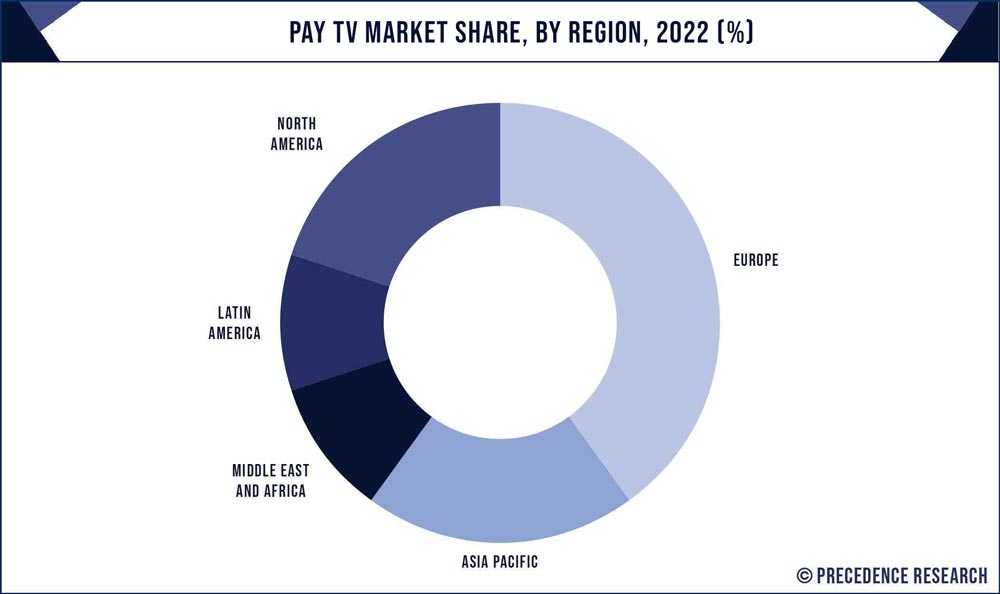 The Asia Pacific is expected to witness the fastest growth rate over the forecast period. This is mainly attributed to the rising demand for High Definition (HD) video content, specifically in India, China, and Japan. For instance, according to The Asia Video Industry Report 2020, the total pays TV subscribers in the region is 611 million. However, India and China continues to be the largest markets in terms of subscribers, accounting for about 80% of the region's overall pay TV households. In addition to this, prominence of Internet Protocol TV (IPTV) due to digitalization across the Asia-pacific creates lucrative growth opportunities for the market growth during the forecast period.
Key Companies & Market Share Insights
The market is moderately fragmented with the presence of several local companies. These market players are striving to gain higher market share by adopting strategies, such as investments, partnerships, and acquisitions & mergers. Companies are also spending on the development of improved pay TV products and services to boost their market presence and generate new revenue streams. Moreover, they are also focusing on maintaining competitive pricing.
For instance, Dish TV India Ltd., the direct-to-home service provider launched Scan QR and Pay, the QR scan feature for D2H subscribers and 'Scan To Pay' for DishTV subscribers. This launch is attributed to the commitment of Dish TV India Ltd. to a digital-first strategy driven byincreasing preference of consumersfor self-help options.
Furthermore, ongoing collaborations among the streaming services providers are pay TV service providers is projected to enable pay TV market players to strengthen their geographical and industry presence. For instance, in 2019, Netflix, the SVOD pioneer partnered with over 15 pay-TV operators such as Comcast Cable. This has enabled Netflix to have an access to more than 300 million pay-TV households who link worldwide via their set-top box.
Some of the prominent players in the pay TV market include:
Airtel Digital TV
DIRECTV
Carter Communications
Foxtel
DISH Network Corporation
Comcast Corporation.
Dish TV India Limited
DISH Network Corporation
Rostelecom
Fetch TV Pty Limited
Segments Covered in the Report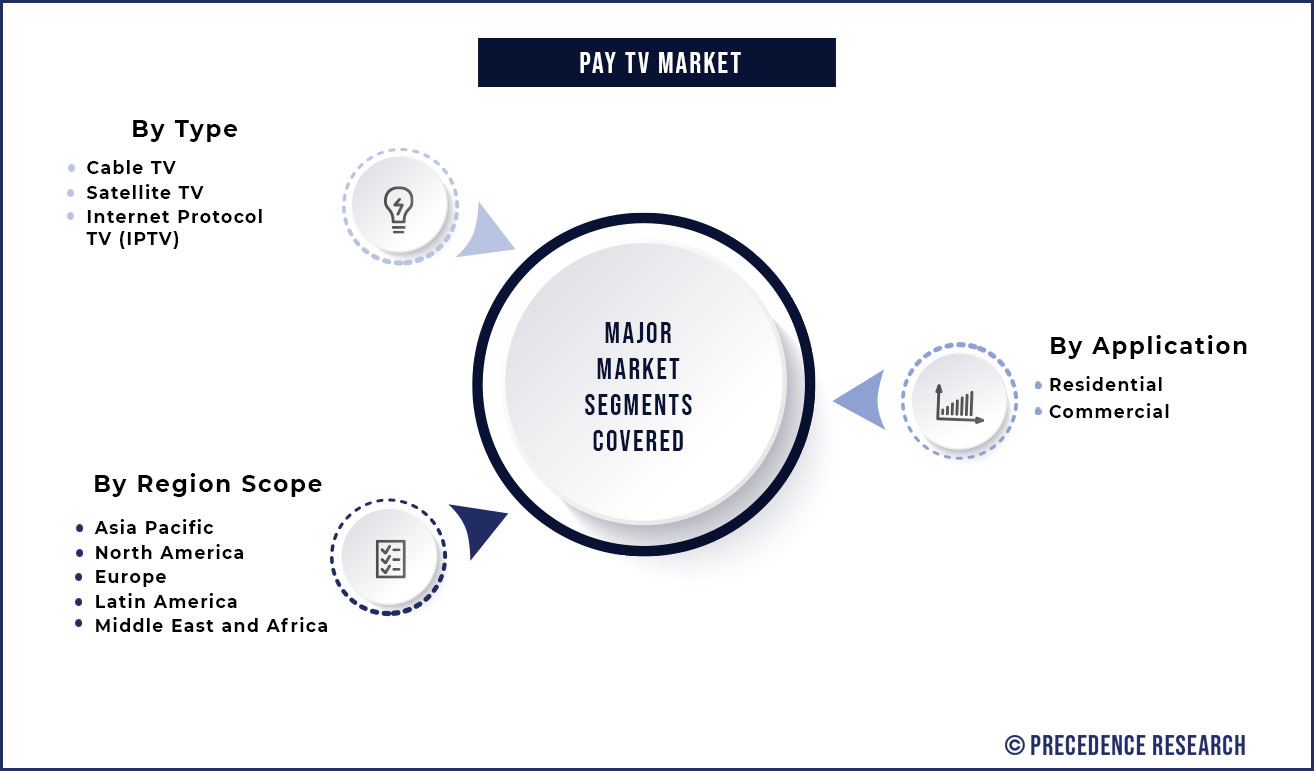 By Type
Cable TV
Satellite TV
Internet Protocol TV (IPTV)
By Application
By Geography
North America

Europe

Asia Pacific

China

India

Japan

South Korea

Rest of the World