The global point-of-sale software market size was estimated at USD 12.6 billion in 2022 and it is projected to hit around USD 29.9 billion by 2032, registering a CAGR of 9.02% during the forecast period 2023 to 2032.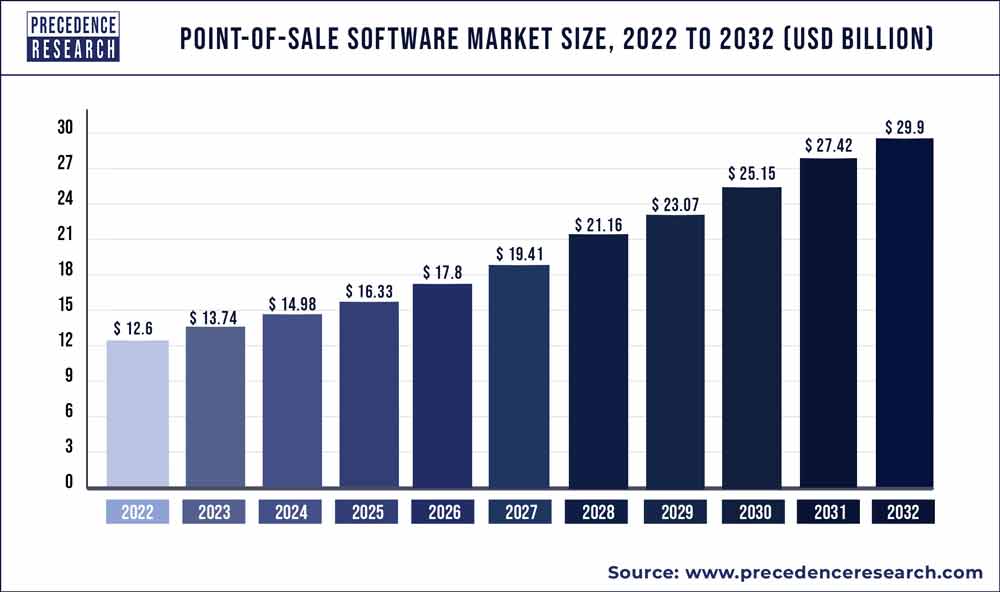 Key Takeaways:
By applications, the fixed POS segment has accounted revenue share of around 54.90% in 2022.
By deployment, the on-premises segment has captured the highest share of 65.80% in 2022.
By organization size, the large enterprise segment has generated a maximum share of around 57.5% of the overall revenue in 2022.
By end-user, the retail segment has held the largest share of around 34.35% in 2022.
Market Overview:
The need to handle cashless transactions, keep track of sales and inventory data, and optimize sales strategy using analytics throughout retail chains, restaurants, hotels, pharmacy stores, auto shops, and other places has spurred demand for point of sale (POS) software. The usage of POS software across many sectors is anticipated to increase with the rising need for sophisticated capabilities like management of staff analytics, tracking of inventory, sales surveillance, customer data administration, and reporting. The main challenge facing the business is developing POS software that can meet the need of many channels. For instance, companies in the packaged food service, retail, and other industries have increasingly shifted to online sales (e-commerce) platforms to broaden their worldwide reach. As a result, businesses have a greater need for point-of-sale systems that can be used to efficiently handle massive quantities of inventory, ease the process of accepting payments, and expedite other business processes.
Growth Factors:
The variety of business operating circumstances has resulted in a considerable increase in the demand for POS systems with expanded functionality and analytics. These applications help users manage workers, clients, payments, and bills in their businesses efficiently. Users may effectively manage their inventory, customers, payments, invoices, and workers with the use of these tools. Numerous company processes are handled by the POS software, which has to be installed on a laptop, desktop computer, notepad, or tablet with the correct operating system. Because cloud-based solutions are becoming more and more popular, there is an increasing demand for cloud-based mPOS software. Additionally, because of its accessibility via a computer browser or the internet, the internet-based POS solution has gained popularity among small- and medium-sized shops.
Over the projection term, this is probably going to increase the industry's growth. When creating POS software, vendors must take into account a number of things, including the necessity for software that supports a variety of systems of operation and payment options as well as the management and creation of an organized customer database. For instance, shops now want a flexible, cost-effective POS system that functions with a variety of devices, such as PCs, laptops, cellphones, and tablets. As a consequence, it's hoped that the programmed would function with a variety of operating systems, including different iterations of Windows, Mac OS, Android, Linux, and iOS, among others. Businesses would be able to serve a large customer base in this way without encountering issues with hardware and software compatibility.
Report Scope of the Point of Sale Software Market:
| | |
| --- | --- |
| Report Coverage | Details |
| Market Size in 2023 | USD 13.74 Billion |
| Market Size by 2032 | USD 29.9 Billion |
| Growth Rate from 2023 to 2032 | CAGR of 9.02% |
| Base Year | 2022 |
| Forecast Period | 2023 To 2032 |
| Segments Covered | By Application, By Deployment Mode, By Organization Size, and By End-user |
| Regions Covered | North America, Europe, Asia-Pacific, Latin America, and Middle East & Africa |

Market Dynamics:
Driver:
Increasing cashless transaction
Data, connection, and increased digitalization are important drivers of digital transformation. Digitalization is used by industries to create new goods and services that will increase customer pleasure. Customers may make a variety of digital and contactless payments using PoS systems. Demand for these systems has surged as a result of the use of electronic payment methods. It lowers billing mistakes caused by human error and offers flexibility, safety, and precise money management. Additionally, due to the increased usage of cell phones, there is a considerable increase in cashless transactions worldwide. The point of sale (POS) is the location where a consumer pays for the items they have purchased in a business. To put it simply, a POS is a place where purchases are made, invoices are created, and orders are processed.
Customers can locate a POS system to offer a place for them to pay their bills in retail establishments, restaurants, hospitals, petrol stations, hotels, etc. A POS also includes the payment page of an online transaction. Depending on the software features, the POS system enables processing payment transactions, documenting transactions, inventory changes, and several other things.
Restraints:
Data security concern
POS systems are a crucial component of virtually any brick-and-mortar company that accepts payments for products or services. Modern point-of-sale systems may link to other point-of-sale systems, process operations, manage inventory, and record orders. Attackers steal sensitive and private data, including debit and credit card information, via point-of-sale software. They then use accounts to make unauthorized purchases that cost unknowing clients' money and harm their credit standing.
A lot of merchants and enterprises benefit from point of sale. Despite the advantages, users may run into certain challenges, and they should be aware of the hazards connected to device malfunctions, phishing attacks, as well as holes in software and networks. For instance, 98% of PoS breaches of data in the hotel sector in 2021 were driven by financial gain, according to Verizon. These breaches led to data loss and monetary loss, which restrains the market's expansion.
Opportunities:
Rising adoption of AI in point of sale
Artificial intelligence is one disruptive technology that is widely used in the point of sale (POS) industry, particularly in retail. It gives customers access to almost all payment options across internet platforms, mobile applications, chat, social media apps, and, of course, in-person transactions. By precisely tracking orders and inventory (based on orders and current supply levels), AI is used in POS systems to reduce losses. Your business's procedures may be automated thanks to the seamless interface with inventory, marketing, accounting, and procurement.
Additionally, they offer perceptions of the evolving consumer behavior along with suggestions for how to reconnect with them. Retail point-of-sale systems give employees the tools they need to provide exceptional customer care and foster repeat business in an omnichannel environment. Additionally, using AI-based software greatly expands its operating potential. In addition to making room for innovation initiatives and enabling more strategic decisions to maximize their growth, it helps businesses develop closer ties with their consumers. Businesses are now able to comprehend and forecast what drives customers to take action as well as how to predict consumer trends.
Impact of COVID-19:
Vendors want solutions to sell goods online as successfully and with consumer happiness as they do in real storefronts. During the epidemic, the synchronization of both online and offline operations, inventory, and marketing is made possible by the connection of e-commerce and point-of-sale systems. Because of the COVID-19 pandemic's limits and anxieties around in-store buying, e-commerce has increased. Increasing their online sales, has led companies to improve their e-commerce platforms. All businesses, including those run by hard-working owners, distributors, manufacturers, delivery drivers, employees, and other merchants, have been impacted by the COVID-19 epidemic. We all believe that supporting governmental and societal developments is crucial as they develop quickly.
However, as a result of this circumstance, shops and small companies are struggling with the present operating system and want a reliable solution like POS. Ringing up sales, taking inventory readings, and taking payments are all beneficial. A top POS system can keep track of transactional data, manage inventory, provide reports, and save customer contact information. Here are some ways that POS systems are simplifying retail operations.
Segments Insight:
Application Insights:
In terms of industry revenue share in 2022, the fixed POS sector was dominant. The segment's expansion is ascribed to the fact that fixed POS systems now outperform mobile ones in terms of functionality and features in most brick-and-mortar retailers and restaurants. Due to the advantages of highly reliable management tools with business performance, such as inventory control, a cash drawer, staff time clocks, loyalty programmed, and gift card administration, consumers prefer utilizing stationary POS systems. Payment methods have changed as a result of the development of technology, and the implementation of mPOS ensures quick payments through programmed without the system's connection to a local network.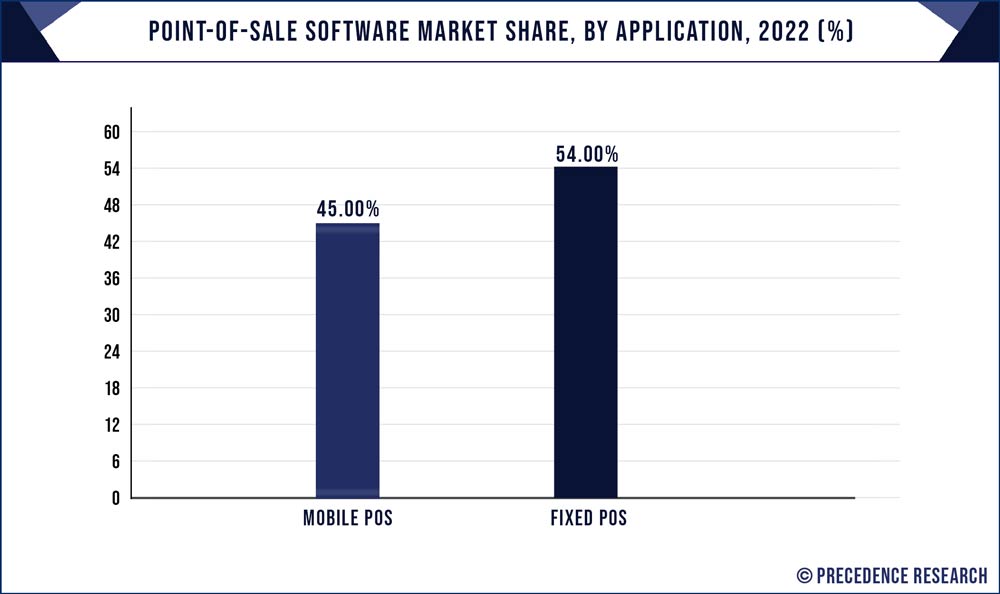 Payments are made using the credit card scanner on a tablet or smartphone with applications loaded to manage the scanner and charging mechanism. Since more small companies are using mobile POS terminals to accept payments and do cutting-edge tasks like inventory management, shop administration, and analytics to improve business operations, the market has exploded.
Deployment Insights:
In 2022, the on-premises category had the largest share. Large businesses are more likely to use software for on-premise POS systems, which run on local servers rather than distant facilities, as a result. A large number of sensitive consumer records held by large businesses are vulnerable to data breaches. Therefore, the on-premises implementation of software gives the proprietor of the POS system more control, improving the protection of sensitive data.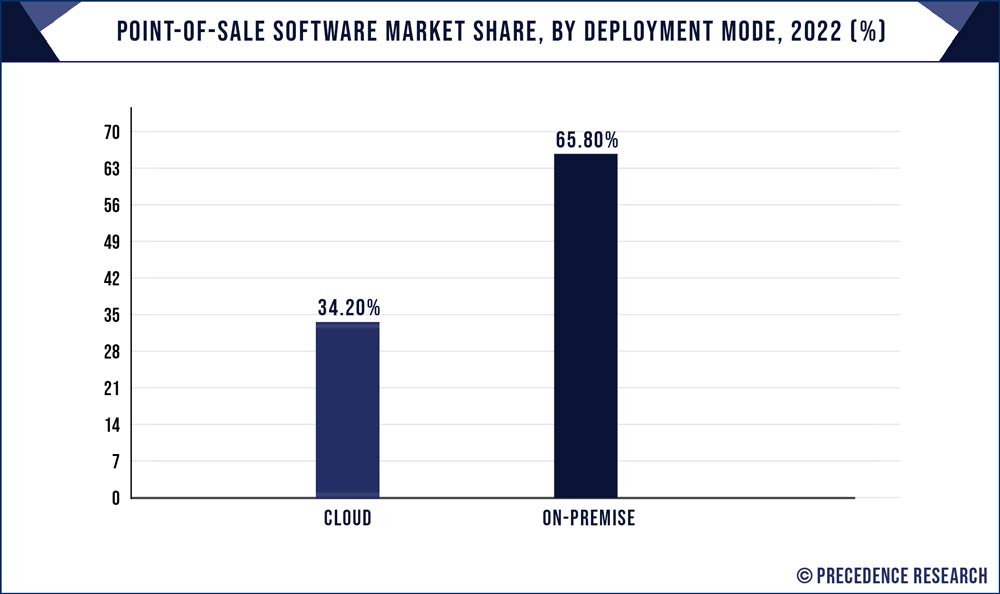 The use of cloud-based deployment has begun to grow as a result of technological improvement. Software developed for mobile point-of-sale systems has also become more popular as a result of how simple it is to use these compact devices for speedy payment services. Another factor driving up demand for cloud-based software among cost-conscious end customers is the simplicity of payments based on monthly fees. As a result, throughout the projected period, the cloud installation mode for applications is anticipated to see the greatest growth rate.
Enterprise Size Insights:
In 2022, the big enterprise category dominated the market and had the largest share. Large businesses' need for specialized POS software solutions to handle their cash flows and company operations might be ascribed to this expansion. Such custom POS software costs more than readily accessible software. A huge company's customized software must manage a variety of corporate functions while enhancing consumer interaction. Over the projection period, the demand for the SME sector is anticipated to grow at the greatest CAGR. Due to its affordability and scalability, cloud-based mobile point-of-sale software systems are being quickly adopted by SMEs.
Additionally, a lot of small and medium-sized firms throughout the world frequently develop at the state or city level and choose cost-effective POS software options based on recommendations from other business owners. Thus, the industry's support from SME users has been crucial in assisting POS software suppliers increase their footprint in regional markets. Small and medium in size local companies in the industry of retail, hospitality, medical care, and other important areas are the main target for vendors who market to local company owners.
End-user Insights:
The industry is divided into categories for restaurants, lodging, healthcare, retail, warehousing, entertainment, and other end-users. In 2022, the retail sector dominated the market and accounted for the biggest share. The primary industry using POS software is retailing. With the expansion of e-commerce and multiple channels of communication retailing, the sector is evolving quickly and should perform better throughout the projection period.
The market for POS software in the retail industry has been pushed by small businesses' increased acceptance of cutting-edge payment solutions on a worldwide scale. The widespread use of mobile and cloud-based point-of-sale systems by retailers has made it necessary to combine mobile and web-based systems in order to give customers an omnichannel experience. Another attractive industry for providers of POS software is the restaurant industry. A significant factor affecting POS transactions is the growing connection of restaurants with digital delivery services.
In 2022, POS investments are anticipated to be driven by online ordering and delivery, which will save restaurants money by avoiding high third-party costs. The restaurant business has seen a startling trajectory produced by analytics for data, management of orders, marketing, and payments, and this trend is projected to continue over the coming year. The expansion of the tourism sector also helped the restaurant industry and increased demand for the use of POS software to provide better services to tourists.
Regional Insights:
The robust expansion of the electronic payment sector in the area is anticipated to increase POS terminal usage, which will fuel the market for POS software growth. The desire for cashless payments in the retail, entertainment, restaurant, and other sectors is propelling the spread of POS software in developing nations like China, India, Indonesia, and Vietnam. Additionally, throughout the course of the forecast period, the market is anticipated to increase as a result of the continuously rising demand for POS systems with sophisticated features among quickly expanding industries including e-commerce the retail sector, the food and beverage industry, and entertainment. In 2022, North America contributed significantly to total revenue.
The Middle East and Africa (MEA) nations are embracing digital technology at an incredibly rapid rate. The Middle East market is expanding as a result of growing company investment in digital technologies and the rising use of digital payments. Additionally, similar solutions are offered to retail and individual consumers by Middle Eastern banks. By implementing various tactics, including partnerships and cooperation with PoS solution providers, banks in the UAE, Saudi Arabia, and South Africa have started to offer fundamental digital payment choices to consumers and retail customers.
Recent Developments:
NCR Corporation introduced its NCR Aloha Cloud cloud-based solution for eateries in May 2022. A User Interface (UI) for the employees provides a consistent experience on both fixed stations and mobile devices. Additionally, restaurants may run and administer third-party delivery markets using Aloha Cloud PoS.
To further its cloud-based systems for liquor merchants throughout the world, PoS Nation Inc., a provider of retail Point of Sale solutions, bought Bottle PoS, a stored-in-the-cloud liquor PoS software firm, in April 2022.
Key Market Players:
SwiftPOS
Square Inc.
TouchBistro Toast Inc
Clover Network, Inc.
H&L POS
IdealPOS
Lightspeed
NCR Corp.
Oracle Micros
Revel Systems
Segments Covered in the Report:
(Note*: We offer reports based on sub-segments as well. Kindly, let us know if you are interested)
By Application
By Deployment Mode
By Organization Size
Large Enterprise
Small & Medium Enterprise (SME)
By End-user
Restaurants
Hospitality
Healthcare
Retail
Warehouse
Entertainment
Other
By Geography
North America
Europe
Asia-Pacific
Latin America
Middle East and Africa