The global contactless payment market was valued at USD 1.1 trillion by in 2020 and is expected to reach over USD 4.60 trillion by 2027, projected to register a CAGR of around 20.01% from 2020 to 2027.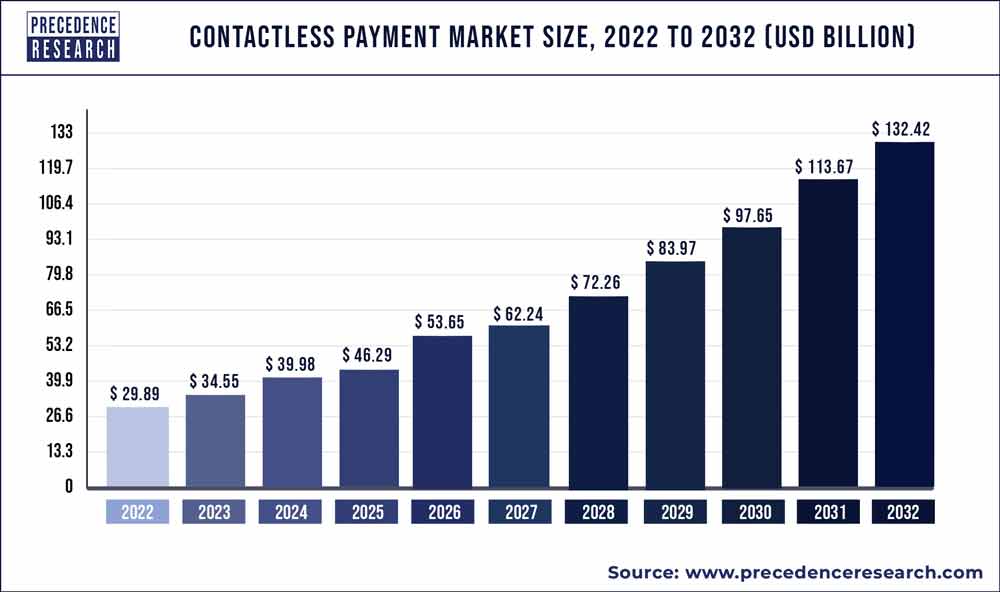 Growth Factors
Escalation in the rate of modernizations in the digital payments segments along with the swelling demand for higher accessibility and stress free payment procedures has given an upsurge to global contactless payment market. The profits delivered by contactless payments such as quicker checkouts and unified experience are being favored and are anticipated to fuel growth of the market. The current technological expansions in the NFC technology and its implementation in smartphones is one of the foremost influences stimulating the growth of contactless payments market. The rise in the saturation of smartphones has safeguarded that NFC is made available to growing number of users.
COVID19 Impact
Contactless is becoming a communal method to pay as customers are cautious of COVID19 scattering via touch. Contactless payment modes are attaining steam due to global coronavirus pandemic. As more consumers are worried about the disease being scatter with touch, digital modes of payments are increasingly being favored. As per one survey conducted in Asia Pacific, contactless is appearing a common method to pay, occupying over 40% of face-to-face visa transactions in this region. More than 50 nations across the world declared escalating contactless confines on the cards in light of these measures, in maximum cases magnifying the acceptable limits to deliver better consumer convenience.
Solution Insights
In 2019, in terms of transaction value, the payment terminal solution gathered more than 40% of the total contactless payments market share. Furthermore, clients are mostly worried about safe keeping surrounding contactless payments due to frequent concern of fraud. Businesses are taking efforts to meet such concerns by offering secure payment systems that are authenticated via passcodes. The modern technological progressions have led to the innovation of novel ways of authentication including fingerprint validation for contactless payments. Further, security and fraud management market segment is anticipated to grow at a CAGR of over 20% during years to come.
Application Insights
Among different application sectors assessed in this report, in 2019, retail application segment dominated the global contactless payment market and garnered more than 60% of the market share. This growth is credited to upsurge in the number of 'tap-and-go' transactions across the world. The tap-and-go feature prompts the check-out process and thereby making contactless payments preferable choice customers in established and evolving nations.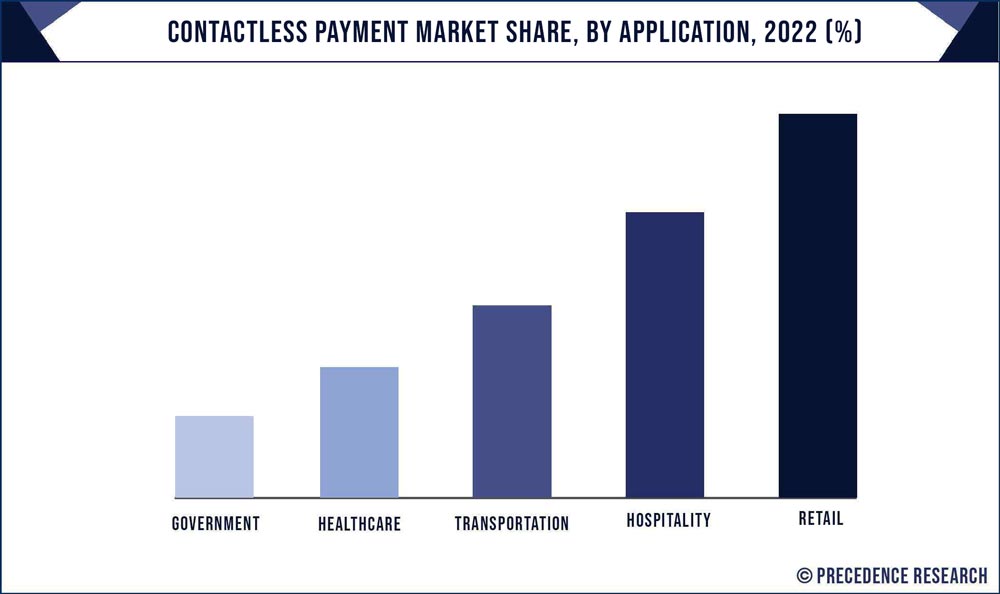 Moreover, contactless payments also employed in service businesses such as gas stations, movie theaters, convenience stores, and restaurants, thus heightening the payments in the retail segment.
Device Insights
Among several devices, the smartphones & wearables market segment occupied about 60% share of the total market in 2019 in terms of the transaction value. Since last few years, usage of smartphones has extremely increased in day-to-day activities. For occurrence, persons now preferably utilize smartphones to make payments at stores.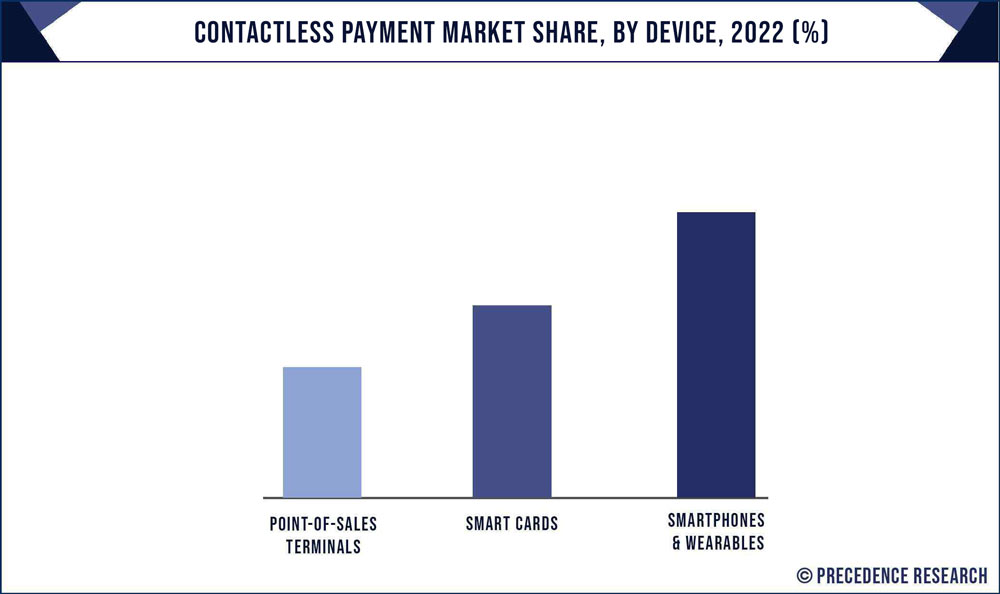 Furthermore, revolutions in wearables like payment rings and bands are projected to stimulate the market demand over the estimate period. Additionally, smart cards are anticipated to gain noteworthy share in the global market due to its easier practice than PIN-based Euro Mastercard Visa cards.
Regional Insights
Global contactless payment market is led by Europe and is highly fragmented due to dependency on multi-languages and multi-currencies. Europe encompasses a varied range of nations, from technologically and economically advanced nations, such as the Germany and UK to rigorously debt-ridden nations including Austria and Greece. Poland, UK, Spain, and Germany are the some of the foremost nations in the European market. The whole contactless expenditure has grown in these nations with the growing spread of contactless cards and terminals via card companies like Mastercard and Visa.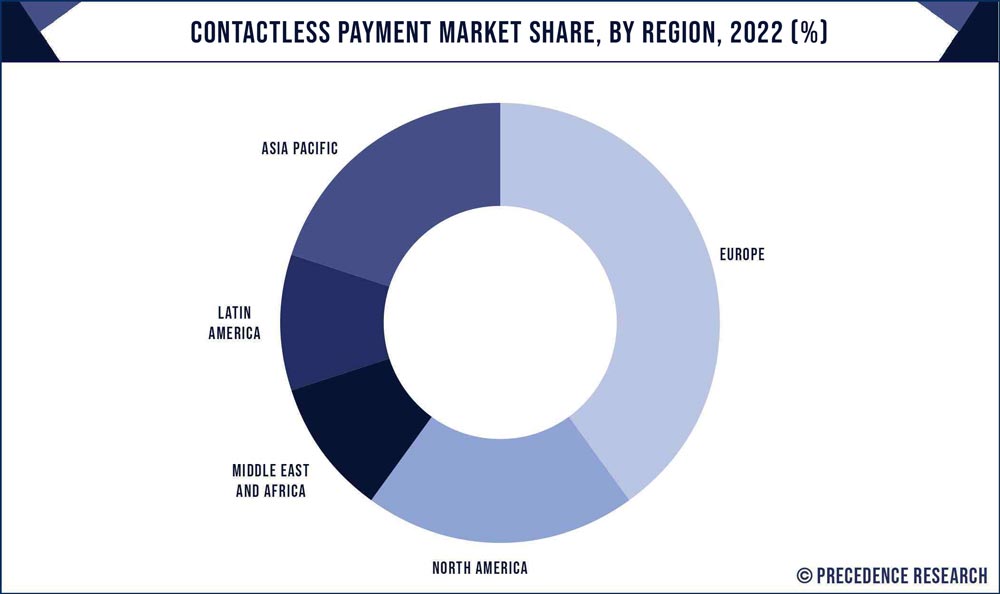 Further, existing advances in digital payments have fortified the usage of contactless payments amongCOVID19 pandemic. Contactless payment market is anticipated to record substantial growth due to mounting worries over virus transmission through cash flows. For example, the Neobank Upgrade has introduced the new contactless credit card available in digital form that supports Apple Pay mobile and Google Pay wallets in April 2020. Additionally, card networks and bank authorities in the U.S., Germany, Hungary, Netherlands, Austria, and other nations have set sophisticated transaction bounds compared to traditional for contactless payment approaches. For example, U.K. Finance Limited has augmented the expenditure bound for contactless card payments from 30 Euros to 45 Euros in April 2020.
Key Companies & Market Share Insights
Market leaders of this business are striving hard to stay ahead of their companion by using strategies such as partnerships, mergers, acquisitions, alliances and modernization in terms of solutions. Some of the substantial players in the contactless payment market include:
Verifone
Ingenico Group SA
Gemalto
Visa Inc.
Giesecke & Devrient GmbH
Heartland Payment Systems, Inc.
Thales Group
Wirecard AG
On Track Innovations Ltd.
IDEMIA
Report Scope of the Contactless Payment Market
| | |
| --- | --- |
| Report Highlights | Details |
| Market Size | USD 4.60 Billion by 2027 |
| Growth Rate | CAGR of 20.01% from 2021 to 2027 |
| Largest Market | Europe |
| Fastest Growing Market | North America |
| Base Year | 2021 |
| Forecast Period | 2021 to 2027 |
| Segments Covered | Solution, Application, Device, Region Type |
| Companies Mentioned | Verifone, Ingenico Group SA, Gemalto, Visa Inc., Giesecke & Devrient GmbH, Heartland Payment Systems, Inc., Thales Group, Wirecard AG, On Track Innovations Ltd., IDEMIA |
Segments Covered in the Report
This research report includes complete assessment of the market with the help of extensive qualitative and quantitative insights, and projections regarding the market. This report offers breakdown of market into prospective and niche sectors. Further, this research study calculates market revenue and its growth trend at global, regional, and country from 2016 to 2027. This report includes market segmentation and its revenue estimation by classifying it on the basis of solution, application, device and region as follows:
By Solution
Security and Fraud Management
Payment Terminal Solution
Transaction Management
Hosted Point-of-Sales
Analytics
By Application
Government
Healthcare
Retail
Transportation
Hospitality
By Device
Point-of-Sales Terminals
Smartphones & Wearables
Smart Cards
By Regional
North America
Europe
Asia Pacific

China
India
Japan
South Korea

Middle East & Africa
Latin America