The global condom market size is anticipated to reach around USD 25.97 billion by 2032 up from USD 11.07 billion in 2022 with a CAGR of 8.9% between 2023 and 2032.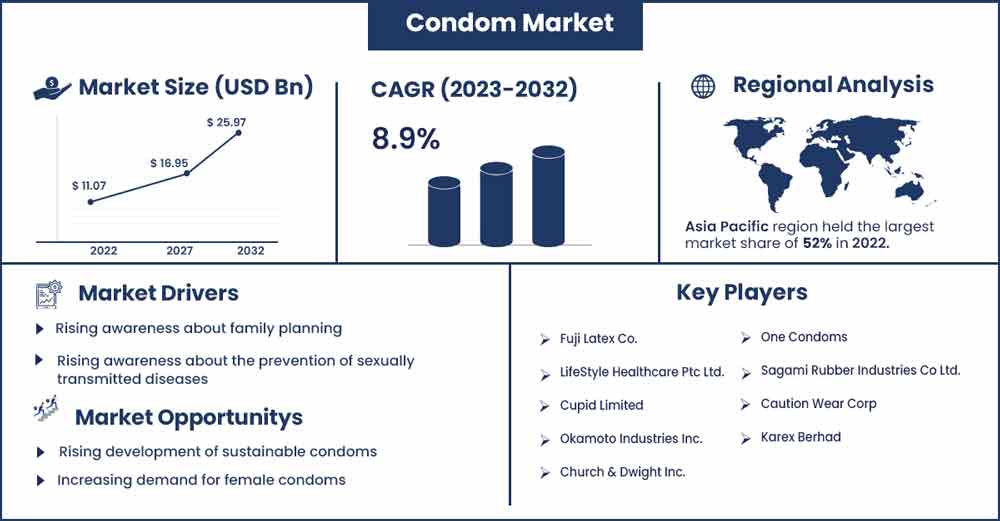 Market Overview:
The condom market has experienced significant growth in recent years, driven by a rise in awareness about sexually transmitted infections and the need for contraception. The use of condoms has become a vital aspect of safe sex practices, and as a result, the market is expected to continue growing in the foreseeable future. The global condom market is highly competitive, with multiple players competing for market share. Market players in the condom market play a critical role in driving the growth and development of the market by continuously innovating their products, investing in branding and marketing, expanding distribution channels, engaging in price competition, and ensuring high-quality standards.
Factors such as the rising population, increasing awareness about the prevention of HIV and other sexually transmitted diseases, rising initiatives by the government for population control, and rising adoption of condoms in urban areas with proper marketing and advertising are accelerating the growth of the global condom market.
Regional Snapshot:
Asia Pacific holds the dominating share of the global condom market. The growth is attributed to the rising population and increasing demand for contraceptive methods in countries such as India and China. The market is characterized by the presence of both global and regional players, offering a diverse range of products to cater to varied consumer preferences and needs. The condom market in the Asia Pacific is also witnessing a shift in consumer preferences towards innovative and value-added products such as flavored and textured condoms. This trend is expected to drive the growth of the market in the coming years.
In addition to promoting the use of condoms, the Chinese government has also been investing in research and development to improve the quality and effectiveness of condoms. For example, in 2020, a team of Chinese scientists developed a new type of condom made from hydrogel, which they claimed was more comfortable and practical than traditional latex condoms.
The condom market in Europe is expected to account for a noticeable rate, followed by North America. The European condom market is dominated by major players such as Durex, Trojan, and Skyn, which offer a variety of products ranging from traditional latex condoms to innovative products such as ultra-thin and ribbed condoms.
The European Union (EU) has also implemented several initiatives to promote the use of condoms. The EU has set up a European HIV/AIDS Fund that provides funding for HIV prevention programs, including distributing condoms. The EU has also launched campaigns such as "Let's Talk About It" and "Test Me, Treat Me" to raise awareness about HIV and STI prevention.
North America is expected to pose a significant increase in the condom market during the projected timeframe; favorable government policies and initiatives have also contributed to the growth of the North American condom market. For instance, several US states provide free or low-cost condoms through government health clinics or other channels, making them more accessible to consumers.
Condom Market Report Scope:
| | |
| --- | --- |
| Report Coverage | Details |
| Market Revenue in 2023 | USD 12.6 Billion |
| Projected Forecast Revenue by 2032 | USD 25.97 Billion |
| Growth Rate from 2023 to 2032 | CAGR of 8.9% |
| Largest Market | Asia Pacific |
| Base Year | 2022 |
| Forecast Period | 2023 to 2032 |
| Regions Covered | North America, Europe, Asia-Pacific, Latin America, and Middle East & Africa |

Report Highlights:
By material, the latex segment holds the largest share of the global condom market. The availability of latex condoms for both males and females, along with their high effectiveness, supports the segment's growth. At the same time, the compatibility of non-latex condoms with all lubricants, along with the material's durability, will fuel the development of the non-latex segment.
By product, the male condom segment leads the market owing to the availability of various products, easy use, and easy access to male condoms across the globe. The rising demand for female condoms to reduce the risk of sexually transmitted infections (STIs) will boost the growth of the female condom segment.
By distribution channel, the drug store segment holds the largest share of the market, and the easy access and availability of certified and reliable contraceptive products at drug stores are significant factors to contribute to the growth of the drug store segment. The rising spending on online shopping and shifting preferences towards e-commerce websites are propelling the development of the online store segment.
Market Dynamics:
Driver:
Rising awareness about the prevention of sexually transmitted diseases
The risk of STI is especially true for individuals who engage in unprotected sex. As more people become aware of the risks associated with unprotected sex, there is likely to be an increase in demand for condoms as a protection method. Condoms are an effective way to prevent the transmission of STIs, including HIV, chlamydia, gonorrhea, and syphilis. Therefore, raising awareness about STIs can help to grow the condom market. Additionally, education about STIs can help to increase awareness about the importance of using condoms as a way to prevent transmission. As more people become aware of the risks associated with STIs, they may be more likely to use condoms as a protection method, which can contribute to the growth of the condom market.
Restraint:
Lack of awareness and education about condom
Lack of awareness and education about condoms, sex health, and safe intercourse can be a significant barrier to the market's growth. Many people may not have a comprehensive understanding of sexual health and the importance of condoms for pregnancy prevention and protection against sexually transmitted infections. This can result in lower demand for condoms and reduce their growth potential. In some regions, access to information about sexual health and contraception may be limited, which can make it difficult for people to make informed choices about their sexual health. This can result in lower demand for condoms. There may be misconceptions and myths about condoms that can discourage their use or reduce their perceived effectiveness. To address these factors, it is essential to prioritize education and awareness campaigns that promote the importance of using condoms for sexual health and well-being.
Opportunity:
Increasing demand for female condoms
While male condoms are more commonly used, there is an opportunity for growth in the female condom market. Companies can develop and market female condoms that are easy to use, comfortable, and effective in preventing sexually transmitted infections and unwanted pregnancies. The rising demand for female condoms can be attributed to their increased accessibility and affordability, their effectiveness, their comfort, and their non-hormonal nature. As more women become aware of these benefits, the demand for female condoms is likely to continue to grow in the future. Thus, the production of female condoms offers several opportunities for market players, including meeting a growing demand, differentiation, brand building, innovation, and partnerships.
Recently, brands such as MyFemy, Dominique, Femidom, Protective, and Care have started producing female condoms with the same material used in male condoms.
Challenge:
Price sensitivity
Condoms are considered a price-sensitive product because they are relatively low-cost and widely available. Condoms are a commoditized product, meaning that they are perceived by many consumers as interchangeable with other brands or types. This makes it challenging for manufacturers to differentiate their products and charge a premium price. Additionally, many consumers view condoms as a necessity rather than a luxury item, which further reduces their willingness to pay a higher price.
In addition, some consumers may prioritize affordability over other factors when choosing a condom. Overall, the price sensitivity of condoms can make it challenging for manufacturers to generate significant profits from these products. However, there are opportunities for manufacturers to differentiate their products and capture market share through innovative design, packaging, or marketing strategies.
Recent Developments:
In September 2022, Wondaleaf, a unisex condom manufacturing company, announced that it had tied a deal with MValue Convenient Store in Kuala Lumpur to make the company's products available at the convenience store. With this announcement, the company also stated that the MValue store would be the first convenience store in Malaysia to offer Wondaleaf's products by having unique store shelves. MValue, which has 20 stores in Klang Valley, is also expected to deliver Wondaleaf's products home.
In January 2022, Durex announced to support the Condom Alliance, which has partnered with the MASH Foundation to address the importance of sexual wellness, safe sex, and sexual health. The alliance organized a summit primarily to address serious sexual challenges faced by Indian youth.
Major Key Players:
Fuji Latex Co.
LifeStyle Healthcare Ptc Ltd.
Cupid Limited
Okamoto Industries Inc.
Church & Dwight Inc.
One Condoms
Sagami Rubber Industries Co Ltd.
Caution Wear Corp
Karex Berhad
Market Segmentation:
By Material Type
Latex Condoms
Non-latex Condoms
By Product
Male Condoms
Female Condoms
By Distribution Channel
Supermarkets
Drug Stores
Online Store
Buy this Research Report@ https://www.precedenceresearch.com/checkout/2728
You can place an order or ask any questions, please feel free to contact at sales@precedenceresearch.com | +1 9197 992 333