The global surface computing market size is anticipated to reach around USD 1,015.51 billion by 2032 up from USD 46.4 billion in 2022 with a CAGR of 36.2% between 2023 and 2032.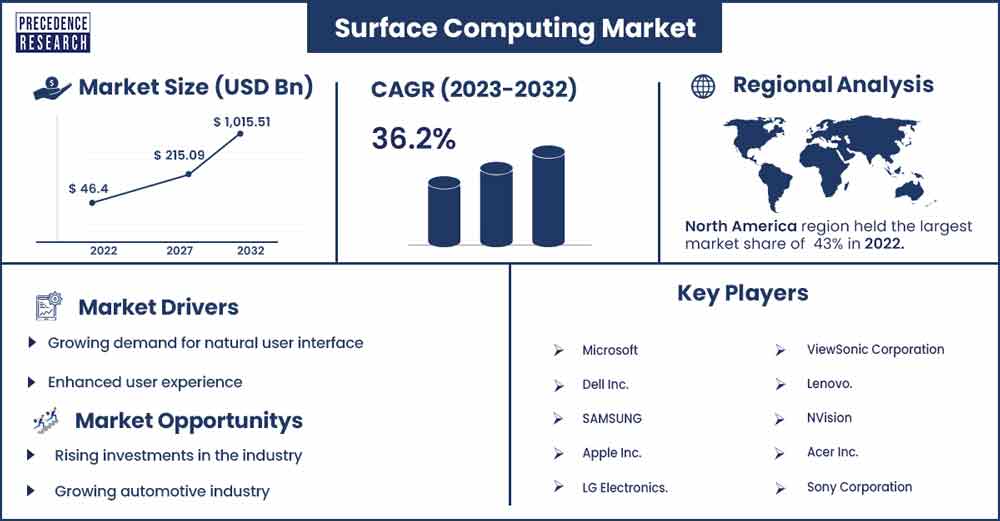 Market Overview
Surface computing describes a computer that takes the shape of a table and employs Natural User Interface (NUI) technology instead of the more conventional Graphical User Interface (GUI). This allows users to interact with the outside of the display by utilizing everyday objects and natural objects. One unique offering of surface computing is its user-friendly interface. Using real products, touch, and organic actions, enhances the user's engagement with digital material.
It is a tabletop computer that allows for multiple user interfaces and multitouch capability. A surface computer is composed of many essential components such as sensors, infrared light sources, CPUs, DLP projectors, memory, and infrared cameras. Interface advances in surface computing offer a unique opportunity.
The market growth of surface computing is anticipated to be propelled by several factors including growing demand for user-friendly interfaces and improved user experience, rising applications in diverse sectors including healthcare, education and others, increasing technological advancements, rising investment and many others.
Additionally, the market is also influenced by the growing automotive sector as surface computing technology is being used to create advanced infotainment systems in vehicles. Touchscreens, gesture recognition, and natural language processing interfaces allow drivers and passengers to control various functions, such as navigation, music, climate control and more through intuitive and interactive interfaces.
In July 2023, the U.S. new car market was surprisingly robust in the first half of 2023, with sales volume growing faster than anticipated as the industry's inventory problems subsided. As with many other months this year, sales in June exceeded expectations, with volume above the Cox Automotive projection. The initial estimate for June sales pace was 15.7 million, which is higher than the 15.2 million predicted by Cox Automotive. Industry sources claim that sales through the first half of the year likely reached 7.69 million units, slightly above our prediction of 7.65 million and up 12.3% from the same period in 2022.
Regional Insights
North America is expected to dominate the market over the forecast period. The market growth in the region is attributed to the growing consumer awareness and the high demand for technologically advanced products. The region is a hub for technological innovation, with many leading companies, research institutions, and startups developing cutting-edge surface computing solutions. This region benefits from a strong technological ecosystem that fosters innovation and drives the development of new products and applications. Furthermore, the growing media and entertainment industry is expected to drive the market growth in the region.
As per Select USA, the media and entertainment sector in the United States is the biggest globally. It comprises movies, TV shows and ads, streaming content, music and audio recordings, broadcast, radio, book publishing, video games, and associated services and goods. With a valuation of USD 717 billion, it accounts for one-third of the world's media and entertainment market.
Currently, the market in North America is fragmented with major industry players, including Microsoft, Apple and Dell. Major players in the surface computing market of North America are based in the United States. One of the most prominent surface computing systems across the globe is presented by Microsoft.
In a recent fiscal year, Microsoft generated $6.7 billion with Microsoft Surface. Whereas in FY2022, Microsoft Surface revenue increased by 3%.
Surface Computing Market Report Scope
| | |
| --- | --- |
| Report Coverage | Details |
| Market Revenue in 2023 | USD 62.96 Billion |
| Projected Forecast Revenue by 2032 | USD 1,015.51 Billion |
| Growth Rate from 2023 to 2032 | CAGR of 36.2% |
| Largest Market | North America |
| Base Year | 2022 |
| Forecast Period | 2023 to 2032 |
| Regions Covered | North America, Europe, Asia-Pacific, Latin America, and Middle East & Africa |

Market Dynamics
Drivers
Growing demand for natural user interface
The growing need for natural user interface (NUI) technologies in computer systems is driving growth in the surface computing industry. Without the requirement for connected devices, NUI allows people to engage with systems intuitively by touch or by utilizing the thing they are dealing with.
The incorporation of NUI technology into computer systems is an essential element that leads to an increase in demand because of simplified architecture, enhanced performance, and smaller infrastructure. Conventional GUI components like keyboards and mice are being replaced by user-centric technologies, which is propelling the market expansion. High R&D expenditures are creating more effective solutions, which is growing the sector even more. Thereby, driving the market growth over the projected period.
Enhanced user experience
Surface computing offers a more intuitive and interactive way for users to engage with digital content and applications. The touch-based interface and natural gestures improve user experience, making it a compelling choice for various applications. Thus, the enhanced user experience is expected to drive the market growth over the projected period.
Restraints
Complexity and high cost
Surface computing system development and integration can be challenging and require knowledge of hardware, software, and UI design. For some businesses, especially those with limited technological resources, this complexity might be a hurdle. Furthermore, the development and implementation of surface computing systems can be costly, particularly for large-scale or specialist installations. Adoption may be hampered by high expenses, especially in smaller companies or sectors with limited budgets.
Privacy and security
Surface computing often involves the use of cameras and sensors that capture user interactions. This raises privacy concerns, and businesses must implement robust security measures to protect sensitive data and prevent unauthorized access. Thus, hampering the market growth.
Opportunities
Rising investments in the industry
The increasing investment is expected to offer an attractive opportunity for the development of the market growth over the forecast period. For instance, in April 2022, the creation of next-generation, or NextG, networks that are intelligent, robust, and reliable is the focus of a recent investment of more than $37 million announced by the US National Science Foundation. Resilient and Intelligent next-generation systems, or RINGS for short, is a public-private partnership investment that aims to accelerate research to make the United States more competitive in next-generation networking and computing technologies and to guarantee the security and resilience of next-generation technologies and infrastructure.
To expedite the translation of basic research discoveries into new technologies that have the potential to revolutionize the information technology and telecommunications sectors of the American economy, this public-private collaboration contributes special experience, knowledge, and resources to the research endeavors.
The RINGS initiative is NSF's single biggest endeavor to date in enlisting the cooperation of public and commercial partners for a research program. Partners in the private sector include Apple, Ericsson, Google, IBM, Intel, Microsoft, Qualcomm, Nokia, and VMware. Government collaborators include the National Institute of Standards and Technology and the Office of the Under Secretary of Defense for Research and Engineering of the United States Department of Defense.
Growing automotive industry
The growth in the automotive industry is expected to offer an enormous potential for market growth during the forecast period. Surface computing has diverse applications in the field of automotive which includes in-car infotainment systems, heads-up displays, ADAS, touchscreen control and others. Surface computing enhances the overall user experience in the vehicle, making it more user-friendly and engaging. Thus, the growth in the automotive sector directly impacted the demand for surface computing during the study period. For instance, according to the Federal Chamber of Automotive Industries, with a rise of 18.3% over the same period in 2022, Australia's total sales for September 2023 were recorded at 110,702 units.
Recent Developments
In September 2023, a 'unified' artificial intelligence (AI) for Windows 11 and four new Surface devices were introduced by Microsoft, enhancing the attractiveness of their goods with cutting-edge technology. Copilot, the latest AI tool from the corporation, will function with all of its online and productivity apps.
In August 2023, at CES 2022, Samsung debuted their Odyssey Ark curved monitor. Targeting professionals and gamers, this 55-inch 4K display is the biggest of its kind that the business offers. Samsung has improved its connection in the recently released Odyssey Ark (G97NC). More improvements have been made to the Multi View function, which allows users to divide the screen into four windows—three of which are in Cockpit Mode. Users may experience unmatched multitasking with the new Odyssey Ark, which also enables the simultaneous input and output of up to 4 external devices (3 in Cockpit Mode). The three HDMI ports on the Ark now have a DP (DisplayPort) 1.4 added to them for greater compatibility and connection. A single mouse and keyboard may operate many connected devices with the KVM Switch, providing more ease and efficient use of available space.
Key Market Players
Microsoft
Dell Inc.
SAMSUNG
Apple Inc.
LG Electronics.
ViewSonic Corporation
Lenovo.
NVision
Acer Inc.
Sony Corporation
Panasonic Corporation
Segments Covered in the Report
By Type
Curved Display
Flat Display
By Touch
Single Touch
Multi-touch
Multi-user
Other Touches
By Vision
Two Dimensional
Three Dimensional
By Application
Education Sector
Retail Industry
Automotive Industry Sector
Commercial Sector
Entertainment Industry
Advertising Industry
Hospitality Sector
Automotive Industry
Others
Buy this Research Report@ https://www.precedenceresearch.com/checkout/3288
You can place an order or ask any questions, please feel free to contact at sales@precedenceresearch.com | +1 9197 992 333