The global reinforcement materials market size was estimated at USD 20.6 billion in 2022 and is expected to reach around USD 44.67.5 billion by 2032 and is poised to grow at a compound annual growth rate (CAGR) of 8.10% during the forecast period 2023 to 2032.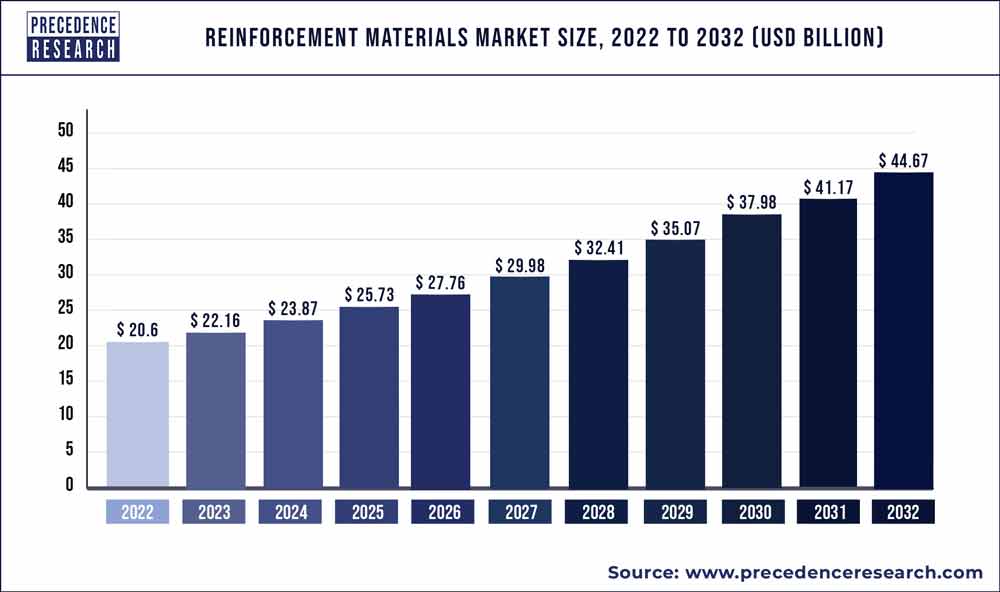 Key Takeaways:
By material type, the glass fiber segment accounted for 61% market share in 2022.
The carbon fiber segment is expected to reach a CAGR of 11% between 2023 to 2032.
By end user, the construction segment hit 32% market share in 2022.
The industrial segment is anticipated to grow at a CAGR of 9.8% between 2023 to 2032.
The Asia Pacific region is anticipated to reach a CAGR of 9.9% from 2023 to 2032.
The growing demand for the Reinforcement material of glass fibers in business constructions and structures and the growing demand for the material of fiber complex from the aerospace industry is boosting the worldwide market of reinforcement materials. Strengthening ingredients are additional towards the medium physical to improve the mechanical and physical belongings of the ending complex product. In this business rapid increase in acceptance of reinforced resources is also generating chances for the worldwide market of reinforcement materials. They are rigid, harder, and strongly accessible in the methods of particulates, fibers, flakes, and fillers. Polymer matrix complex is a kind of reinforcement material that is applicable for closeness surfaces and fibers in an inclusive variety of therapeutic strategies like MRI image scanners, roentgenogram couches, C scanners, target tools, prosthetics, wheelchairs, and others. They are generally applicable in storage tanks, fishing rods, and airplane portions on the justification of their high rust resistance and short cost.
Other reinforcement resources such as Fiber Strengthened polymers like sheets, strips, and bars, are similarly used to reinforce constructions created after even steel concrete, timber, and masonry. Currently, producers across the world are presenting green strengthening resources resulting from animal and plant-based biomass like wood fiber. They also discovered importance in the business of manufacturing paints, electronics, coatings, and many other manufacturing objects. More, supplementary conventional possessions with progressive fibers like carbon and glass fiber are additional features increasing the petition for the market for reinforcement resources.
Growth Factors
A growing necessity for disposable masks, swabs, and specific protection equipment due to the increasing number of COVID-19 affected roles. This signifies important key features completely prompting the consumption of strengthening resources in the health care business. Moreover, growing funds in infrastructural ventures are boosting the usage of reinforcement or geotextile ingredients to rise soil constancy, deliver corrosion regulators, and help in drainage. The increasing customer expenditure on actual manor belongings is expanding the service of reinforcement constituents in the construction business for communicating workable strength and ductileness to real constructions. The rise of international development events, expansion of end-use fiber complex applications, the importance of GRFM, and rising demands for useless resources that consciously reduce vehicle emissions all contribute to the expansion of the global market for reinforcing materials.
Strengthened Fiber Polymer blends are more comfortable for development because they have less thickness and higher strength. Split fabricators are a typical fibrous pattern that is utilized as reinforcing in intricate coatings. The market's development is hampered by the pricey and composite carbon fiber industrialization. Carbon and aramid fibers are two additional common techniques for bolstering resources. Only needs and industrial advancements can be regarded as responsible for better performance and price accumulation when it comes to reinforcement resources. In the next years, new opportunities will arise as the motorized industry's resources gain wider appeal. The rising demand for highspeed and run-flat tires is growing the acceptance of reinforcement materials in space shuttle landing, heavyweight trucks, bicycles, and earthmovers tackle transversely to the world. Market companies are presenting nylon and polyester thermoplastic resin with good-looking structures, with good impact, low density, and tiredness resistance making a satisfactory market viewpoint. Aerospace & defense, manufacturing, wind energy, and transportation are the key businesses that use reinforcement resources and these businesses have seen a rapid failure in evolution rates due to global lockdown. Additionally, the reinforcement materials are rough and protective against organic diluents, lubricants, and fuels that are extensively applied for airborne purposes in the defense business.
The Covid-19 outbreak has harmed the worldwide market for reinforcement materials. The construction materials market declines knowingly at the start of 2020 and is anticipated to remain for the following six months. Numerous construction and other extra businesses have been stopped Owing to the universal lockdown, which leads to a decrease in the demand for reinforcement materials. Owing to disruptions in the universal supply chain, petrochemicals actions, and interruptions in the cleansing are key consumers of aramid fiber, the market of aramid fiber is discretely pretentious.
Report Scope of the Reinforcement Materials Market
| | |
| --- | --- |
| Report Coverage | Details |
| Market Size in 2023 | USD 22.16 Billion |
| Market Size by 2032 | USD 44.67 Billion |
| Growth Rate from 2022 to 2030 | CAGR of 8.10% |
| Base Year | 2022 |
| Forecast Period | 2023 to 2032 |
| Segments Covered | Material Type, Form, Application, End-use, Geography |
| Companies Mentioned | 3B - the fiberglass company, BASF SE, Bast Fibers LLC, Binani Industries, Century Enka Limited, Cordenka GmbH, Dupont De Nemours Inc., Formosa Taffeta Co. Ltd., Honywell International Inc., Hyosung Advanced Materials, JEC Group, Kolon Industries Inc., N.V. Bekaert S.A., NFC Fibres GMBH, NJR Steel, Owens Corning, Solvay, Teijin Limited, Toray Industries Inc, Toyobo Co. Ltd |

Material Industry
Glass fiber has developed as the most important segment of product on the market of reinforcement material. Glass fibers are closely 36% lightweight as compared to aluminum, and 64% light-weight as compared to the steel that making it a chosen strengthening material. Glass fiber beats the market of reinforcement materials concerning value and capacity due to its importance corresponding to its durability and weight reduction. Glass fibers are applicable in corrosion resistant fabrics, sound insulation, thermal insulation, and electrical insulation.
Glass fibers are measured as the important supports for polymer matrix mixtures, owing to belongings like more electric protecting properties, low humidity resistance, and greater automatic properties related to the alumina lime borosilicate mixture. This is the important feature driving the segment of glass fiber in the market for reinforcement materials. Natural fibers like sisal, hemp, kenaf, jute, and flax deliver numerous profits like recyclability, cost reduction, and weight reduction. Reinforcements are used in increasing belongings like strength and stiffness in complex materials.
Form Industry
A segment of Prepreg has the highest and most noteworthy share of the market of reinforcement materials in the last years. Prepregs are too elastic and may be used mechanically or manually useful at many guidelines depending on the necessities. Prepreg is chosen because of its belongings like storing capacity and shelf life. Prepregs created from thermoplastic resin gums are produced from carbon fiber and glass fibers which permits for advanced reinforcement and strength. So, from another form of reinforcement materials prepreg has a high demand.
Application Industry
The segment of composite is anticipated to increase the CAGR of the market of Reinforcement Materials throughout the forecast. Overall electronic vehicles are sold at a high rate and are anticipated to record a double number growth in upcoming years. In the automobile industry, the growing requests for complex reinforcement materials are boosting the market for complex reinforcement materials.
After composite material, the Glass fiber reinforcement material is more essential and is widely used in the defense and aerospace business. Glass fiber contains admirable strengthening ability for the main purpose of its universal use in the defense and aerospace industry.
End-use Industry
The segment of building & construction has the major market share of the market of reinforcement materials. Reinforcement resources are useful in implementing the automatic belongings of the structure and support in creating the building harder and stronger. Reinforcement resources are widely applicable in the construction business for conservation activities, constructing structures, and basic foundations.
The reinforcement resources suggest toughness, fire resistance, adaptability, strength, ductileness, and seismic struggle ease comfort of structure. To reinforce the situation and creation of the block, steel bars are used. In the structure and building business, these are the factors extremely driving the growth of reinforcement materials.
Reinforcement Materials Market Share, By Region, 2022 (%)
| | |
| --- | --- |
| Regions | Revenue Share in 2022 (%) |
| North America | 31% |
| Asia Pacific | 36% |
| Europe | 20% |
| Latin America | 8% |
| MEA | 5% |

Regional Industry
Asia-Pacific is an important sponsor of the worldwide demand for reinforcing resources. Asia-Pacific is anticipated to control the market of reinforcement resources during the period of forecast mainly due to the fast-growing automotive manufacturing in China and India. The Asia Pacific can assist the market of reinforcement materials to improve exponential development through tenure. The extensive urbanization and development in recent set-up will assist as protruding growth factors. The quick expansion and the upsurge in the venture for defense belongings in developing financial prudence in India and China consume subsidized for the development in the claim for the market of reinforcement resources. Due to the introduction of new products, reduced borrowing charges, and continued drive in the individual flexibility region, manufacturing is expected to grow quickly in the approaching years.
Furthermore, growing funds for R&D and concentrating on the progression of instruments are anticipated to increase the Japanese automotive market. The progress in the organization in nations like Asia and India will additionally upsurge the request for the marketplace of strengthening resources. This is expected to enlarge the market of reinforcement materials throughout the forecast. The rapid growth in the increase in investment for goods in emerging economies like India and China has donated to the upsurge in the requirement for the market of reinforcement materials. The growing development in industrial manufacturing is also devoted to the growth of reinforcement resources in the region. China leftovers the other major market in the worldwide defense business that gives rise to demand reinforcement materials in the area. Counties like Europe and North America containing technologically advanced economies can perceive reasonable development for the market of reinforcement materials. Latin America can gain modest development in the market of reinforcement materials.
Key market developments:
To increase their market position, major corporations are implementing a variety of business tactics, including cooperation and collaboration. For example, the additional automobile side-door component was introduced by Continental Architectural Polymers Holdings Inc. and Teijin Corp, the Japanese automotive components specialist business. Single direction glass fiber reinforced polymers, carbon fiber sheet molding material (SMC), and glass fiber SMC is used to make the component.
To create a competitive advantage in the marketplace, key firms are concentrating on a variety of growth techniques, including marketing. For instance, Owens Optical, a major supplier of optical fiber reinforcements, attended JEC International 2018 in early March that displayed its goods, including composites comprised of crystal fiber reinforcement, at the exhibition Make The whole thing Extraordinary.
To diversify their strategic initiatives and expand their market portfolios, key market players are launching new products. In particular, High Flow Technologies introduced High Flow weather strengthening textiles for the production of blades in July 2018. It is composed of heavy reinforcing textiles, claims the firm.
On 5 November 2020, Enterprise and Polymers One LLC reached an understanding regarding Biomaterials One's purchase of Solvay's Specialty Products sector.
On 8 July 2020, White Chemical unveiled a brand-new line of insulators called FOAMLUAR NGX (Future Development Compressed).
Key market players:
3B - the fiberglass company

BASF SE

Bast Fibers LLC

Binani Industries

Century Enka Limited

Cordenka GmbH

Dupont De Nemours Inc.

Formosa Taffeta Co. Ltd.

Honywell International Inc.

Hyosung Advanced Materials

JEC Group

Kolon Industries Inc.

N.V. Bekaert S.A.

NFC Fibres GMBH

NJR Steel

Owens Corning

Solvay

Teijin Limited

Toray Industries Inc

Toyobo Co. Ltd
Segments are covered in the report:
(Note*: We offer report based on sub segments as well. Kindly, let us know if you are interested)
By Material Type
Glass Fibre
Carbon Fibre
Aramid Fibre
Basalt Fibre
Natural Fibre
Steel Rebar
By Form
Multi-End and Single-End Roving
Mats and Veils
Woven
Stitched
Braided
3D Fabrics
Unidirectional
Prepreg
Milled
Chopped Strands
Yarn
Others
By Application
Composite
Concrete
Others
By End-use
Building & Construction
Automotive
Home Appliances
Electrical and Electronics
Power & Energy
Marine
Aerospace & Defence
Sporting Goods
Medical & Healthcare
Locomotive & Transportation
Others
By Geography
North America
Europe
Asia-Pacific

China
India
Japan
South Korea
Malaysia
Philippines

Latin America

Brazil
Rest of Latin America

Middle East & Africa (MEA)

GCC
North Africa
South Africa
Rest of the Middle East & Africa