The global silos market size was valued at USD 196.14 million in 2022 and it is projected to hit around USD 278.28 million by 2032, growing at a CAGR of 3.56% during the forecast period from 2023 to 2032.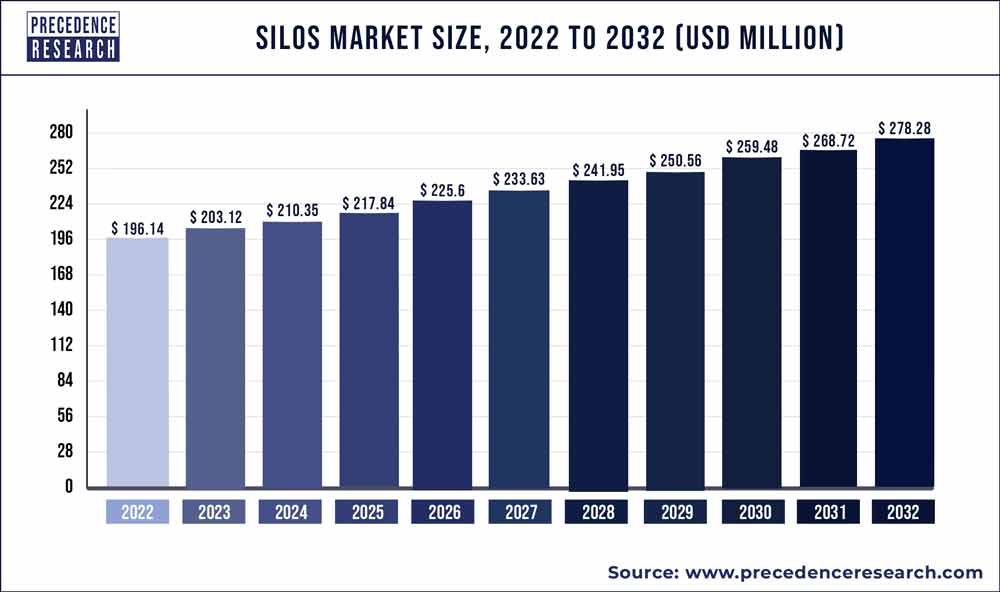 Access our Premium Real Time Data Intelligence Tool, Visit: Precedence Statistics
Key Takeaways:
North America is anticipated to dominate the global market over the forecast period.
Asia Pacific is expected the expand the fastest CAGR from 2023 to 2032.
Based on type, the metal silos dominated the market during the forecast period.
Based on the product, the flat-bottom silo is expected to witness considerable growth in the global market of the silo.
Market Overview:
Silos are structures used to store large quantities of goods and are often composed of metal or aluminum. Manufacturers of plastics, food, tires, and chemicals utilize them to boost production capacity and lower waste. Silos offer more storage space than other types of storage. Aluminum silos are anticipated to see a greater CAGR during the forecast period. The market for stainless steel silos is also expected to grow significantly during the anticipated period. Silo marketing is the isolation, disconnection, or incomplete integration of all online marketing channels and services. It might involve employing only one or two tracks, platforms, or digital methods but doing them in a way that doesn't make sense when combined. One system, procedure, or platform is singled out as the primary focus of silo marketing. Silos have several benefits, including.
The silos can be used in the agriculture sector to store food items; in the chemical and cement sectors, they can be used to store plastic resins, cement, calcium oxides, and a variety of other materials, such as activated carbon.
Compared to horizontal storage facilities, storage silos require less room.
The items or materials are kept in ideal storage conditions.
Compared to other storage solutions, storage silos are less expensive.
Rising food grain production and a growing global population are anticipated to increase the demand for grain storage silos.
The current global population is predicted to be 7.7 billion people, according to a United Nations report titled "World Population Prospects 2019". Around 8.5 billion people are anticipated to live there by 2030, 9.7 billion by 2050, and 10.9 billion by 2100.
As a result, the necessity for food grain storage would increase along with population growth, which is anticipated to drive the market for grain storage silos.
Growth Factors:
The rising global population and the increased need for food are responsible for expanding the silo market. The expanding industrial sector additionally helps the expansion of this market. According to the report, one of the major causes is the escalating need in the food and beverage sector for adequate handling and storage of grains, flour, and other food products. The agriculture industry's demand for silos to store grains and other crops is growing. Demand for silos to store grains and other crops are increasing in the agriculture industry. Silos are becoming increasingly common among small-scale farmers as they take advantage of their affordable cost and simple installation. The demand for emergency grain storage is rising due to the expanding world population. Silos are expanding due to the need for storage. To fulfill the request for silo storage of staple grains, which have grown during the previous decade, rice, wheat, and maize are the top three grains stored in silos, and one of the reasons for this is the preference for staples over other goods during emergencies.
The leading company's rising investments and technological advancements drive the industry. For instance, India's largest private-sector agriculture post-harvest management organization, National Commodities Management Services Limited (NCML), opened four public storage silo facilities in Haryana in 2021.
Global demand for more excellent storage facilities is driven by the need to accommodate growing grain reserves annually. Businesses in the area also increased the silo's storage capacity to accommodate a significant amount of grain. Therefore, during the predicted period, these factors will support market expansion.
Report Scope of the Silos Market:
| | |
| --- | --- |
| Report Coverage | Details |
| Market Size in 2023 | USD 203.12 Million |
| Market Size by 2032 | USD 278.28 Million |
| Growth Rate from 2023 to 2032 | CAGR of 3.56% |
| Largest Market | North America |
| Fastest Growing Market | Asia Pacific |
| Base Year | 2022 |
| Forecast Period | 2023 To 2032 |
| Segments Covered | By Type and By Product |
| Regions Covered | North America, Europe, Asia-Pacific, Latin America, and Middle East & Africa |

Market Dynamics:
Driver:
Market-driven by storage facility optimization and effective raw material management
Silos are frequently used in many industries for bulk storage purposes. They provide industries with a more significant benefit because they have less land and are taller than other storage options. Silos facilitate effective material handling by reducing the time and workforce required to handle and move commodities inside Gaylord boxes.
For instance, the ideal method for storing wheat is silo storage. The Food Corporation of India (FCI) is the best example of a sustainable food storage system, with only 0.3% storage losses in 3 years of wheat storage.
However, the storage losses in silo storage are also equivalent to silo storage of wheat when proper storage management practices are adopted. Furthermore, compared to smaller storage bins dispersed across a larger area, silos offer greater control for storage since end-users can rapidly and effectively monitor the state of their products. Centralized grain storage in one location enables greater control over states. It keeps the grain in optimal condition for longer by working with grain capacity at a specific temperature while being free of bugs and other annoyances. Another crucial, direct step toward ensuring minimum aggravation is ensuring air circulation in securely fixed storage. Utilizing silos also enables lower costs for trash and other disposable items. Additionally, chemical storage must be done effectively in processing facilities that use vast amounts of dry bulk chemicals, including quicklime, hydrated lime, soda ash, and magnesium oxide. Silos aid in the efficient handling and transfer of chemicals and the storage and protection of dry chemicals from the elements.
Restraint:
Lack of standardization
The lack of standardization is the main challenge the silos market faces. Silos come in various forms, dimensions, and materials, making it difficult to assess and select the best silo for a particular application. It may be challenging to guarantee that a silo purchased from a single manufacturer is compatible with accessories or replacement components from another manufacturer due to a lack of standardization.
Lack of standardization leads to several problems, such as:
It can be difficult to compare pricing amongst manufacturers who offer silos of different sizes and materials, making it difficult to get the most significant value.
Compatibility issues: Since different manufacturers may use various fittings, valves, and other accessories for their silos, it might be challenging to change any components or accessories.
Maintenance issues: because not all features are necessarily readily available or compatible, a lack of standardization might make it challenging to maintain, repair, and replace silo components.
Safety issues: The absence of standards can raise safety issues because not all silos may be created and produced according to the exact safety requirements.
To solve this problem, various organizations—including the European Committee for Standardization (CEN) and the American Concrete Institute (ACI)—have created standard requirements for silos.
These standards include guidelines for design, construction, and maintenance to increase the compatibility, safety, and quality of silos.
Opportunity:
Technological advancement
Silos can now contain sensors and monitoring systems to track temperature, humidity, and other environmental conditions thanks to technological advancements. By enhancing the quality and security of stored goods, silos may become more appealing to farmers and companies. Silo sensors give precise, continuous measurements for more effective silo usage using touch or non-contact methods. Although both types of sensors produce accurate data, the ideal system for a silo will depend on the configuration and preferred integration strategy.
For instance, sensors can measure the motions brought about by emptying and filling the silo, and a measurement device alerts facilities when the silo needs to be refilled or emptied.
The sensor network provides up-to-date knowledge of the silo's contents while continuously monitoring the silo's shifting conditions. Numerous companies use Silo sensors.
For instance, LCDM is pleased to provide a 100% solar-powered silo-level monitoring system.
This system's large energy storage capacity enables it to operate continuously while keeping track of grain levels. There is no need for additional connections or power sources because the sensors form their network and do not require Wi-Fi access.
Another company that provides solid-level detection sensors and measurements for keeping track of how many bulk solids are present in silos, tanks, and other vessels is VEGA.
To prevent explosions in the raw grain silo, Baumer International has created and certified sensors for installation in explosion-proof locations.
Segments Insight:
Type Insights:
Based on the type, it is classified into steel Silos, Metal Silos, and Other Types. Metal Silos dominated the market during the forecast period. A cylindrical, hermetically sealed container made of galvanized iron sheet is called a metal silo. It is a building used to store large quantities of grain, beans, and other bulk commodities. Metal silos are cylindrical storage bins for grains made of galvanized steel sheets. Metal silos have several benefits: Your grain will be shielded from the elements thanks to the toughness and weather resistance of metal silos. Metal silos may successfully cut crop loss to virtually zero when used appropriately. It guarantees improved grain preservation and lengthens its shelf life. Here are some advantages of using steel silos over other silos: Steel silos can last much longer than concrete without cracking or needing reinforcement. Steel silos deliver greater storage capacity, giving the user more value for their money. Steel silos keep the grains safe for longer. Steel silos can be equipped with complete temperature control and a ventilation system that guarantees the maintenance of the grain in good condition.
Product Insights:
Flat-bottom silos, hopper-bottom silos, feed hoppers, and farm silos are categories based on product type. The global market for silos is predicted to experience significant growth for flat-bottom silos. Grain and other granular goods can be stored in silos with flat bottoms. The material kept in the steel silo impacts the floor structure of the silo. Air slides for flat-bottom silos can be bolted directly to the silo floor or onto the plinths recessed into the silo floor. Large farms, inland storage facilities, grain terminals, and grain-based factories like flour mills, feed mills, rice mills, oil mills, and biofuel facilities are just a few of the applications for flat-bottom silos in the agricultural, industrial, commercial, and strategic sectors. The shape of a hopper-bottom silo, also known as a cone-bottom silo, differs from a flat-bottom silo. Primarily needed for tiny silos, a hopper-bottom steel silo is always a superior option. The configuration of the hopper silo depends on the type of material being kept in it, and the bottom hopper silo has complete drainage. The bottom hopper silo can be created to meet our clients' grain and food storage requirements grain and food storage requirements of our clients.
Regional Insights:
In 2022, most grain storage silos will be used in North America. The on-farm storage expanded by 1.6 billion bushels and the off-farm storage by 2.2 billion bushels over the past ten years, respectively, according to the United States Department of Agriculture (USDA), representing 14% and 24% growth rates. Since they can be utilized for long-term storage, manufacturers tend to favor flat-bottom or hopper-bottom silos. It expanded the flat-bottom or hopper-bottom silo market in the United States. Additionally, over the past 20 years, US grain storage capacity has significantly increased.
The USDA estimates that the nation's grain storage capacity will be around 25.3 billion bushels in 2020.
Regarding the total amount, the period of the harvest, and the place of production, corn, soybeans, wheat, and other crops have different storage methods. Corn dominates the nation's grain inventories. More than three-quarters of US grain inventories are made up of post-harvest maize, most of which is stored on farms. The bulk silo bag market in North America is also driven by the high demand for small silos, particularly silo bags in the 60- to 75-meter range. In 2022, silo bags with lengths of 60 and 75 meters collectively held around 90% of the market share.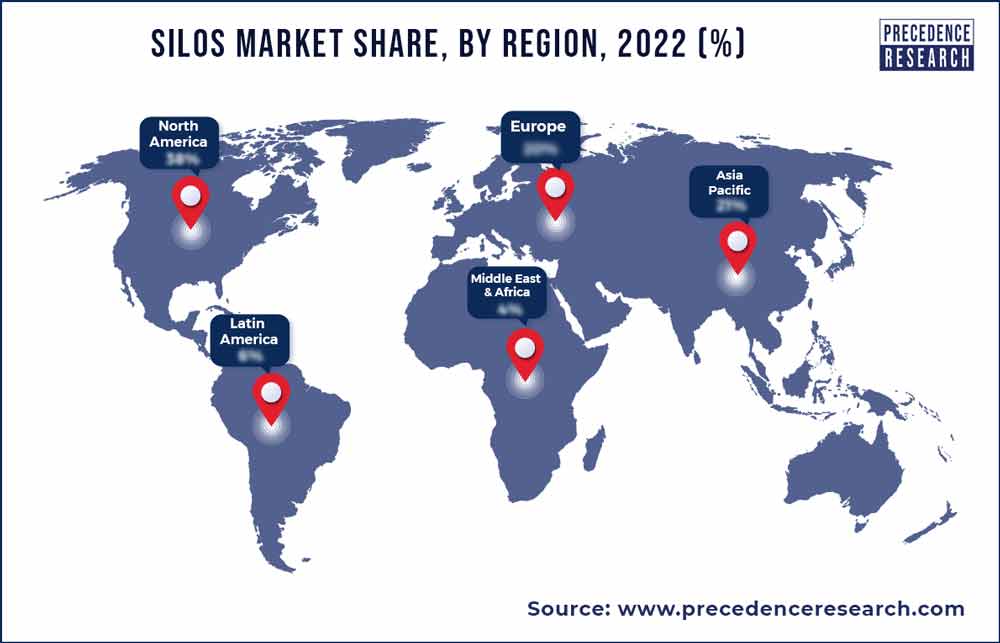 On the other hand, regarding market revenue, the Asia-Pacific region held a sizable share in 2022 and is anticipated to grow at the highest CAGR. Post-harvest losses occurring more frequently, whether due to pests and rodents or environmental conditions, are accelerating the development of grain silos and storage facilities.
For instance, the Indian Ministry of Consumer Affairs stated that Food Corporation of India (FCI) godown leaks, rodent, and pest assaults, exposure to rain and flooding, and other factors contributed to the damage of around 57,676 metric tons of food grains nationwide.
For instance, the Food and Agriculture Organization estimates India produced 275 million metric tons (MT) of grain in 2018. In addition, it is anticipated that the market for grain storage silos will rise due to the region's increasing grain production.
Recent Developments:
May 2023, To protect and maintain the quality of the legumes before processing, Symaga silos have been outfitted by the rest of the facility. SILOS IN THE NEW LEGUMBRES PEDRO PLANT THAT CARES FOR LEGUMES these four hopper silos, according to Symaga Silos, are assembled as SCX0460/08T45. A notable project in Spain since it is a component of the brand-new, cutting-edge facilities that the Cadiz Corporation aims to open soon in the Cadiz town of Alcalá de los Gazules. Each year, the new facility will process 20,000 tons of dry pulses.
March 2022, An out-of-state maker of grain bins and livestock equipment sold SCAFCO Grain Systems Co., a Stone Group of Companies company with headquarters in Spokane Valley, to Sioux Steel Co. SCAFCO provides a line of grain bins, structures, handling tools, drying technology, and accessories and has installations in more than 80 nations.
Key Market Players:
Sioux Steel
Silos Cordoba
Hanson Silo Company
Nelson Silos
Henan Haokebang machinery Equipment co. Ltd
P+W Metallbau GmbH & Co. KG
Superior Grain Equipment
Ahrens Agri
CST Industries, Inc.
Symaga, Kotzur
GE Silos
Segment Covered in the Report:
(Note*: We offer reports based on sub segments as well. Kindly, let us know if you are interested)
By Type
Steel Silos
Metal Silos
Other Types
By Product
Flat Bottom Silos
Hopper Bottom Silos
Feed Hoppers
Farm Silos
By Geography
North America
Europe
Asia-Pacific
Latin America
Middle East and Africa