The global socks market size surpassed USD 44.7 billion in 2022 and is predicted to be worth around USD 88.34 billion by 2032, poised to grow at a CAGR of 7.1% during the forecast period from 2023 to 2032.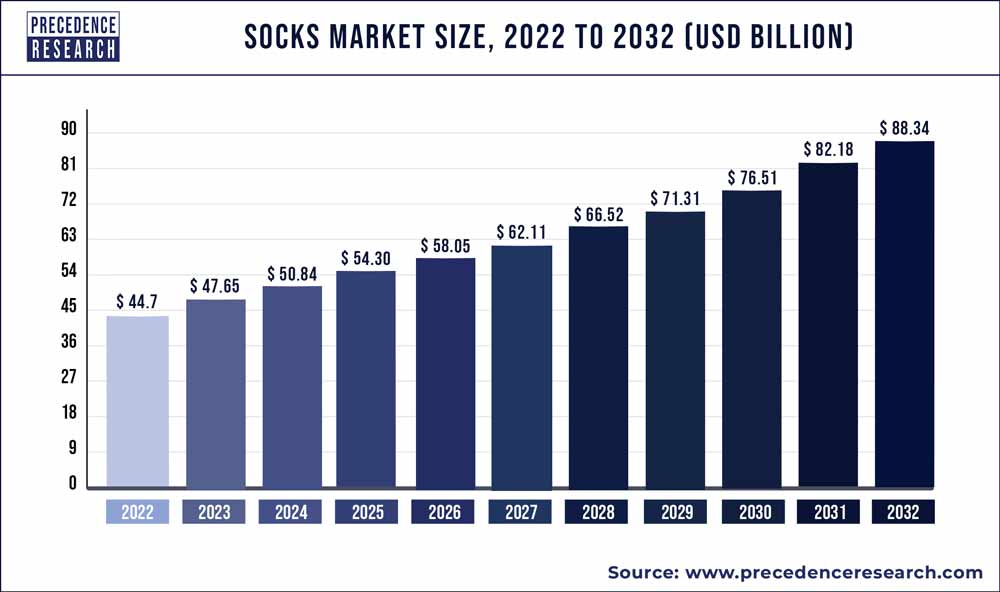 Access our Premium Real Time Data Intelligence Tool, Visit: Precedence Statistics
Key Takeaways
Europe contributed more than 31% of revenue share in 2022.
Asia-Pacific is estimated to expand at the fastest CAGR from 2023 to 2032.
By Product, the casual product segment has held the highest revenue share of 54% in 2022.
By Product, the athletic segment is anticipated to grow at the fastest CAGR of 7.7% during the projected period.
By End-use, the men segment contributed more than 62% of revenue share in 2022.
By End-use, the women is anticipated to expand at the fastest CAGR over the projected period.
By Distribution Channel, the hypermarkets and supermarkets segment held the major revenue share of 56% in 2022.
By Distribution Channel, the online segment is anticipated to grow at a notable CAGR of 8.9% over the predicted period.
Socks Market Overview
The sock market refers to the global industry involved in the manufacturing, distribution, and sale of socks. Socks are essential clothing items worn on the feet for various purposes, including comfort, warmth, and fashion. The sock market encompasses a wide range of styles, materials, and brands, catering to diverse consumer preferences. It is influenced by fashion trends, seasonal demands, and technological advancements in sock production. Key players in the sock market include manufacturers, retailers, and online platforms. The market's dynamics are driven by consumer choices, economic factors, and innovations in sustainable and performance-enhancing sock technologies.
Socks Market in the Europe 2023-2032
The Europe socks market size was valued at USD 13.85 billion in 2022 and is estimated to reach around USD 26.88 billion by 2032, growing at a CAGR of 6.9% from 2023 to 2032.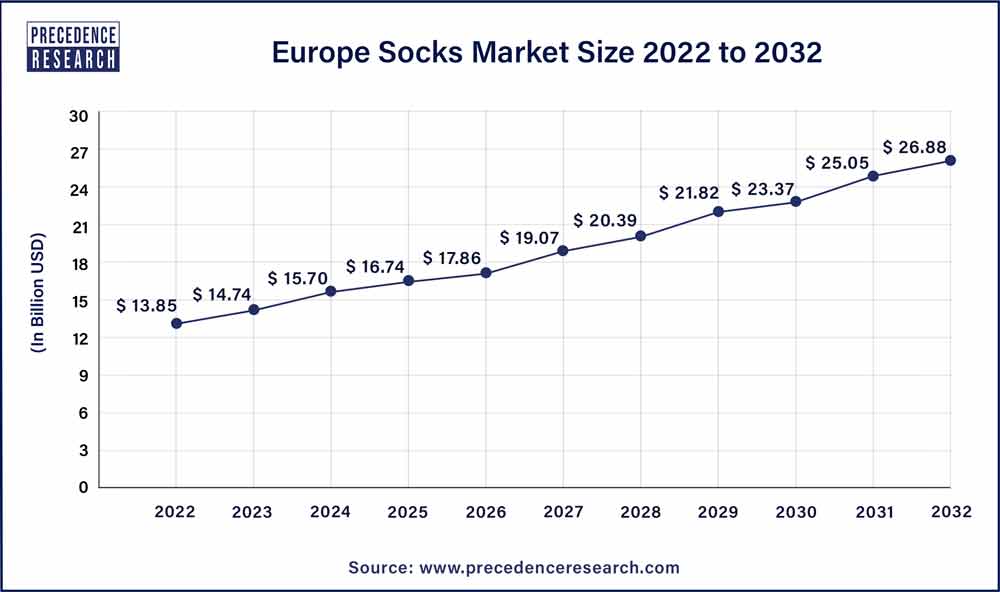 Europe has held the largest revenue share 31% in 2022. Europe commands a substantial share in the sock market due to several factors. The region has a strong fashion culture with a diverse consumer base that values quality and style in clothing, including socks. European consumers often prioritize sock purchases as a part of their fashion statements. Furthermore, the presence of prominent sock manufacturers and brands, along with robust distribution networks, contributes to Europe's significant market share. Additionally, a growing awareness of sustainability and eco-friendliness aligns with European consumers' preferences, further bolstering the region's position in the global sock market.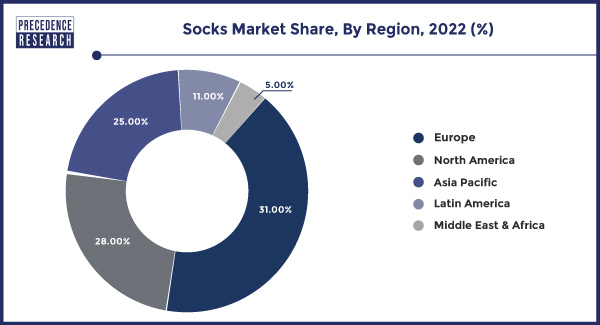 Asia-Pacific is estimated to observe the fastest expansion. First, it encompasses densely populated countries like China and India, which boast substantial consumer bases. These nations exhibit a rising middle class with increased disposable income, driving sock consumption. Moreover, Asia-Pacific countries are major producers of socks, benefitting from lower production costs. Additionally, the region's fashion-conscious consumers have a diverse range of sock preferences, from traditional to trendy styles. This combination of production capabilities and a burgeoning consumer market makes Asia-Pacific a dominant growth leader in the global sock industry.
Growth Factors
The global socks market is a thriving industry encompassing the production, distribution, and sale of a diverse range of foot garments. These essential items serve not only functional purposes like comfort and warmth but also play a significant role in fashion. The sock market caters to a wide array of consumer preferences, offering various styles, materials, and brands to choose from. It operates in a dynamic landscape shaped by ever-changing fashion trends, seasonal fluctuations, and innovations in sock manufacturing technology. Key stakeholders in this industry include manufacturers, retailers, and e-commerce platforms, collectively driving its growth and evolution.
Several factors contribute to the growth of the socks market. Firstly, fashion trends play a crucial role in shaping consumer demand. The industry constantly adapts to new style preferences, such as ankle socks, no-show socks, or patterned designs. Additionally, the growing awareness of sustainable and eco-friendly materials has led to the development of eco-conscious sock lines. Moreover, advancements in sock technology, including moisture-wicking and odor-control properties, cater to consumers seeking both comfort and performance. These trends not only drive consumer interest but also create opportunities for innovation and differentiation within the market.
Despite its growth potential, the sock industry faces some challenges. Competition is intense, with numerous brands vying for market share. This saturation makes it crucial for companies to establish strong brand identities and offer unique value propositions. Furthermore, supply chain disruptions, particularly during global crises like the COVID-19 pandemic, can impact manufacturing and distribution. The rising costs of raw materials and labor also pose challenges to maintaining profit margins. Additionally, counterfeit products and intellectual property issues can harm both brand reputation and revenue.
Amidst the challenges, there are several promising business opportunities in the socks market. Companies can leverage the growing interest in sustainable and ethical fashion by producing eco-friendly socks and promoting transparent supply chains. Expanding into niche markets, such as specialized athletic socks or diabetic-friendly options, can also tap into underserved consumer segments.
The rise of e-commerce provides a platform for global reach, enabling businesses to expand beyond their local markets. Collaboration with influencers and celebrities for brand endorsements and unique collections can enhance brand visibility and customer engagement. Lastly, investing in research and development to create innovative sock materials and designs can set businesses apart and drive growth in this dynamic industry.
In summary, the socks market is a vibrant and evolving sector offering diverse opportunities for businesses. Success in this industry relies on adapting to fashion trends, addressing sustainability concerns, and overcoming challenges through innovation and strategic differentiation. By navigating these dynamics effectively, companies can thrive in the competitive world of sock manufacturing and retail.
Socks Market Scope
| | |
| --- | --- |
| Report Coverage | Details |
| Growth Rate from 2023 to 2032 | CAGR of 7.1% |
| Market Size in 2023 | USD 47.65 Billion |
| Market Size by 2032 | USD 88.34 Billion |
| Largest Market | Europe |
| Base Year | 2022 |
| Forecast Period | 2023 to 2032 |
| Segments Covered | By Product, By End-use, and By Distribution Channel |
| Regions Covered | North America, Europe, Asia-Pacific, Latin America, and Middle East & Africa |

Socks Market Dynamics
Driver
Comfort and performance
Comfort and performance are pivotal drivers fueling the growth of the sock market. In today's fast-paced lifestyle, consumers seek more than just fashion; they demand socks that provide superior comfort and enhance their performance in various activities. This trend is particularly evident in the athletic and sports sock segment, where individuals demand socks that reduce friction, wick away moisture, and offer arch support. Manufacturers respond by integrating advanced materials and technologies into their sock designs, such as moisture-wicking fabrics, cushioning, and ergonomic shaping.
Moreover, the emphasis on comfort extends beyond sports and fitness, as people increasingly value all-day comfort in their everyday wear. Whether for work, travel, or leisure, consumers want socks that prevent blisters, reduce fatigue, and maintain a comfortable temperature. The market's response to this demand includes specialized designs for different occasions and lifestyles, driving growth as consumers continue to prioritize socks that not only look good but also feel good and enhance their daily experiences.
Restraints
Supply chain disruptions
Supply chain disruptions represent a significant restraint on the growth of the sock market. This challenge arises from the market's reliance on a complex network of suppliers, manufacturers, and distributors, often operating on a global scale. Events such as natural disasters, political instability, or global health crises like the COVID-19 pandemic can disrupt this intricate supply chain, leading to delays in sock production and distribution. These disruptions can result in shortages of popular sock styles, increased lead times, and rising production costs, all of which can erode consumer trust and satisfaction.
Additionally, supply chain interruptions can hinder a company's ability to meet seasonal demand fluctuations or capitalize on emerging fashion trends, potentially causing missed sales opportunities. To mitigate these restraints, sock manufacturers must invest in resilient supply chain management strategies, diversify sourcing options, and maintain agility in response to unforeseen challenges, all of which are essential for sustaining growth in this competitive market.
Opportunities
Sustainable and eco-friendly socks
The surging interest in sustainable and environmentally friendly socks is opening up significant market opportunities. As consumers become increasingly concerned about the ecological impact of their clothing choices, including socks, this growing environmental consciousness is creating a lucrative niche for sock manufacturers to explore. To tap into this trend, manufacturers can incorporate recycled materials like repurposed cotton or plastic bottles into their sock production, thus reducing waste and their ecological footprint.
Moreover, embracing sustainable production processes such as water-efficient dyeing techniques and ethically sound labor practices can further cater to environmentally-aware consumers. Prioritizing sustainability not only helps improve a brand's image but also fosters stronger customer loyalty. Companies that champion eco-friendliness and maintain transparent supply chains are more likely to attract and retain customers who prioritize environmental responsibility, thereby fostering sustainable long-term business growth.
Furthermore, governments and institutions are increasingly backing sustainable initiatives, providing incentives and certifications for eco-friendly products. Manufacturers can capitalize on these incentives to cut production costs and gain a competitive edge in the market. Ultimately, sustainable and environmentally friendly socks not only align with consumer values but also offer a strategic advantage for businesses seeking growth in an eco-conscious market.
Impact of COVID-19
The COVID-19 pandemic had a mixed impact on the socks market. Initially, lockdowns and reduced consumer spending negatively affected sock sales, especially for fashion and non-essential socks. However, as remote work and online shopping surged, the demand for comfortable and athleisure socks increased. Many consumers sought socks with moisture-wicking and comfort features for home workouts. Supply chain disruptions also affected production and distribution, causing delays. Despite these challenges, e-commerce flourished, offering an avenue for sock brands to reach customers. Overall, the pandemic accelerated trends toward comfort and online retail, presenting opportunities and challenges for the socks market.
Product Insights
According to the product, the casual product sector has held 54% revenue share in 2022. The casual product segment holds a significant share in the market due to its versatility and widespread appeal. Casual socks are the go-to choice for everyday wear, making them a staple in consumers' wardrobes. They offer comfort and style suitable for various occasions, from work to leisure. Moreover, the trend toward athleisure and remote work during the COVID-19 pandemic further boosted the demand for comfortable, casual socks. This segment's broad customer base, consistent demand, and adaptability to fashion trends make it a dominant player in the sock market, maintaining a major share.
The athletic segment is anticipated to expand at a significantly CAGR of 7.7% during the projected period. The athletic segment holds significant growth in the sock market due to several factors. Firstly, the growing emphasis on fitness and sports activities has boosted the demand for specialized athletic socks that offer performance-enhancing features like moisture-wicking, arch support, and cushioning. Secondly, the trend of athleisure wear has blurred the lines between workout and everyday attire, making athletic socks a versatile choice for many consumers.
Additionally, endorsements from athletes and fitness influencers have increased the popularity of these socks. Finally, the ongoing quest for comfort has led individuals to choose athletic socks for their ergonomic design and superior fit.
End-use Insights
In 2022, the men segment had the highest market share of 62% on the basis of the End-use. The men's segment holds a significant share in the sock market due to several factors. Traditionally, men have been a large consumer base for socks, often requiring them for work and daily wear. Moreover, the increasing popularity of athleisure wear and sports activities among men has boosted the demand for specialized socks with performance features. Additionally, men tend to buy socks less frequently than women, leading to bulk purchases. These factors, combined with changing fashion trends that encourage sock enthusiasts to collect various styles, contribute to men's substantial market share in the sock industry.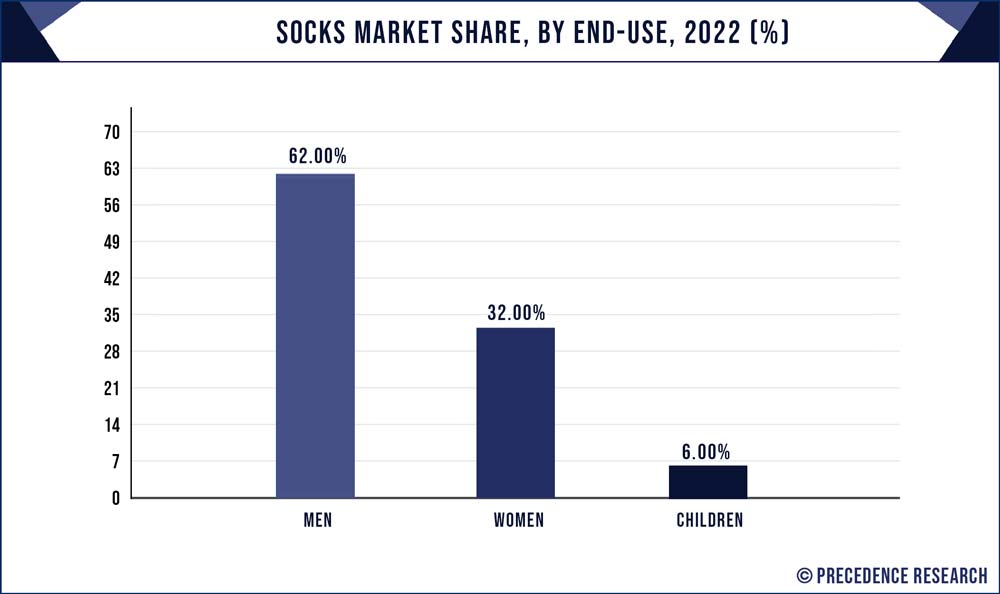 The women is anticipated to expand at the fastest rate over the projected period. The women's segment holds significant growth in the sock market primarily due to its larger variety of sock styles and greater fashion-consciousness. Women often purchase socks for different occasions, including casual wear, sports, formal events, and everyday comfort, leading to a higher volume of purchases. Additionally, the women's sock market benefits from seasonal fashion trends and the desire for color coordination, encouraging frequent sock purchases. These factors, coupled with the growing popularity of women's athleisure and fashion-forward sock designs, contribute to the segment's significant market growth.
Distribution Channel Insights
The hypermarkets and supermarkets segment held the largest revenue share of 56% in 2022. Hypermarkets and supermarkets hold a significant share in the market due to their extensive reach, diverse product offerings, and consumer convenience. These large retail outlets provide a one-stop shopping experience, making it easy for customers to purchase socks alongside their regular shopping. Moreover, they often offer a wide variety of sock brands, styles, and price points, catering to different consumer preferences. The ability to physically examine and try on socks in-store also contributes to their popularity. Additionally, frequent promotions and discounts in these stores attract price-conscious shoppers, further solidifying their market dominance.
The online sector is anticipated to grow at a significantly faster rate, registering a CAGR of 8.9% over the predicted period. The online segment holds a significant growth in the market due to several key factors. First, the convenience of online shopping, especially during the COVID-19 pandemic, led to increased e-commerce adoption. Consumers can browse a vast selection of sock brands, styles, and sizes from the comfort of their homes. Additionally, online platforms offer competitive pricing, discounts, and easy return policies, enhancing their appeal. The ability to reach a global audience and target specific customer segments through digital marketing further amplifies the online segment's market growth, making it a dominant force in the sock industry.
Recent Developments
In 2023, Zhejiang Xenfang has made notable strides by introducing innovative graphene-enhanced antibacterial socks. The company asserts that these socks achieve an impressive 90% antibacterial efficacy, offering superior performance and unmatched quality.
In 2023, HercLéon unveiled the latest iteration of their renowned 'HercSocks 5.0.' These socks are tailor-made for travelers, emphasizing durability, exceptional performance, and unparalleled comfort. They aim to provide unwavering support to active adventurers throughout their journeys, making them an ideal choice for explorers on the go.
In 2022, the LYCRA Company made a significant breakthrough by introducing their groundbreaking Thermolite Everyday Warmth Technology for socks. This innovation is designed to ensure that feet stay comfortably warm, setting a new standard for sock technology and enhancing the overall sock-wearing experience.
Socks Market Players
Nike Inc.
Puma S.E.
Adidas A.G.
Asics Corporation
Skechers USA, Inc.
Hanesbrands Inc.
Under Armour, Inc.
VF Corporation
Jockey International Inc.
Drymax Technologies Inc.
Segments Covered in the Report
By Product
By End-use
By Distribution Channel
Hypermarkets and Supermarket
Convenience Store
Online
By Geography
North America
Europe
Asia-Pacific
Latin America
Middle East and Africa