The global spices and seasonings market size was accounted at USD 36.91 billion in 2021 and it is projected to surpass around USD 59.5 billion by 2030, growing at a registered CAGR of 5.45% from 2022 to 2030.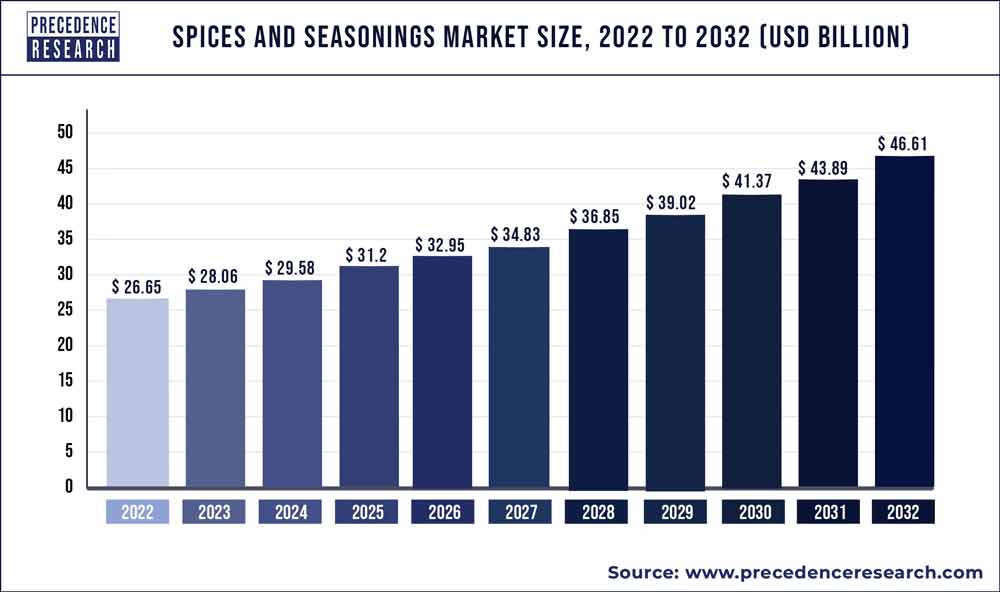 Growth Factors
The spices and seasonings are broadly used to add flavor, fragrance, variety, and taste to food and refreshments, and here and there likewise as additives or antibacterial specialists. Comfort food makers utilize these traits of spices and seasonings to further develop their item quality and taste and increment their time of usability. Customer readiness to explore different avenues regarding new spices and expanding interest in ethnic preferences has created a multiplication in item contributions and an expansion in the offer of spices and seasonings. The progress of this industry can likewise be credited to its reaction to customer interest for better items, comfort, and an assortment of spices.
The significant patterns impacting the spices and seasonings market are the expansion popular for handled meat and comfort items, clean names progressively becoming required, and an ascent in inclination for regular ingredients and spices. Shoppers are starting to put more worth on food sources that offer them help other than taste, and thus, interest in solid, regular, and safe food items is on the ascent.
An expanded inclination for western cooking and a social blend in food space has uplifted the interest for spices and spices as zest extricates. As spices are a significant gathering of enhancing specialists, zest blends have turned into an imminent portion for developments. Another excellent explanation reinforcing the interest for flavor mixes and spices is the changing buyer inclination, wherein a remarkable interest has been created in worldwide and ethnic food. The headway of epitome has prompted its application in pretty much every area of the food and refreshment industry. A comparative sort of use design has likewise been seen in the spices and seasonings market. A portion of the critical makers in the flavor and scent industry has been benefiting from the flavor variations in embodied designs. European interest inspices and seasonings is expected to enroll the most elevated CAGR of 6.8% over the gauge period. The chief end clients of spices and spices in all EU markets can be partitioned into three portions: modern, retail, and catering. In practically all EU nations, the biggest extent, being 55%-60% (and in certain nations much a greater amount of) the all-out utilization of spices and spices, is consumed by the modern area. The retail area consumes 35%-40% and the providing food area, 10%-15%. In many business sectors, the proportion moves towards higher relative utilization by the modern area, mirroring the developing ubiquity of prepared-to-utilize spices and seasonings combinations.
The novel Covid-19 pandemic had fundamentally affected practically all enterprises across the globe. This pandemic has brought about large-scale manufacturing closures and inventory network interruptions, which has impacted the economy too.This sickness has a variable effect in various nations relying upon their social standards, moderation endeavors, and wellbeing framework, and every nation is resolving its method for battling against the pandemic. Be that as it may, different examination studies are expressing the utilization of specific spicesthat could support our insusceptibility which could assist us with battling goliaths Covid as well as numerous different infections.In the ongoing situation, it has become critical to support the resistance to battle Covid, alongside keeping up with the cleanliness and following all clinical warnings that have been set down. Indeed, even the rules given by World Health Organization (WHO) in its COVID-19 examination recommend the total populace eats resistant helping food varieties. Consequently, the interest for restorative spices separates conveying properties of helping human resistance is at the flood in the drugs and nutraceuticals industry.
The overall lockdown, in any case, has additionally impacted cultivating rehearses, which has exceptionally affected the stock of unrefined components of spices and seasonings. The COVID-19 effect on planned operations additionally adds to the expanded costs of unrefined components, which supports the expense for restorative spices and seasonings makers. With hindrances to cross-line transportation of wares in this pandemic circumstance, makers are exceptionally reliant upon neighborhood unrefined substance providers, which expands the bartering force of providers. Subsequently, the expanded natural substance costs, trailed by the appeal for spices and seasonings, would prompt an expanded cost of restorative spices and seasonings for the following couple of years.
Report Scope of the Spices and Seasonings Market
| | |
| --- | --- |
| Report Coverage | Details |
| Market Size by 2030 | USD 59.5 Billion |
| Growth Rate from 2022 to 2030 | CAGR of 5.45% |
| Largest Market | Asia Pacific |
| Fastest Growing Region | Europw |
| Base Year | 2021 |
| Forecast Period | 2022 to 2030 |
| Segments Covered | Type, Application, Nature, Form, Distribution Channel, Geography |
| Companies Mentioned | Ajinomoto Co, Inc., ARIAKE JAPAN CO, LTD., Associated British Foods plc, Kerry, McCormick & Company, Inc., Baria Pepper, Dohler Group, DS Group, Everest Spices, Bart Ingredients |
Type Insights
Based on type, the ginger fragment represented the biggest portion of 38% of the worldwide flavor market in 2021. Most spices have the biggest piece of the pie in the Asia Pacific. This is because more spices are utilized in warm environments because of their antibacterial properties that free food sources of microorganisms and accordingly add to human wellbeing, life span, and regenerative achievement.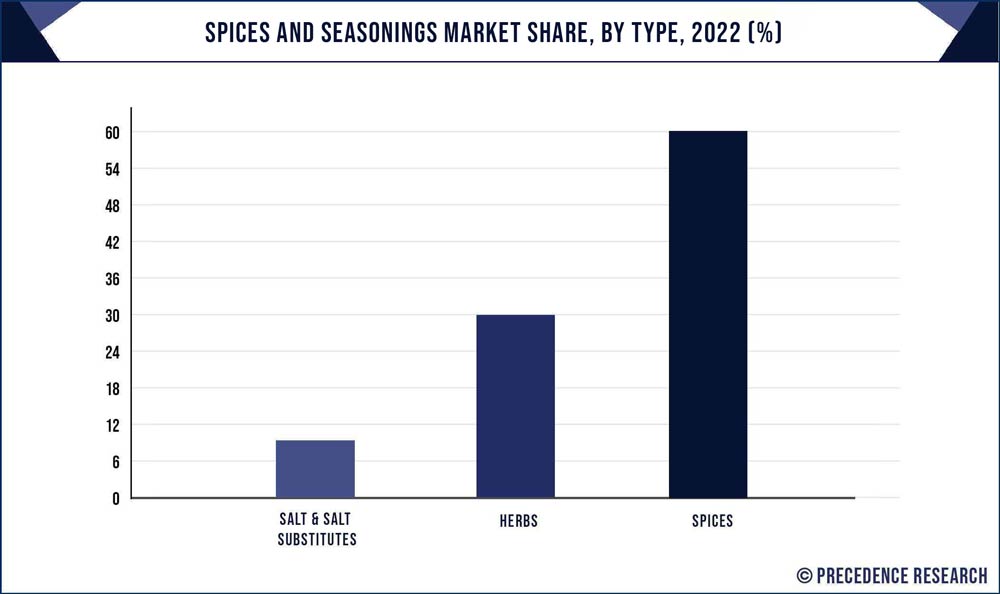 The quickly developing cheap food industry and expanding interest in comfort food have prompted an expansion in the interest for spices and seasonings like paprika, pepper, oregano, mint, and sesame. As far as utilization, the interest in turmeric has forever been high and is further expanding, particularly in Asian nations because of the restorative properties of turmeric and its broad use in Ayurvedic medications and Indian cooking styles.
Application Insights
The meat and poultry fragment represented the biggest offer in the worldwide flavor market in 2021. It represented a portion of 27% in 2021 and is projected to develop at a CAGR of 4.6% during the estimated time frame. Refreshments structure the quickest developing use of spices and seasonings, and this section is projected to develop at a CAGR of 7% somewhere in the range of 2022 and 2030. The rising populace, changing way of life patterns, and the ascent of extra cash of individuals, especially in creating economies like China, India, and Brazil, has prompted expanded utilization of bites and accommodation food things.
Nature Insights
Based on nature, the worldwide spices and seasonings market is fragmented into natural and customary. Among the two, the regular section represents a higher-worth offer inferable from its simple accessibility at reasonable costs for its objective clients. Be that as it may, during the figure time frame, the natural configuration of spices and seasonings is supposed to acquire a more elevated level of footing, enlisting a critical development rate regarding deals.
Regional Insights
Asia Pacific region accounted largest market share in 2021. Significant nations contributing essentially towards the development of the district incorporate China, India, Japan, Australia, and New Zealand. The quickly developing cheap food industry and youthful demography in the Asia Pacific district have prompted an expansion in the utilization of bundled, frozen, and accommodation food, as would be considered normal to improve the development of the market for spices and seasonings.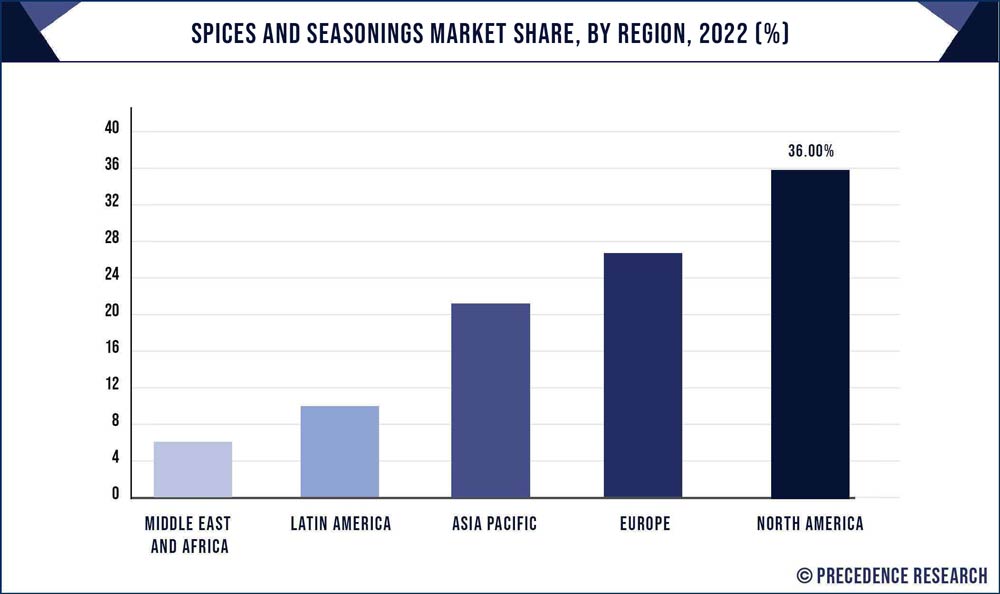 Europe is the quickest developing business sector during the figure time frame in the spices and seasonings market. Factors like the enormous populace and the developing interest for valid ethnic spices, the rising prevalence of comfort food sources, and developing consciousness of the restorative properties of spices and seasonings are driving the North American market. North America spices and seasonings market size was valued at US$ 7.50 billion in 2021 from US$ 7.30 billion in 2020. By product, the U.S. spices and seasonings market was valued at US$ 9.3 billion in 2021.
Recent Developments
In December 2020, McCormick and Company Inc. declared the acquisition of 100 percent portions of FONA International, LLC and certain associates. FONA, a main maker of spotless and regular spices, would give answers for a different client base across different applications for the food, drink, and wholesome business sectors. FONA will be the foundation for speeding up McCormick's flavor stage in the Americas.
In May 2021, Olam Food Ingredients (OFI) reported the procurement of driving US private-name spices and seasonings maker, Olde Thompson. The securing would expand on a 15-year organization with Olde Thompson and imprint a huge achievement for OFI's spices business.
In Feb 2021, Kerry declared the procurement of Jining Nature Group, a main maker of exquisite spices and seasonings in China. This procurement will bring an extensive variety of bona fide nearby and territorial taste innovations and application capacities to the Kerry portfolio.
In March 2021, Sensient Natural Ingredients LLC (SNI) declared that it finished an exchange to secure New Mexico Chili Products Inc., a got dried out stew creation office in Deming, NM, that handled capsicums and an assortment of specialty chilies for business deal to CPG food makers, zest.
Key Players
Ajinomoto Co, Inc.
ARIAKE JAPAN CO, LTD.
Associated British Foods plc
Kerry
McCormick & Company, Inc.
Baria Pepper
Dohler Group
DS Group
Everest Spices
Bart Ingredients
Segments Covered in the Report
(Note*: We offer report based on sub segments as well. Kindly, let us know if you are interested)
By Type
Spices

Pepper
Ginger
Cinnamon
Cumin
Turmeric
Coriander
Cardamom
Cloves
Others

Herbs

Garlic
Oregano
Mint
Parsley
Rosemary
Fennel
Others

Salt & Salt Substitutes
By Application
Meat & poultry products
Snacks & convenience food
Soups, sauces, and dressings
Bakery & confectionery
Frozen products
Beverages
Others
By Nature
By Form
By Distribution Channel
By Geography
North America
Europe
Asia-Pacific

China
India
Japan
South Korea
Malaysia
Philippines

Latin America

Brazil
Rest of Latin America

Middle East & Africa (MEA)

GCC
North Africa
South Africa
Rest of the Middle East & Africa