The global stretch marks treatment market size accounted for USD 2.3 billion in 2022 and it is expected to hit around USD 5.4 billion by 2032 with a noteworthy CAGR of 8.91% from 2023 to 2032.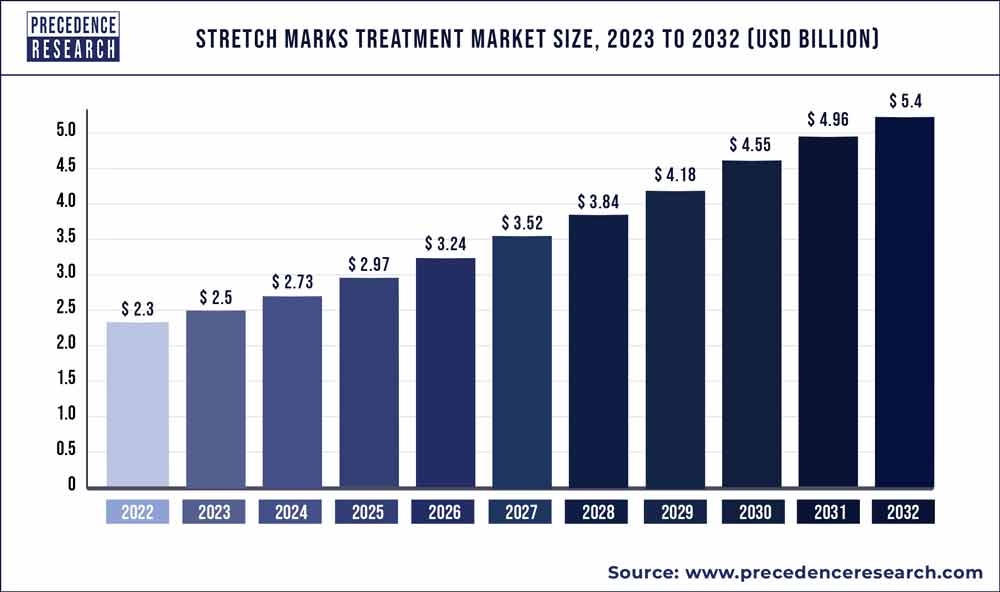 Stretch marks can result from factors other than underlying diseases. Examples include pregnancy, weight gain associated with obesity, teenage growth spurts, adverse effects of medicine, or a sudden increase in muscle size as a result of weightlifting. Stretch mark treatments are administered in-office by qualified professionals. Depending on location, the operation, and any potential hazards, an individual is expected to be treated by a doctor a dermatologist, a cosmetic surgeon, or plastic surgeon, or a licensed professional.
Key Takeaway:
By type, topical products had the highest revenue share of 48% in 2022.
By end use, the hospitals and clinics segment has held a 65% revenue share in 2022.
North America has accounted for 39.6% revenue share in 2022.
Growth Factors
The predominance of unhealthy lifestyles is a major factor fuelling the growth, along with rising obesity issues. Additionally anticipated to drive the market are growing beauty concerns among expectant mothers. Stretch marks can appear on women during or after pregnancy, and they can also appear on other persons who are developing adolescents.
They are also common in those who experience abrupt weight gain or loss. Teenagers developing stretch marks following an abrupt development spurt is another factor that is significantly driving the market. The market for stretch mark treatments is also being driven by an increase in the number of online treatment suppliers.
Obesity prevalence is rising as a result of sedentary behavior
Increasing cosmetic concern by pregnant women to treat stretch marks
Increasing infrastructure spending for healthcare
Report Scope of the Stretch Marks Treatment Market
| | |
| --- | --- |
| Report Coverage | Details |
| Market Size in 2023 | USD 2.5 Billion |
| Market Size by 2032 | USD 5.4 Billion |
| Growth Rate from 2023 to 2032 | CAGR of 8.91% |
| Base Year | 2022 |
| Forecast Period | 2023 to 2032 |
| Segments Covered | By Type, By End Use and By Distribution Channel |
| Regions Covered | North America, Europe, Asia-Pacific, Latin America and Middle East & Africa |

Key Market Drivers
Obesity prevalence is rising as a result of sedentary behavior - The market is expanding primarily as a result of the increasing prevalence of obesity in the world and the rising number of pregnancies, which are raising concerns about women's stretch marks. By 2030, one billion people worldwide will be obese, including one in five women and one in seven men, predicts the World Obesity Federation 2022.
According to the aforementioned claims, there is a significant global obesity problem that is contributing to the rise in the prevalence of stretch marks. This ultimately contributes to the market under study expanding. Additionally, both in developed and developing nations, there are a lot of pregnancies, which is increasing the need for stretch mark treatment treatments.
For instance, according to data from the CDC (Centers for Disease Control and Prevention) published in 2021, there were 3,659,289 births in the United States. This will result in more people using stretch mark removal techniques to get rid of stretch marks they acquired after giving birth.
Increasing infrastructure spending for healthcare - The increase in healthcare spending, which helps to improve its infrastructure, is a crucial element influencing the growth rate of the stretch mark treatment market. Additionally, the market for stretch mark treatments will grow as people become more interested in plastic surgery. Additionally, the market for stretch mark treatments will grow as a result of increased disposable income and rising skincare product awareness, including cosmetics. Additionally, the market's growth rate will be accelerated by the growing elderly population and the desire for more therapeutic items to be produced.
Increasing technological advancement - Technology developments, rising product approval rates, partnerships and collaborations between important players, as well as other factors, are all contributing to the market's expansion. For instance, Centella CAST, a component that works on the mechanisms causing stretch mark production, was introduced by Givaudan Active Beauty in May 2022. Stretch marks are diminished by this ingredient's ability to restore skin's elasticity, density, and firmness on four different levels.
Increasing topical skin treatment solution - In comparison to other scar treatments like micro-needling and microdermabrasion, topical scar therapy products are more affordable. Generally speaking, these products are suggested by medical professionals for the treatment of stretch marks during pregnancy.
Additionally, the addition of tretinoin and hyaluronic acid to stretch mark removal solutions will boost market sales. Clinical studies have shown that these chemicals help to lessen the visibility of scars, stretch marks, and blemishes. These products are being offered by brands on a variety of online channels, which is helping the market.
Key Market Challenges
High cost associated with the treatment - Stretch mark removal solutions like oils and serums are in high demand due to the high expense of stretch marks removal methods like lasers and microdermabrasion. Furthermore, the dearth of skilled professionals and lack of healthcare infrastructure in developing economies will challenge the stretch marks treatment market. Additionally, a decline in clinical visits due to the COVID-19 outbreak and the lack of awareness will act as restraints and further impede the growth rate of the market during the forecast period of 2022-2030.
Segments Insight
Treatment Type Insights
Due to the rising incidences of stretch marks brought on by pale skin, pregnancy, a history of giving birth to twins or large babies, sudden weight loss or gain, obesity, and other factors, among others, the topical products segment currently dominates the market and is anticipated to do so for some time to come. Additionally, it is anticipated that the usage of corticosteroid drugs will increase the demand for topical products.
The subcategories of topical products are creams, oils and serums, and lotions. Due to rising sales, the creams category is predicted to dominate the market throughout the forecast period. The segment is expanding largely because to manufacturers' increasing attempts to sell creams.
Furthermore, laser treatment is more effective than other treatments, it was anticipated that the laser treatment industry would expand significantly in the years to come. Physicians most frequently employ micro-needling, non-ablative lasers, and fractionated lasers. Since fractional lasers improve skin tone, and texture, and diminish visible indications of aging, their market is expected to expand significantly.
The segment's expansion is being driven by the high demand for anti-aging treatments. Furthermore, the segment is being supported by the big population's demand for non-surgical aesthetic procedures.
End-Use Insights
The stretch marks treatment market was dominated by the home use sector owing to the increase in the use of topical treatment. Furthermore, the stretch marks treatment market was secondly dominated by the hospital sector. Over the foreseeable period, the category is expected to continue to rule.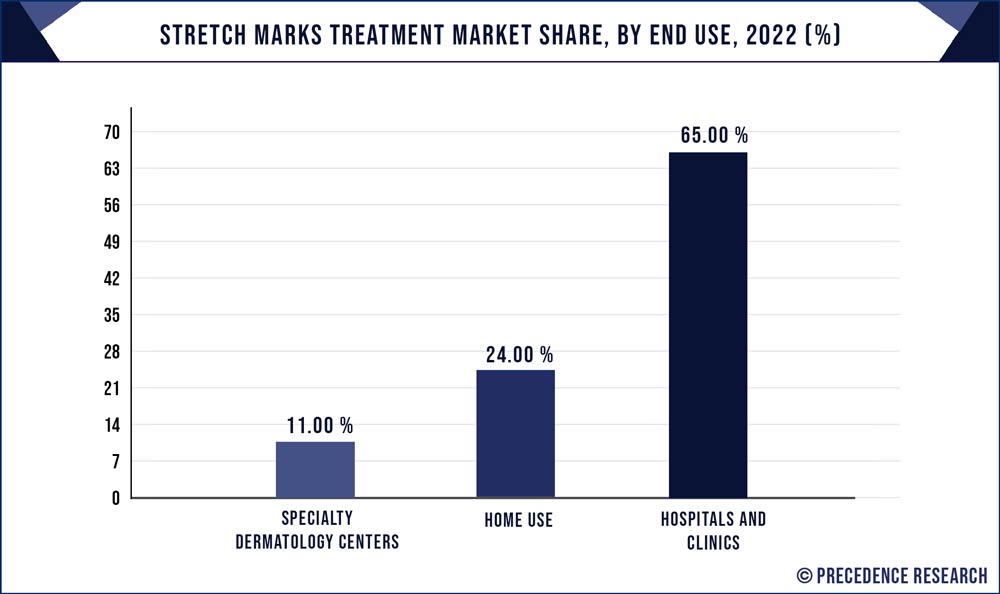 The rise in aesthetic operations in hospitals in important markets including the U.S., Germany, and Japan is credited with the hospital segment's expansion. Additionally, it is projected that growing consumer awareness of aesthetic and cosmetic procedures in developing nations like China and India will promote segment expansion.
Regional Insights
North America, Latin America, Europe, Asia Pacific, the Middle East, and Africa are the regional divisions of the stretch marks treatment market. North America generated the most revenue in 2022, and it is anticipated that it will hold this position throughout the projected period. This dominance is attributable to the established healthcare system, widespread use of technologically sophisticated aesthetic laser technologies, and rising demand for aesthetic and cosmetic procedures in North America.
Furthermore, it is projected that the local presence of large firms and their ongoing strategic endeavors will further improve the market environment.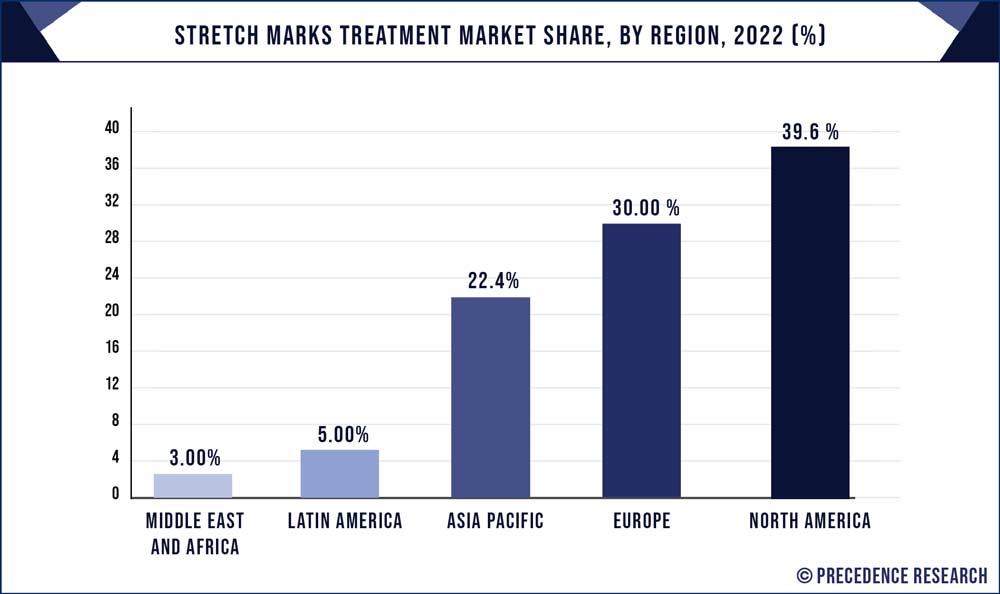 The increased prevalence of obesity, better treatment options, and the sizable target population in this region are additional factors driving the growth of the stretch mark treatment market in this area. For instance, a report from the World Obesity Federation that was released in March 2022 found that 47% of Americans were obese. In the US, it is estimated that 61 million men and 64 million women are obese. One of the main drivers of this market expansion in this region is the enormous increase in obesity in wealthy countries like the United States.
The presence of numerous players in the area is also significantly boosting the regional market. Thus, this ultimately heightens player competition, giving them a chance to develop more inventive strategies and satisfy the expanding global demand. The market for the treatment of stretch marks is therefore anticipated to grow in this area as a result of the aforementioned considerations.
Recent Developments
In April 2022- In order to provide painless and non-invasive facial and body rejuvenation, Skin Science Solutions introduced the icon roboderm, a new generation device that makes use of special cellular technology. Stretch marks and wrinkle reduction are only a couple of the treatments available for the face and body using income technology.
In February 2022- Stretch mark patches and a kit called Enhanced Silicone Fusion were introduced by Dermaclara Inc. Stretch marks that appeared during and after pregnancy were less noticeable because to the kit's stimulation of collagen regulation. The patches are reusable, breathable, and simple to apply.
Key Market Players
Cynosure LLC
Clarins
Laboratoires Expanscience
Concord Medisys
Helix BioMedix, Inc.
Cult Beauty
Casmara
Weleda
Mama Mio
Dermaclara
Strialite
Bayer AG
Helix BioMedix, Inc.
Segments Covered in the Report
(Note*: We offer report based on sub segments as well. Kindly, let us know if you are interested)
By Type
Topical Products
Creams
Oils & Serum
Lotion
Laser
Fractional Laser
Pulse-Dye Laser
Others
Microdermabrasion
By End Use
Hospitals and Clinics
Home Use
Specialty Dermatology Centers
By Distribution Channel
Institutional
Retail
Supermarkets and Hypermarkets
Specialist Retailers
Medical Retailers
Online Stores
By Geography
North America
Europe
Asia-Pacific
Latin America
The Middle East and Africa