The global switchboard market size surpassed USD 88 billion in 2022 and is anticipated to reach around USD 149.6 billion by 2032, expanding at a CAGR of 5.5% during the forecast period from 2023 to 2032.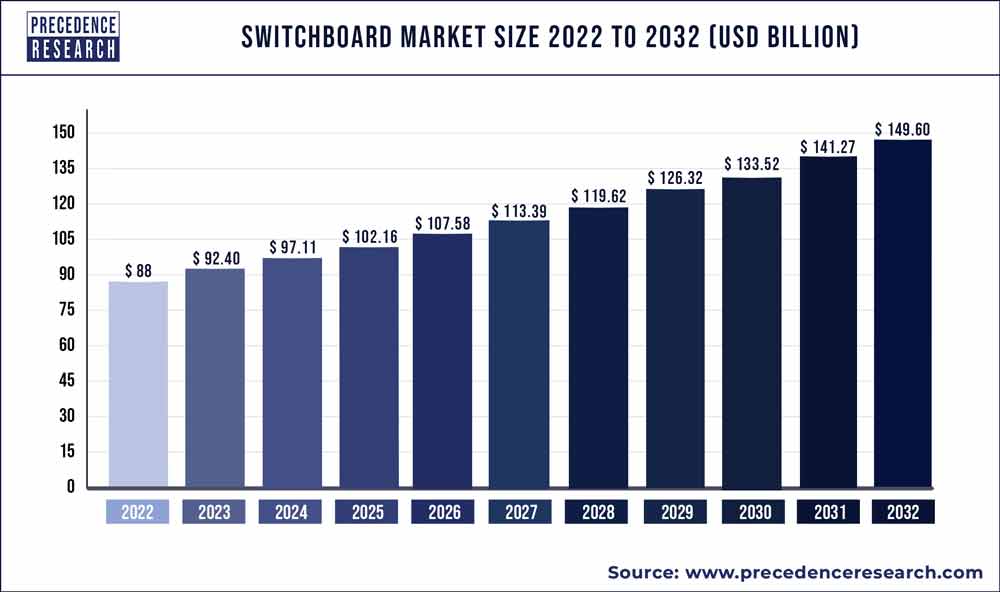 Access our Premium Real Time Data Intelligence Tool, Visit: Precedence Statistics
Key Takeaways
Asia Pacific dominated the global market with the largest market share of 37% in 2022.
Europe is considered to be the quickest-growing region.
By Type, the high-voltage segment dominated the market in 2022 and is expected to maintain its dominance during the forecast period.
By Type, the low-voltage segment is anticipated to grow significantly.
By Product Standard, the IEC segment led the market in 2022.
By Product Standard, the ANSI segment is anticipated to increase significantly.
By End-users, the industrial segment led the market.
By End-users, the residential segment is projected to grow rapidly.
Switchboard Market in the Asia Pacific 2023-2032
The Asia Pacific switchboard market size accounted for USD 32.56 billion in 2022 and is estimated to reach around USD 54.83 billion by 2032, growing at a CAGR of 5.4% from 2023 to 2032.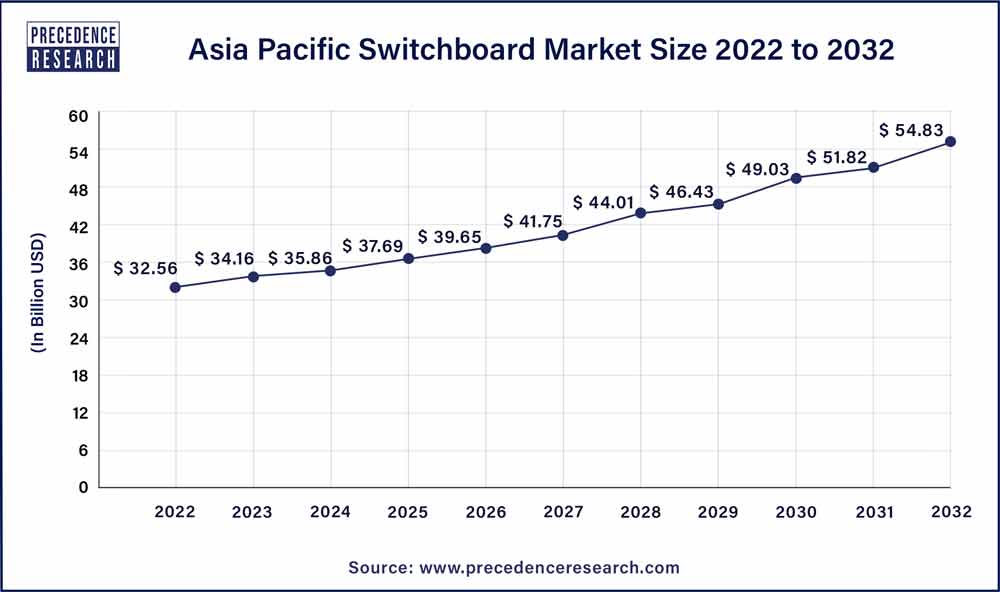 Asia Pacific carried the dominating share of the global switchboard market, driven by a confluence of factors that have transformed the industrial, commercial, and residential sectors. Asia Pacific has experienced a surge in urbanization, leading to the construction of new buildings, industrial facilities, and infrastructure projects. The region has become a manufacturing and production hub for various industries, including electronics, automotive, and manufacturing. These industries rely heavily on electrical systems, amplifying the demand for robust switchboards to ensure uninterrupted operations. Many countries in Asia Pacific are investing heavily in renewable energy sources like solar and wind power. Switchboards are essential for connecting and managing these alternative energy sources within the electrical grid.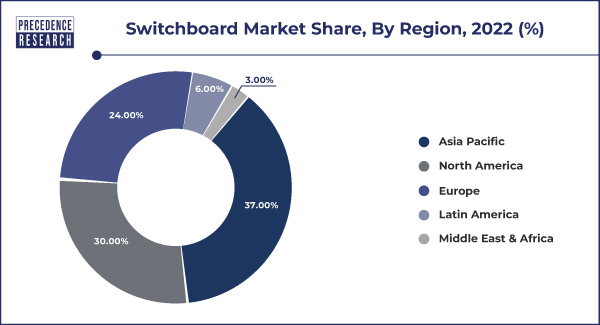 The switchboard market in Europe is expanding quickly, driven by a confluence of factors that reflect both technological advancements and evolving market demands. Europe is undergoing a widespread digital transformation across industries. As companies and organizations adopt smart technologies, the need for advanced switchboards with integrated digital capabilities has surged. These switchboards form the backbone of modern control systems, enhancing efficiency and connectivity. Europe has been at the forefront of using renewable energy, particularly wind and solar. Complex switchboards are needed to regulate the flow and balance of electricity while integrating these sporadic energy sources into the power grid, ensuring grid stability. This has increased demand for cutting-edge switchgear.
Switchboard Market Overview
The global switchboard market refers to the industry involved in the manufacturing and distributing of switchboards, which are essential components in electrical systems. Switchboards serve as central hubs for electricity distribution, allowing for the control and protection of electrical circuits. These markets have been evolving significantly due to several trends and drivers. Stringent safety standards and regulations require advanced switchboards with protective features. Compliance with these regulations is a significant driver for market growth. Industries are increasingly adopting automation, which relies heavily on sophisticated electrical control systems. Modern switchboards are integral to this automation, driving demand in various industrial sectors.
Growth Factors
Switchboard demand rises when products are manufactured more efficiently for longer durability. Big businesses are putting a lot of emphasis on innovative switchboard design. For example, in February 2023, Elmeasure, one of India's top energy management systems providers, unveiled its full line of LV switchgear, IOT contractors, solenoid-based ATES with an integrated controller, and home automation at the ELECRAMA 2023. The efficiency and longevity of the products are typically increased when new technologies are incorporated into the production process.
Switchboard Market Scope
| | |
| --- | --- |
| Report Coverage | Details |
| Growth Rate from 2023 to 2032 | CAGR of 5.5% |
| Market Size in 2023 | USD 92.4 Billion |
| Market Size by 2032 | USD 149.6 Billion |
| Largest Market | Asia Pacific |
| Base Year | 2022 |
| Forecast Period | 2023 to 2032 |
| Segments Covered | By Type, By Product Standard, and By End Users |
| Regions Covered | North America, Europe, Asia-Pacific, Latin America, and Middle East & Africa |

Switchboard Market Dynamics
Driver
Industrial growth
The switchboard market is primarily driven by industrial expansion. The development and expansion of numerous industries, including manufacturing, energy, and telecommunications, are characteristics of this boom. Because these businesses mostly rely on electrical systems to power their operations, switchboards are essential to controlling electrical distribution and guaranteeing these sectors run smoothly. The growing need for electricity is one of the main factors driving the switchboard industry and industrial growth. Industrial sectors require more energy as they grow. Larger and more complex electrical systems, which frequently contain switchboards, must be installed as a result.
These switchboards distribute electricity to different machinery and equipment, acting as the hub of an industrial complex. Moreover, modern industries prioritize automation and control in their operations. Switchboards play a pivotal role in enabling automation by facilitating the monitoring and management of electrical circuits. This automation improves efficiency and enhances safety by quickly responding to faults or overloads, preventing potential accidents. Furthermore, industries often operate in demanding environments where safety is paramount. Switchboards are designed to meet stringent safety standards. They can be customized to withstand harsh conditions, making them essential for industries where safety is a top priority, such as chemical manufacturing or mining.
Restraint
High cost
Cost is a major barrier affecting producers and customers in the switchboard market. Switchboards are essential for electrical distribution and control systems because they are the main hub for power delivery in factories, buildings, and other infrastructure. On the other hand, switchboard costs are related to a number of factors that affect the dynamics of the sector. Switchboards might have rather significant manufacturing costs.
Switchboards are intricate electrical components that must be carefully engineered and made of premium materials in order to guarantee dependability and safety. The cost of manufacturing is increased by the need for sophisticated equipment, highly qualified workers, and adherence to strict regulations. Smaller producers may find these costs especially onerous, which would hinder their capacity to compete in the market.
Moreover, the cost of switchboard raw materials and components can fluctuate significantly, affecting production costs. Key components like circuit breakers, busbars, and wiring require specialized materials that may experience price volatility due to supply chain disruptions; for instance, during COVID-19 and the Ukraine-Russia war, the supply chain was disrupted, changes in commodity prices and geopolitical instability. Transportation and logistics costs are another consideration. Switchboards are often large and heavy, making transportation expenses a significant portion of the overall cost. Manufacturers must optimize shipping methods and distribution networks to minimize these costs, especially when serving distant markets or regions with challenging infrastructure.
Opportunity
Smart grid integration
Smart grid integration represents a pivotal opportunity in the switchboard market. The smart grid is a modernized electrical grid that incorporates digital technology, two-way communication systems, and advanced sensors to manage the generation, distribution, and consumption of electricity efficiently.
The shift towards renewable energy sources like solar and wind power brings variability to the grid. Switchboards are essential for integrating these intermittent energy sources, ensuring grid stability and reliability. Smart meters and sensors deployed across the grid generate vast amounts of data. Switchboards equipped with data communication capabilities enable utilities to collect, analyze, and act upon this data for efficient grid operations.
Demand response programs and time-of-use pricing rely on the ability to control and switch power loads. Smart switchboards are integral to these demand-side management initiatives. The global smart grid market is projected to grow as utilities seek ways to modernize their grids and improve efficiency. Switchboard manufacturers that can provide smart grid-ready solutions will have a competitive edge. Governments and regulatory bodies often incentivize the deployment of smart grid technology, creating opportunities for switchboard manufacturers to participate in government-funded projects.
Type Insights
The high-voltage segment accounted for the largest share in 2022 and is expected to maintain its dominance during the forecast period. A number of factors, including industry-specific demands, regulatory restrictions, and technical improvements, impact the demand for high-voltage switchboards. These elements work together to influence the market for high-voltage switchboards, which are essential components of control and electrical distribution networks.
The growing industrial sector is one of the main factors influencing the need for high-voltage switchboards. Industries need dependable electrical distribution systems to power their operations, and high-voltage switchboards are crucial for effectively managing and delivering electricity to varied machinery and equipment. Sturdy electrical infrastructure is necessary for initiatives involving the rapid development of urban areas and infrastructure, such as smart cities. Large-scale construction projects and urban areas require a continuous power supply, which can only be achieved with high-voltage switchboards.
Ongoing technological advancements in the field of high-voltage switchboards have led to the development of more efficient and reliable systems. Features such as remote monitoring, predictive maintenance, and fault detection drive demand as they enhance system reliability and reduce downtime. Recently, a new high voltage air-insulated switchgear (AIS) circuit breaker for substations that uses an SF6-free and F-gas free as its insulation media has been unveiled by the Swiss company PFIFFNER Group, setting a new benchmark for the secure and environmentally friendly operation of electrical grids.
On the other hand, the low-voltage segment is observed to grow at significant rate, driven by several key factors reflecting various industries' evolving demands and the growing need for efficient electrical distribution systems. The growing focus on sustainability and energy efficiency is one of the main factors causing this growth. There is an increasing need for electrical systems to optimize energy usage as businesses and consumers become more environmentally concerned. Low-voltage switchboards are essential because they offer intelligent control and monitoring capabilities that help cut down on energy waste and operating expenses.
A rapid increase in the industrial and commercial sectors is another important driver boosting this market's progress. The demand for dependable and adaptable electrical distribution systems has increased along with the growth of automation, data centers, and manufacturing facilities. Low-voltage switchboards are essential in these industries because they provide the required power distribution and protection solutions.
Furthermore, technological advancements have led to the developing of more sophisticated low-voltage switchboard solutions. These modern switchboards have advanced monitoring and communication features, allowing for remote monitoring and control. This not only improves system reliability but also reduces maintenance costs and downtime. For example, in May 2023, the new low-voltage switchboard was unveiled by Schneider Electric, a pioneer in the digital transformation of energy management and automation. FlexSeT offers a modern, streamlined, modular service model for switchboard design, sourcing, installation, and maintenance.
Product Standard Insights
In 2022, the IEC segment had the largest share, which is anticipated to continue dominating over the projection period. Due to many causes that have increased their demand, the International Electrotechnical Commission (IEC) standards play a significant role in the switchboard industry. These standards offer a framework for designing, producing, and testing switchboards to ensure the safety, compatibility, and dependability of electrical distribution systems.
IEC standards are accepted and used worldwide, making them a common reference for switchboard users and manufacturers. This widespread acceptance promotes global trade and guarantees uniform quality everywhere. IEC standards strongly emphasize safety considerations, assisting manufacturers in creating switchboards that adhere to strict safety regulations. Achieving these requirements reduces the possibility of electrical mishaps and equipment breakdowns.
The demand for ANSI is growing at the quickest rate. The growth of the ANSI (American National Standards Institute) standard in the switchboard market can be attributed to several key factors that have influenced its adoption and prominence in the industry. ANSI standards have become widely recognized and accepted in the electrical equipment sector for their emphasis on safety, interoperability, and quality assurance.
ANSI standards prioritize safety by establishing guidelines for designing, constructing, and testing switchboards. Compliance with these standards helps manufacturers and users ensure that switchboards are built to withstand electrical stresses and operate safely, reducing the risk of electrical accidents and fires.
End Users Insights
The industrial segment had the dominating share in 2022, driven by a combination of factors that reflect the evolving landscape of industrial operations and technology. The adoption of Industry 4.0 principles and the continued trend toward automation have called for the development of increasingly sophisticated control systems. Industrial switchboards are vital in today's manufacturing environments since they are essential for managing and regulating automated processes.
Industrialization is expanding quickly in emerging economies, particularly in Asia and Latin America. Industrial switchboards are increasingly in demand as manufacturing sectors expand to accommodate these new facilities and their electrical distribution requirements. The global push towards renewable energy sources, such as solar and wind power, has led to the construction of large-scale renewable energy facilities. Industrial switchboards are critical in distributing and managing the electrical output from these renewable sources.
On the other hand, the residential segment is observed to grow at robust pace. The residential switchboard market is experiencing significant growth, driven by a combination of technological advancements, increasing demand for energy-efficient solutions, and changing consumer preferences. These factors, among others, have created a favorable environment for expanding this market.
Technological advancements play a crucial role in the growth of the residential switchboard market. Smart home automation systems have gained immense popularity, often requiring advanced switchboards to control various household functions such as lighting, heating, cooling, and security. These smart switchboards have IoT (Internet of Things) capabilities, allowing homeowners to remotely monitor and control their homes via smartphone apps. This connectivity and convenience are major drivers of the market's growth as consumers seek to make their homes more efficient and convenient.
Recent Developments
In September 2023, the biggest firm in the world devoted to industrial automation and digital transformation, Rockwell Automation, Inc., unveiled a new line of Stratix switches with more functionalities. Stratix 5200 switches offer improved security features and are simpler to set up and configure.
In February 2023, ABB India opened a new, cutting-edge Nashik factory that will double its ability to produce Gas Insulated Switchgear (GIS). In this factory, main and secondary GIS will be produced. Power distribution, smart cities, data centers, transportation (metro, railroads), tunnels, ports, highways, and other infrastructural projects are just a few of the businesses it will serve as customers.
In October 2022, the largest corporation in the world devoted to industrial automation and digital transformation, Rockwell Automation, Inc. (NYSE: ROK), recently announced the completion of its acquisition of CUBIC, a firm that specializes in modular systems for the construction of electrical panels.
Switchboard Market Players
ABB Ltd
Mitsubishi Electric
Schneider Electric
Emerson Process Management
Rockwell Automation
Eaton
Siemens
Powerwell
Kounis
Gedac Electric
Segments Covered in the Report:
By Type
Low-Voltage
Middle-Voltage
High-Voltage
By Product Standard
IEC Standard
ANSI Standard
By End Users
Industrial
Residential
Commercial
By Geography
North America
Europe
Asia-Pacific
Latin America
Middle East and Africa