The global UV air purifier market size was estimated at USD 1.9 billion in 2022 and is expected to hit around USD 5.13 billion by 2032 with a registered CAGR of 10.5% during the forecast period 2023 to 2032.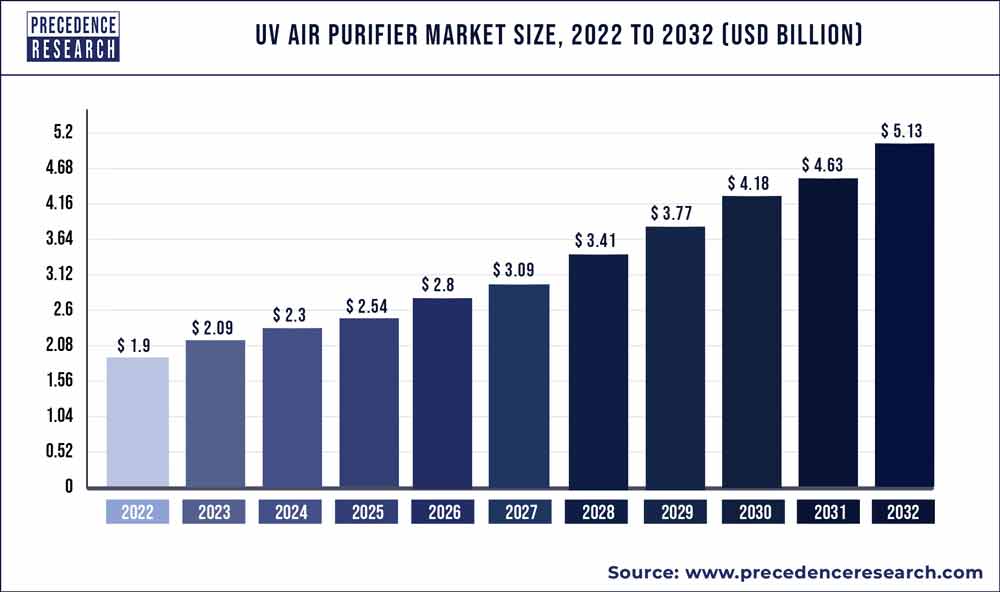 Key Takeaways:
Asia Pacific held a prominent share of over 36% in 2022.
Europe accounted for 23% of revenue share in 2022.
By mounting type, the portable segment accounted for 68% market share in 2022.
By airflow range, the more than 2.0 m3/sec segment has captured 42% revenue share in 2022.
UV air purifiers are gadgets that utilize bright (UV) light to scrub the quality of foreign substances like microbes, form, and infections. UV air purifiers work by creating UV beams that kill or handicap microorganisms in the air, decreasing their capacity to imitate and spread. Rapid industrialization and urbanization are the essential development factors for the worldwide UV air purifiers market. The expanded attention to individuals about the well-being risks of air contamination is additionally one of the critical drivers for this market. Besides, tough unofficial laws regarding indoor air quality are projected to fuel the interest for UV air purifiers in the conjecture period. In any case, high starting venture and absence of mindfulness in a few creating economies could hamper market development during the figure time frame.
The other top influencing factors for the UV air purifiers are, arising interest for UV air purifiers in the private area, the developing populace of agricultural nations, and the rising in the pay of families urge buyers to utilize UV air purifiers to forestall toxins and allergens that influence breathing effectiveness.
Clinical grade cleansing innovation utilizes a combination of strong UV-Clamps with HEPA channels to catch particles and kill microorganisms. This kind of innovation gives benefits in home, office spaces, retail shops, and in other assorted regions. Accordingly, the arising innovative progression flood the interest for the UV air purifiers on the lookout.
The rise in smart machines with easy-to-use elements like Bluetooth and Wi-Fi that can be handily worked through cell phones is supposed to fuel the interest for shrewd UV air purifiers. The significant assembling organizations center around giving additional easy-to-use benefits from the UV air purifiers. Moreover, arising clinical-grade purging innovations that furnish cooperation with HEPA channels helps to infiltrate the interest for UV purifiers on the lookout.
Several governments are focusing on regulating air contamination by presenting a few rigid guidelines and norms for indoor air quality, which are projected to drive the business over the conjecture period. Also, various air contamination control crusades embraced overall by state-run administrations and NGOs are supposed to support the market development over the gauge period. States of different nations have acquainted lockdown measures to contain the spread of COVID-19. Accordingly, remain-at-home and work-from-home standards have additionally heightened the interest in air purifiers. Besides, there is a critical interest in air purifiers from medical clinics, colleges, and government organizations as buyers are investigating ways of keeping away from the spread of Covid.
Report Scope of the UV Air Purifier Market
| | |
| --- | --- |
| Report Coverage | Details |
| Market Size in 2023 | USD 2.09 Billion |
| Market Size by 2032 | USD 5.13 Billion |
| Growth Rate from 2023 to 2032 | CAGR of 10.5% |
| Base Year | 2022 |
| Forecast Period | 2023 to 2032 |
| Segments Covered | Technology, Mounting Type, Power (Watt), Air Flow Range, Distribution Channel, End-Use Type, and Geography |
| Companies Mentioned | Philips, Panasonic, Samsung, Daikin, Honeywell, Norm Pacific, Xiao Mi, Coway, Whirlpool, Austin Pure Air, American Ultraviolet Co. |

Segments Insight
Technology Insights
By innovation, high proficiency particulate air (HEPA) filtration air purifiers will catch more than 40% of the market esteem, showing major areas of strength of around 9% until 2032. Their capacity to channel more than the vast majority of airborne particulate matter renders them the essential decision by shoppers. Issues, for example, low dose because of bulb coatings and an excessive amount of impedance with the HEPA (High-efficiency Particulate Air) channel bring about the microbes to remain unaffected by the gadget. Such issues have prompted the reception of clinical-grade HEPA filtration as a protected other option. The HEPA innovation fragment is supposed to rule the U.S. market over the estimated period as it is the best innovation for catching destructive airborne particles.
With an enormous extent of the worldwide populace experiencing persistent circumstances, for example, asthma, these purifiers assist with easing their weight by successfully sifting through undesirable residue particles, working on by and large wellbeing.
End-Use Insights
UV air purifiers are used in confidential settings to clean the air and wipe out any toxins. They are as often as possible presented in HVAC structures or used as free units. As well as wiping out harm, UV air purifiers can help with decreasing the spread of microorganisms and diseases. Most compact UV air purifiers accompany a channel that should be supplanted occasionally. A few models likewise have an ionizer, which assists with eliminating particles from the air.
The capacity of UV air purifiers to channel air, further develop air quality, and recognize and kill microorganisms give security from different illnesses like breathing issue, asthma, and different sicknesses. UV air purifiers are intended for homes, private chambers, and others which is worthwhile for their development all around the world. Accordingly, the expansion popular for the UV purifiers in private and business areas floods the interest for the UV air purifiers on the lookout.
Regional Insights
North America rules the business bright (UV) air purifier market because of the rising endorsement of the item from the ecological assurance office in the district. he truly augmenting worries about indoor and outside air quality the nation over is filling interest for air purifiers across the U.S, liable to outperform US$ 4 billion in the short-run. Quickly debasing air quality because of regular fierce blazes is likewise speeding up sending across a few states.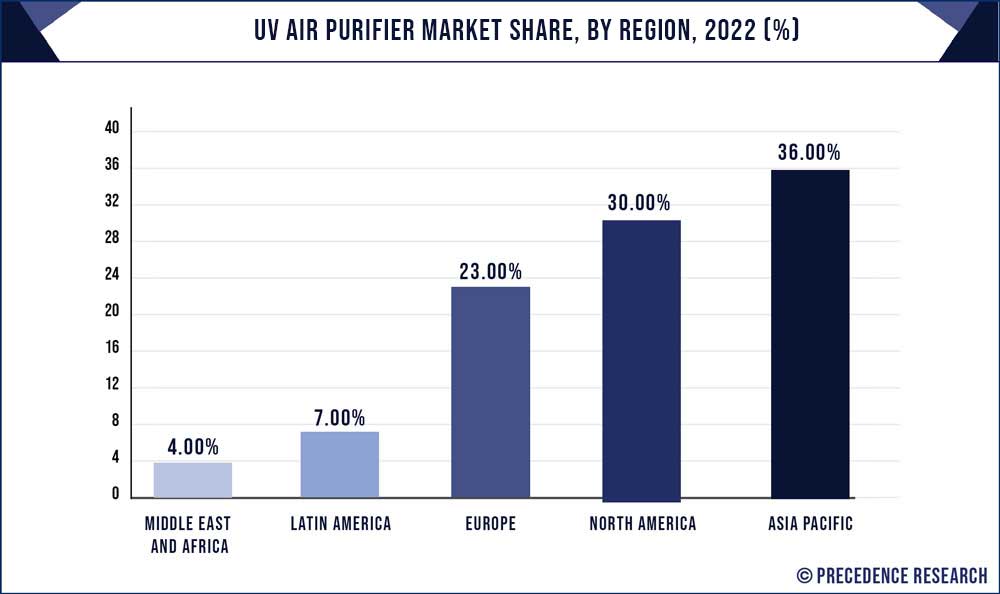 Ecological Protection Agency (EPA) gauges propose that more than 70 million tons of toxins were discharged into the climate in the United States. Thusly, examples of illnesses, for example, asthma have flooded, provoking the take-up of air purifiers across modern, private, and business settings.
Notwithstanding many benefits of UV air purifiers, these gadgets are under a microscope by the United States Centers for Disease Control and Prevention (CDC) for their reasonable adequacy in the killing of microbes and infections including COVID-19. Asia Pacific held an unmistakable portion of the worldwide UV air purifiers market. Asia-Pacific district is supposed to hold the biggest development rate because of the rising number of innovative work exercises in the locale. These gadgets are exceptionally exposed in India, as scientists are underlining that UV with HEPA channel air purifiers work all the more actually when the UV light is on when contrasted with regular gadgets. Some famous gadgets are Germ Guardian AC5250PT, EnviroKlenz Mobile UV, and InvisiClean Aura II which are snatching purchaser consideration through web-based deals and eCommerce.
Key Market Developments
In 2018, IQAir sent off its AirVisual Pro with minimal expense and exceptionally exact air quality screen for homes, offices, schools, and other public spots. The screen is outfitted with state-of-the-art laser innovation and wind current control.
In 2019, American Air and Water Inc. teamed up with the Don Ryan Center for Innovation (DRCI) to assist with sending off its Prism UVTM shrewd light innovation-based indoor microorganism sanitization item.
In April 2020, Daikin Industries Ltd. put US$ 2 million into U.S-based new business Locix Inc. to use its spatial knowledge answers for encouraging its AC arrangements business.
The key market players have continually participated in different formative techniques like organization, joint efforts, new item dispatches, and acquisitions to fortify their market position and market share.
Segments Covered in the Report
(Note*: We offer report based on sub segments as well. Kindly, let us know if you are interested)
By Technology
HEPA Filtration Air Purifiers
Activated Carbon Filter Air Purifiers
Ionic Filter Air Purifiers
Ultraviolet (UV) Technology Air Purifiers
Other Air Purifiers
By Mounting Type
By Power (Watt)
Less than 70
70 – 100
100 – 140
More than 140
By Air Flow Range
Less than 0.7 m3/sec
0.7-1.4 m3/sec
1.4-2.0 m3/sec
More than 2.0 m3/sec
By Distribution Channel
Online

eCommerce Websites
Company Owned Websites

Offline

Supermarkets & Hypermarkets
Specialty Stores
Other Retail Stores
By End-Use Type
Residential
Commercial
Industrial
By Geography
North America
Europe
Asia-Pacific
Latin America
Middle East & Africa (MEA)