The global wheelchair market size was estimated at USD 6.5 billion in 2021 and is expected to hit around USD 14.7 billion by 2030 and is poised to grow at a compound annual growth rate (CAGR) of 9.49% from 2022 to 2030.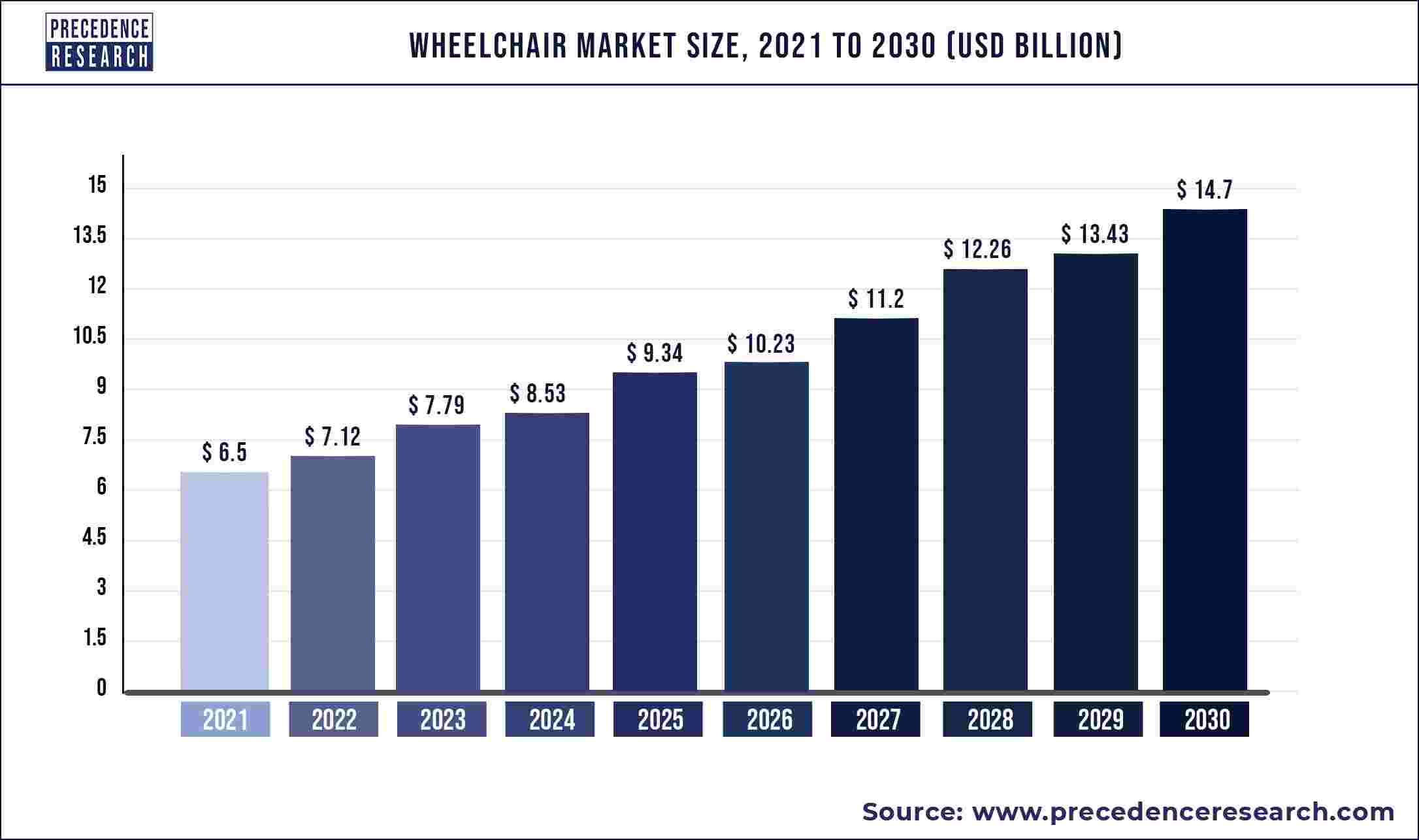 Access our Premium Real Time Data Intelligence Tool, Visit: Precedence Statistics
Key Takeaways:
By product, the electric wheelchair segment has garnered 55.6% revenue share in 2021. However, the manual product segment is expected to grow at a significant CAGR from 2022 to 2030.

By category, the adult segment contributed 69.4% revenue share in 2021.

By application, the rehabilitation centers segment accounted highest revenue share 34.5% in 2021.

North America region dominated the market with 35% revenue share in 2021.

Asia Pacific is expected to grow at a CAGR over the forecast time period.
An aging elderly voter's dependence on chairs that's what fuels the wheelchairs industry. Such segmentation expansion is also largely attributed to the youngster's higher incidence of illnesses to the standard of living. Additionally, improvements in wheelchairs innovation and convenience are indeed the key factors driving a surge in the prevalence of recently introduced wheelchairs being manufactured in India. As a consequence, it is projected that this will have a favorable effect on the market expansion.
Additionally, wheelchair producers are going further than the fundamental Mechanical wheelchair. To help the individual & make it clearer for him or herself to freely move or autonomously, they were developing new designs. This wheelchairs sector is booming faster thanks to the adoption of innovative, improved infrastructure that enables chairs for consumers easier to manoeuvre and more affordable. A Who says that there can be a rise in the number of disabled people in developing countries.
The administration of India's ministries for social and economic justice, as well as development, as well as development, supports the independence of disabled individuals of all types, including auditory, vision, speaking, motor, with psychological handicaps by giving individuals access to the appropriate therapeutic services equipment and services. As a result, the need for wheelchairs in India is naturally moving forward in the industry as the impairment changes are significant.
Numerous government initiatives are in place to give a wheelchair to individuals with locomotor impairments. As per a recent fashion noted by the authority, wheelchairs are now either given by the company or, in many situations, money is given to individuals to purchase the chairs of their choice. Increasing the participant's marketing outreach while also increasing demand for wheelchairs.
Report Scope of the Wheelchair Market
| | |
| --- | --- |
| Report Coverage | Details |
| Market Size in 2022 | USD 7.12 Billion |
| Market Size by 2030 | USD 14.7 Billion |
| Growth Rate from 2022 to 2030 | CAGR of 9.49% |
| Base Year | 2021 |
| Forecast Period | 2022 to 2030 |
| Segments Covered | Product, Category, Application, Geography |
| Companies Mentioned | 21st Century Scientific, Inc., Alber (Frank Mobility), Aquila Corporation, Aspen Seating, Carex Health Brands, Inc., Custom Engineered Wheels, DEKA Research & Development Corp (U.S.), Drive Medical Design & Manufacturing, Eagle Sportschairs LLC., EASE Seating System, Forza Medi, Graham-Field Health Products Inc., Hoveround Corporation, Intelliwheels, Invacare Corporation, Karma Healthcare Limited, Levo AG (Switzerland), MATIA ROBOTICS (U.S.), Medical Depot Incorporation., Medline, MEYRA GROUP GMBH (Germany), NeoBolt, Numotion, Ostrich Mobility Instruments Pvt. Ltd, OttoBock Healthcare India Pvt. Ltd, Permobil AB, PITSCO EDUCATION LLC (U.S.), Pride Mobility Products Corporation, Quantum Rehab (U.S.), SEGWAY INC., Silverline Meditech Pvt. Ltd., Stryker India Pvt. Ltd, Sunrise Medical LLC, Tetra Equipment, The Wheelchair Place, LLC, UPnRIDE Robotics Ltd. (Israel), Vissco Rehabilitation Pvt. Ltd, WHEEL INC (U.S.), WHILL Inc (Japan) |

Growth Factors
Due to the severe shutdowns put in place, wheelchairs services are stopped in various nations. Owing because of an increasing number of older patients being treated as a result of such COVID-19 illness, clinics also saw great desire. Businesses are anticipated to restart activities with both the updated COVID-19 limitations. The burden of severe disease, growing senior community, and increased risk of cultural ailments among a large population has resulted in obesity rates, and unhealthy lifestyles are all contributing to the predicted increase in consumption of chairs. So, over a projected timeframe, the wheelchair regarding product sector is anticipated to expand by 6.2 percent. And over the projection period, emerging economies like India are anticipated to be major sources of income for chair producers.
The nation is among the world's highest transportation accidents are a major, which has left many individuals crippled. On a worldwide scale, it does have one of the largest numbers of disabled people. The region is already in the early stages of accessibility and acceptance, but thanks to encouraging federal programs and increasing consumer understanding, the market for a wheelchair is anticipated to increase substantially to ahead.
A significant trend anticipated to propel market number sales is the evolution of technology breakthroughs in wheelchair layouts. The introduction of rechargeable wheelchairs is anticipated to help users more. Furthermore, thanks to technological engineering advancements, wheelchairs can now save, link to, and sometimes even analyze the customers' patient data as well as their health information. The Invacare Company unveiled the AVIVA FX Motorized Wheelchair in Mar 2020. It will be used indoors and outdoors and also is built with a combination of new technology to provide improved comfort.
Product Insights
A chair propelled by electricity, primarily charges & engines, is indeed an electronic chair, often referred to as a motorized scooter, motorized mobility scooter, or electric scooter. Traditionally, a controller has been used to control and maneuver electric wheelchairs. The usefulness & productivity of wheelchairs has begun to grow thanks to recent breakthroughs, the implementation of machine learning, with advanced analytics, in equipment. For example, on 21 April 2022, the wheelchairs maker Permobil teamed up only with AI wearables startup Mobvoi will find a resolution, the Mobvoi TicWatch E3 wristwatch, which has medical monitoring technology and electrical support for Skilled learners PushTracker E3 customers.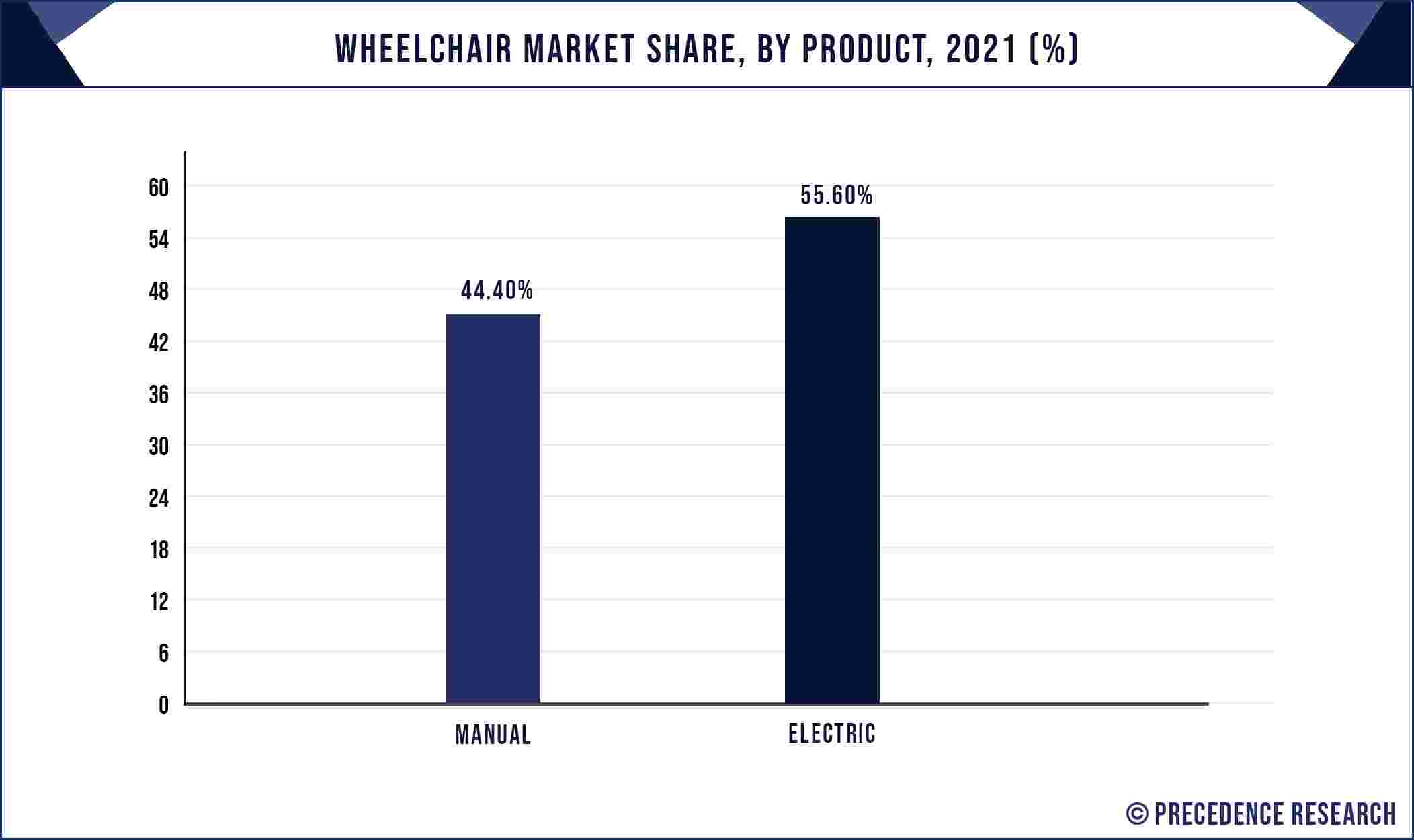 The wheelchairs seem to be more helpful because of this AI breakthrough, which is supported by Google as well as Volkswagen and helps with natural language processing, longitudinal searching, as well as other tasks. The electric wheelchair sector held the largest market share. This is anticipated to experience the quickest CAGR growth throughout the projected period. For people lacking strength and endurance, these wheelchairs were excellent. Because there are far more sophisticated treatment centers available in industrialized nations like the U.S., mobility scooters are now more common there. The Scewo Bro motorized wheelchair, which might easily and autonomously navigate stairs, was introduced in July 2020. German, Austrian, and Swiss citizens can purchase it
Given the strong need for electric wheelchairs, which are in short supply properties and low, lightweight weight, and independent from charges, the manual device sector is anticipated to experience a considerable increase over projection decades. Additionally, these are available in a multitude of dimensions and designs, ranging from ordinary to amazing, and take up minimal room because many market segments are folded. An innovative hydraulic steering device for electric wheelchairs called Skilled learners PushTracker E2 was introduced in 2019 by Permobil, a major player in cutting-edge medicine and technology.
Category Insights
Over the projected timeframe, the category is expected to keep leading. It is primarily caused by the growing old people has increased, which is included in the category of adulthood. People over the age of 18 years are considered mature. In 2021, this mature market had the biggest income percentage. The need for chairs is increasing due to the aging population's increased impairment from conditions like arthritic discomfort, tight knee, and painful feet, and ankles. As a result of positional issues caused by a fractured spine, vertebral abnormalities including lumbar lordosis, osteoporosis, and spine curvature amongst elderly individuals also limit routine functions like clothing and strolling, which itself is projected to increase the desire for chairs.
The utilization of chairs is increased among elderly adults who are disabled from arthritis-related stiffness or discomfort in their knees, hips, ankles, or feet. For illustration, on17 May 2022, Apple revealed the availability of cutting-edge accessible capabilities combining software, ML, and equipment to give people with disabilities technological skills for mobility, healthcare, with conversation. This function may identify entrances with improved sensory and motor mobility, live captioning, and various other things that make it much more beneficial for persons with disabilities. Due to the rise in children's illnesses like Down syndrome, the pediatric market is also anticipated to expand rapidly.
Another of the most prevalent mobility diseases that necessitate a wheelchair is Down syndrome. National Cerebral Palsy Foundation estimates that around 10K infants in the United States were birth with such a condition every year. Inside the United States, it is a disorder involving that is more frequently identified in children. Therefore, it is anticipated that over generations to follow, the pediatric market would contribute significantly to wheelchair producers' bottom lines. Sales again for the pediatric sector are anticipated to expand at a modest pace throughout the projected timeframe. About 240 million individuals were disabled worldwide, according to research even by University Nations International Children's Disaster Fund, which is driving the p desire for chairs worldwide. When compared to children's electric wheelchairs, this power wheelchair is much more beneficial to them.
Application Insights
The category of rehab facilities dominated the marketplace in 2021, accounting for further over 34.5% of total sales. So, over the forecast timeframe, the sector will increase slowly nonetheless. The worldwide market was divided into hospitals, home care, ambulatory surgical centers, and residential treatment according to the application. This development is attributed to an increase in the number of wheelchair-required clinical conditions. The need for chairs is increased by the comment treatments. Those wheelchairs are mostly utilized in clinics for the level of mobility and also for medical visits in a sizable healthcare center.
Income for clinics as well as hospitals sector is anticipated to expand moderately over the projection timeframe. In hospitals and medical clinics, wheelchairs are essential for momentarily patient services between hospital to hospital. Wheelchairs let impaired people move about more easily while also preventing pressure injuries, slowing the course of deformities, and improving respiratory and digestive. The need for wheelchairs within hospitals and healthcare facilities is anticipated to rise due to their versatility.
Income in the home health sector is expected to increase at a gradual pace throughout the projection timeframe. People who are incapable of stand or have limitations limited in how much force they can bear on their lower extremities need one wheelchair. Wheelchairs are now more comfortable that crutches for extended longer journeys. In-home care, mechanical wheelchairs, motorized wheelchairs, or both are utilized to give people with disabilities freedom and motivation to move.
Wheelchair Market Share, By Region, 2021 (%)
| | |
| --- | --- |
| Regions | Revenue Share in 2021 (%) |
| North America | 35% |
| Asia Pacific | 21.3% |
| Europe | 28.7% |
| Latin America | 10% |
| MEA | 5% |

By Region Insights
In 2021, the United States had the greatest profit share thus controlling the world market. Such expansion is due to the relatively high population and the rising use of cutting-edge wheelchairs. Additionally, the existence of several industry players in the area will support market expansion throughout the projection period. Our research shows that many small businesses are developing customized chairs to appeal to specific markets. For example, a U.S. company named Segway, Incorporated introduced an embryo capsule in Jan 2020 which enables individuals to relax when people easily go across the airport, campuses, amusement parks, and even towns. That capsule is specially designed for 24-mph elevated transport and can able to utilized by those who require wheelchairs.
In 2020, the United States will rule the global wheelchairs industry. The reason for this boost is indeed the sizable primary audience and also the expanding use of reduced chairs. Throughout the forecast years, the nation's large number of competitive players will also contribute to accelerating expansion. Personalized scooters are being created by numerous small enterprises to market to particular consumers. To illustrate, in Jan 2020, a business named Segway, Corporation in the United States unveiled an embryo capsule that allows users to relax whilst moving around universities, roller coasters, airlines, and sometimes even entire towns. This capsule was created with luxury transit in consideration and is available to people who use disabilities.
Key market developments:
The 'One Remedy' innovation, which also integrates the most famous wheelchair users with several of the impressive aspect structures for such a perfect system, was introduced by Powered Company throughout Jan. 2022. The specializes in the manufacture as well as reseller of chronic hospital devices, including mobility scooters, pressure care, wheelchairs, walkers, and positioning products.
The Intelligent Chairs 3 foldable wheelchairs were introduced on 19 Oct 2021, by LITH-TECH, a wheelchairs company with headquarters in the UK. That entrance wheelchairs provide aspects like a 1 x 12AH charger capable of traveling about 12 miles per charge and therefore are usable both indoors and outdoors. Additionally, this would be designed especially for customers who enjoy utility and dependability and has been extremely high due because of its adherence to baggage allowances for flights.
An Invacare AVIVA Tornado RX, a back wheel powered wheelchair for another era that will raise the bar for powered transportation, was unveiled on Aug 2, 2021, by Invacare Company, an American wheelchairs producer. This wheelchair's small length and small breadth offer it just a tiny base layout that ensures agility with just an increased motor system that runs at 5.8-7.5 mph.
Wheel Air introduces a new strong backrest organized and summarise in 2021 to assist people in wheelchairs. According to the company, integrating or retrofitting a Wheel Air Technology, that enables wheelchair users to access their temperature and relative humidity, onto one stiff backrest may be done in 2 months.
Numotion, a complexity rehabilitation technologies (CRT) network operator, purchased the Monroe Powerchair chair in Feb 2020. Monroe Chair offers services for complexity rehab advanced technologies as well as health products.
IIT Madras University, as well as Phoenix Healthcare Systems will introduce the first domestically produced developed "Stand Powerchair" within India in Nov 2019. This technology allows a wheelchair-required individual with a disability to change positions autonomously and safely between seated to having to stand.
German-based Ottobock, a top wheelchairs producer, experienced dual development within the wheelchairs industry in 2019. An epidemic problem, therefore, sharply reduced their revenues. Similar problems were experienced by numerous other organizations. Through the close of 2020, the company would have been up and running, offering its customers e-services including video chats for e-appointments, home delivery, and social networking sites advice.
Key market players:
21st Century Scientific, Inc.
Alber (Frank Mobility)
Aquila Corporation
Aspen Seating
Carex Health Brands, Inc.
Custom Engineered Wheels
DEKA Research & Development Corp (U.S.)
Drive Medical Design & Manufacturing
Eagle Sportschairs LLC.
EASE Seating System
Forza Medi
Graham-Field Health Products Inc.
Hoveround Corporation
Intelliwheels
Invacare Corporation
Karma Healthcare Limited
Levo AG (Switzerland)
MATIA ROBOTICS (U.S.)
Medical Depot Incorporation.
Medline
MEYRA GROUP GMBH (Germany)
NeoBolt
Numotion
Ostrich Mobility Instruments Pvt. Ltd
OttoBock Healthcare India Pvt. Ltd
Permobil AB
PITSCO EDUCATION LLC (U.S.)
Pride Mobility Products Corporation
Quantum Rehab (U.S.)
SEGWAY INC.
Silverline Meditech Pvt. Ltd.
Stryker India Pvt. Ltd
Sunrise Medical LLC
Tetra Equipment
The Wheelchair Place, LLC
UPnRIDE Robotics Ltd. (Israel)
Vissco Rehabilitation Pvt. Ltd
WHEEL INC (U.S.)
WHILL Inc (Japan)
Segments are covered in the report:
(Note*: We offer reports based on sub-segments as well. Kindly, let us know if you are interested)
By Product
By Category
By Application
Homecare
Hospitals
Ambulatory Surgical Centers
Rehabilitation Centers
By Geography
North America
Europe
Asia-Pacific

China
India
Japan
South Korea
Malaysia
Philippines

Latin America

Brazil
Rest of Latin America

Middle East & Africa (MEA)

GCC
North Africa
South Africa
Rest of the Middle East & Africa