The global abrasives market size was recorded at USD 41.61 billion in 2022 and is expected to hit around USD 65.55 billion by the end of 2032 with a registered CAGR of 4.7% during the forecast period 2023 to 2032.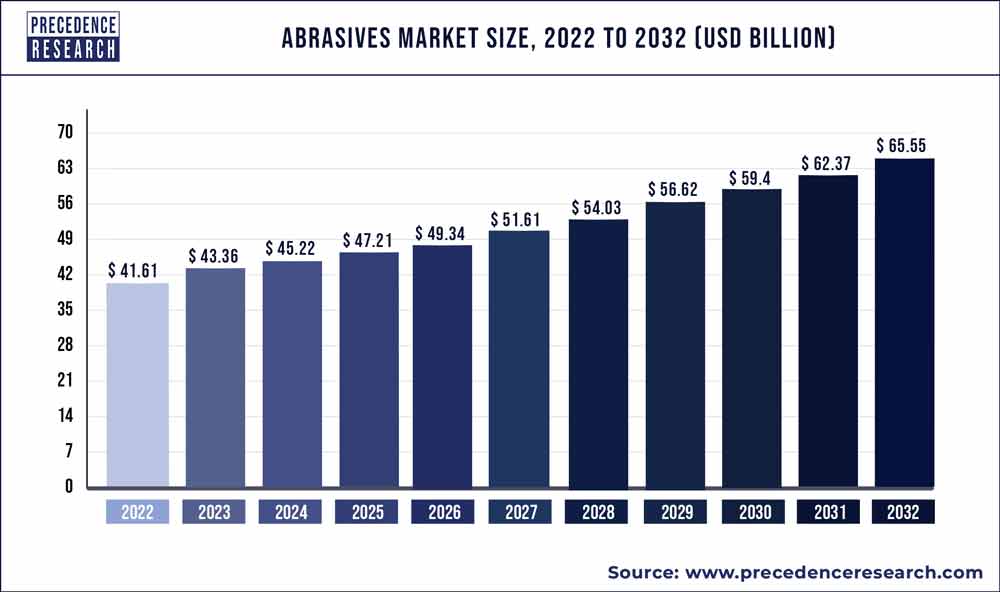 Access our Premium Real Time Data Intelligence Tool, Visit: Precedence Statistics
Key Takeaways:
The Asia Pacific market size was valued at USD 24.5 billion in 2022.
By application, the automotive industry has captured 42% of the revenue share in 2022.
By product, the bonded segment has accounted revenue share of around 43.5% in 2022.
An abrasive is a substance, usually a mineral, that is used to rub parts to finish or acclimate them, causing wear. It is similar to grinding and polishing, which involves roughening a smooth, meditative exterior, as in matte or satin consummate. Abrasives are widely used for scraping, glossing, polishing, sanding, cutting, drilling, grinding, grinding, and sanding; principally materials of mineral origin, obtained naturally or artificial. It works on the principle of hardness diversity between two raw materials, where the abrasive is the harder one. Abrasives are used for hard surface cleaning, grinding, and furbishing in many industries. Polishing composite in abrasive products assists in polishing and shaping the surface of the material. Abrasives come in a diversity of sizes, shapes, and sizes to meet your needs. Norton abrasives use corroding action to stainless, grind, abrade, scrub and take off solid materials.
Growth Factors
Increasing demand from the auto industry to drive market growth in the upcoming years. Products used for sizing repair of engine parts, bodywork, and interior and exterior cleaning. These products are also used for cleaning inside pipes, smoothing welds, smoothing edges, and surfaces to be oiled, adjusted, polished, or painted. Coated and nonwoven products are used to finish the bodywork of cars while grinding wheels are habituated for cars. The high demand for various applications in the automotive industry directly supports the growth of the industry. Some abrasive products are used on non-engine parts and adjuncts such as brakes, flywheels, wheels, and axles. Brakes have a special wear layer with a non-directional scratch pattern suitable for collecting tools. It is used to exclude brake squeal and demote staining of heat-sensitive metals, sanding for grinding, and gloss the internal and external of cars. In addition, the increasing volatility of commodity prices and economic form is expected to significantly impact this market.
Report Scope of the Abrasives Market
Report Coverage
Details
Market Size in 2023
USD 43.36 Billion
Market Size by 2032
USD 65.55 Billion
Growth Rate from 2023 to 2032
CAGR of 4.7%
Base Year
2022
Forecast Period
2023 to 2032
Segments Covered

By Source
By Product Type
By Material
By Application

Regions Covered

North America
Europe
Asia-Pacific
Latin America
Middle East & Africa

Key Market Drivers
Increasing use of abrasives in household and commercial applications
Abrasives are widely used in many households and industrial and technological applications. This leads to great variation in size, shape, physical composition, and chemical composition. Factors such as growing demand from the metal fabrication industry, mass production of computerized components, high-tech advancements, rapid growth in the vertical, and reduction in the cost of synthetic diamonds are mainly driving the abrasive materials market.
Growing application of abrasives in the automotive industry
The automotive section offers maximum market implicit, as abrasives play an important role in auto parts manufacturing, changing operating parameters, machined components, finishing, and body maintenance. Furthermore, factors such as growing disposable income, and growing demand for traveler and corporate vehicles are expected to complement the market growth in the future.
Growing demand from the construction industry
A boom in the construction industry globally is expected to drive demand for super-abrasive materials in the future. While bonded abrasives segment is expected to overpower the universal market, over the forecast monthlies.
Key Market Challenges
Growing supply-demand gap posing a serious threat - As the demand for abrasives is increasing from various industry verticals, the supply is been short as the raw materials are located in different geographies and various geopolitical relations and internal scenarios are disturbing the supply chains, posing serious threats to the supply of raw materials creating a great gap between demand and supply.
Volatile raw material prices - Market growth is expected to be limited due to volatility in commodity prices. Advanced production of abrasives demands a large amount of raw materials. The price of bauxite and other mineral resources fluctuates sharply due to factors such as transportation costs, which are affected by fuel prices, which affect production costs, and abrasive prices.
Lack of skilled labor - shortage of skilled labor in the abrasives industry is the major concern that is faced by the market players. With the lack of a skilled workforce, the quality of the end products is compromised and it may result in a decline in the sales of the company products.
Key Market Opportunities
Expansion in developed markets - The growth of the metalworking industries in North America is expected to offer lucrative growth opportunities for market players in the industry and market players can expand their businesses to target this growing region. For example, Sargent Metal Fabricators Inc. in July 2020 announced their plans to expand operations in South Carolina, USA with an investment capital of 9.5 million USD. The expansion aims to meet the growing needs of customers. These investments are expected to increase the demand for products in the region during the forecast period.
Growing investment in R&D - The rising investments in R&D activities in connection with abrasives will offer promising growth opportunities for the global abrasives market in the coming years.
The growing use of abrasives in various industry verticals - Emerging use of abrasives for different purposes to increase market size. These abrasives are concerned more with sizing, repairing and cleaning the bodywork, but also with the internal and external parts of the engine. Abrasives are significant more useful for oiling, smoothing welding, creating smooth edges, trimming, and painting. It also cleans the inner walls of pipes. The development of automotive machines created opening for the abrasives industry.
Segments Insight
Source Insights
Synthetic abrasives hold the largest market share of the abrasives market. A synthetic abrasive is a chemical precursor treatment product or raw material. These materials contain artificial diamonds, silicon carbide, and alumina. Due to the booming consumer shift towards organic produce, natural abrasives are widely used in a wide range of household, industrial and technological operations. These include corundum, diamond, and emery which, as they occur inherently, can be mined and prepared for use with less variation. The growing utilization of this type of product in the automotive sector is the major factor driving market growth.
Product Type Insights
On the basis of product type, the abrasive market is bifurcated into a paste, coated, and super. The coatings segment is expected to generate the highest revenue due to its wide application. The coatings segment holds the leading market share for abrasives by 2022. There is a growing demand for super-abrasives in applications such as precision grinding in automotive, construction, and woodworking tools. These products in the form of grinding wheels or grinding tools are used to shape materials that are too fragile or too hard, such as glass, automotive, and construction industries.
Application Insights
The metal fabrication segment is augmented to experience a significant CAGR due to the increasing demand for metal equipment. Based on applications, the market is segmented into metal fabrication, electrical & electronics, automotive, machinery and others.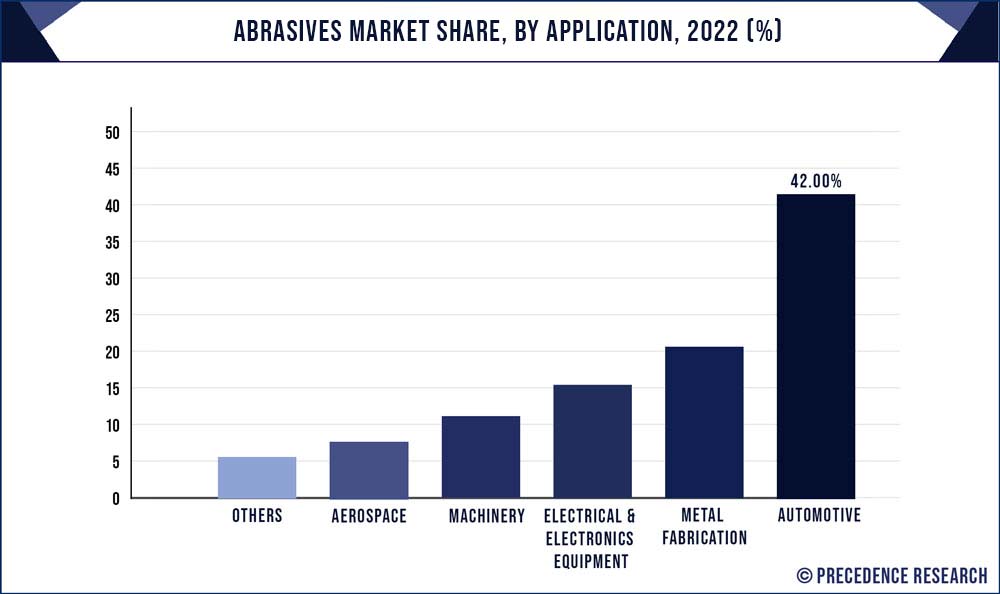 The metal fabrication sub-segment is expected to grow at a rapid rate during the forecast period. This fabrication is used to fabricate metal structures through bending, cutting and assembly processes. This product is used as a cutting saw aka a cutting saw, which has a steel cutting disc to cut metal into the desired shape. Other products are flip discs and fiber discs, which are mainly used for metal grinding and surface smoothing.
Abrasives Market Share, By Region, 2022 (%)
| | |
| --- | --- |
| Regions | Revenue Share in 2022 (%) |
| North America | 21% |
| Asia Pacific | 56.4% |
| Europe | 15.1% |
| Latin America | 4.5% |
| MEA | 3% |

Regional Insights
Asia-Pacific dominates the global market in 2022 and accounts for a great revenue share of over 56.4%. The local market will continue to grow at the fastest CAGR from 2023 to 2032. Infrastructure development increased investment in the manufacturing sector, and growth of electric vehicle production in the developing economies in the area is anticipated to drive market growth during the predicted period.
Southeast Asian countries are possible markets for abrasives. For example, Vietnam's industrial production grew by 2.9% in the first half of 2020 compared to the same period in 2019. The trade war between the United States and China has made Vietnam a popular investment destination in Asia and a solid produce base in the world. The development in the manufacturing region of the country has increased the demand for machines and therefore the demand for products.
North America is expected to experience steady growth over the next few years due to growing demand for automotive, aerospace and defense products. Despite the slowdown in 2020, due to the pandemic, the growing focus on electric vehicle production in the region coupled with resurgence in aircraft manufacturing is expected to benefit the growth of the market in the coming years.
Recent Developments
February 2022 - Carborundum Universal Ltd announced purchasing 100% stake in RHODIUS Abrasives. This acquisition will enhance the geographical base of the company and offer the market strengthening opportunities in the global market.
December 2020 - Nippon Paint India expanded its product LinenForce line in the automotive industry. The new product range consists of abrasives, waxes & polishes, and rubbing compounds. This product launch is expected give Nippon Paint edge over other market players in the Indian market.
Key Market Players
Robert Bosch GmbH (Germany)
NIPPON RESIBON CORPORATION (Japan)
Saint-Gobain (U.S.)
Asahi Diamond Industrial Co., Ltd. (Japan)
Fujimi Incorporated (Japan)
Carborundum Universal Limited (India)
The 3M Company (U.S.)
Henkel AG & Co. KGaA (Germany)
Krebs & Riedel (Germany)
KWH Mirka (Finland)
NORITAKE CO., LIMITED (Japan)
Segments Covered in the Report
(Note*: We offer reports based on sub-segments as well. Kindly, let us know if you are interested)
By Source
By Product Type
Bonded
Coated
Super
Steel
Others
By Material
Aluminum Oxide
Silicon Carbide
Emery
Corundum
Boron Carbide
Others
By Application
Machinery
Electrical & electronics equipment
Automotive
Metal fabrication
Aerospace
Others
By Geography
North America
Europe
Asia-Pacific
Latin America
Middle East & Africa (MEA)