The global alumina market size was exhibited at USD 41 billion in 2022 and is anticipated to reach around USD 64.59 billion by the end of 2032 with a registered CAGR of 4.7% during the forecast period 2023 to 2032. The Asia Pacific market was valued at USD 22 billion in 2022.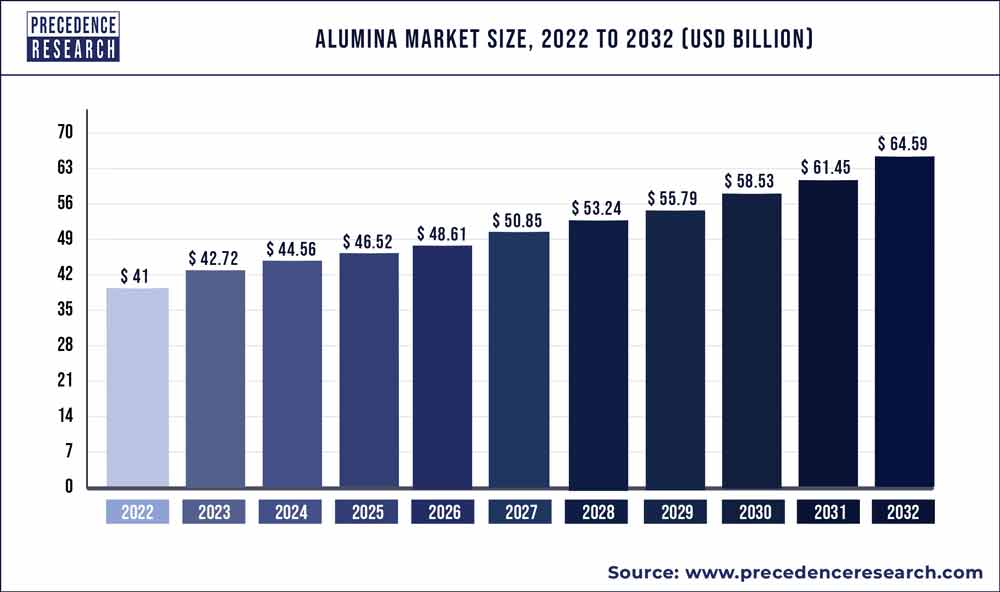 Access our Premium Real Time Data Intelligence Tool, Visit: Precedence Statistics
A white crystalline ingredient with the popular name "Alumina," aluminum oxide, is typically made from bauxite. It is extensively utilized in a variety of engineering disciplines, such as those involving anti-corrosion compounds, wear and abrasion-resistant components, and the computer industry. The quality attributes of alumina include great durability, brightness, minimal heat emission, and good stability at high temperatures. Alumina is now an expensive substance.
The automotive industry is continually being dominated by improved alumina components because of their superior performance and safety. Global automakers are changing their tastes by swapping out steel and iron elements with lightweight materials because lighter materials increase fuel efficiency. The market with alumina will increase significantly due to the rising need for lightweight body panels and improved load-bearing capabilities for light-duty commercial vehicles. In the nourishing term, the demand for premium alumina will be impacted by the rapidly expanding automotive sectors in emerging economies.
The consumer devices and building sectors actively create possibilities as a result of the modern standard of living. In recent years, alumina has been widely used for roof and wall cladding, incorporating frames, stairways, and panels. Wall cladding is frequently used in commercial buildings due to its affordability, usefulness, and attractive appearance.
Growth Factors
The rising demand from the automobile & building and construction sectors is one of the major reasons behind the expansion of the global alumina industry. The alumina market is anticipated to rise significantly over the projected period as a consequence of high rises in construction investment in industrialized and developing nations as an outcome of rapid urbanization & wealth creation. Furthermore, it is anticipated that throughout the projection period, demand for alumina would increase due to the growing need for lighter and rising components to increase automotive fuel efficiency and lower carbon footprint. Additionally, rising automotive production & sales are anticipated as a result of global economic growth, especially in developing nations, and rising per capita discretionary money. This is anticipated to further support the growth of the global alumina market throughout the forecast period.
The change in the food and beverages sector toward packaged foods, particularly in developing economies like China, India, and Brazil, is also another factor anticipated to fuel the expansion of the global alumina market.
The rapid growth of packaged beverages and food goods in developing nations is predicted to increase the need for alumina in the packaging sector. Nevertheless, it is anticipated that the expansion of the alumina industry would be constrained over the forecast timeframe by severe competition from substitute materials like glass or plastic. Even though the fact that the requirement for alumina is anticipated to rise sharply due to rapid growth from the automobiles, building, and construction industries, the worldwide market is anticipated to face some difficulties due to varying raw material costs and the accessibility of substitute materials like glass as well as plastic materials. But because of its qualities including low weight, good strength, elasticity, good electrical and thermal conductance, resistance to corrosion, and permeability need for alumina are anticipated to rise throughout the projection timeframe.
Report Scope of the Alumina Market
Report Coverage
Details
Market Size in 2023
USD 42.72 Billion
Market Size by 2032
USD 64.59 Billion
Growth Rate from 2023 to 2032
CAGR of 4.7%
Largest Market
Asia Pacific
Fastest Growing Market
North America
Base Year
2022
Forecast Period
2023 to 2032
Segments Covered

By Product
By Grade
By Application
By End User

Regions Covered

North America
Europe
Asia-Pacific
Latin America
Middle East & Africa

Key Market Drivers
Growing alumina use in the medical & defense sectors
By 2030, the worldwide alumina market is anticipated to rise due to rising alumina use in the defense and healthcare sectors. The advantages of alumina include its lightweight weight and high strength, which improve the efficacy of chest armor such as breastplates utilized by the military as well as armor for aircraft and vehicles. Additionally, it is widely used to create ballistics & bulletproof glass. Importantly, rising geopolitical tension around the world is predicted to increase government spending on defense and military operations, which is expected to fuel market growth over the projection period.
Demand for LED lighting is increasing
Due to considerations including expanding LED lighting consumption and falling LED prices, HPA is becoming increasingly necessary. LED goods have a significant rate of adoption amongst end customers since they are dependable, sturdy, and long-lasting.
Increasing lithium-ion battery demand
The worldwide economy will be stimulated by the multiplicative desire for lithium-ion batteries as a result of the increased use of electric cars and communal demand for mobile apps. High-purity alumina industry demand is projected to increase due to the growing need for lithium-ion batteries as a result of the increased use of electric cars.
Demand in the market is being boosted by increasing applications in smart devices
Manufacturers of high-purity alumina are expected to benefit from the growing demand for smart gadgets like smartwatches, smartphones, and rising plasma TVs.
Key Market Challenges
Residues are subject to strict environmental standards - The global demand for high-purity alumina is anticipated to increase as a result of government regulations about alumina manufacturing leftovers.
Limited technological expertise knowledge - The entire market is expected to be constrained in the foreseeable term due to inadequate expertise in alumina manufacturing.
Key Market Opportunities
New uses for high-grade alumina in healthcare and defense - It is predicted that the future market demand for highly pure alumina would be stimulated by the usage of production equipment in the healthcare profession.
High demand from construction, manufacturing, and automobile industries - The worldwide market is anticipated to face some difficulties due to rapidly changing raw material costs and also the availability of other materials like glass and polymers. The requirement for aluminum alloys is expected to rise significantly due to rapid growth from the construction, automotive, and construction industry. But because of qualities like lightweight, high tensile strength, elasticity, good temperature & electricity conductance, resistance to corrosion, and impermeability, the demand for alumina is anticipated to rise throughout the projected period.
Use of alumina in a wide range of industries - Alumina is perfect for such a packaging sector because it is proven to significantly extend the shelf life of liquids and food without affecting their flavor. As a result, the broad use of alumina in a wide range of industries is projected to accelerate segmental growth in the decades to come.
Segments Insight
Product Insights
The biggest demand in the alumina market was for commercial alumina. The rising usage of alumina in end-use sectors like transportation, building, packing, and durable goods is to blame for the growing demand for a metallurgy grade. Moreover, it is anticipated that the need for alumina for a variety of product compositions would be drawn by worldwide economic progress along with strong prosperity projections for these sectors, providing market expansion shortly.
Grade Insights
In 2022, the smelting quality alumina sector held over 86% of the market share, and growth is anticipated to be significant through 2032. The increasing demand for alumina from finished sectors is to blame for this sector's expansion. Throughout the course of the research period, the emergence of the automobile sector in emerging nations will increase demand for premium alumina for use in exterior and interior bodywork, engine parts, and other applications. Due to the steady demand for premium aluminum components from the Asian Region and Latin America areas as a result of the expanding applications in finished industries, aluminum manufacturing from alumina will gain a sizable share of the market over the decades and it will create much more USD 48 billion by the end of 2030.
The car industry's increased use of aluminum components for interior and exterior components will increase the market share for alumina. 80% of the weight of contemporary commercial aircraft is made up of aluminum. Additionally, the construction industry in emerging nations will grow quickly, which will increase demand for aluminum.
Application Insights
In the alumina industry, the market for oxide for ceramics is anticipated to rise at the highest CAGR. Calcined alumina is primarily used in the creation of advanced ceramics. Due to its simplicity in blending with the other batch preparations, ability to regulate and distribute particle size, excellent power insulation, high strength, dielectric loss continuous, and superior corrosion resistance, the substance is preferred as the material of selection for ceramic production. Additionally, alumina components are simple to work with and machine using a variety of chemical and physical techniques, expanding its potential utilization base.
Regional Insights
In 2022, the Asia-Pacific region had a primary market share of over 56%. China's domestic market makes a major contribution to the Asian Region and worldwide markets. China is known as the top producer and consumer of high-purity alumina, with more than 55percentage points of the market share by value and capacity. Furthermore, with over 15% of the Asian Region's highly pure alumina industry, Japan ranks as the second-largest market in the area. The important development factors influencing the highly pure alumina market in the Asia Pacific region are the presence of established businesses, the prevalence of emerging economies, the combined demand from the electronics and automotive sectors, and the growing preference for LED lighting.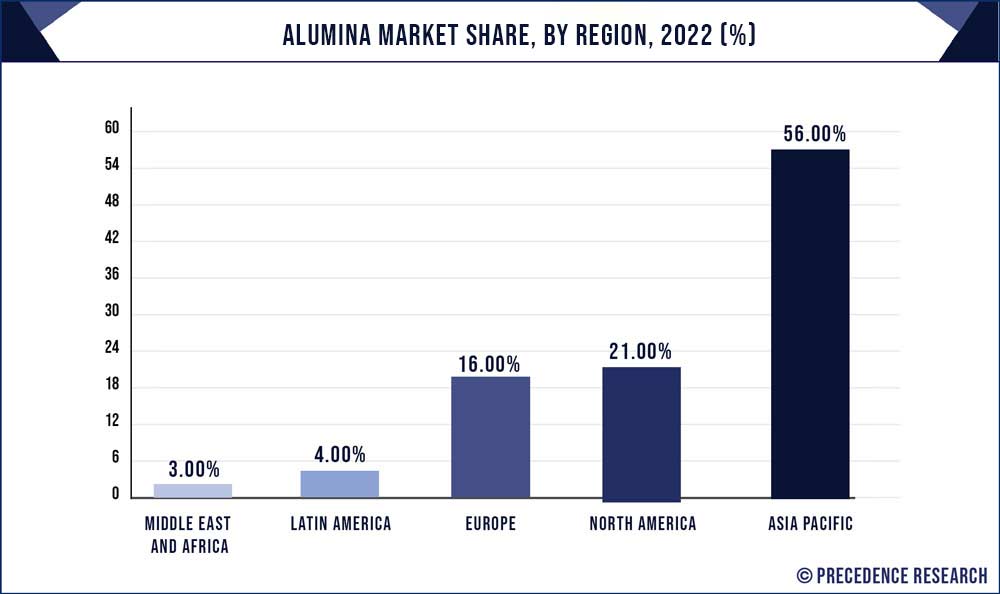 Due to the region's expanding use of highly pure alumina within the semiconductor and electronics sectors, North American highly pure alumina maintained the second-largest market share of over 15% in 2022. Due to the ease with which raw materials can be obtained and the growing desire that enterprises have for them as a result of their superior features, the US is predicted to become the region's largest market.
Recent Developments
Gränges & Alcoa Partner for Low-Carbon Aluminum Production In June 2021. An agreement to collaborate on a project aimed at minimizing the environmental impact of the aluminum value chain was announced by the Swedish rolling aluminum company Gränges AB and also the American aluminum industry pioneer Alcoa Corp.
In September 2019, collaboration awards towards red mud restoration research were given to Rio Tinto, and Queensland Alumina Ltd, as well as the University of Queensland.
In Apr 2021, Kaiser Aluminum Company stated that it had successfully acquired Alcoa Warrick LLC from Alcoa Corporation ("Alcoa") for a purchase cost of $670 million. This acquisition included all of the properties of the Warrick Rolling Mill.
To boost the manufacturing capacity of their Lanjigarh alumina refineries in Odisha, Alumina Ltd, an Indian mining corporation and a significant player in the aluminum market, planned to raise its capital investment to $250-$300 billion in January 2019.
In Aug 2019, CBA Brazilian Aluminium Company paid $50 million to acquire the activities of Arconic Inc. in Itapissuma, Brazil. To boost the competitiveness of the local production against imports, the factory, which has an annual capacity of million tonnes of aluminum plates, would be engaged in the manufacturing of CBA's line of rolled goods.
Key Market Players
AnPhat Holdings
Avantium
BASF (Germany),
Biotec (Germany),
Braskem (Brazil),
Futerro
iome Bioplastics (UK),
Kaneka Takasago (Japan)
LyondellBasell Industries Holdings B.V. (Netherlands)
Matrìca S.p.A. (Italy)
Mitsubishi Chemical Holding Corporation (Japan),
NatureWorks LLC (U.S.)
Novamont S.p.A. (Italy)
Plantic Technologies (Australia).
PTT MCC Biochem Co., Ltd. (Thailand)
SABIC
Solvay
SUPLA (JIANGSU SUPLA BIOPLASTICS CO., LTD.)
Taghleef Industries (U.A.E.)
TEIJIN LIMITED
Toray Industries, Inc. (Japan)
Total Corbion (Netherlands),
Toyota Tsusho Corporation
Trinseo S.A.
Segments Covered in the Report:
(Note*: We offer reports based on sub-segments as well. Kindly, let us know if you are interested)
By Product
Metallurgical Grade
Refractory Grade
Grinding Grade
Others
By Grade
Chemical
Smelter
Calcined

Ordinary soda
Medium soda
Low soda

Tabular
Reactive
Fused
Aluminum Trihydrate
By Application
Aluminum Production
Non-Aluminum Production
Abrasives
Ceramics
Refractories
Filtration
Others
By Geography
North America
Europe
Asia-Pacific
Latin America
Middle East & Africa (MEA)