The global specialty alumina market size was reached at USD 3.16 billion in 2022 and is projected to hit around USD 4.25 billion by 2032, poised to grow at a CAGR of 3% during the forecast period 2023 to 2032.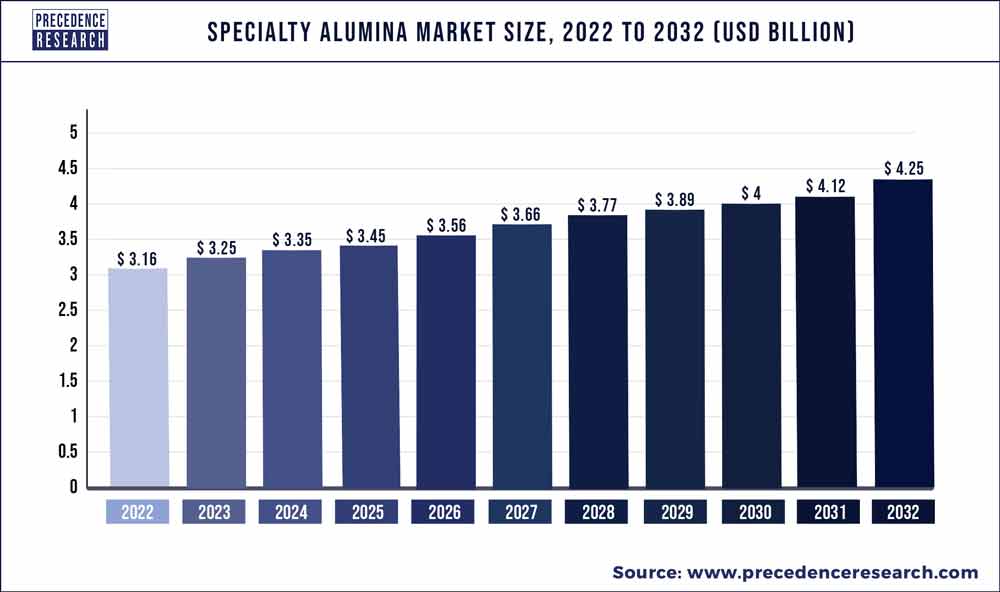 Key Takeaways:
North America has generated the maximum market share in 2022.
By Product Type, the standard calcined alumina has captured the largest market share in 2022.
By Application, the ceramics sector has recorded the highest market share in 2022.
Market Overview:
Due to its exceptional mix of physical, thermal, and electrical qualities, alumina is the material utilized in technical ceramic applications the most frequently. Catalytic substrates, mechanical wear components, electronic substrates, spark plugs, and thermal interface management are examples of typical applications. Technical ceramics applications and processes range substantially from one another due to the specific requirements each requires for the alumina powder. For each application, it is essential to comprehend how raw materials' physical and chemical properties affect product performance. For instance, although some applications are very sensitive to surface area or particle size distribution, others are more sensitive to the presence of chemical impurities.
In this paper, we explore the significance of distinct chemical impurities (Na2O, CaO, SiO2, and MgO) and their influence on the sintering profile and mechanical characteristics of alumina-based technical ceramic parts. Almatis, a member of the OYAK Group, is the industry's top producer of alumina and goods containing alumina. Almatis ensures local supply to a worldwide industry thanks to its extensive network of active plants and sales sites.
Growth Factors:
Alumina has a favorable effect on both the glassmaking process and the qualities of the glass itself as a network stabilizer in glass structures. Alumina specifically increases mechanical strength, thermal shock resistance, and resistance to chemical assault. When compared to natural minerals, specialty aluminas made using the Bayer process have a number of advantages, including chemical consistency, particularly at the levels of Na2O and Fe2O3, low to very low levels of impurities (Fe2O3, Na2O, Sulphur, and Chlorine), consistent and uniform particle size and structure, and supply stability. When seeking high-quality glasses and when good natural raw materials are hard to come by, expensive, or unsuitable for new glass compositions, these features are very valuable.
The need for colloidal alumina as a raw material for electronic ceramics is rising along with the demand for high-performance electronic devices. Ceramic substrates for electronic parts like capacitors and semiconductors are made using colloidal alumina. In the chemical industry, colloidal alumina is frequently employed as a catalyst support material. The need for colloidal alumina as a catalyst support material is being driven by the expansion of the chemical sector, particularly in emerging economies. In addition, colloidal alumina is employed as a polishing agent in a number of fields, including optics, glass, and ceramics. The specialty alumina market is expanding as a result of the rising demand for high-quality polishing materials across a number of sectors, including aerospace, automotive, and medical.
Report Scope of the Specialty Alumina Market:
| | |
| --- | --- |
| Report Coverage | Details |
| Market Size in 2023 | USD 3.25 Billion |
| Market Size by 2032 | USD 4.25 Billion |
| Growth Rate from 2023 to 2032 | CAGR of 3% |
| Largest Market | North America |
| Base Year | 2022 |
| Forecast Period | 2023 to 2032 |
| Segments Covered | By Product Type and By Application |
| Regions Covered | North America, Europe, Asia-Pacific, Latin America and Middle East & Africa |

Market Dynamic:
Drivers:
Growing aerospace & defense industry
Aluminum is perfect for making aircraft because it is both lightweight and durable. A third of the weight of steel is made up of aluminum, which makes it possible for aircraft to carry more cargo or use less fuel. Additionally, the great corrosion resistance of aluminum assures the safety of the airplane and its passengers. Aluminum is now a crucial component in the creation of aircraft. Although the composition of aluminum alloys has changed, aluminum's benefits have not changed. Aluminum enables engineers to create aircraft that are as light as possible, capable of hauling huge loads, consume the least amount of fuel, and are rust-free.
Aluminum is used in the fuselage, wing panels, rudder, exhaust pipes, door and floors, seats, engine turbines, and cockpit instrumentation of modern aircraft. 50% to 90% of all contemporary spacecraft are made of aluminum alloy. The International Space Station, the Space Shuttles, the Skylab space station, and the Apollo spacecraft all made substantial use of aluminum alloys.
Durability in high-stress settings, as well as resistance to temperature and pressure extremes, are other advantages that aluminum has for aircraft applications. The easy manufacture of smaller airplane parts is made possible by formability. Alloys of aluminum provide great electrical conductivity. Aluminum provides a more affordable option to other material types due to its lightweight characteristics. Less fuel usage and overall cost savings are advantages of lighter airplanes.
Restrain:
Escalating environmental issues brought on by aluminum extraction
One of the biggest issues in urban life is air pollution. Emission removal technologies must be addressed because the industry is a major source of airborne pollutants. The manufacture of aluminum is a developing industry that necessitates planning and attention due to the hazardous pollutants it releases, including particulate matter, NOx, SO2, dioxins, mercury chloride, furans, and fluorine compounds. Large amounts of pollution are created in the aluminum electrolysis and alumina manufacturing units, which, in the best-case scenario, emit 1.07, 4.73, and 1.32 kg of sulfur dioxide, nitrogen dioxide, and particle pollutants for every tonne of finished aluminum produced.
Acidic precipitation, which makes catchments more acidic and increases the amount of aluminum in soil solutions and freshwaters, is the primary cause of aluminum's current environmental effects. Both the aquatic and terrestrial ecosystems are significantly impacted. By producing a loss of plasma and hemolymph ions and osmoregulatory failure in gill-breathing species like fish and invertebrates, aluminum acts as a hazardous agent in aquatic environments.
Opportunity:
Increasing preference for aluminum extrusions over steel owing to superior performance
Among the most widely utilized metals in the manufacturing sector are steel and aluminum. Aluminum is a lightweight metal that weighs about one-third as little as copper or steel. But because of its excellent strength-to-weight ratio, aluminum extrusions are a good choice for the building sector. When appropriately alloyed or handled, aluminum can be up to 43 times stronger than steel and up to some steel grades.
Aluminum material has a maximum tensile strength of up to 90,000 psi (pounds per square inch) or even more. As a result, efforts are being made in the manufacturing sector to replace steel with aluminum. Due to the damaging impacts of plastics made with oil on the environment, the global manufacturing industry is progressively moving toward a non-plastic world. The most prevalent metal in the crust of the earth and one of the most well-known sustainable resources is aluminum.
Impact of COVID-19:
The COVID-19 epidemic has had a significant negative impact on the specialty alumina sector. The Covid-19 epidemic has had a significant negative impact on the industry's value chain. However, it is anticipated that this impact would only last a short while, with a strong recovery anticipated in the following years.
The decline in demand from the transportation and construction industries, which account for more than 50% of aluminum use, has had a substantial impact on the price of aluminum.
The COVID-19 epidemic has affected worldwide industrial production and spread to all the major geographical areas. Similar disruptions are occurring in other industry events and business activities in the aluminum-extruded products sector. The pandemic crisis has affected many of the main end-use sectors for aluminum-extruded goods. Due to the widespread lockout at the key end users, the demand for metal has drastically decreased globally. The most important factor to consider when calculating the total effect of Covid-19 on this worldwide market is the demand from the key end users.
The decline in the production of electronics and electrical items, such as contemporary gadgets and printed circuit boards, has had a significant impact on the market for aluminum-extruded products worldwide (PCB). However, according to industry analysts, the demand for aluminum metal, which is fundamentally important in the creation of these small but mighty gadgets, may increase or decrease depending on their application. For instance, individuals with Covid-19 are given breathing assistance via ventilators. Additionally, PCBs are required for the operation of several medical gadgets that are in high demand. The car industry's decreasing production has also had a substantial impact on this market's supply chain.
Segments Insight:
Product Insights:
Standard Calcined Alumina has the major share in specialty alumina market. The increased popularity of electronic gadgets like cellphones, computers, and televisions is predicted to fuel the electronics industry's expansion. Electronic ceramics, which are utilized in many different electronic components, including capacitors and semiconductors, are made from colloidal alumina. Numerous industries, including aerospace, automotive, and medical, are predicted to see a surge in the demand for high-quality polishing materials.
Due to its superior polishing qualities, colloidal alumina is frequently utilized in various industries as a polishing medium. In the chemical industry, colloidal alumina is frequently employed as a catalyst support material.
The need for colloidal alumina as a catalyst support material is being driven by the expansion of the chemical sector, particularly in emerging economies. The expansion is furthered by the expanding building and construction sector. The development of the building and construction industry, which is the main consumer of steel, cement, glass, and ceramics, as well as other important calcined alumina application areas, is what drives the market for this product.
The density, particle size distribution, and purity of the material have an impact on the price and performance of calcined alumina. The demand for white fused alumina has increased significantly in recent years. This is because white fused alumina performs well and is becoming more popular in a range of applications.
Application Insights:
In terms of applications, the ceramics sector held a sizable market share in 2022. Applications for advanced ceramics, technical ceramics, honeycomb ceramics, spark plugs, high voltage insulators, and wear parts are just a few of the many types of ceramics that are used in industry. Due to its strong mechanical, electrical, thermal, and chemical characteristics, including hardness, dielectric qualities, and a high melting point, calcined alumina is a frequently utilized raw material in practically every ceramic application.
Regional Insights:
A sizeable portion of the global market is accounted for by the United States. Sales of alumina are relatively significant in the area and account for a sizable share of the market worldwide. People have started valuing colloidal alumina because it can potentially replace conventional refractory castable binders as a binding agent. Outlook for the Chinese specialty alumina market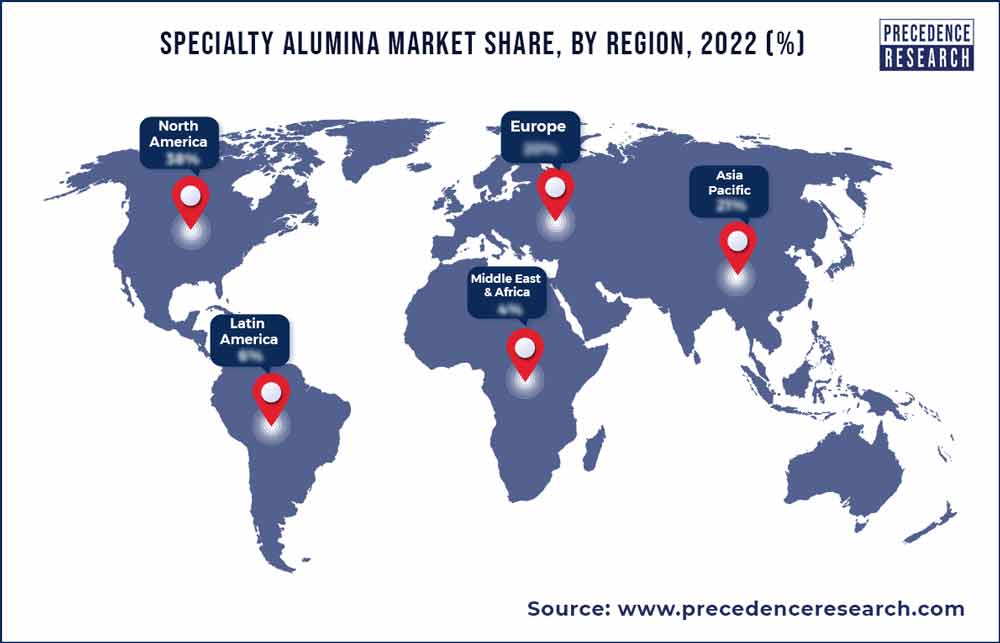 Given that China is the country that consumes the product the most globally, an increase in demand is anticipated there as well. The market is experiencing tremendous expansion as a result of the expanding demand for this commodity from massive aluminum smelters. Aluminum Corporation of China Ltd. (Chalaco) began construction on the second production line of the Huasheng, China-based alumina refinery in November 2020. The company will be able to produce more alumina due to the new production line, which will also help them gain more market share.
Recent Development:
Gränges & Alcoa Partner for Low-Carbon Aluminum Production in June 2021. An agreement to collaborate on a project aimed at minimizing the environmental impact of the aluminum value chain was announced by the Swedish rolling aluminum company Gränges AB and also the American aluminum industry pioneer Alcoa Corp.
In Apr 2021, Kaiser Aluminum Company stated that it had successfully acquired Alcoa Warrick LLC from Alcoa Corporation ("Alcoa") for a purchase cost of $670 million. This acquisition included all of the properties of the Warrick Rolling Mill.
Key Market Players:
Almatis
Alteo
CHALCO
Jingang
Sumitomo Chemical
Hindalco
Showa Denko
Nippon Light Metal
Nalco
Nabaltec
Shandong Aopeng
Motim
Huber Corporation
ICA
Silkem
Segment Covered in the Report:
(Note*: We offer report based on sub segments as well. Kindly, let us know if you are interested)
By Product Type
Standard Calcined Alumina
Tabular Alumina
White Fused Alumina
Medium Soda Calcined Alumina
Low Soda Alumina
Others
By Application
Refractory Materials
Ceramics
Abrasives and Polishing
Catalyst
Others
By Geography
North America
Europe
Asia-Pacific
Latin America
Middle East and Africa