The global specialty enzymes market size accounted for USD 1.55 billion in 2022 and is projected to surpass around USD 3.03 billion by 2032, growing at a CAGR of 6.93% during the forecast period from 2023 to 2032.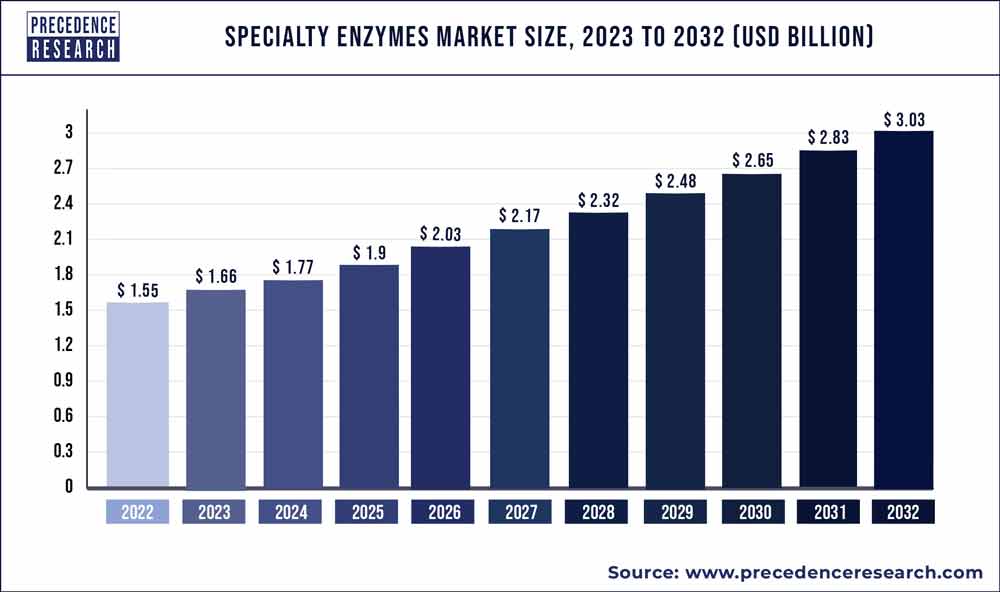 Specialty enzymes are proteins that act as biocatalysts in pharmaceutical and diagnostic reactions to increase the rate of responses and desired outcomes. Specialty enzymes, which include carbohydrases, proteases, lipases, polymerases & nucleases, and others, are applied in different applications, including pharmaceuticals, research & biotechnology, diagnostics, and biocatalysts. The market's growth is estimated to drive by the new product launches by the market participants. For instance, in April 2022, specialty enzymes & probiotics launched two new products-ProbioSEB, CSC3 PET and ImmunoSEB PET.
Key Takeaways:
North America region dominated the market in 2022.
By Type, the carbohydrases segment generated the maximum market share in 2022.
By Application, the pharmaceutical segment captured for the largest market share in 2022.
By Source, the microorganisms segment contributed to the major market share in 2022.
Report Scope of the Specialty Enzymes Market:
| | |
| --- | --- |
| Report Coverage | Details |
| Market Size in 2023 | USD 1.66 Billion |
| Market Size by 2032 | USD 3.03 Billion |
| Growth Rate from 2023 to 2032 | CAGR of 6.93% |
| Largest Market | North America |
| Base Year | 2022 |
| Forecast Period | 2023 to 2032 |
| Segments Covered | By Type, By Application, and By Source |
| Regions Covered | North America, Europe, Asia-Pacific, Latin America and Middle East & Africa |

Market Dynamics:
Driver: Enzyme-based pharmaceutical drug formulations to treat diseases
Several drugs or pharmaceutical formulations contain active pharmaceutical ingredients (APIs) synthesised using enzymes as important manufacturing components. Enzyme therapy uses enzymes to treat enzyme deficiencies and other medical conditions in humans. Enzymes help humans digest food, detoxify the body, strengthen the immune system, contract muscles, and reduce stress on vital organs such as the pancreas.
Enzyme therapy has a wide range of potential medical applications, including treating pancreatic insufficiency and cystic fibrosis (CF), metabolic disorders, lactose intolerance, the removal of dead tissues, cancers, or tumors, and so on. The therapy can be systemic or nonsystemic and can be delivered via various routes, most commonly orally, topically, or intravenously. Enzymes are also used as digestive aids to cure digestive issues, including some sugar.
Restrain: Technical barrier
Biocatalysis is a method of accelerating chemical reactions by utilising biomolecules. It contains conditions of moderate reaction and high-level selectiveness. As a result, specialty enzymes are essential in the chemical industry and are increasingly accepted in the industrial sector. However, determining the precise protein building of specialty enzymes is difficult. The procedure is time-intensive and necessitates using additional catalysts to meet the needs of the chemical reaction procedure. Conditions, such as new concentration, new substrate, and other terms not readily found in nature, are required to manufacture these enzymes. Due to these unresolved issues, specialty enzymes are unpredictable. As a result, more research and development are needed to produce enzymes in large quantities, creating an obstacle to the growth of the specialty enzymes market.
Opportunity: Rising investments
Rising spending in biotechnology R&D is anticipated to propel market growth during the forecast period. Specialty enzymes are commonly used in biotech research and development, especially in molecular biology. The rise in capital and the companies performing biotechnology research and development will raise several biotech researchers.
For instance, by April 2021, pharmaceutical companies will have spent $83 billion on research and development activities worldwide, according to a report published by the Congressional Budget Office. This US-based government agency provides budget and financial information. Healthcare is engaged in 49% of the more than 700 biotech firms headquartered in Italy, according to the Assobiotec publication BioInItaly 2020. Thus, there is a rise in biotech research companies' growing investments in biotech R&D is expected to boost the specialty enzymes market.
COVID-19 Impact:
The increasing pandemic caused by a coronavirus prompted a scientific search for effective treatments against its etiologic agent, the severe acute respiratory syndrome-coronavirus 2. (SARS-CoV-2). The spread of COVID-19 across the globe has positively influenced global Industries. The growing adoption of enzymes in numerous businesses such as Cleaning Products, Food, Animal Feeds, and Specialty has boosted market growth during the COVID-19 pandemic as worldwide customers have developed more consciousness towards their healthy life. However, the COVID-19 pandemic has hampered the development of the biofuel and textile enzymes market.
Lockdowns, social distances, and the closure of production plants all over the world have had a negative impact on the automotive industry, which in turn has had a negative impact on the biofuel industry. Similarly, the Textile Enzymes Market is no exception; due to enforced lockdowns and imposed restrictions by respective governing bodies, the companies of numerous textile industries had either been paused for the time being or were operating with a minimum labour force. This factor significantly negatively impacts the textile enzymes market's revenue growth.
Segments Insight:
Type Insights:
Based on type, the global specialty enzymes market is segmented into carbohydrases, proteases, proteases, lipases, polymerases & Nucleases, and other enzymes. In 2022, the carbohydrases segment accounted for the highest market share. carbohydrase is widely used as an ingredient and a processing aid in various industries, including food and beverage and pharmaceuticals. Cellulases and amylases are two significant carbohydrase enzyme variants. Rising sports drink demand is boosting the growth of this segment as it has cleansing properties. Carbohydrase is extensively used in detergents; therefore, its rising use of detergents in industrial and domestic applications is expected to propel the growth of this segment.
The potential use of carbohydrase inhibitors isolated from chestnuts to cure diabetes and obesity is anticipated to offer market players numerous prospects. Carbohydrase generates pH and temperature fluctuations. Such issues confronting the enzyme are expected to drive demand for potential substitutes, which may pose market challenges.
Application Insights:
Based on the application, the global specialty enzymes market is segmented into pharmaceuticals, research & biotechnology, diagnostics, and biocatalysts. In 2022, the pharmaceutical industry accounted for the highest market share. The use of specialty enzymes in the pharmaceutical industry is primarily for drug manufacturing, disease diagnostics, and therapy.
The rising embedding of enzymes in treatments for diseases such as cancer, cardiovascular diseases, lysosomal storage disorders, and pain and inflammation management, among many others, is a factor that fuels market demand. In the pharmaceutical industry, specialty enzymes play a significant role in a wide range of applications across several therapeutic modalities, most notably for modification, but also to reduce viscosity and thus improve processability and to attach and de-attach cells, thereby increasing productivity. Enzymes are used in the pharmaceutical industry for group protection and deprotection, selective acylation and deacylation, selective hydrolysis, deracemisation, racemic mixture kinetic resolution, esterification, transesterification, and a variety of other reactions.
Source Insights:
Based on the source, the global specialty enzymes market is segmented into microorganisms, plants, and animals. In 2022, the microorganisms segment accounted for the highest market share. The increasing use of amylases in the biotechnology and pharmaceutical industries will drive the growth of the microorganism-derived specialty enzymes market. Microbial enzymes are used in various industries, including chemical, fermentation, agricultural, pharmaceutical, and food production.
The decision of expression systems is critical for the rate of enzyme production, and bacteria, filamentous fungi, and yeasts have all been used to express recombinant enzymes. Because of the benefits of these species, the number of biotechnological applications has increased. However, physiological constraints make a high-level expression of recombinant enzymes difficult.
Natural enzymes have limitations, particularly under industrial conditions, such as low catalytic efficiency, activity, and stability. Strategies such as site-directed mutagenesis, truncation, and terminal fusion have overcome these constraints. Microbial enzymes are vital for medical treatments as they are inexpensive, consistent, and simple to isolate. The main advantage of microbial enzyme production is that it quickly yields high yields on low-cost media. These factors are expected to boost the segment's growth potential over the forecast period.
Regional Insights:
In 2022, North America dominated the specialty enzymes market and was expected to grow faster during the forecast period due to its primary application in the feed and food sector. The region's growing intake of meat and meat products has increased the need for enzymes in the feed industries.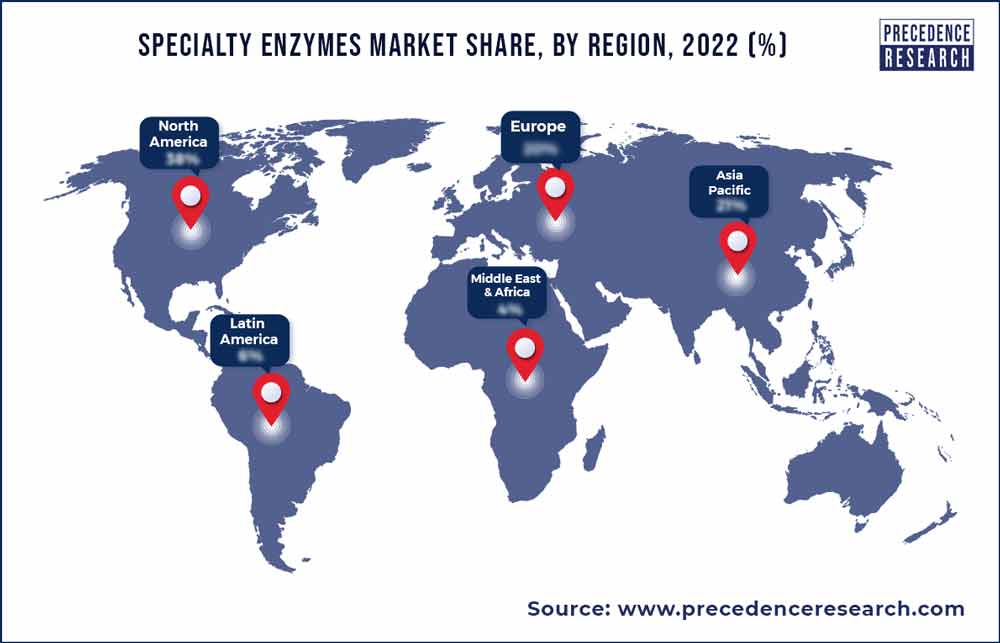 Growing consumption of processed food products increased spending on high-quality products, and customer inclination for natural raw materials used in the products is driving the market. Enzymes are natural additives added to food products to increase yield productivity, value performance, and shelf life.
Recent Developments:
In March 2022, Amano Enzyme, Inc., a major supplier of specialty enzymes to the food industry, announced that it had joined the Plant Protein Innovation Center (PPIC), an interdisciplinary research center dedicated to the study of plant and alternative proteins.
In Nov 2021, Novo Nordisk Pharmatech and Novozymes announced their collaboration agreement to manufacture specialty enzymes to bring together the firm's shared competencies and interests in developing specialty enzymes for use in regenerative medicines and biopharma processing.
In Jan 2021, Advanced Enzyme Technologies Limited acquired a controlling 51 percent stake in SciTech Specialties Private Limited. SSPL is a company that focuses on animal health, pharmaceuticals, and nutraceuticals. SSPL uses effervescent products technology to create effervescent goods.
In March 2021, Amano Enzyme, a supplier of specialty enzymes, introduced Umamizyme Pulse, a non-GMO enzyme designed for use in various plant protein products. The enzyme produces an umami flavor like the flavor provided by monosodium glutamate (MSG)
Company Profiles and Competitive Intelligence:
Market players attempt to increase their market share through investments, partnerships, acquisitions, and mergers. Businesses are also investing in the development of new products. Furthermore, they are concentrating on maintaining competitive pricing. Some of the prominent market players include:
BASF
Novozymes
Roche Holding
DuPont
Advanced Enzymes
Sanofi
Biocatalysts
Codexis
Specialty Enzymes & Probiotics
Amicogen
Segment Covered in the Report:
(Note*: We offer report based on sub segments as well. Kindly, let us know if you are interested)
By Type
Carbohydrases
Proteases
Lipases
Polymerases & Nucleases
Other Enzymes
By Application
Pharmaceuticals
Research & Biotechnology
Diagnostics
Biocatalysts
By Source
Microorganisms
Plants
Animal
By Geography
North America
Europe
Asia-Pacific
Latin America
The Middle East and Africa