The global specialty oleochemicals market size was reached at USD 26.06 billion in 2022 and is projected to hit around USD 59.48 billion by 2032, growing at a CAGR of 8.6% between 2023 and 2032. The specialty oleochemicals market was dominated by Asia Pacific in 2022 and is expected to expand at the fastest rate between 2023 and 2032.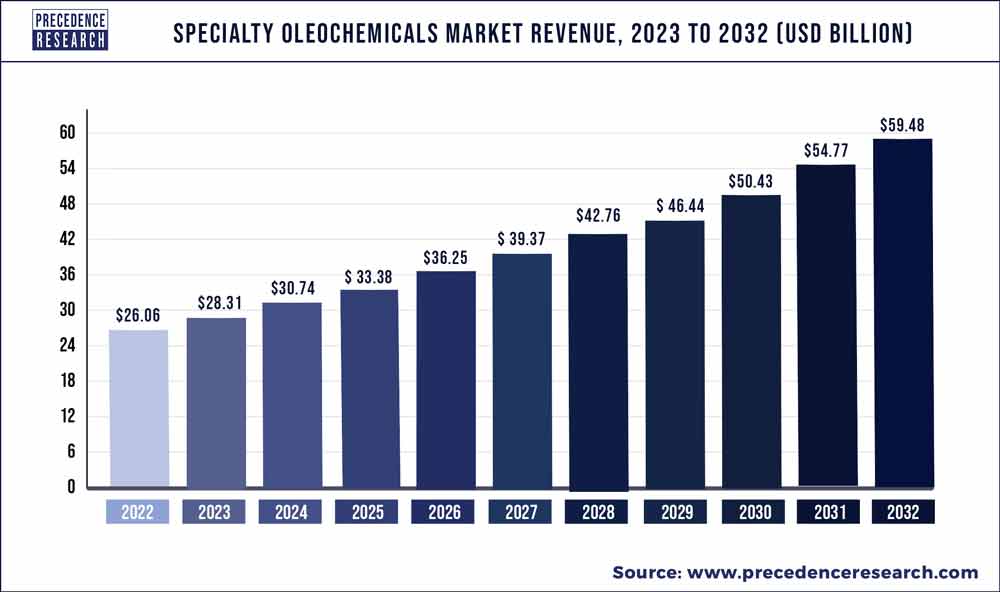 Access our Premium Real Time Data Intelligence Tool, Visit: Precedence Statistics
Plant-based products like soybean oil, canola oil, palm oil, and sunflower oil are used to create specialty oleochemicals. In a variety of uses, including biodegradable plastics, bio-surfactants, cosmetics, and lubricants, these oleochemicals are used as natural materials. These goods have unique qualities like emulsifying characteristics and surface activity with advantageous biological properties.
Growth Factor:
The market for specialty oleochemicals is predicted to benefit from rising biopolymer demand. Growing worries about the biodegradability of plastics and resins have prompted producers to concentrate on the creation of bio-based substitutes. One of the key causes of the inflated costs of specialized oleochemicals in North America and Europe is the market's strong dependence on the Asia Pacific region's plentiful feedstock supply. Therefore, the market for specialty oleochemicals offers significant development prospects for raw material suppliers and integrated plantation-based makers in Asia and the Pacific.
The market players are engaging in a sizable number of partnerships with wholesalers in order to boost market position and profits, which enables them to expand their market presence for specialized oleochemicals. To increase the size of its delivery network, emery oleochemicals and Omya Inc. collaborated in November 2019. Participation in R&D, along with the introduction of fresh, novel products, is one of the elements fueling the participants' fierce rivalry. Another major worry for manufacturers is adhering to local, national, and foreign regulatory standards.
Compliance with these standards for sustainable cultivation, production, and delivery has proven to be a crucial competitive advantage for makers operating both domestically and internationally. Integration along the value chain has aided the participants in maximizing earnings and avoiding involvement from outside parties. By taking part in internal plantation, raw material acquisition, manufacturing, and marketing, emery oleochemicals and vantage specialty chemicals have fully integrated their businesses. With the aid of their sizable Malaysian palm oil farms, KLK OLEO and IOI Group have combined their backward operations. The demand for medicinal, food, and personal care goods is expected to rise considerably in the upcoming years, which will result in an increase in the usage of specialized oleochemicals. Due to rising discretionary income, strong market penetration, and innovative product development, the demand for personal care goods has increased.
In the projection period, the market is anticipated to benefit from the rising demand for biodegradable materials and the adoption of stringent limits on the use of petrochemicals. Vegetable oil may soon be used in industrial settings due to the volatile price of essential oils and the rising worries about food security in many emerging nations. Renewable resources are dwindling, and environmental standards are getting stricter. Oleochemicals will ultimately displace conventional petroleum-based products and have the potential to expand. The market for ecological chemicals is growing, as is customer desire for such goods.
Rising customer expenditure on cosmetic and personal care products, more readily available men's grooming products, and rising personal care product usage have all contributed to a rise in the consumption of specialized oleochemicals.
The use of specialized oleochemicals has grown in the food manufacturing, polymer, paint, ink, health and pharmaceutical, and additive sectors.
Consumer demand for lubricants, biodegradable polymers, and biosurfactants is rapidly increasing, which has led to a rise in the usage of specialized oleochemicals.
Government backing for using more environmentally friendly goods and strict regulations for petroleum-based products are key drivers of the expansion of specialty oleochemicals.
Report Scope of the Specialty Oleochemicals Market:
| | |
| --- | --- |
| Report Coverage | Details |
| Market Size in 2023 | USD 28.31 Billion |
| Market Size by 2032 | USD 59.48 Billion |
| Growth Rate from 2023 to 2032 | CAGR of 8.6% |
| Largest Market | Asia Pacific |
| Base Year | 2022 |
| Forecast Period | 2023 to 2032 |
| Segments Covered | By Product and By Application |
| Regions Covered | North America, Europe, Asia-Pacific, Latin America and Middle East & Africa |

Key Market Drivers:
Specialty oleochemicals are increasingly in demand for a variety of uses
Specialty oleochemicals have many uses and serve many functions. The manufacture of medicines, lubricants, varnishes, soaps and detergents, surfactants, and fatty acids from these chemicals is anticipated to boost demand for specialized oleochemicals and accelerate market development.
Specialty oleochemicals are widely used in personal care and beauty goods
Because it lowers the use of dangerous compounds like parabens, aluminum salts, and phthalates and adopts sustainable raw materials, specialized oleochemicals are extensively used in personal care and cosmetics. Due to the high demand for specialized oleochemicals in the manufacturing of personal care products and cosmetics, the market for these products is expected to expand quickly.
Additionally, manufacturers' focus is moving to the development of bio-based alternatives as a result of growing worries about the biodegradability of plastic and polymers, which will have an effect on market growth during the projection period. The market is also expected to expand as a result of the increasing demand for organic and anti-aging products, as well as the increase in customer spending on personal care and cosmetics products and the accessibility of raw materials.
Key Market Challenges:
Market-related high costs
The high cost of the production method is anticipated to impede the market's expansion for specialty oleochemicals. Despite the market's accessibility to other options, ownership costs are expensive. These are a few of the main reasons limiting the development of the specialized oleochemicals market over the projection period stated above.
Key Market Opportunities:
Putting more emphasis on environmentally beneficial goods
Because these products have low toxicity, high biodegradability, and minimal environmental effect, the specialized oleochemical industry is presently concentrating on using green feedstocks to make oleochemical products. Lubricants, soaps, and other chemical goods are made using specialty oleochemicals, which are made from plant oils. The market development rate will benefit greatly from the rising demand for oleochemical manufacturing from renewable feedstocks.
Technological progress
The research and development team helped the specialty oleochemicals industry create products with the best and most cutting-edge features. This is one of the main driving forces behind and a father of favorable chances for the expansion of this industry.
Segments Insight:
Product Type Insights:
For a variety of uses, specialty esters can be used instead of compounds and products made with petroleum. One of the driving factors for the specialty oleochemicals market, specifically for specialty esters, is the increasing demand from the automotive industry. Specialty esters are used as lubricants in the automotive industry, where they provide high lubricity, good oxidative stability, and low volatility.
Fatty acid ester is a product of fatty acid methyl ester (FAME). It is produced by transesterifying methanol with lipids (vegetable oils, used culinary oils, or animal fats) in the presence of a catalyst like sodium methoxide or sodium hydroxide. In terms of sulfur concentration, carbon emissions, and biodegradability, FAME is preferable to traditional fossil fuels and is used to make biodiesel and detergents. Glycerol and fatty acids combine to create glycerol esters, also referred to as acylglycerols or glycerides. A substantial amount of ice cream, chewing candy, flavored drinks, and cosmetics are made with food-grade glycerol.
Additionally, the driving factor for the specialty oleochemicals market is the increasing demand from the personal care and cosmetics industry. With the growing demand for natural and organic personal care products, the demand for specialty oleochemicals is expected to increase. Furthermore, the increasing use of specialty oleochemicals in the food and beverage industry as food additives, flavorings, and emulsifiers is also expected to drive market growth. The growing demand for biodegradable products and the rising focus on sustainability is further expected to boost the market growth in the coming years.
Application Type Insights:
Specialty oleochemical compounds and formulas are used in creams, skincare, sun care, hair care, and dental care items in personal care and cosmetics. The need for personal care products is being driven by the rising demand for organic and anti-aging products to keep a young look. In turn, the personal care and makeup application sector is anticipated to experience an increase in demand for specialized oleochemical derivatives. This sector has experienced consistent development over the past ten years, along with an increase in shelf space in supermarkets, hypermarkets, retail stores, and specialty shops around the globe.
Products like perfumes, soaps, shampoos, cleaners, and detergents are included in the consumer goods category because they contain specialized oleochemicals that customers can use directly to meet their requirements. Over the projection period, the specialized oleochemicals market is anticipated to be driven by the changing customer inclination toward the use of less toxic and natural components in domestic cleansers, detergents, and plastics products.
Regional Insights:
The specialty oleochemicals market was led by Asia Pacific in 2022 and is anticipated to expand at the fastest rate during the projection period. This can be ascribed to Malaysia and Indonesia having a significant number of producers. Manufacturers have been encouraged to expand their capacities in the area by the region's enormous captive market and the wealth of raw materials like palm oil and palm kernel oil. Over the projection, the tendency is anticipated to push the market for specialty oleochemicals in the area.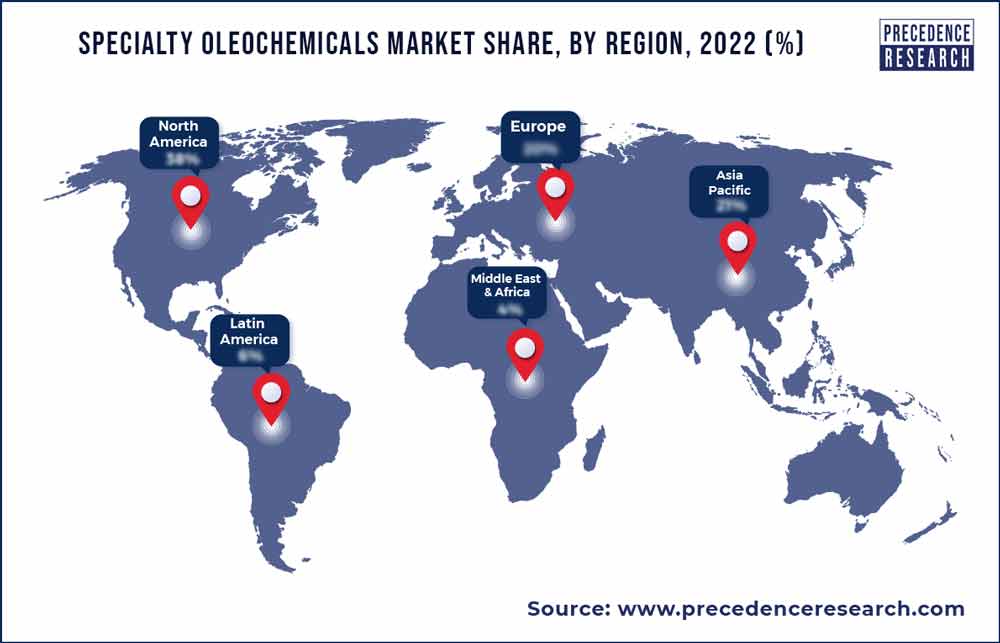 The market for specialty oleochemicals in Europe is anticipated to expand as a result of favorable regulation policies by Registration, Evaluation, and Authorization of Chemicals (REACH), which seek to support sustainable chemicals and petrochemical alternatives. Over the projection period, the demand for glycerin is anticipated to be driven by the increasing demand for biodiesel as a result of rising petroleum costs in the area. Over the projection period, demand for specialty oleochemicals like glycerin and methyl ester sulfonate is also anticipated to rise as more people turn to biodiesel as an option to traditional petroleum-based diesel.
Due to strict government restrictions on the use of petroleum-based goods due to their negative environmental impacts, specialty oleochemical demand has increased in North America. Consumption of the product is anticipated to increase due to rising demand from a number of end-use sectors, including personal care and cosmetics, healthcare, and food preparation.
Recent Developments:
Singapore-based Indorama Corporation officially announced in August 2021 that it would buy Oxiteno (Brazil), the chemical division of Brazilian oil company Ultrapar Participacoes SA, with a delayed payment concluding in 2024.
In August 2021, Malaysia-based Mega First Corporation purchased the Asia Pacific division of Emery Oleochemicals. The purchase will be carried out by Edenor Technology Sdn Bhd, a joint venture created by 9M Technologies Sdn Bhd and Mega First Corp Bhd.
In September 2017, H.I.G. Capital revealed that it had paid USD 1.0 billion to acquire The Jordan Company's Vantage Specialty Chemicals, Inc. In accordance with the deal, H.I.G Capital acquired Vantage's 14 foreign distribution locations in Europe, Asia, Latin America, and South Africa in addition to its six American manufacturing sites.
Key Market Players:
Evonik Industries AG
Vantage
Emery Oleochemicals
Wilmar International Ltd.
Kao Corporation
PT. Ecogreen Oleochemicals
Corbion
Oleon NV
Godrej Industries Limited
IOI Corporation Berhad
KLK OLEO.
H.I.G. Capital, LLC,
VVF Group.
Segments Covered in the Report:
(Note*: We offer report based on sub segments as well. Kindly, let us know if you are interested)
By Product
Specialty Esters
Fatty Acid Methyl Esters
Glycerol Esters
Alkoxylates
Fatty Amines
Others
By Application
Personal Care & Cosmetics
Consumer Goods
Food Processing
Textiles
Paints & Inks
Industrial
Healthcare & Pharmaceuticals
Polymer & Plastics Additives
Others
By Geography
North America
Europe
Asia-Pacific
Latin America
Middle East and Africa