The global palm oil market size accounted for USD 65.08 billion in 2022 and it is expected to touch around USD 107.53 billion by 2032, expanding at a CAGR of 5.2% from 2023 to 2032.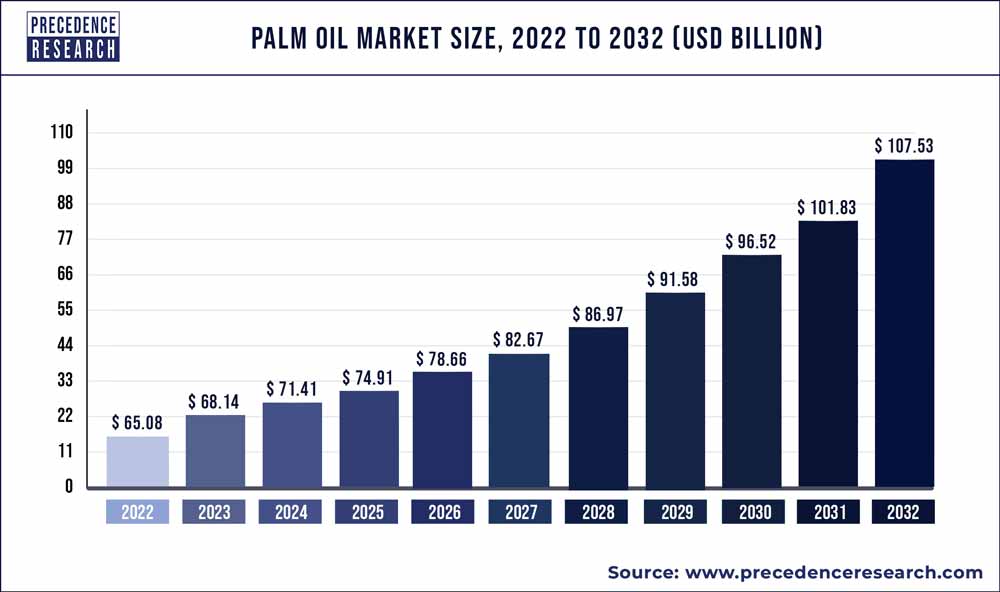 Access our Premium Real Time Data Intelligence Tool, Visit: Precedence Statistics
Palm oil is a type of edible vegetable oil derived from the rhizome of the oil palm fruit. It is the world's highest-yielding oil crop plantation, with production 5-10-fold stronger per hectare than other primary vegetable oil sources. It has several vital nutrients since it is cholesterol-free, simple to digest, and high in carotenoids and Vitamin A. It has a prolonged shelf and is less expensive than other vegetable oils available on the market.
Palm oil is utilized in various sectors, including food and beverages, cosmetics, pharmaceuticals, biofuel and energy. Food manufacturers choose palm oils because they are easier to stabilize and keep flavour and uniformity in processed meals. Palm oil may be used as both a crude oil and a refined oil. Palm oil has a vivid orange colour in its natural state since it is extracted from the orange pulp of the oil palm tree's fruit.
Only a quarter of the world's palm oil and palm kernel oil is utilized as crude oil. Crude palm oil is commonly used in home cooking in Southeast Asia, Africa, and Brazil, under average temperatures, as a liquid oil.
Key Takeaways:
By geography, the Asia-Pacific region generated more than 72% of the revenue share in 2022.
By nature, the conventional segment held the highest revenue share of around 98% in 2022.
By product type, the fractionated palm oil segment generated more than 40% of the revenue share in 2022.
By end user, the food and beverages led the market and captured more than 66% of revenue share in 2022.
Growth Factors
The rise in demand for palm oil has been propelled by the growing need for palm oil from the food and beverage industries. The population of underdeveloped countries are looking for low-cost alternatives for vegetable oil which is expected to contribute to the proceeding of the palm oil market.
Palm oil have higher availability with easy affordability
Increasing consumption by the population of underdeveloped countries
Report Scope of the Palm oil Market
| | |
| --- | --- |
| Report Coverage | Details |
| Market Size in 2023 | USD 34.69 Billion |
| Market Size by 2032 | USD 107.53 Billion |
| Growth Rate from 2023 to 2032 | CAGR of 5.2% |
| Base Year | 2022 |
| Forecast Period | 2023 to 2032 |
| Segments Covered | By Nature, By Product Type and By End User |
| Regions Covered | North America, Europe, Asia-Pacific, Latin America and Middle East & Africa |

Key Market Drivers
The health benefits of consuming palm oil - Palm oil is high in saturated and unsaturated fats, as well as vitamin E and beta-carotene. Its fatty acid composition is around 50% saturated fatty acids, 40% monounsaturated fatty acids, and 10% polyunsaturated fatty acids. The reddish-orange hue in red palm kernel oil is caused by antioxidants called carotenoids, such as beta carotene, which the body may convert to vitamin A.
Palm oil has various health advantages, including increased energy, prevention of premature ageing, improved eye vision, immune system stimulation, and a lower chance of heart disease and cancer. One of the key reasons driving market expansion is the rising customer perception of these health advantages. Furthermore, product demand is being driven by the flourishing food sector, as it is widely used for cooking and as an essential element in developing nutritious food recipes.
Increasing demand from underdeveloped countries - The need for palm oils from individuals and household in underdeveloped countries have increased due to the low-cost alternative for other vegetable oils and higher availability in the market.
Key Market Challenges
Fluctuation in the price of palm oil - The surge in palm oil prices is impeding the growth of the palm oil market. The emergence of the COVID-19 pandemic has exacerbated the development of palm oil. Costs are variable and are impacted by various circumstances, such as harsh weather, political instability, and a lack of labour. Significantly, the pandemic has brought numerous issues in logistics. Under that, the government requirements on utilising palm oil in alternate energy blends have meant further restrictions on the market expansion.
In addition, the increase in the supply-demand gap in the palm oil industry has accelerated the product's prices. The ongoing inconsistency of the production process has affected the price, as the price increased due to less production and more demand. Price increases and a lack of palm production impede the global palm oil industry's growth and development.
Lack of environmental sustainability discourages consumers from opting for palm oil - The widespread transformation of tropical forests to plantations of palm oil has a disastrous impact on a wide range of plant and animal species. Oil palm development also increases human-wildlife conflict when vast animal populations are forced into more isolated sections of natural habitat. Burning is a typical way of removing vegetation in natural forests and oil palm plantations.
Forest fires emit smoke and carbon dioxide into the environment, polluting the atmosphere and contributing to global warming. The process of draining and converting tropical peat forests in Indonesia, for example, is particularly harmful since these "carbon sinks" store more carbon per unit area than any other ecosystem on the planet.
Furthermore, forest fires that remove vegetation to create oil palm plantations emit carbon dioxide, contributing to climate change. Indonesia is the third-largest worldwide emitter of greenhouse gases due to its high pace of deforestation. While erosion happens when forests are destroyed to make way for plantations, it may also be induced by tree planting in the wrong places. The growing of oil palms on hillsides is the primary source of erosion. Increased floods and silt accumulation in rivers and ports are caused by corrosion. All of these considerations dissuade the worldwide populace from boycotting palm oil.
Key Market Opportunities
To make the most of the opportunity vendors are advised to focus on growth prospects in the fastest-growing segments while being rigid in the slow-growing segment.
Introduction of clean label packaging of palm oil
Technological advancement in palm oils.
Segments Insight
Nature Insights
Based on nature, palm oil is segmented into organic and conventional. In 2022, the conventional segment held the highest revenue share of around 98%. This is due to the low cost and increased accessibility of standard palm oil on the market. Conventional oil palm plantations are an essential source of revenue for small and medium-sized planters since they enhance output using synthetic pesticides. Traditional palm oil is more prevalent in low-income nations with prominent people.
Product Type Insights
Based on product type, palm oil is segmented into CPO, RBD palm oil, palm kernel oil, and fractionated palm oil. In 2022, the fractionated palm oil category commanded the market with the most significant revenue share of around 40%. This is due to the product's easy accessibility at an economically viable cost. It is trendy in low-income nations since it is widely available and reasonably priced. The product's constituent nature makes it more cost-effective to produce in large quantities.
End-User Insights
Based on end user, it is divided into food & beverages, personal care & cosmetics, pharmaceuticals, biofuel & energy, and others. In 2022, food and beverages led the industry with the highest revenue share of around 66%. Its significant proportion is due to the increased utilization of industry product end-use applications and product portfolios that require palm oil as a raw ingredient.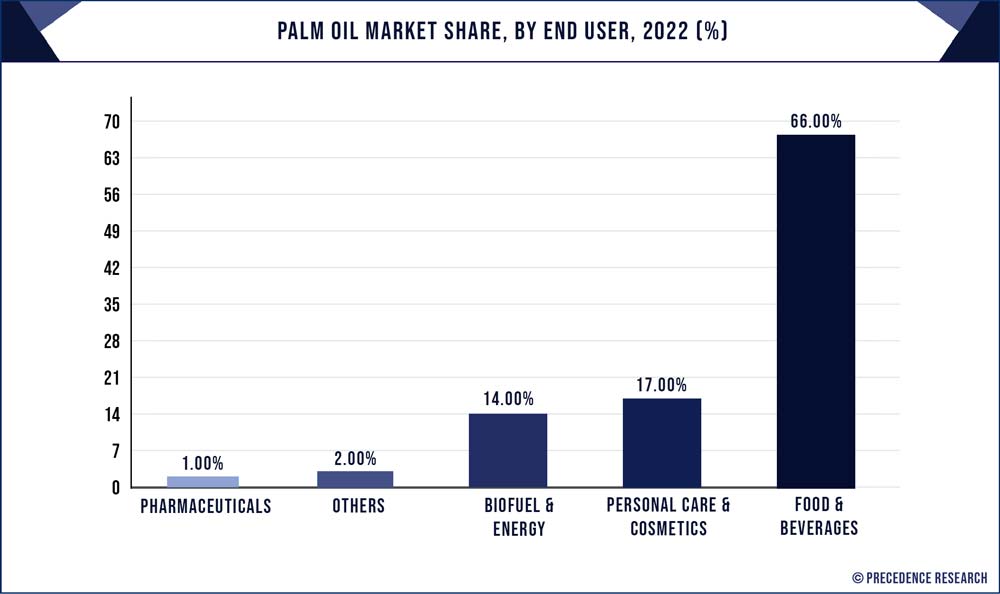 The expansion in the global population and rising sales of processed and packaged food have also influenced global product growth, enhancing product demand in international territories.
Palm Oil Market Share, By Region, 2022 (%)
| | |
| --- | --- |
| Region | Revenue Share In 2022 (%) |
| Asia Pacific | 72% |
| North America | 13.3% |
| Europe | 10% |
| Latin America | 3% |
| MEA | 1.7% |

Regional Insights
Based on geography, in 2022, the palm oil market generated the highest market share of around 72% in the Asia-Pacific region. This is due to increased consumption by the region's expanding population and a growing preference for end-use industries such as food and beverage. The fast expansion in population, shifting demographic patterns, and a wide range of food use in China and India are to blame for the region's excessive palm oil consumption.
Market Analysis and Recent Developments
The global palm oil market is highly concentrated and intensely competitive. The product's global market prices are variable and influenced by global crude oil prices. Multinational corporations like Archer Daniels Midland and Wilmar International Ltd. are present in the market, making it more competitive.
In June 2020, Fuji Oil Group formulated and announced the "Responsible Plan Oil Procurement Policy". The procurement policy sets out a commitment to zero forestation, no peatland, and no exploitation (NDPE), including the supply chain for all palm oil products.
Key Market Players
Archer Daniels Midland
Wilmar International Ltd.
Sime Darby Plantation Berhad
IOI Corporation Berhad
Kuala Lumpur Kepong Berhad
United Plantations Berhad
Kulim (Malaysia) Berhad
IJM Corporation Berhad
PT Sampoerna Agro, Tbk
Univanich Palm Oil Public Company Ltd.
PT. Bakrie Sumatera Plantations tbk
Asian Agri
Agropalma S.A.
Boustead Holdings Berhad
Fuji Vegetable Oil, Inc.
New Britain Palm Oil Limited
Segments Covered in the Report
(Note*: We offer report based on sub segments as well. Kindly, let us know if you are interested)
By Nature
By Product Type
CPO
RBD Palm Oil
Palm Kernel Oil
Fractionated Palm Oil
By End User
Food & Beverages
Personal Care & Cosmetics
Pharmaceuticals
Biofuel & Energy
Others
By Geography
North America
Europe
Asia-Pacific
Latin America
The Middle East and Africa