The global specialty chemicals market size was estimated at USD 836.94 billion in 2022 and is projected to hit USD 1151.32 billion by 2030, expanding growth at a CAGR of 4.1% from 2022 to 2030.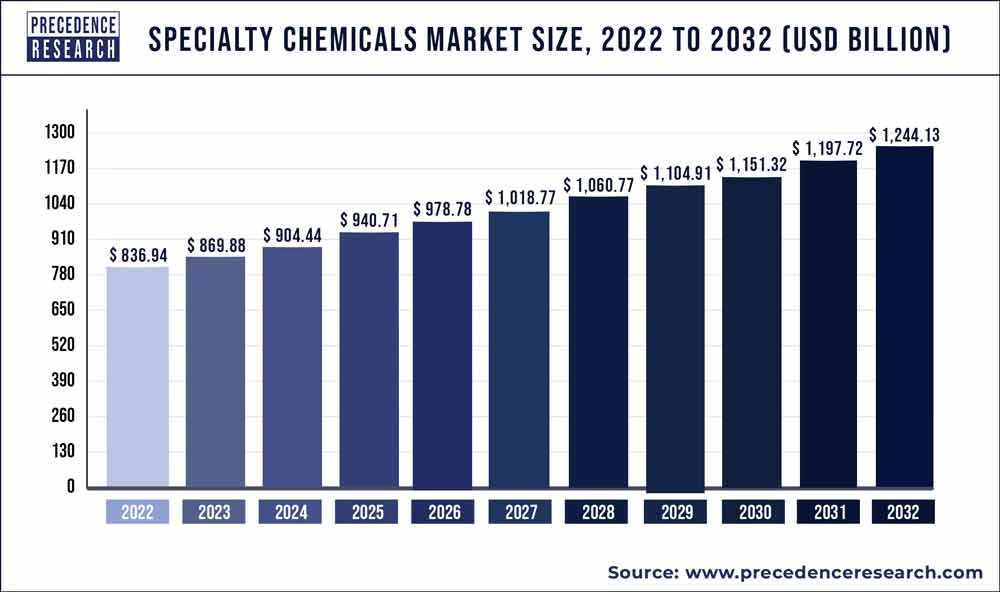 Key Takeaway:
Asia Pacific market has captured revenue share of over 48.6% in 2022.
In Middle East & Africa region, the market is expected to grow at a CAGR of 3.8% by 2030.
The institutional and industrial cleaners product segment is growing faster during the forecast period.
Market Overview
Specialty chemicals are typically low-volume, high-value, ultra-high purity chemicals utilized in the wide area of end users. Specialty chemicals offer a broad range of products and applications they are used in. Specialty chemical materials are utilized based on their performance and their function. These chemicals are also referred to as performance chemicals, and used as components in completed products as well as enhance production procedures.
Additionally, these chemicals, are sometimes described as formulation chemicals. Its unique molecules and combinations of molecules are called formulations. The chemical and physical properties of the individual molecules, the formulated mixtures of molecules, and the composition of the combinations affect the performance of the end-product.
Moreover, commercial application industries offer these products more frequently than not delivering targeted consumer service to innovative specific technical solutions for their clients. This is a distinguishing element of the service presented by specialty chemical manufacturers when they are associated with the other sub-sectors of the chemical firms including commodity chemicals, fine chemicals, pharmaceuticals, and petrochemicals.
The improvement of specialty chemicals varies on combining technical and performance qualities, thus knowledge of the chemical arrangement and properties, and exactly how they combine its value to its future application are essential factors to be depended on. Therefore, with chemical research and development advances, these chemicals develop very effectively to generate and change into a product chemical.
Moreover, specialty chemicals are normally manufactured in batch chemical plants that use batch managing techniques. This method is a defined quantity of product created from a fixed input of raw materials throughout the forecasted period. The manufacturing of batch method is mostly onsisting of declared correctly calculated volumes of early materials into a vessel resulting from a sequence of processes including heating, mixing, cooling, distillation, making more chemical reactions, crystallization, drying, separation, and packaging taking place at predetermined and scheduled intervals. Highly specialty chemicals are organic chemicals that are utilized in a broad variety of routine goods utilized by customers and manufacturers.
Production, manufacturing and investment data Specialty Chemicals Market
In India, the production amount for certain petrochemicals such as synthetic rubber and performance plastics reached 175 kilo tones and 973 kilo tones respectively from April 2022 to September 2022.
According to India Brand Equity Foundation, India accounts for approximately 16-18% of world's production of dye intermediates.
The exports of organic and inorganic chemicals reached at a total of $9.05 billion from India during April 2022- December 2022.
The production of chemical in India reached 905,379 Megatone in November 2022.
According to the report published by American Chemistry Council's recent published report, the outlook of chemical producers in 2022 grew by 3.9%.
3M, a leading manufacturer of adhesives and other chemical-based products invested $1.9 billion in research and development of new products in 2022, 100% products by 3M in 200 contain sustainability value commitment.
According to the report published by American Chemical Council, approximately 25% of total GDP of the United States is supported by its chemical industry.
Dow, United States' leading chemical producer stated net sales of $56,902 million in 2022. The company' sales in only United States and Canada reached $20,947 million in 2022. Whereas the sales in Asia Pacific reached $10,344 million in 2022.
Growth Factors
A few of the major factors driving the growth of this market are surge in demand of green or bio-based specialty chemicals, increasing demand from pharmaceutical industry, increasing demand from personal care products industry, and increasing demand from construction & building industry.
One of the trends of the specialty chemicals is that companies operating in the market are growingly adopting open innovation models to get speedy access to technology improvements. Companies within this space have made a belief that they need to develop in-house technologies, but have got to realize that taking an advantage of technologies from inventive newcomers can considerably aid them understand their internal objective of decreasing cost as well as deploying more effective and structured processes of the production.
Another ongoing trend of this market is to go green. Many of the manufacturers of specialty chemicals are implementing sustainable initiatives. Using bio-alternatives, more selective and energy effective methods of separation like crystallization, and readily available chemical substances are some of the common practices done. The demand for bio-based or green chemicals is increasing, and manufacturers of these chemicals are competing directly with their fossil-based predecessors.
Increased research and development of the specialty chemical products with advanced and optimum features is the major factor that drives the market growth. Increasing demand from ASEAN countries such as China and India due to rapid industrialization has uplifted the specialty chemicals market growth.
Construction and infrastructure projects have significantly grown over the past few years in the Asia Pacific region. This makes the region as the most preferred destination for the manufacturers of specialty chemicals, thereby propelling the market growth. Whereas, stringent government regulations along with fluctuation in price of raw materials projected to hamper the market growth for specialty chemical.
Scope of the Specialty Chemicals Market
| | |
| --- | --- |
| Report Highlights | Details |
| Market Size | USD 1,151.32 Billion by 2030 |
| Growth Rate | CAGR of 4.1% from 2022 to 2030 |
| Largest Market | Asia Pacific |
| Fastest Growing Market | North America |
| Base Year | 2021 |
| Forecast Period | 2022 to 2030 |
| Segments Covered | Application Type, Region Type |
| Companies Mentioned | BASF SE, Bayer AG, Dow, Inc., Lanxess AG, Evonik Industries AG, Clariant AG, Solvay SA, Albemarle Corporation, Huntsman International LLC, Sumitomo Chemical Company, Nouryon, Ashland LLC., Merck & Co., Inc., Henkel Ag & Co. KGAA, |
Application Insights
In 2022, pharmaceutical ingredients led the global specialty chemicals market with significant revenue share and expected to continue the same trend over the forecast period. The prime factors attributed to the prominent segment growth are large number of applications in pharmaceutical industry such as drugs manufacturing for skin disorder, cardiovascular diseases, and Hughes syndrome. These are usually active ingredients that are found in the medical products. Pharmaceutical ingredients are manufactured in large reactors sing basic chemical compounds. After the processing of chemical compound or base it turns into an intermediate that finally forms pharmaceutical ingredient. Depending on the number of intermediates specific type of pharmaceutical ingredient is being manufactured. The number of intermediates varies from 1 to 10.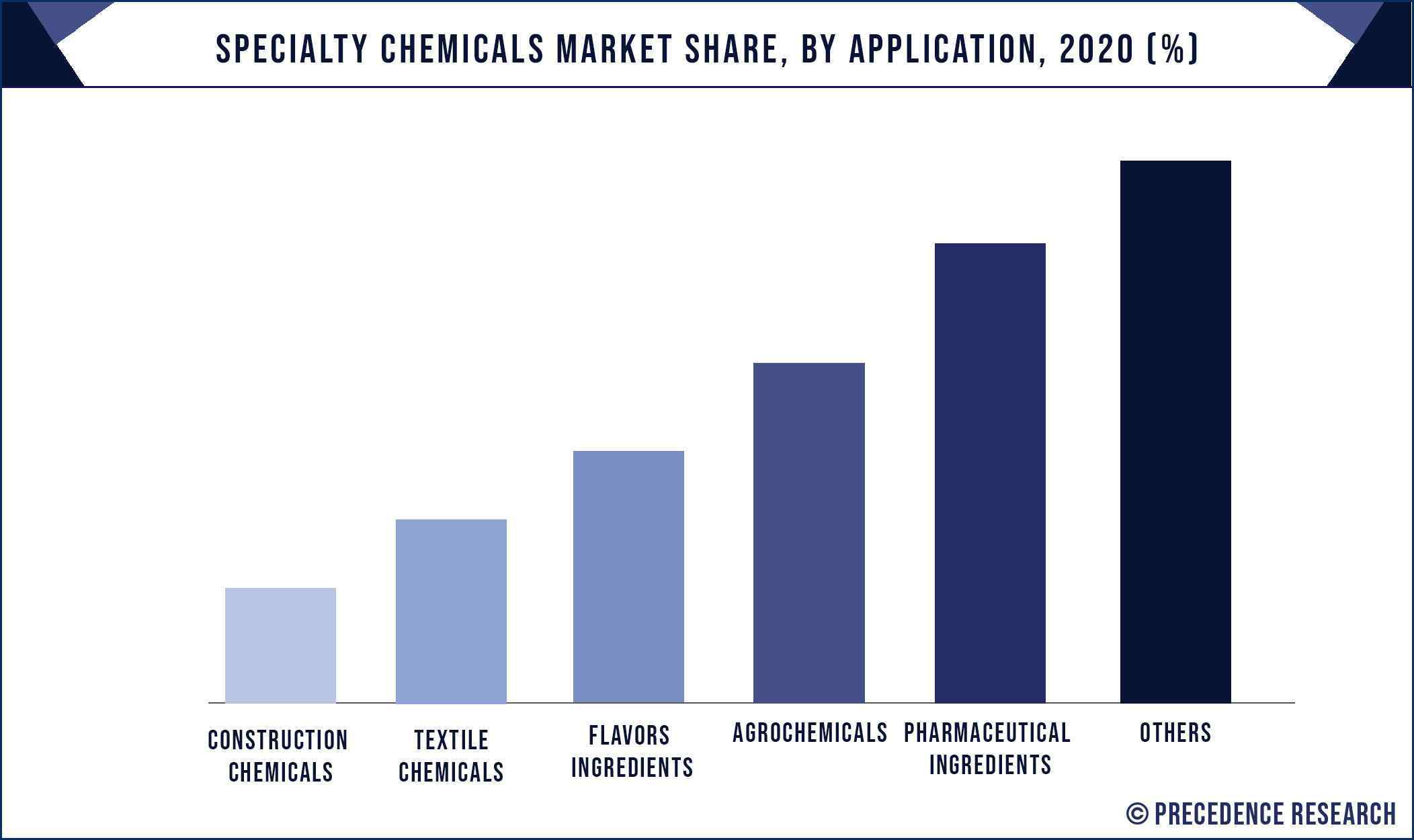 On the other hand, agrochemical projected to account for nearly 12-15% of revenue share in the global specialty chemicals market in 2021. Increasing population coupled with rising demand for good quality food boosts the demand for agrochemicals market. Crop protection and high yield products are the major market trend shaping the agrochemicals market. Increased awareness among farmers for the application of agrochemicals in their farms predicted to fuel the market growth for agrochemicals in the near future. Furthermore, increase in industrialization and urbanization has degraded and decreased the agricultural land, however the demand of food is increasing at the same rate. This triggers the demand for agrochemicals to surge the crop yield production per acre of land, thereby accelerating the market growth of specialty chemicals during the forecast period.
The pharmaceutical ingredients segment was valued at USD 149.218 billion in 2021 and is expected to reach around USD 207.184 billion by 2030 with a CAGR of 3.8% from 2022 to 2030.
The agrochemicals segment size was exhibited at USD 103.935 billion in 2021 and growing at a CAGR of 5.6% from 2022 to 2030.
The bio-based chemicals segment was accounted at USD 92.028 billion in 2021 and registering growth at a CAGR of 5% from 2022 to 2030.
The paper & pulp chemicals segment size was valued at USD 21.237 billion in 2021 and is expected to hit around USD 31.970 billion by 2030 with a 4.7% of CAGR from 2022 to 2030.
Regional Insights
The Asia Pacific accounted largest revenue share, holding the leading market position across all regions. Prime factor attributed to this is presence of key emerging economies in the region such as China, Japan, and India that accounted the largest revenue share for the specialty chemicals in the year 2017. In the Asia Pacific region specialty chemicals are used for various applications such as water treatment, paints & coatings, electronics, personal care ingredients & cosmetics, agriculture, and many other applications.
Japan specialty chemicals market size was valued at USD 59.91 billion in 2022 and it is growing at a CAGR of 4.7% from 2023 to 2030.
India specialty chemicals market was estimated at USD 80.85 billion in 2022 and it is poised to grow at a CAGR of 5.5.% from 2023 to 2030.
South Korea specialty chemicals market size was reached at USD 30.91 billion in 2022 and it is expanding at a CAGR of 3.6% from 2023 to 2030.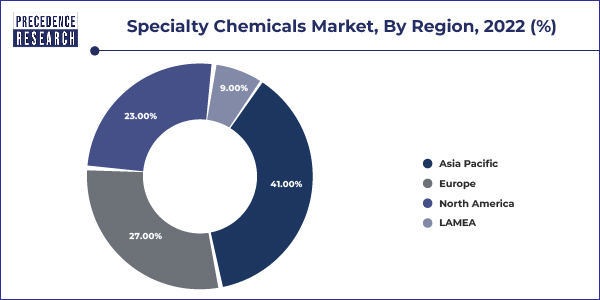 China held the leading market position in the Asia pacific region, accounting for nearly 39% revenue share in the year 2019. India followed China with a market value of approximately 23% in the overall Asia Pacific market. India is the most dynamic country and exhibits lucrative growth in the specialty chemicals market during the forecast period. The specialty chemicals market in India is highly fragmented and comprises of several small and medium scale companies. Moreover, the unimaginable growth in the application of water treatment chemicals has significantly propelled the growth of specialty chemicals in the country.
North America specialty chemicals market was valued at USD 185.859 billion in 2021 and is expected to reach around USD 277.306 billion by 2030 with a CAGR of 4.6% from 2022 to 2030.
Europe specialty chemicals market size was exhibited at USD 217.774 billion in 2021 and growing at a CAGR of 3.7% from 2022 to 2030.
Asia Pacific specialty chemicals market was accounted at USD 329.311 billion in 2021 and registering growth at a CAGR of 4.3% from 2022 to 2030.
Key Companies & Market Share Insights
The global specialty chemicals market is highly fragmented due to the presence all scale of players that is small, medium, and large manufacturers in the market. These market players adopt both inorganic as well as organic growth strategies for sustaining their position in the market.
Some of the prominent players include:
BASF SE
Bayer AG
Dow, Inc.
Lanxess AG
Evonik Industries AG
Clariant AG
Solvay SA
Albemarle Corporation
Huntsman International LLC
Sumitomo Chemical Company
Nouryon
Ashland LLC.
Merck & Co., Inc.
Henkel Ag & Co. KGAA
Sasol Limited
3M
PPG Industries Inc.
Koninklijke DSM N.V.
B. Fuller
Segments Covered in the Report
This research study evaluates market revenue growth at global, regional, and country levels and proposes comprehensive exploration of the up-to-date industry trends in all of the sub-segments from 2017 to 2030. This research report categorizes global specialty chemicals market depending on application, and region:
By Application Outlook
Flavors Ingredients

Savory
Beverages
Dairy
Others

Agrochemicals

Fungicides
Calcium Nitrate Fertilizers
Insecticide
Ammonium Sulphate Fertilizers
Herbicides
Others

Dyes & Pigments
Fragrances Ingredients

Fabric Care
Personal Care
Hair Care
Others

Water Treatment Chemicals

Biocides and Disinfectants
Corrosion and Scale Inhibitor
Activated Car
Coagulants and Flocculants

Personal Care Active Ingredients
Surfactants

Nonionic
Anionic
Amphoteric
Cationic
Others

Construction Chemicals

Adhesives and Sealants
Protective Coatings
Asphalt Additives
Concrete Admixtures
Others

Bio-based Chemicals

Ethanol
Furfural
Acetic Acid
Others

Textile Chemicals

Coating and Sizing Chemicals
Finishing Chemicals
Colorants and Auxiliaries
Others

Oilfield Chemicals

Cementing Chemicals
Drilling Fluids
Fracturing Chemicals
Oil Production Chemicals
Acidizing Chemicals
Others

Polymer Additive
Electronics Chemicals

Conductive Polymers
Specialty Gases
Wet Chemicals
Photoresist Chemicals
PCB Laminates
Silicon Wafers
Others

Paper & Pulp Chemicals

Process Chemicals
Bleaching & RCF Chemicals
Coating chemicals
Functional Chemicals
Pigments & Fillers

Pharmaceutical Ingredients

Biological API
Chemical API

Specialty Polymers
Others
By Regional Outlook
North America
Europe
Asia Pacific

China
India
Japan
South Korea

Rest of the World